ENVIRONMENT:
March for Justice: Bhopal Survivors


Bhopal gas disaster survivors have begun 33-day-long march to Delhi. The journey to the prime minister's office will cover over 500 miles, and U.S. supporters plan solidarity action. A Siliconeer report.
---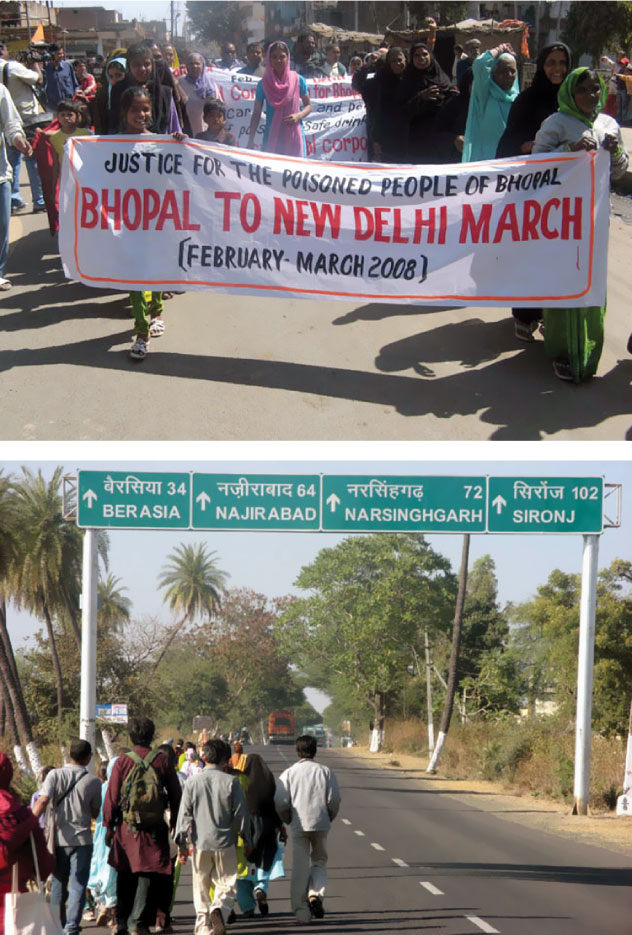 (Top): Bhopal disaster survivors and their supporters on a 500-mile march to Delhi. (Bottom): Delhi may be far, but supporters of Bhopal disaster survivors are determined to get there.
---
Survivors of the Bhopal gas disaster have begun a padyatra protest march Feb. 20 to Indian government headquarters in Delhi, charging the government with rampant malfeasance amid its ongoing, documented collusion with Dow Chemical.

Nearly half a million people were exposed to poisonous methyl isocyanate during a runaway chemical reaction at a Union Carbide plant in Bhopal on December 3rd, 1984. Since then, more than 22,000 people have died and 150,000 survivors continue to be chronically ill, as the government has repeatedly failed to properly address atrocities brought on by the world's worst industrial disaster.

As a result, survivors are pressing top tiers of government for fresh plans to end the suffering. Demands include the establishment of a Special Commission on Bhopal to ensure proper medical care, safe drinking water, and more, for all affected people in Bhopal. Concurrently, the government must take legal action forcing Dow, the company responsible for the disaster after purchasing Union Carbide in 2001, to remediate the disaster site and surrounding areas.

Starting in Bhopal, marchers will power through more than 500 miles in the Indian states of Madhya Pradesh and Uttar Pradesh, with brief stops in Rajasthan and Haryana, on their way to Delhi.

Meantime, events to back the march will take place across the United States, organized by an international coalition of supporters. These actions will implore Indian officials in the U.S., and American authorities with ties to India's leadership, to stop the neglect of survivors.

Areas near the factory remain heavily polluted with chromium, copper, naphthol and other poisons left behind when Carbide abandoned its property following the disaster. These chemicals have leached into the local water supply; soil testing reveals mercury levels far exceeding international safety standards.

Now, second-generation disaster survivors, many of whom are small children, are forced to cope with the chemical fallout. The incidence of babies born with cerebral palsy, cleft lips and other birth defects is devastatingly high. Yet this is only a fraction of the severe mental and physical burden foisted on survivors.

Despite promises, the Indian government has made meager efforts to sanction Dow, and has long abandoned research to treat illnesses triggered by MIC.

"It's time the Indian government prioritize the suffering of its people ahead of foreign investment," says Students for Bhopal founder and coordinator Ryan Bodanyi. "So many lives have been shattered by the Indian government in collusion with Dow/Carbide. We must redress these wrongs, and prevent another half million people from suffering a similar fate."

More information is available at www.bhopal.net.