SUBCONTINENT:
Windfall from Wind Turbines: India's Green Energy Giant


India's Suzlon Energy, among the top five global wind turbine makers doubled its profits recently and can expect to look at an increasingly bright future as nation's around the world get serious about green energy, writes Siddharth Srivastava.
---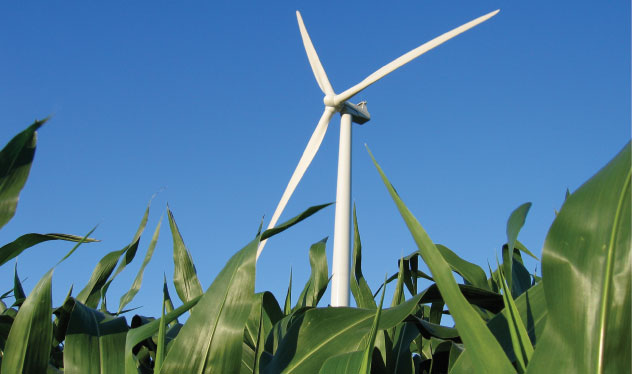 (Above): The sky's the limit, both for this soaring wind turbine in Northfield, Minn., and the its Indian manufacturer Suzlon Energy.

---
Renewable energy equipment producers are riding high due to increased efforts in the field by nations worldwide in the wake of record oil prices and rising greenhouse gas emissions.

India's Suzlon Energy, among the top five global wind turbine makers, recently recorded a near doubling of its third quarter (September-December, 2007) net profit that also sent its share price up more than 11 percent.

The company, which has taken over German REpower and Belgium-based Hansen, has registered a 100 percent profit growth between 2005 and 2007.

Citigroup Venture Capital International, which invested Rs. 1 billion in Suzlon in 2004, has registered exponential returns that have grown to almost Rs. 30 billion. ChrysCapital's Rs 500 million equity investment-has grown more than 50 times.

Stellar Results
Suzlon chairman and managing director Tulsi Tanti said while the wind energy sector has grown at 20-25 percent during 2007, Suzlon has grown at a much higher rate.

With orders worth $4.3 billion (over 3,300 MW), bulk of these overseas buyers, Tanti said Suzlon sold turbines with a total capacity of 545 megawatts in the third quarter, up 62 percent from a year earlier. Of the over Rs. 170-billion closed order book of December 2007, exports accounted for close to 85 percent. 

The stand-alone net in the quarter was up by over 90 percent to almost Rs 3.4 billion from Rs 1.75 billion a year back, though the consolidated net profit fell 11.5 percent mainly due to high interest costs from Suzlon's acquisition last year of a majority stake in REpower, a Hamburg-based wind-equipment supplier.

Net sales increased almost 50 percent to Rs 16.5 billion from Rs 11 billion in the previous quarter. Due to integration and acquisition efforts, the company is expected to maintain an operating profit margin in the 12-17 percent range, which is more than most international players in the sector.
Suzlon's consolidated income stood almost Rs 31.5 billion, against little over Rs 19 billion in the year-ago quarter, the company said in a filing to the Bombay Stock Exchange.

According to Tanti, Suzlon now owns manufacturing facilities for wind turbines and components such as rotor blades, generators, control systems and towers in India, U.S. and China.

Ambitious Plans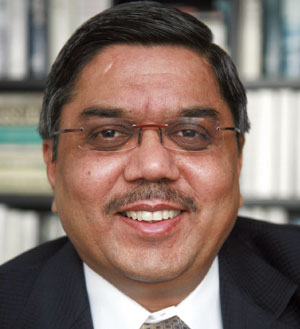 (Right): Suzlon Energy CEO Tulsi Tanti

Tanti said Suzlon would invest up to 40 million euros during 2008/09 to raise the overall capacity of REpower's 5-MW offshore turbines to 1,600 MW from 600 MW. REpower's profit margins are expected to more than double in the next three years from existing 6-7 percent on higher volume.
REpower has strengthened Suzlon's prospects of increasing its share in the promising European market.

In May 2006, Suzlon also acquired Hansen Transmissions, a gear-box manufacturer. Hansen raised $590 million from listing on the London Stock Exchange in October. 

Tanti has, however, ruled out any immediate future acquisitions by Suzlon. 

Though its corporate headquarters are in Pune, the company has been developing its business from Amsterdam to leverage location and operational advantages. In a couple of years, the company may look to list on leading international stock exchanges. 

"While our base will remain in Pune, our global business will span out from Amsterdam due to the advantages," said Tanti.

In the new financial year, Tanti has predicted significant growth from the European market and China. Though Suzlon is a late entrant in China, the company already accounts for 8 percent of the wind energy sector in the country, managing to sell turbines of 220 MW capacity in 2007. China has been aggressively promoting clean energy. 

According to analysts, Suzlon is now a fully vertically integrated energy equipment provider, a position only a few global providers such as Spain's Gamesa, a leading wind turbine maker, has managed to achieve.

Vertical integration enables better management of supplies. In this respect, Suzlon has built itself an integrated structure that incorporates a process of continuous capacity expansion worldwide.

Experts have predicted that Suzlon may see a gradual diminishing of high profit margins due to setting up of manufacturing units in other countries and dilution of the first mover advantages.

Some Challenges
Suzlon's main competitors are Denmark's Vestas, U.S. giant General Electric and Germany's Enercon. 

A key risk factor that could impact demand for wind turbines is the December 2008 deadline for production tax credit in the U.S., an incentive that was extended to wind energy projects, which has not been reviewed. However, it is expected that the provisions may continue through legislation in some other form.

According to Tanti, a slowdown in the U.S. economy would have no impact on the company's business due to the overall rising global demand for clean energy sources and the off take from European Union countries that are aggressively looking at promoting alternate energy.

Growing Orders
Indeed, the order book of Suzlon continues to grow. In January this year, Suzlon's Latin American and European marketing arm bagged an order to supply 42.5 MW wind turbines. 

Renewable energy company Pacific Hydro has signed a deal with Suzlon Energy Power, the company's $140 million South Australian wind farm. Suzlon Energy will provide 27 turbines.

Last year, Suzlon bagged a contract from California-based Edison Mission Group for the supply of 300 turbines. The company also signed a contract for 400 MW of wind turbine capacity with PPM Energy of Portland, Ore.

With the Global Wind Energy Council's predictions of wind energy comprising 12 percent of the world's electricity by 2020, compared to just over 1 percent in 2007, the future is bright for Suzlon.

It is estimated that the global supply of wind power could double to 120 Giga Watt from its current level of 60 GW within four-years.