RECIPE:
Veggie Delight: Paneer Tikka


Chef Sanjay Patel shows you how to cook a vegetarian delight that combines the joys of grilling with delicious Indian spices.
---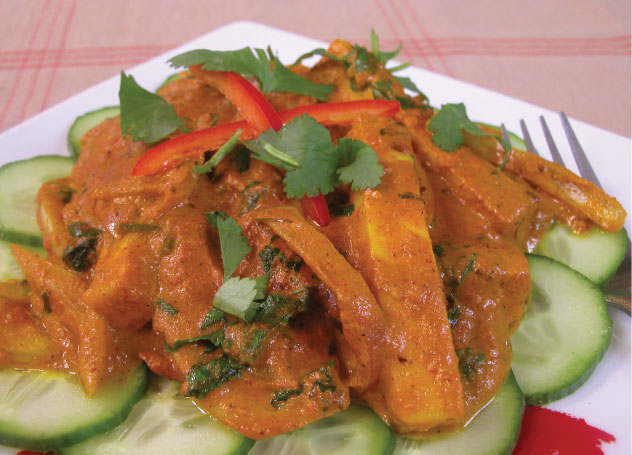 (Above): Paneer Tikka with gravy [SILICONEER photo]

---
Ingredients

For the tikkas:
2 cups paneer (Indian cheese), cut in 2-inch cubes

1 bell pepper, cut in small square pieces

1 onion, cut in squares

1 tomato, deseeded and cut in squares

1/2 cup thick yogurt

2 tsp red chilli powder

1/2 tsp turmeric powder

1 tsp ginger paste

1/2 tsp garlic paste

1 tsp dried fenugreek leaves

1/2 tsp garam masala

1 tsp tandoori masala

Juice of 1 lime

Salt to taste

1 tbsp cilantro, finely chopped

For the sauce:

4-5 tomatoes pureed or

2-3 cups tomato puree

1 onion finely chopped

1 tsp garlic paste

2 tsp tandoori masala

2 tsp red chilli powder

1 tsp sugar

Salt to taste

2 tbsp butter

1/2 cup cream

Chopped cilantro for garnishing

Method:

Combine all ingredients for the tikkas from yogurt onwards and mix well.

Then add the vegetables pieces and paneer, and mix well till all the pieces are covered with the marinade.

Leave for 4-5 hours, preferably overnight. Keep it in the fridge to avoid contamination.

When ready, preheat the oven or the grill. In the meantime, arrange the marinated vegetables and paneer on a skewer.

Cook over charcoal or in the oven until some brown spots appear. Do not overcook.

For the sauce:

Heat butter in a pan. Add onions and garlic and sauté for 3-4 minutes.

Add the tomato puree and cook until oil separates (around 4-5 minutes on a medium-slow flame.)

Add the tandoori masala, salt, sugar, red chilli powder, cream. Mix well.

Remove from fire and blend to make a smooth sauce.

Serving:

Before serving, boil the sauce and then gently fold in the grilled paneer and vegetable pieces and let it cook for 1-2 minutes.

Garnish with cilantro and serve hot with rice, naan, or parathas.