CORRECTION: In the print edition, some text was inadvertently lost during layout. The error is sincerely regretted. The fully restored text can be viewed below.

---
DIARY:
Letters from My Motherland:
An India Journal


Despite the myriad frustrations — Delhi's awful traffic jams, poor sanitation and hygiene, constant honking and badmash auto rickshaw drivers — after a few months, India became her home, writes Preeti Tijoriwal.
---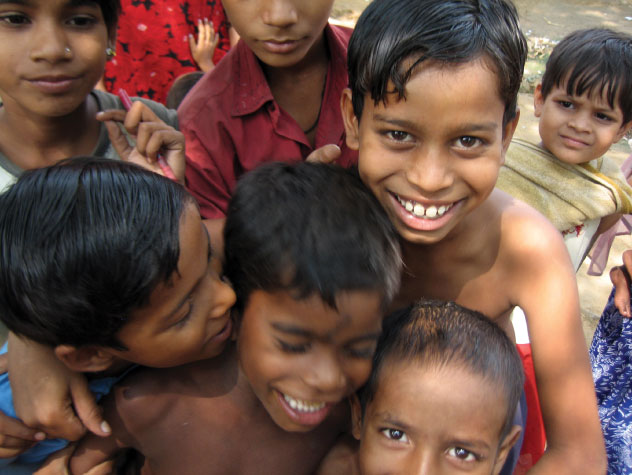 (Above): It doesn't matter if they are rich or poor, in the U.S. or in India, kids are the same everywhere. This vivacious, joyful bunch of kids are from Delhi. [Preeti Tijoriwal photo]
---
Arrival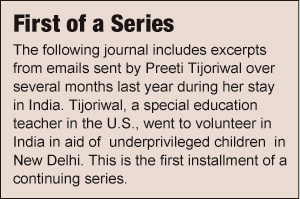 Greetings from the Motherland! I have been in India for about a week now – I still feel like a tourist – or at least just a temporary visitor. It hasn't quite hit me that a month from now, I'll still be here! I start work tomorrow (Monday). I'm sure I will feel much more settled once there is a routine. This first week has acted as a reminder of all the intricacies of this country. For my desi friends, this email will surely sound familiar. For my non-desi friends, let me paint you a picture of life in India…

I arrived in Delhi only one hour late (around 12 a.m.), quickly passed through customs, and surprisingly, quickly received my bags. The airport inside was not very busy, but as I walked through the terminal to go outside, I was greeted by hundreds of people holding signs waiting to greet the arrivals. My "cousin," whom I am staying with here, also held up a sign with my name on it since I had never met him before. Along with all the people, I was also greeted by a flood of heat, humidity, dust, the smell of perspiration, and the sound of honking horns. Ye hai mera India!

---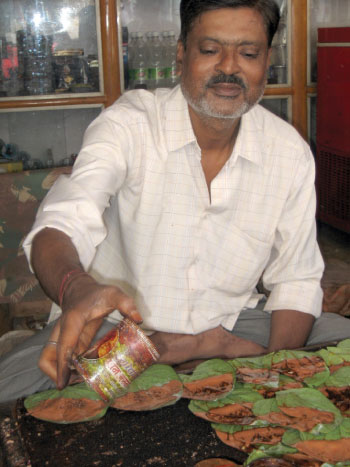 (Right): A paanwala in Kanpur. Street-smart, witty, they are a ubiquitous Indian archetype.
---

I live in a two bedroom flat. To reach it you must walk through small, windy alleyways. You will see motorbikes parked along both sides, people hanging clothes outside their windows, and plenty of stray dogs. Here's a tip: Always look down when you walk — you never know what you might step into. At the flat, there is no common space, but a small kitchen, a shower, and a separate bathroom with an eastern toilet (basically a hole in the ground). Taking a shower means filling up a bucket of water, sitting on a stool, and using a mug to bathe. The flat is not air-conditioned, but the one room does have a cooler – a large box fan with a water hold. A pump circulates the water and the fan blows out cool air. I have made friends with the ants and roaches. 6 to 12 legged creatures are unavoidable! I wake up every morning to the sound of some neighbor hacking up a lung and another man shouting (singing?) if anyone wants to sell their empty bottles or old newspapers to him. Please don't think all Indians live like this. Most live far worse. Generally, my family in India lives in much more modern homes with regular showers and western toilets.

This leads me to the dichotomy of India: Old and New. The old — an endless marketplace with open front stores that sell everything from bed sheets to light fixtures. Even brand new items look a bit used because of the dust that has settled on them. Bargaining is an expectation here. The new — a five story mall, equipped with elevators and escalators, and any store you might find in a U.S. mall (modern day "AC market."). The old — overcrowded buses made out of tin that look like they might fall apart any minute. The new — a metro system that looks similar to DC's metro system, very clean and timely (I got in trouble by a policeman the other day for taking a picture inside the station). The old — small street-side dhabas that serve local Indian cuisine and snacks. The new – McDonald's, Pizza Hut, Ruby Tuesday's, Papa John's, and KFC. If I want culture and tradition, I know where to go, but I know I can find a healthy dose of home too if I need it!

My first week here has consisted mostly of lying around all day and going out in the evenings to avoid the heat. My cousin has been working hard to keep me entertained. I am looking forward to my first day of work. I met with the head of HR for the organization I will be volunteering for – she told me about all the projects Deepalaya is working on. I am excited to gain first hand experience with a local NGO and, hopefully, share some of my own knowledge with them. Check out their Web site if you want: deepalaya.org
Ye hai mera India! This is my India.

---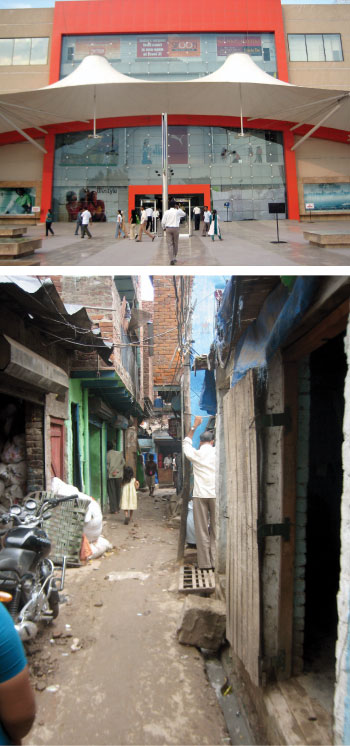 (Left): The dichotomy of India. (Top): A tony Western-style mall in Noida, and (bottom): a dingy alley in a neighborhood where the less privileged live.
---
Gandhi Jayanti

Today is Oct. 2, aka Gandhi Jayanti aka Gandhiji's birthday. This year the UN also declared today as the first annual International Day of Non-Violence. I am embarrassed to admit that I don't know that much about Gandhiji or his movement. I only know that which my parents have told me or the little I have read about here and there. There seems to be a large divide here in India between people who still believe in the Mahatma and those who feel he has no place in today's society. One OpEd in today's paper asked, "What would be the Gandhian advice in the case of Darfur…? How should Rwanda Tutsis have responded when hundreds of thousands of them were massacred by extremist Hutu factions? Try changing Osama bin Laden's mind by going on a fast" (S. Ganguly, Times of India, 2007). Maybe she's right, maybe non-violence and civil disobedience aren't the answer to every problem. But I would still like to believe that one person can make a difference and change has to start from somewhere. (Otherwise, maybe I'm wasting my time here…!)

Gandhiji said, "The best way to find yourself is to lose yourself in the service of others." I'm not sure if I'm looking for anything, but I started my service with Deepalaya. Deepalaya is the largest NGO in Delhi. They have several projects, including education, health care, and women empowerment. Many of their projects are run directly from within the slums. I am serving as a consultant/teacher in their special education unit. The unit contains mostly students with severe disabilities such as mental retardation, cerebral palsy, Down's syndrome, and autism. The class I have spent the majority of my time with consists mostly of students who are hearing impaired. It is unfortunate that students with milder disabilities are generally dismissed as being stupid or lazy, but like I said, change has to start from somewhere.

What are the students like? The kids are adorable! They have so much spirit and are so excited to be in school. They respect their teachers and elders, and they truly enjoy each other's company. I have learned quite a bit from my students in the past week, including a bit of sign language. Already I find myself using gestures more whether I am in school or not! I have been speaking to the director of the special education unit. His vision for me is basically to do an overhaul of the entire special education program. He wants me to develop a curriculum, set standards, create assessment and teaching materials, as well as provide resource materials for community members, and build awareness. I'm sure you teachers out there are either laughing uncontrollably or simply in shock that anyone could possibly suggest such an undertaking to a single person to be completed in four months! I just told him I'd see what I can do.

---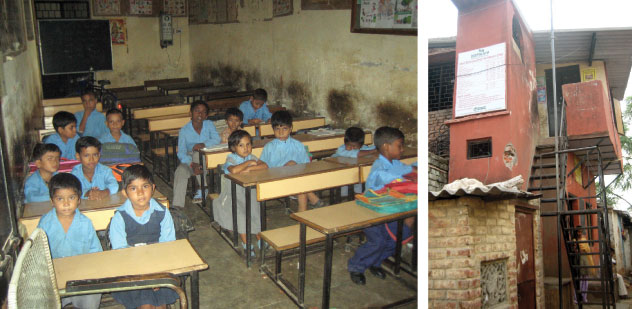 (Above, left): Kids at a school for the underprivileged. The kids are adorable! They have so much spirit and are so excited to be in school. (Right): One of the non-formal education centers in a Delhi slum run by Deepalaya.
---
This week I have spent a lot of time visiting the communities where my students come from. The first time I went into one of the slums, I felt very uncomfortable, and I felt somewhat guilty for feeling discomfort. Most of the residents live with their families in one small room. The neighborhood is a maze of narrow alleyways that keep twisting around. A gutter flows sluggishly along both sides. With all the fleas, trash, and sewage, all I could think about was what types of germs must be floating around me. I kept covering my mouth with a hanky, but then would feel really embarrassed with all the people watching me. I have since become more relaxed when I walk through the slums and have had a chance to talk to some of the residents. The eye-opener was that even though these people live in such miserable and wretched conditions, they do not seem so miserable. I might wish they had a better life, but who is to say what is "better?" Maybe I sound ignorant, but this is the only life they know, and they are comfortable with where they are. It is said that a wealthy man can only live a life of luxury, but a poor man can live anywhere. It is encouraging to see the strength of these people. I know I could never live the way they do. I now have a whole new understanding of the word "fortunate." On a different note, the highlight of my time in the slums was when I walked right past a little arcade! It was just one dingy room with four or five old arcade machines, and the kids were loving it! If that wasn't surprising enough, a few alleyways away I heard JT's "What Goes Around" blasting from inside one of the homes. Ah, JT… making it to all corners of the world. You got to hand it to American Pop culture!

---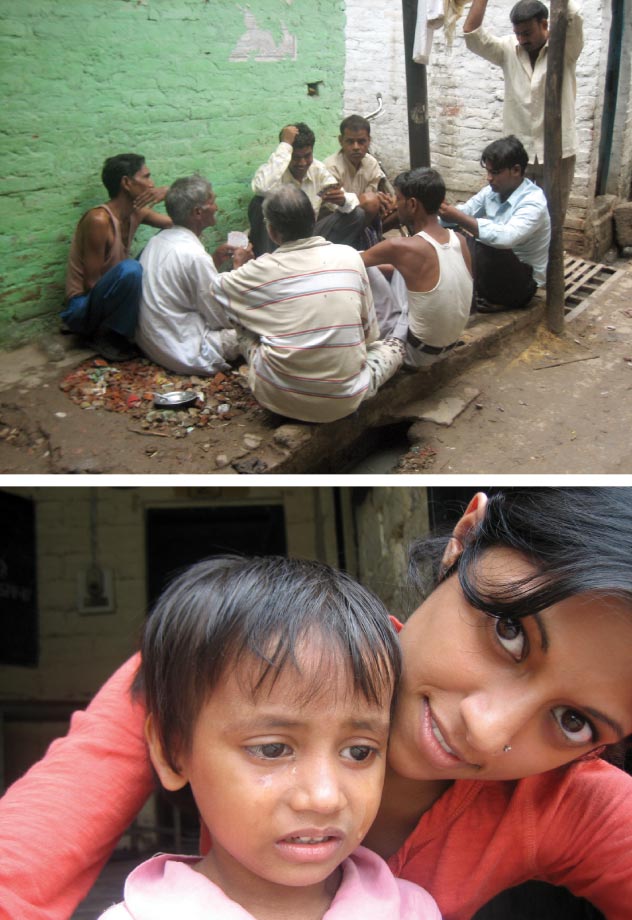 (Top): People playing cards in an alley. Even in wretched conditions, India's poor do not seem miserable. It is said that a wealthy man can only live a life of luxury, but a poor man can live anywhere. It is encouraging to see the strength of these people. (Bottom): The author with a child in Delhi.
---
Adjusting

It's been a month now (and I'm still here)! My body has adjusted to the strikingly different environment, like all the dust and pollution. Amazingly enough, apart from a small cold, I still have not gotten sick (knock on wood)! My Hindi has improved significantly — at least so I've been told by family members. And I am becoming fluent in Indian English as well, where not only inflections change, but there are also random insertions of words like "just" and "only." For example, "I am just on the net only" means "I'm on the Internet." Unlike many European accents, the Indian accent is not very pretty or sexy. With improved Hindi skills comes much needed bargaining power. I can hail an auto with ease now, which is my general mode of transportation. An auto is essentially a three-wheeled, motorized go cart that is covered above but open on both sides. It's an art to deal with the auto drivers — they are very badmash (conniving). They will often try to take you for your money, making excuses like the meter is broken. My favorite excuse is when you ask the driver how much and he gives you some absurd figure, he'll say, "Madam! Please! That price just came out of my mouth! I am giving you such a deal! It just came out by accident!" I fell for that one once, but never again!

I feel pretty at home here now, but there are still many things that I will never really get used to. For example, I will never get used to the useless and constant honking of car horns. Cars might be bumper to bumper but people will be honking their horns as if they have the power of Moses to part the cars. Traffic in Delhi puts Manhattan traffic during rush hour to shame. In Manhattan there are cars, buses, trucks, and the occasional bicycle. In Delhi you have all that plus autos, motorcycles, cycle rickshaws, vegetable carts, people, dogs, donkeys, and very large cows. Driving in Delhi is like playing a video game where random things suddenly appear and you lose points if you hit them. Another thing I have a lot of trouble with is people's disrespect for the environment. There is a lack of education about hygiene and sanitation. There is also a lack of proper facilities. It is not uncommon to see people urinating on the side of a building or spitting out their car windows. And littering is perfectly acceptable mostly because it is hard to find anywhere to dispose of your trash. India is treated like a toilet, a sink basin, and a trash can (how is that for a campaign slogan). But despite all this, India has become my home.