BOLLYWOOD | Guftugu:

The Mother of Catfights and a $50 Million Lawsuit | We Are Not Married, Claims Sanjay Dutt | Million Dollar Babe | Some Like Them Young | Speaking in Tongues | Married . . . Not! | Belly Up | Most Popular

---
The Mother of Catfights and a $50 Million Lawsuit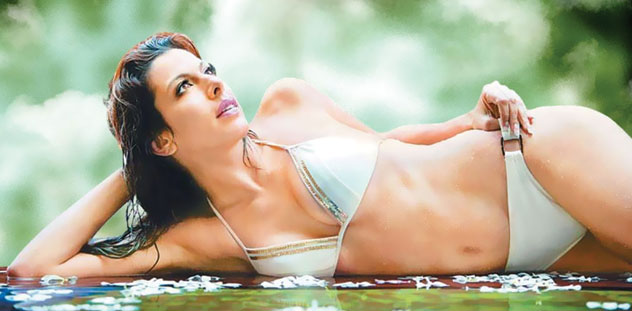 (Above):
Pooja Bedi
---
It's the mother of all catfights, and Bollywood gossips are watching delightedly as Pooja Bedi and Celina Jaitley slug it out.

Apparently Pooja called Celina delusional, and that got her goat. "I'll give you delusional," she fumed. As in a whopping Rs. 50 million libel lawsuit.

Pooja shrugs with disdain.

"In a country where celebs are often victims of frivolous law suits, they should not initiate such suits themselves," says Pooja, adding, "I have dealt with Mr Anand for numerous shows and he's always been polite and respectful. And I didn't accuse Celina of being delusional. I have questioned her terming Anand as a personal stalker by the virtue of him sending her a champagne bottle. This is something he has sent to multiple celebs on behalf of his company and that's not stalking in my opinion!"

For good measure, she adds: "My daughter calls her Silly-na."

Well, silly or not, a furious Celina is going to let her lawyers do the talking.

"I'm not keen on talking about Pooja aunty! My lawyers are enough to handle her," says Celina Jaitley, adding, "She defamed me. My legal team has taken it on and they are dealing with the issue. This is a case of slandering, I need to assert what I feel is right." Oh, this is going to be fun!

|TOP|

---
We Are Not Married, Claims Sanjay Dutt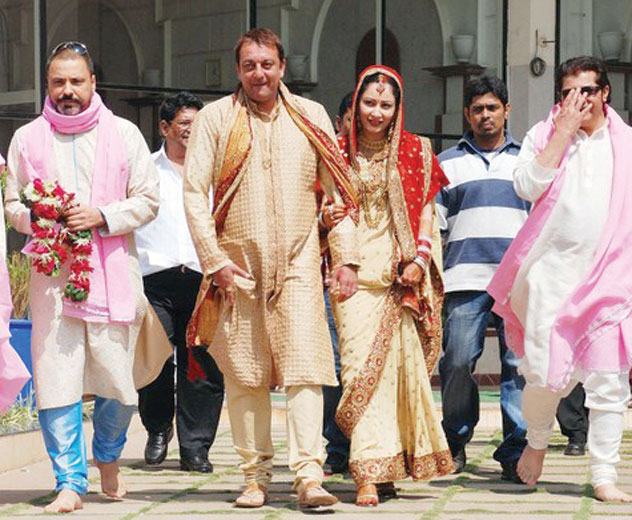 (Above):
Sanjay Dutt with Manyata
---
Hey guys, make up your minds. Sanjay Dutt and girlfriend Manyata, who recently married with great fanfare, now says it ain't so.

Come again? What does Sanju Baba think, this is some Bollywood potboiler where logic has no place? It hasn't been long since the entire world was treated to the spectacle of him marrying Manyata. So what gives?

Legal complications, that's what it is. With the law after him, Sanjay has given a pass to the old adage of marriage being "for better or for worse," and now he is asking the world to pretend the marriage didn't happen.

The couple has told a court that they are not legally married and therefore cannot be prosecuted for bigamy.

The couple, in an application filed before a Sessions Court, challenged the allegations of bigamy leveled by Manyata's first husband Meraj Rehman, an undertrial in a case related to sending obscene SMSes to Bollywood actresses.

The couple said they have not committed an offence of bigamy as there is no material to prove the validity of their marriage under law.

Challenging the order of a court in suburban Bandra for legal proceedings against them for bigamy, the couple said their reported marriage in Goa isn't valid nullity.

Dutt and Manyata, in their application, said that in order to prosecute them for bigamous marriage, it is necessary that their marriage must be proved valid.

But what about the saat phere, Sanju Baba?

|TOP|

---
Million Dollar Babe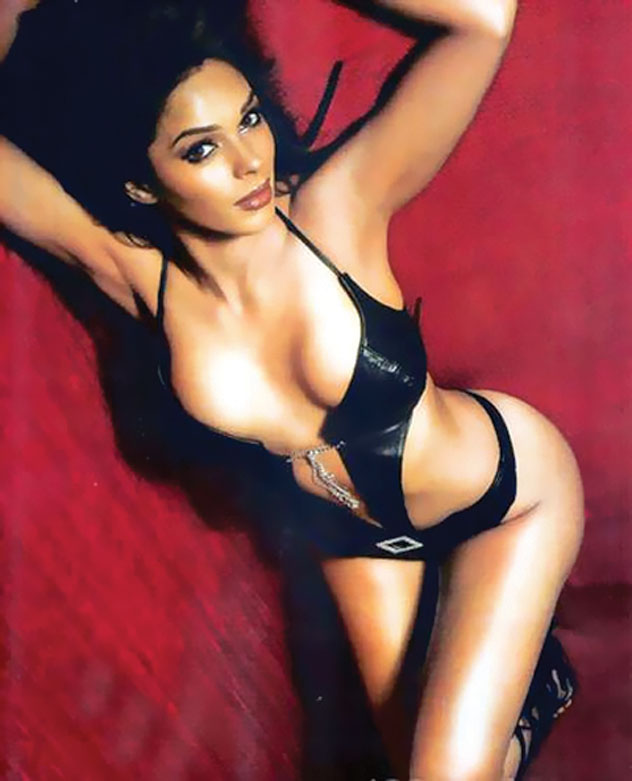 (Above):
Mallika Sherawat
---
Whatever you may think of this sultry Haryanvi's acting talent (or if you wish to harsh, lack thereof), nobody ever doubted the oomphy looks of Mallika Sherawat.

The sexy siren always looked like a million bucks, and not only did she know it, she was at pains to make sure everybody else knew it.

Well, Mallika figures if she looks like a million bucks, people may as well pay her that amount. Literally.

And no sir, it's not even for a film. It's a teeny weeny ad film. She is charging Rs 3.5 crores for a CD and cassettes advertisement. It's basically a surrogate commercial film directed by filmmaker Pradeep Sarkar for which the lyrics are apparently written by Gulzar.

A Bollywood wag says ad films, which are all style and no substance when compared to films where one actually has to acts, fits Mallika like a "tight brassiere." Ouch.

Not that Mallika is the least bit fazed. She thinks she's worth every penny. "It's about time that filmmakers in India stop telling actresses that we look like a million dollars and start paying us that," says the feisty Jatni. "The way India is growing and the way the U.S. dollar is sinking, it won't be long before a million dollars and a million rupees mean the same thing."

|TOP|

---
Some Like Them Young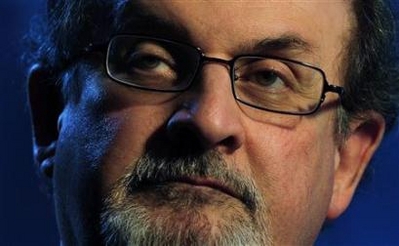 ---
(Above):
Salman Rushdie
---
You gotta hand it to this India-born author. It doesn't take him long to bounce back.

It hasn't been even a year since British-Indian novelist Salman Rushdie broke up with fourth wife Padma Lakshmi. The guy was miserable. He was worried sick with writer's block and had said: "Divorce is a very difficult thing and it was very painful for me. I think the only shred of dignity that remains in these situations is to keep your mouth shut."

Well, apparently he's decided to wake up and smell the coffee.

Now, Rushdie has got a new, and even younger, woman in his life.

Sir Salman, 60 has been spotted with Aimee Mullins, a 32-year-old champion athlete-turned model, at a bash at Soho Grand Hotel in Manhattan.

According to the London tabloid The Daily Mail, Aimee apparently told a friend: 'We're good friends, we are close friends." And boy, did it show. "They certainly looked like they were on a date. They arrived together, left together and were being touchy feely," the friend said. "Salman would take her arm as they walked around the room and when he was talking to people, she'd wait a step behind him. She said they'd been to another movie earlier that day and they'd been drinking together since the afternoon."

The daughter of a working-class Irish immigrant to the United States, Aimee, 28 years younger to Sir Salman, was born without any shin bones and had both her legs amputated below the knee when she was just a year old.

For most of her life, she wore cheap, unsightly and clumsy artificial stumps, yet she became a champion athlete and long jumper, setting world records at the 1996 Paralympics in the 100 meters, the 200 meters and the long jump.

She has also forged a lucrative career as a model. People magazine has listed her as one of the world's top 50 beauties.

|TOP|

---
Speaking in Tongues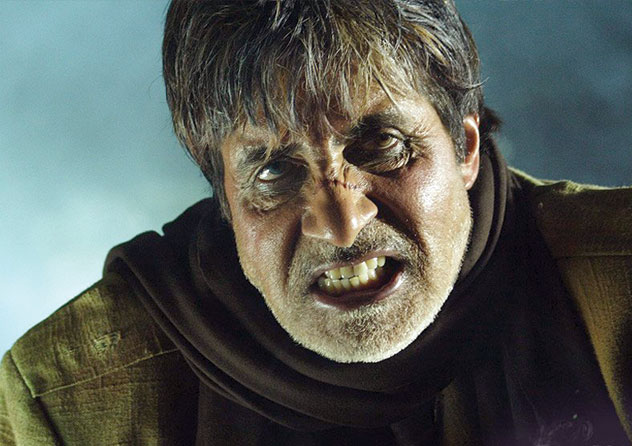 (Above):
Amitabh in "Ram Gopal Varma ki Aag."
---
Pity poor Big B. Faced with an irate section of the public that thinks he doesn't care enough about Maharashtra, Bollywood superstar Amitabh Bachchan was obliged to reassure Maharashtrians that he cared for them. In Marathi, no less.

Reaching out to Maharashtrians after questions were raised about his commitment to the Marathi cause, the Bollywood actor spoke in Marathi to tell he holds them "close to my heart."

"Maharashtra has given me a lot. It has given me house, my wife... My association with Maharashtra goes back to over 40 years," Bachchan told a TV channel.

Bachchan has drawn flak from Maha Navnirman Sena's Raj Thackeray who questioned his credentials as a well wisher of Maharashtra and triggered the "son of the soil" row. The Shiv Sena also targeted the star April 3 by saying Tamil star Rajnikant had "dwarfed" him by siding with Tamil Nadu, the place where he is settled, in connection with the Hogenakkal water row with Karnataka.

Rajnikant spoke in Kannada earlier to cool tempers after he came under fire from pro-Kannada outfits and political party leaders for his allegedly offensive remarks against people of Karnataka over the protests against Tamil Nadu's Hogenakkal water project.

The star was brought up in Karnataka before shifting base to Chennai after entering the Tamil film industry.

Rejecting the allegations that he had insulted Kannadigas, Rajnikant told some regional TV channels in Kannada "I am not an unwise person to pass remarks that offend the sentiments of people of Karnataka." The star said he was only referring to the miscreants fomenting trouble who needed to be reined in.

|TOP|

---
Married . . . Not!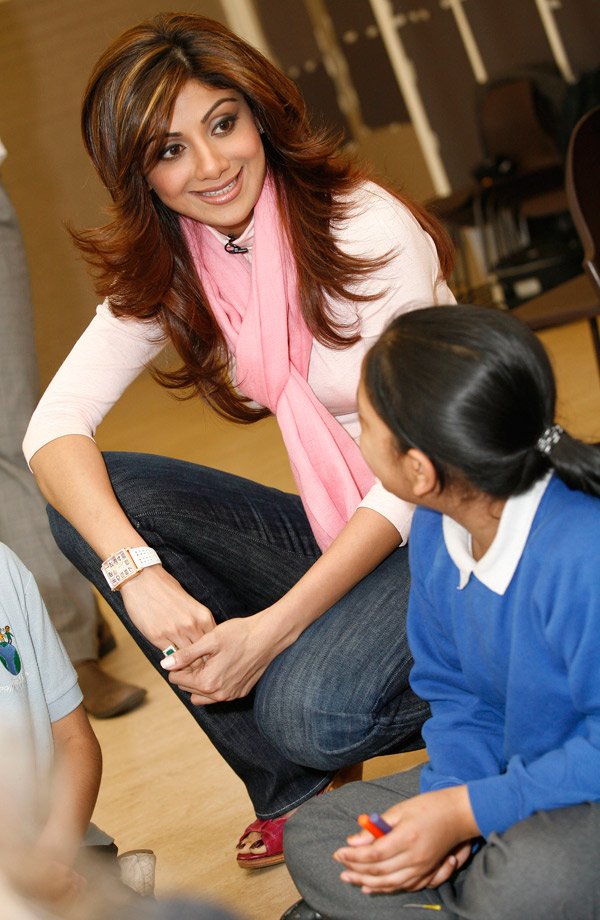 (Above):
Shilpa Shetty
---
A report on Rediff.com has published a picture of Shilpa Shetty's visit to Shirdi Sai Baba Temple this week along with her family and boyfriend Raj Kundra, and speculated that the actress has secretly married him.

Marriage? This is news to Shilpa.

Her publicist Dale Bhagwagar expressed outrage.

"Shilpa is flabbergasted with such irresponsible journalism," said Bhagwagar. "Apart from misreporting, the piece is accompanied by dirty and derogatory comments by various surfers on a discussion board below the write-up, adding insult to injury for Shilpa.

"Many of these comments are lewd and bring shame to our culture. It is surprising how a respectable Web site has allowed such vulgar comments to be put up without scrutinizing them."

Seeking an apology from the Web site, the publicist has already intimated the Cyber Crime Investigation Cell and added that Shilpa may file for defamation if prompt action is not taken by the Web site.

Our sincere sympathy goes out to Shilpa, but we can't help asking one question: When are we ever going to get to hear any news about her (apparently nonexistent) film career. I mean, she is still an actress, isn't she?

|TOP|

---
Belly Up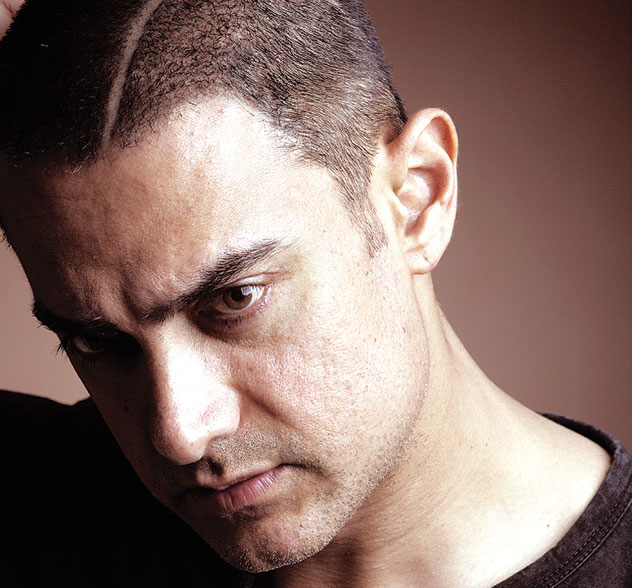 (Above):
Aamir Khan
---
Give Bollywood actor director Aamir Khan some credit. His latest project Delhi Belly seems to living up to its name, with the project showing ominous signs of going belly up.

After having roped in Swedish director Robert Nylund, the perfectionist actor has now developed some irrevocable creative differences with him.

So out goes Nylund, and in comes ad filmmaker Abhinay Deo (younger brother of popular Marathi actor Ajinkya Deo).

Abhinay, who has shot the recent cola commercial featuring Shah Rukh, Deepika and Ranbir, was the original choice as the director. But Abhinay was working on his first feature film script then and had turned down Aamir's offer.

Explains Abhinay, "Aamir had approached me almost eight months ago. But I was busy working on my own script then along with the producers — Farhan Akhtar and Ritesh Sidhwani. Eventually, my film got delayed. Recently, Aamir called to check what I was up to, and that's how I grabbed the film."

Abhinay, who has just directed a commercial for a cell phone company featuring eight actors, is optimistic about Aamir playing a pivotal character in the dark comedy. He says, "There are 50-50 chances. But I'm yet to get a confirmation." Ask him if he has roped in Chitrangada Singh and he says: "Not yet. We have just been approaching actors."

|TOP|

---
Most Popular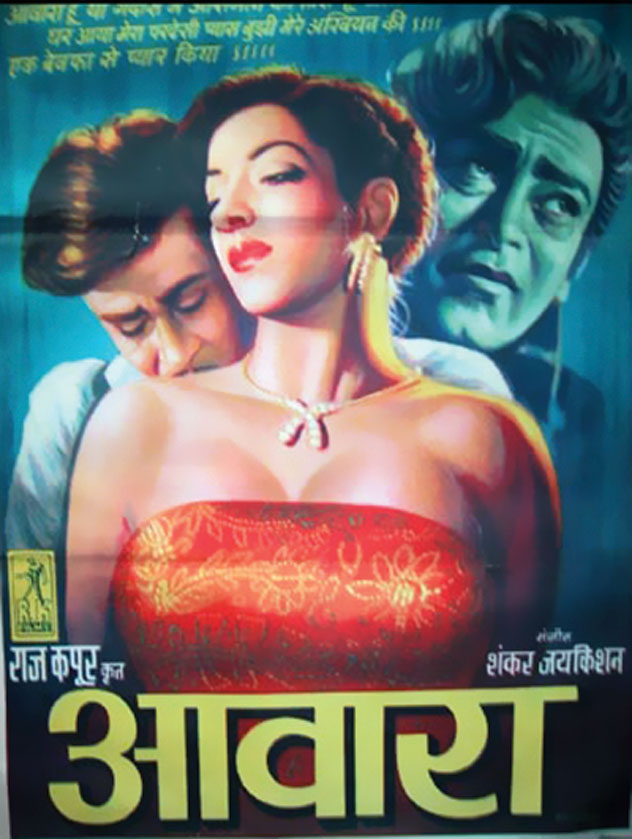 (Above):
 "Awara" film poster
---
Bet this will really surprise you. The 1951 Raj Kapoor starrer Awara, which has been seen and enjoyed by a large number of people across the globe, can be a candidate for the title of the "most popular film of all times," British film experts say.

Dina Iordanova, professor at the University of St Andrews and other experts cite several texts and anecdotal evidence to state in a special issue of the journal South Asian Popular Cinema that "Awara" may be a candidate for the title of the "most popular film of all times."

The journal issue maps the career of Indian films in various national contexts outside South Asia and includes several papers exploring the popularity of Indian films in places such as Greece, Bulgaria, Africa and Turkey.

The papers cast fresh light on the popularity of Indian films beyond the better-known overseas markets such as the U.S. and Britain.

Recalling her Bulgarian origins and childhood, Iordanova said: "I knew Indian films long before I had met any living Indian. We knew next to nothing of India and the Indians; we did not know much of the personality of Raj Kapoor either.

"However, the fascination with a film like 'Awara' was everlasting; everybody knew the actor's ever-singing dancing persona. Nothing could match up to the experience of watching 'Awara,' this film was more fascinating than any other I can remember," she said.

"It was a film that, in an unabashed manner, revealed a whole different world where preposterous melodrama came across as completely legitimate, where improbable misapprehensions triggered infinite suffering and obstinate injustices, where people were not ashamed to be overemotional and were solemnly preoccupied with enchanting adoration," said Iordanova.

|TOP|