ENTERTAINMENT | Film Review

Funny & Smart
Harold & Kumar: Escape from Guantanamo Bay

New Line Cinema presents
Harold & Kumar: Escape from Guantanamo Bay
Directed by: Jon Hurwitz and Hayden Schlossberg
Starring: John Cho, Kal Penn, Rob Corddry, Jack Conley, Roger Bart and Neil Patrick Harris

---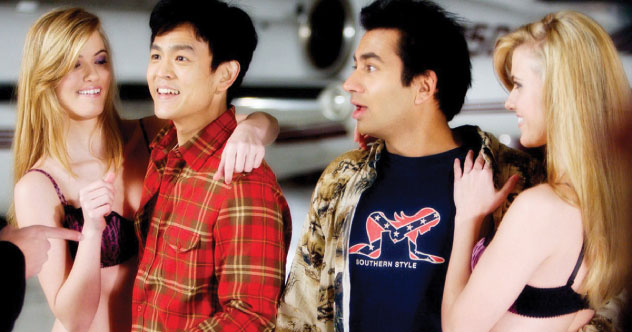 (Above): Scenes from "Harold & Kumar: Escape from Guantanamo Bay."

---
It has been approximately four years since an Asian-American character named Harold Lee (John Cho) and his Indian-American "Desi" friend Kumar Patel (Kal Penn) ventured out of their community cocoons to hit the big screen in "Harold and Kumar Go to White Castle," a twisted formula film whose time just had to come. It turned out to be quite an interesting attempt to liberate the two communities which have been mired in their usual nerdish stereotypes, political correctness and seeming lack of partying skills. Along came these two young and very confused males who proved that their ethnicities too can be a part of the mainstream, fitting right in with the hormonally challenged, who are often not just mowing their grass but indulging in other varieties of its use.

From the year 2004 we now jump to the present to "Harold and Kumar Escape from Guantanamo Bay" which opened on April 25th here in America, carrying the formula politically further and adding some more skin to its previous level of exposure. This time the duo attempts to explain the difference between a Bong and a Bomb aboard an airplane to Amsterdam in a post 9/11environment seeping with suspicion of all with brown skin. Their explanation is predictably a failure, and Harold and Kumar are sent to Guantanamo Bay, Cuba as suspected terrorists to join the company of the orange clad.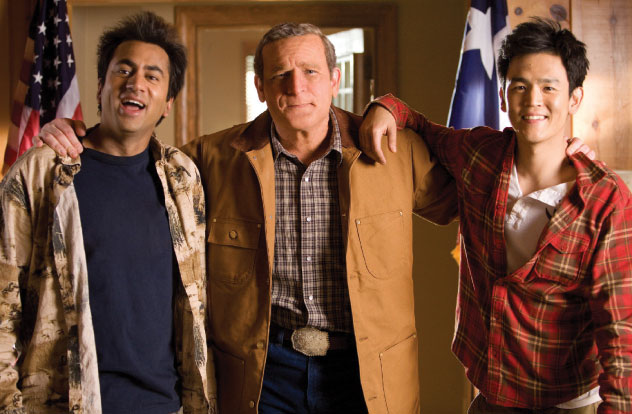 (Above, from left): Kal Penn, James Adomian and John Cho in "Harold & Kumar: Escape from Guantanamo Bay." [Jaimie Trueblood/New Line Cinema photo]
---

The groundwork had been laid down to its satirical fullness but as I walked into the theatre at the UA Market Square in Sacramento for the Press Screening of this movie on April 23rd what I had in mind was comic relief from the current reality of high gas prices, wars and inflationary pressures on basic food. In other words I was looking for a measure on the funny scale. Did this comedy live up to its potential as a laugh generator?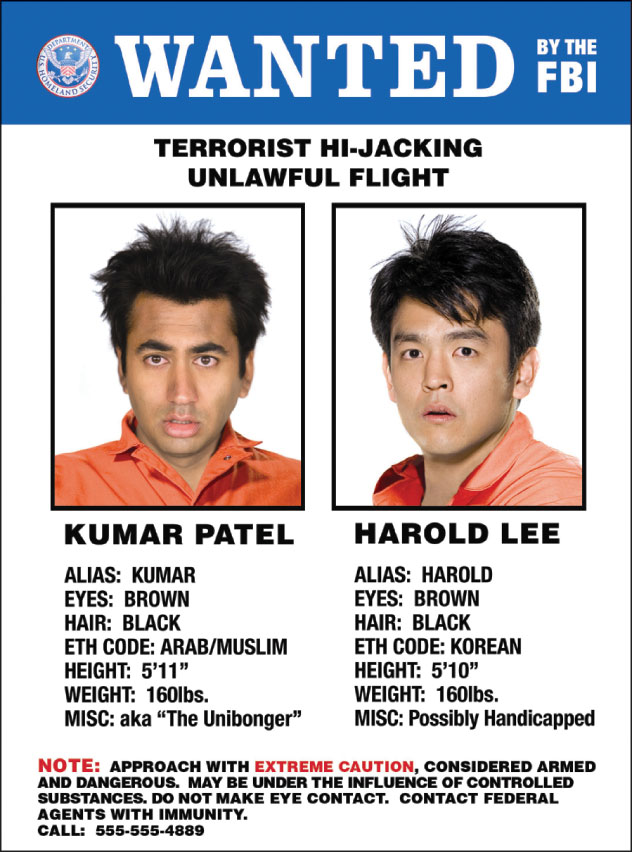 First, the hall was pretty packed as the level of interest in this movie remains high. But as soon as we find Harold daydreaming in the shower and Kumar on the toilet, restraint went out of the window. This is quite like the new "Odd Couple" of today. Harold has his act together most of the time and Kumar just cannot keep anything from falling apart. They are on their way to Amsterdam, so that Harold can hook up with his love interest Maria but the airport arrival and the plane journey along with Kumar's lack of will power get them into a great deal of trouble and on the way to Gitmo where they spend a miraculously short time before escaping.

They arrive back in the US along with some other "boat people" and look up an old friend the "bottomless" partying Raza (Amir Talai) while being chased by the overly eager Ron Fox (Rob Corddry) who gives it his all to protect the homeland and is only held back by Dr. Beecher (Roger Bart) who knows that the boys are innocent.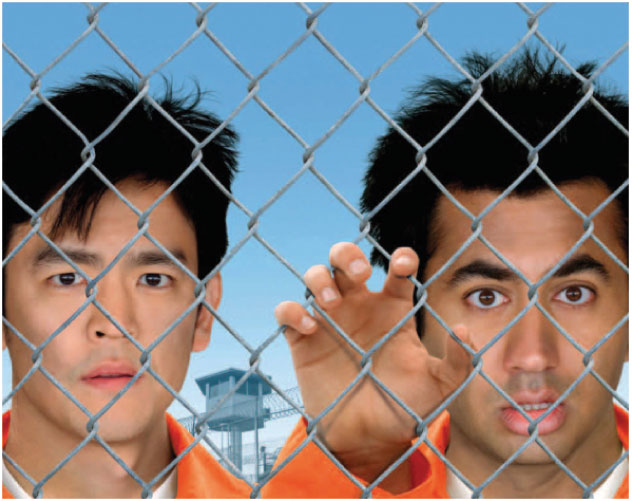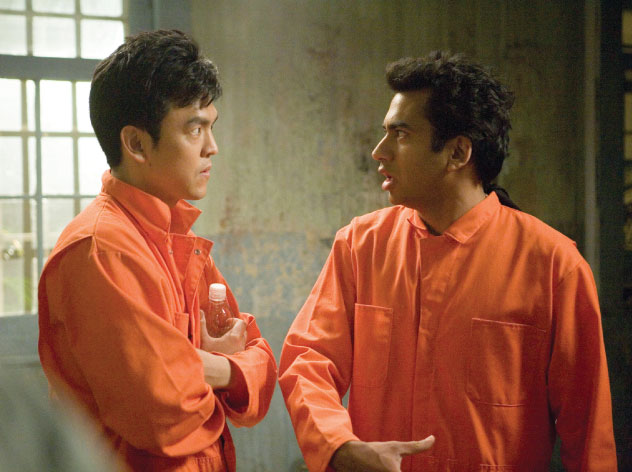 (Above): Kal Penn and John Cho (r) in "Harold & Kumar: Escape from Guantanamo Bay." [Jaimie Trueblood/New Line Cinema photo]
---
Harold and Kumar travel through the south trying to reach Colton (Eric Winter) a well connected and still socially climbing old friend who is about to marry Kumar's old love interest Vanessa (Danneel Harris). In their travels the boys meet up with Neil Patrick Harris (Doogie Howser, M.D fame) and last but not least President George W. Bush (played by James Adomian).

In a nutshell boys meet girls and life goes on. Some parts of the film are downright insane as stereotypes are both broken and created and some segments push the envelope of entertainment and taste too far and are not humorous. But then again the film has its moments. George W. is funny and strangely profound. The mushroom powered Neil Patrick Harris is confusing and the parents of Harold and Kumar needed to be given more time because that segment was much funnier than an encounter with the KKK who mistake H&K for Mexicans. This movie is not for the conservative or people below 17 years of age and rates two out of four stars.

Reviewed by Ras Hafiz Siddiqui.
— Rating: 2 1/2 Stars | Average