PHILANTHROPY:
Aid for Bangladesh: The Efforts of SpaandanB


Hundreds of Silicon Valley Bangladeshis attended a fundraiser to support projects for the underprivileged in Bangladesh, writes Muhammed Zafar Ullah.
---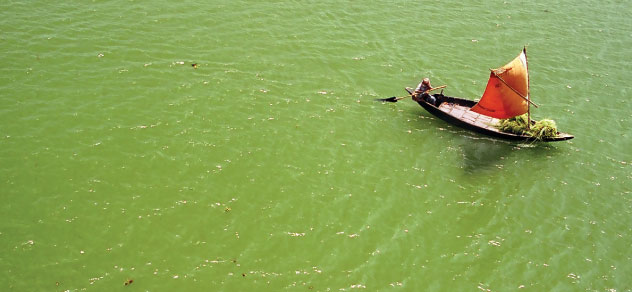 (Above): A boatman plies over a vast river in Bangladesh, which is located in riverine Gangetic delta. (Below): One step into rural Bangladesh, and you are struck by the lush greenery. A village belle walks home along a village path
---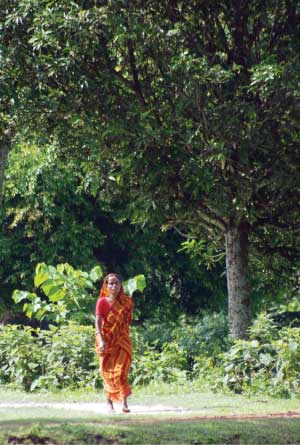 Around 350-400 people gathered recently at a fundraiser for SpaandanB, the organization for which I volunteer. It was an informal gathering where attendees, most of them Bangladeshis, had overall a great time, I would like to think.

As is their wont Bangladeshis had a whale of a time chatting away with abandon — it is this camaraderie that sustains and nourishes our souls in a foreign land. We had arranged for some music as well, and I think people liked it.

But we got some serious work done, too. Our wonderful supporters among the audience helped us raise about $28,000, a substantial sum that will help us do a lot of good in Bangladesh.

SpaandanB supports small-scale projects in Bangladesh in the areas of education, health and development. It also offers emergency support. Since its inception, SpaandanB has funded many projects and has helped hundreds of Bangladeshi lead a better life.

A small group of expatriate Bangladeshis in the San Francisco Bay Area founded this nonprofit in 1998 with financial help from generous donors.

We've come a long way since then. Thanks again to our donors, since our inception we have raised about $1.2 million and disbursed around $900,000. .

In the U.S., all of us who work for SpaandanB offer our services freely, so there is virtually no overhead. All SpaandanB volunteers are driven by a desire to help the needy citizens of the country we came from and still dearly love, Bangladesh. As we say in our Web site:

"As we pass just another regular day, millions of people in Bangladesh pass the day starving, struggling and ailing! Even a little help from us can make a significant difference in the lives of Bangladeshis. It can change their lives forever! And as we help one more of them, Bangladesh takes a little step towards prosperity and self-reliance."

SpaandanB has an office in Bangladesh, and there we have paid staff to make sure it functions smoothly. Even counting that, our overhead costs of 4 percent is actually quite impressive.

We support a diverse array of projects and monitor them closely. SpandaanB supports projects in the fields of health, education, development and emergency.

Our projects include health projects like the burn unit and pediatric unit of Dhaka Medical College and the Kormir Hath Clinic, education projects like Shurjo Shishu, Rural Talent Advancement, Gram Theke Shuru and the Imdad-Sitara Khan Foundation Scholarship, and development projects like the Gram Theke Shuru Cow Rearing Project and the Help Rangpur Rickshaw Program.

---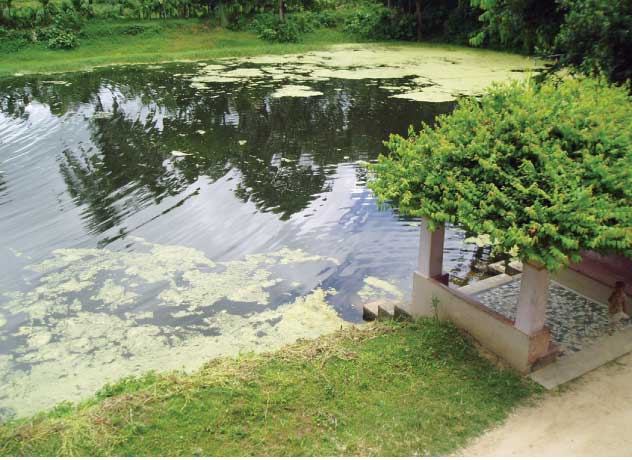 (Above): A small village pond next to a family homestead.
---
We have two more chapters in the U.S. in Austin, Texas, and Dallas, Texas. All operations and activities of SpaandanB are coordinated by an executive committee based in the Bay Area. There are Project Chairs for Health, Development, Education and Emergency sectors. Each project chair heads a sector sub-committee.

When a new project proposal is received, the Project Evaluation team evaluates it based on SpaandanB's project model and criteria. If a project is accepted, it is delegated to one of the four sector sub-committees.

We welcome interested readers to join us in helping Bangladesh. All it takes is a little effort and some good intent, and before you know it, you are part of something much bigger than the sum of its parts, and you have the satisfaction of knowing that you are making a real difference in the lives of people.

Do visit us at our Web site at www.spaandanb.org. You will also find contact information to reach us with any new ideas you have.

---
Muhammed Zafar Ullah is a volunteer with SpaandanB, a U.S. non-profit that supports a host of projects in Bangladesh.
He lives in San Jose, Calif.