CULTURE:
Welcoming the Bangla New Year: Boishakhi Mela


Bengalis from both West Bengal and Bangladesh welcomed the Bangla new year in style in Sacramento.
A Siliconeer report.

---
(Above): Shubho Naboborsho! Little Bengali girls — of both Bangladeshi and West Bengal descent — are dressed for the occasion to welcome the Bangla new year.
---
A "Boishakhi Mela" or Bengali New Year Festival was held at the Natomas High School in Sacramento, California on April 12th with a great deal of fanfare. Although this area cannot boast of a large Bengali population (unlike the Punjabis), it was still very interesting to observe the enthusiasm shown by the Bangladeshis and Indian Bengalis present at this colorful event.

Bengali foods were a hot attraction here as delicious delicacies such as ilish maachh (Hilsa fish — the closes U.S. analogue is shad fish), daal bhat and especially jhal muri (savory puffed rice with chopped onions and condiments) attracted many customers along with other standard South Asian dishes. Bengali mishti (sweets) also retained quite a following as authentic chom chom and roshgolla were outstanding.

---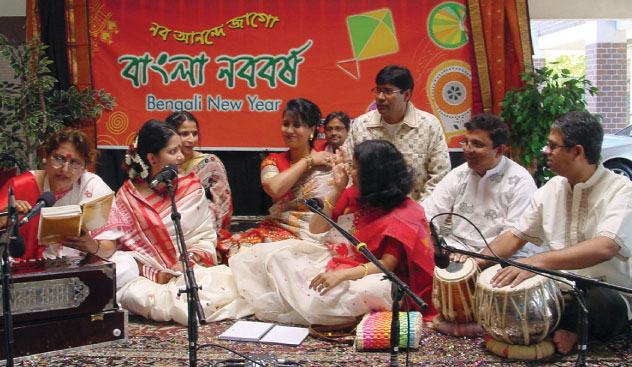 (Above): With bright artwork in the background proclaiming Shubho Naboborsho ("Happy New Year" in Bangla), performers get ready to perform at the Boisakhi celebrations in Sacramento.
---
Bengali culture is rich in dance and theatre. Kids and adults all participated in entertaining visitors via songs and stage performances dressed up in the golden colors of the land. This was a secular event with Hindus, Muslims, Sikhs and some locals participating enthusiastically.

The event was hosted by Anandamela, an organization that brings together people under the rubric of culture and language that transcends religious or political boundaries. Bengalis from India's West Bengal state and Bangladesh came together in a heartwarming show of solidarity regardless of religion and nationality, setting an example virtually nonexistent among Bengalis in the San Francisco Bay area.

---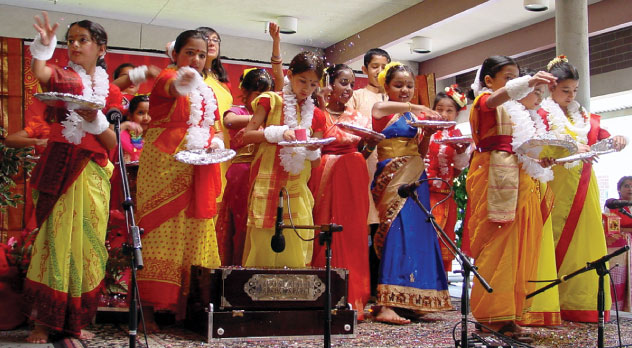 (Above): Flowers, saris and a bit of jewelry—these little girls in Sacramento are ready to welcome the Bangla new year in style.
---
In Kolkata, Pohela Boishakh, the first of Boishakh, (and indeed the entire month of Boishakh) is considered to be an auspicious time for marriages. Young ladies clad in white saris with red borders and men clad in dhuti and kurta take part in the probhat pheri processions early in the morning to welcome the first day of the year.

The traders purchase new accounting books called halkhata.

On Pohela Boishakh various fairs are held in West Bengal. The most famous of these is Bangla Sangit Mela, held at Nandan-Rabindra Sadan ground. This fair is conducted by the Government of West Bengal.

---
(Above): Panta Ilish — a traditional meal of stale rice soaked in water, a fried slice of Hilsa fish, shutki bharta (dried fish paste), pickles, chillies and onion, served in an earthen platter, is popular during the Pohela Boishakh festival.
---
In Dhaka, the colorful celebration of Pohela Boishakh is closely linked with rural life in Bengal. Boishakhi fairs are arranged in many parts of the country.

The most colorful new year's day festival takes place in Dhaka. Large numbers of people gather early in the morning under the banyan tree at Ramna Park where Chhayanat artists open the day with Rabindranath Tagore's famous song, Esho, he Boishakh, Esho Esho (Come, O Boishakh, Come, Come). The entire cultural event is attended by tens of thousands of citizens and is televised live all over the world by satellite TV for the global Bangladeshi diaspora.

A Happy New Year, then from Bengalis living in Sacramento. This year is especially joyous as the train service between Bangladesh and India's West Bengal state has finally resumed after 43 years.