COMMUNITY | News in Brief:

Indian Performances at San Francisco Ethnic Dance Festival | Hindi Sammelan 2008 Hosted in Washington | Second Anniversary | India Nite | Baisakhi in L.A. | Kalam's Vision | Parents' Choice | Veteran Rights

---
Indian Performances at San Francisco Ethnic Dance Festival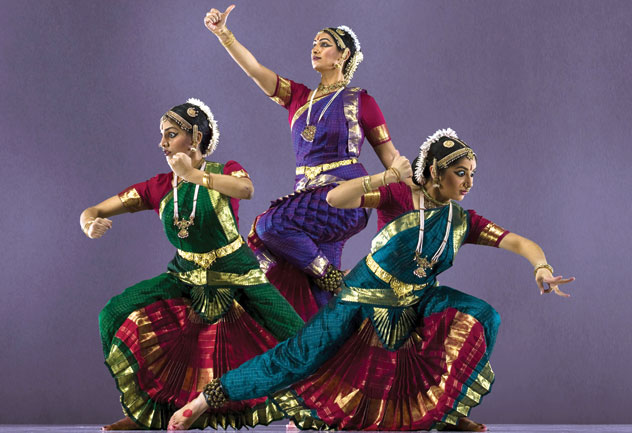 (Above): Performers of the Abhinaya Dance Company, which will present a specially commissioned performance at the San Francisco Ethnic Dance Festival.
---
This year marks the 30th Anniversary of the San Francisco Ethnic Dance Festival, and in celebration, 50 master musicians and dancers from around the world join 36 Northern California dance companies to make this year's event special, according to a press release from organizers.

Indian presentations include the Abhinaya Dance Company of San Jose, whose artistic director Mythili Kumar has been specially commissioned to present a world premiere at this year's festival. She is creating a piece called "The Power of the Goddess" – based on shakti, female energy.

Ten-year-old Sindhu Ravuri of San Jose, the festival's first Indian kuchipudi artist, will perform to the accompaniment of her gurus Raja and Radha Reddy, two of India's foremost kuchipudi masters.

Local Indian kathak master Pandit Chitresh Das appeared in one of the very first festivals, and 30 years later, sixteen young students from his school's Chhandam Youth Company make their debut in this year's event.

San Mateo's Vishwa Shanti Dance Academy make their festival debut this year with another world premiere called Poorthi.

Niharika Mohanty is performing an Odissi solo. It also is her first time in the festival. Her piece is a prayer that describes Ganesh and was created by Guru Ratikant Mohapatra, the son of legendary Odissi master Late Guru Kelucharan Mohapatra.

The festival has expanded to four weekends in June. Performances take place at the Palace of Fine Arts Theatre in San Francisco. Tickets ($22 - $44) and a subscription package for all four weekends ($80 - $158) are available by calling City Box Office at (415) 392-4400; online at www.cityboxoffice.com or www.tickets.com

World Arts West has been presenting and promoting the dance and music traditions of the world since 1978. For more information about World Arts West, visit www.worldartswest.org

|TOP|

---
Hindi Sammelan 2008 Hosted in Washington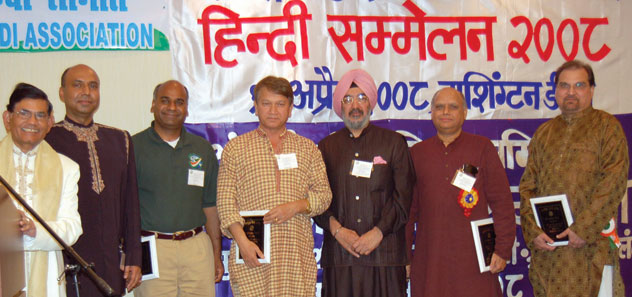 (Above): Award winners of Hindi Ratn with Indian Ambassador Raminder Singh Jassal at the 2008 Hindi Sammelan in Washington, D.C.
---
The International Hindi Association organized its 14th convention, Hindi Sammelan 2008, at the Crowne Plaza Hotel in Washington DC April11-13, according to a press release from organizers.

The theme of the conference was "Hindi in THE globalization age" to highlight the role of Hindi as an international language. Various dimensions, challenges and solutions were discussed in different sessions drawing attention to importance of Hindi not only for individuals, but also for businesses, media, and the government. Indian Ambassador Raminder Singh Jassal was the chief guest, and the Embassy of India in Washington, DC collaborated for the event.

Hindi scholars from the U.S., Canada, U.K., and India participated in the conference. The three-day event started with a children's program of local Hindi schools followed by a three-hour Kavi Sammelan of 30 poets from the U.S. and Canada.

In his keynote speech in the general session attended by over 200 people, Jassal emphasized the need to teach Hindi to the children of Indian diaspora. Later, a Hasya Kavi-Sammelan featured Indian poets Suresh Awasthi, Sunil Jogi, and Gajender Solanki. The 15-city marathon Kavi-Sammelan tour traveled to Dallas, Houston, Cincinnati, Oklahoma City, Nashville, Raleigh, Washington DC, New Jersey, Chicago, Detroit, Cleveland, Boston, New York, and Toronto from March 27 to April 27.

The International Hindi Association published a souvenir commemorating the Kavi-Sammelan tour and the convention. Over a dozen Hindi books authored by Indian writers and poets in the U.S. were released at the convention.

Founded in 1980 in the United States by Hindi scholar late Dr Kunwar Chandra Prakash Singh, the International Hindi Association is one of the most vibrant Hindi institutions in the world. It is a premier institution of Indian culture and studies in the United States.

More information is available at www.hindi.org.

|TOP|

---
Second Anniversary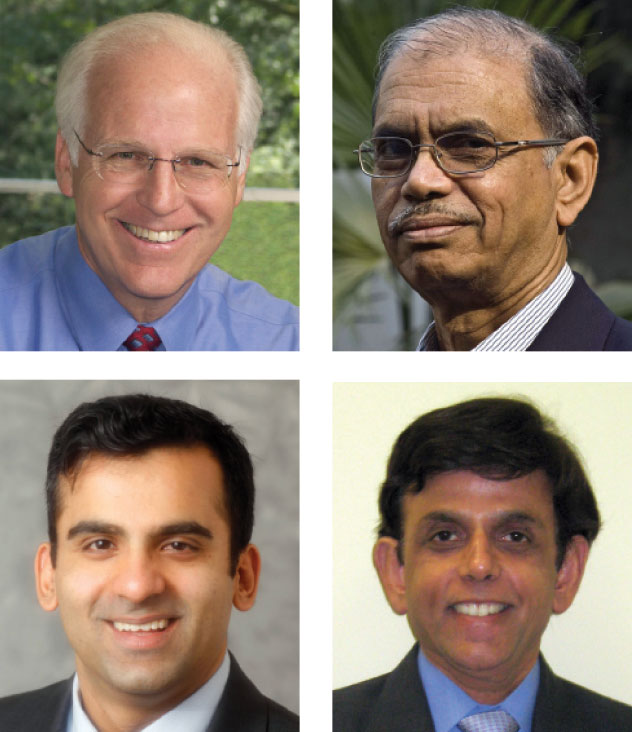 (Clockwise from top left): Rep. Christopher Shays, Nayan Chanda, Dr. Prasad Srinivasan and Sameer Ahuja.
---
GOPIO-Connecticut will mark its second anniversary at the Italian Center of Stamford, Conn., by honoring three Indian Americans and a Congressman for their outstanding achievements and service to the community at an Awards Banquet April 27, according to a press release.

The honorees are: Dr. Nayan Chanda of Yale University for his accomplishments and contributions to Arts and Letters; Dr. Prasad Srinivasan for his contribution to Medicine and Community service and Sameer Ahuja for his outstanding accomplishment as "A Young Person Of The Year" (co-founder of the Sports Museum of America). In addition, Rep. Christopher Shays will be inducted by the organization as "Friend of India," the highest honor the organization gives to an American.

GOPIO — Global Organization of People of Indian Origin — is a worldwide organization dedicated to community service and working with people locally to coordinate activities of common interest nationally and on a global scale. GOPIO-CT was launched in 2006.

"In two years, GOPIO-CT has become a very active and dynamic organization hosting interactive sessions with many policy makers, youth mentoring and networking workshops, grant parent's day and health awareness series," said Dr. Thomas Abraham, chairman, GOPIO International.

Sangeeta Ahuja, who has been reelected the chapter's president, said that to become a distinguished organization involves a lot voluntary community service work from its members.

The guest of honor at the Awards Banquet is India 's Deputy Consul General Dr. Ajai M. Gondane.

|TOP|

---
India Nite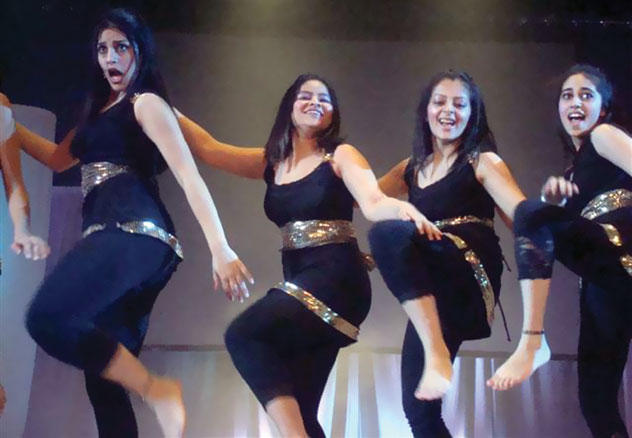 (Above): Performers at India Nite hosted by the Indian Students Association at the University of Illinois at Urbana-Champaign. [Terry D'Souza photo]
---
The Indian Student Association of the University of Illinois in Urbana-Champaign celebrated India Nite 2008 April 4- 5 at the Foellinger Auditorium with a full-house crowd, according to a press release from the organizers.

This year marked the 20th anniversary of a show that began as a one night affair with an audience of about 200 and has since grown to an event attracting an audience of over 3,000.

"India Nite was a special occasion not only for the participants of the show, but also for the cultural awareness it provides," said the press release. "Indian Student Association regards this event as an opportunity for students to showcase their artistic creativity and talents, portraying the multiple facets of Indian-American culture.

"This evening allows students to come together and cherish the heritage which makes students community such a rich and unique one. More importantly Indian students come together this evening with their family and friends, meet new people, build relationships and create memories that last them for a life time."

Each year these students try their best to give the audience of piece of Indian cultural knowledge and a glimpse into values from their background, the release added. "It is their greatest pleasure to have everyone supports them with their presence to witness their energy and passion towards India," the release said. This year Indian Student Association named their India Night 2008 "Jawani Ka Josh!"

|TOP|

---
Baisakhi in L.A.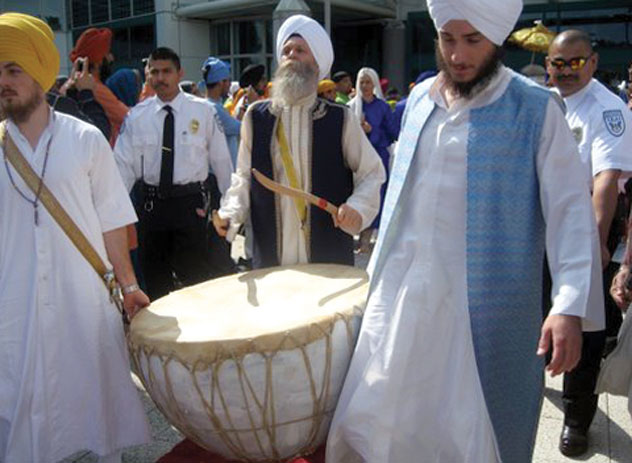 (Above): Participants in a parade hosted to mark Baisakhi celebrations in Los Angeles.
---
The Sikh community of Southern California gathered April 6 at the Los Angeles Convention Center to celebrate Baisakhi, their most important annual festival. To honor this event and help commemorate the Sikh presence within Southern California, Los Angeles City Mayor Antonio Villaraigosa donned a turban and made an appearance at the event. He spoke to the over 14,000 Sikhs gathered at the Convention Center, expressing his appreciation of the Sikh community.

The Mayor of the Punjabi city of Amritsar, Shwait Malik, also attended the Baisakhi celebration in Los Angeles. Amritsar is one of the most important cities to the Sikhs. It is where the most sacred temple for the Sikhs, the Harimander Sahib (or Golden Temple) is located. Malik congratulated the Sikhs on their celebration, honored their presence in California for 100 years, and invited them to spend time in the city of Amritsar. Currently, Bakersfield, Calif., and Amritsar are in collaboration to become Sister Cities.

Other dignitaries who attended the event included California State Assembly Member Mike Eng; California State Board of Equalization chair Judy Chu; California State Sen. Mark Ridley-Thomas; Los Angeles City Councilman Bernard C. Parks; Los Angeles County Supervisor Zev Yaroslavsky; and Los Angeles County Supervisor Mike Antonovich.

The Baisakhi celebration took place in a beautifully decorated hall, with large cloth murals of forests and beautifully decorated stages. Food was served continuously to the over 15,000 thousand of participants. The day ended with a festive parade of floats through downtown Los Angeles. There were close to 20 Sikh floats in the parade.

|TOP|

---
Kalam's Vision

"We should give 100 percent to where we live and work, while we commit to give back our knowledge and experience to our motherland also," former Indian President Dr. A.P.J. Abdul Kalam told nearly a thousand Non Resident Indians who had gathered from across the United States to listen to him at the Hindu Temple Community Hall in Flushing, New York, recently.

The reception was organized by over 35 Indian American Organizations including GOPIO-New York, NFIA and FIA-New York, and students from more than 10 universities in the New York tri-state area.

Kalam was visiting the United States to share with NRIs his vision for India in the year 2020, and encouraged everyone to dream big, to achieve with integrity and to ignite the minds of youth of this world. Traveling along with Dr. Kalam was Indira Rajan, chairperson and managing director of Minerva Education Trust, Perumbavoor, Cochin. She is an educator and promoter of Dr. Kalam's vision 2020 in her school systems in Kerala.

Kalam told the audience that since his presidential term got over last year, he has interacted with over one million people and youth to formulate his vision for India. His eloquent presentation was peppered with quotes from Plato and Tamil poet and visionary Thiruvalluvar.

Kalam said key elements of his vision include a nation where the rural and urban divide is reduced to a thin line, where poverty has been eradicated, illiteracy removed and crimes against women and children are absent and none in society feels alienated, where the governance is responsive and transparent, a nation that is prosperous, healthy, secure, peaceful, and happy and continues with a sustainable growth path.

Lal Motwani, president of the New York chapter of the Global Organization of the People of Indian Origin gave the welcome address.

|TOP|

---
Parents' Choice

"Kahani," a South Asian literary magazine for children has won a 2008 Parents' Choice Approved Award, its second such award from the nation's oldest and most respected authority on children's media products.

Thousands of books, television programs, magazines, and toys are submitted for contention every year. "Kahani is among the small percentage selected to receive a Parents' Choice Award," said Claire S. Green, president of the Parents' Choice Foundation.

The nonprofit has been reviewing children's media products since 1978. Only 20 percent of the submissions get the seal of approval.

"The fact that this is our second Parents' Choice Award is huge," said Monika Jain, editor. "There is always the novelty factor with Kahani because there is no other magazine like it out there," she said. "But winning two years in a row: that means the foundation subjects Kahani to the same strict criteria as all mainstream magazines."

"It's solid recognition of Kahani's quality and content," Jain added. It won alongside National Geographic Kids and Sports Illustrated Kids.

Kahani, which means story in Hindi, is a children's literary magazine illuminating the richness and diversity that South Asian cultures bring to North America . Published four times a year, it is full of short stories, art, activities, and fun facts. Unlike most magazines, Kahani does not publish any advertising and uses a subscription-based model. Subscribers include schools, libraries, and families — some as far away as Bermuda . The magazine's online home can be found at www.kahani.com.

|TOP|

---
Veteran Rights

Senate Majority Leader Harry Reid, D-Ariz., and WWII veterans Sen. Daniel K. Akaka, chairman of the Veterans' Affairs Committee, and Sen. Daniel K. Inouye have discussed the Veterans Benefits Enhancement Act of 2007.

Senator Reid said, "The Senate will vote on whether to proceed to the consideration of S. 1315, the Veterans Benefits Enhancement Act. This important bill would fix a historical wrong done to Filipino veterans that served under U.S. command during World War II and who were promised benefits comparable to those of all American veterans. That promise has not been kept and it's past time to make this right.

"Senate Democrats are fighting for the rights of all our veterans who answered this country's call to battle. The travesty here is that Filipino WWII veterans have been woefully ignored even though they fought for our country," Reid said. "For decades we have tried to restore the benefits that we gave to Filipino veterans following the war, but were later taken away. Time is running out. The average age of these vets is 80 and we can't afford to wait any longer to do what's right. These soldiers made a promise to protect and fight for us and we must keep our promise to honor and fight for them."

Akaka said, "This legislation will enable Congress to begin to rectify a wrong done to Filipino World War II veterans over 60 years ago. The United States has a moral obligation to care for those who have served under its flag. I believe in the soldier's creed, 'Leave no man behind.' This nation should not leave these aged veterans behind during their twilight years."

|TOP|