PERFORMANCE:
Allah Made Me Funny: Muslim Comedy


A diverse trio from a Muslim comic group drew applause and laughter as they looked at the funny side of being a Muslim in America, opening up a channel for people to communicate across the barrier of different faiths, writes Ras Hafiz Siddiqui.
---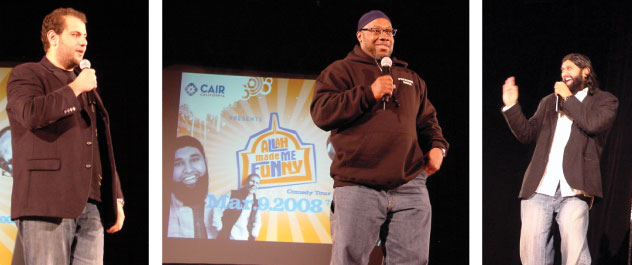 (Above): Palestinian Arab Mohammed Amer (left); Preacher Moss (center) and Azhar Usman (right), all part of "Allah Made My Funny," a trio of Muslim comics. [All photos by Ras H. Siddiqui]

---
Comedian Azhar Usman tells the audience about two South Asian aunties talking to one another on the phone (especially across continents). The conversation that lasts for about half an hour miraculously has one lady saying just three or four words in Urdu during its entirety, all of which mean "Yes" (Ji, Haan, Accha, Ji) signifying agreement. While such a conversation is indeed common in our culture, Usman offers his own comic twist to it by expressing his sympathies for the wiretapping/phone listening members of the American security establishment. He especially feels for those who produce a valuable transcript of this conversation, all of which has only the word "Yes" written in it.

The Council on American Islamic Relations Sacramento Valley held a very successful event in California's state capital March 9 in which the "Allah Made Me Funny" comedy trio provided entertainment and much food for thought on the American Muslim predicament since Sept. 11, 2001. Along with Usman, the other comics in this group are its founder African-American Muslim Preacher Moss and its newest member, Mohammed Amer, who is of Palestinian-Arab extraction.

CAIR Sacramento Valley is a leading civil rights organization representing Muslim interests in this part of California. In its work it has a network of friends and many supporters from local mainstream political circles. Sacramento City mayoral Candidate Kevin Johnson (a Sacramento native formerly of the Phoenix Suns basketball team) was very much present. Current Sacramento Mayor Heather Fargo has also benefited from local Muslim support in her previous campaigns. Other political figures attending included Assembly member Dave Jones, several officials of the CAPITAL organization along with members of the Japanese American Citizens League who do not want to see their own WWII experience to be repeated in America . CAIR Sacramento Valley executive director Basim Elkarra, who is tall enough to be a serious basketball player, opened this fun-raiser/fundraiser. A video montage of the valuable work that this group has done was also shown. "Be proud that you are Muslim and American," said Elkarra, at the start of what was to be quite an interesting entertainment evening.

This reporter has seen and covered the "Allah Made Me Funny" comedy act on a number of previous occasions when all three were together or as individual acts performing separately. Each one of them brings a different perspective to the Muslim-American experience today. They are like three flavors of halal or Muslim Kosher humor. They represent the three largest ethnicities of American followers of Islam, namely the South Asian (Bangladeshi, Indian and Pakistani) Muslims via Azhar Usman, the African-American community through Preacher Moss, and the Arab-American voice represented by Mohammed Amer. Together they make quite a rich bouquet of comedy. Out of the three Preacher Moss is possibly the most political, Usman is the observant one and Amer possibly the most family oriented. Presented below are just a few small slices of their comical segments presented at this event.

The long haired Azhar Usman asked if any Barack Obama fans were in the hall (thunderous applause). "Any Republicans make it to the show?" he asked (The silence was interesting). He said that Indian and Pakistani people are kind of racist. Labels like goras (whites), kallu (blacks) and chapta (South East Asians) are commonly used in the community. He went on to express the idiosyncrasies of a culture where "brother-in-law" was considered a bad/cuss word (Try explaining that to someone here). He said that he was sick of being racially profiled by people in the Muslim community. "We are part of the problem," he said. On observance of holidays and the flexibility of when they fall, our explanations to our American co-workers can generate interesting reactions; we cannot even explain when the Eid holiday will fall. He said that we also don't bother to make Eid fun for our kids here, when competing against holidays of other faiths. On a personal note, Usman, who is of Indian origin, said that he has been pegged as both a Gandhi and an Osama by different observers and asked if this was about terror through non-violence? Must be a brother-in-law?

Next in order of appearance was the most senior member of this group. According to the media, there are no funny Muslims, said Preacher Moss. His main message to the American Muslim community was to "Think Black." He said that he had the best of both worlds. He was both black and Muslim. He said that a group called Al-Hide-A and one man in a cave (in Afghanistan ) could possibly cause many terrible events because he has seen all the problems that one man in a White House can cause (Preacher Moss is a fearless comic). His wife is Indian. Cultural issues did come up. "I spent 45 minutes in the bathroom and I didn't know what a lota was." On the issue of Islam allowing four wives he had an interesting observation. "I'm a black man. I never had four of anything." He said that if this was an "official" Muslim event, there would be three hundred unsupervised kids running around.

Mohammed Amer is a Palestinian who came to the U.S. from Kuwait and is now a Texan.

Seeped in Arab family humor and in Palestinian survival skills (many in his family have Ph.D. degrees) he shared his mother's reaction when he told her that he was going to be a comic. "Loser," was the reaction. "Mohammed is the most popular name in the world," he said. "I went to Disneyland. Not one keychain with my name on it," he added. He said that Arabs don't like to visit doctors. They place their bets on their faith and the miraculous healing powers of olive oil for any or all ailments (and their fate depends on a brisk wind that controls it). He went into the trials and tribulations of going overseas while being a stateless Palestinian, whose travel documents are indeed unique. He said that his family had a lot of issues after 9/11. His brother Omar happened to be a pilot. And he could not call his nephew on trips to local stores because his name is Osama. "Sammy" just did not cut it. He hinted that domestic life was akin to chess. The King can only move just one step in any direction but the Queen is free to move all over the board. He also shared a scenario during which an Arab is stopped by a Texas policeman and mistaken for a Mexican.

The "Allah Made Me Funny" comedy group certainly lit up our local community with their pre-spring performance here. CAIR Sacramento Valley needs to be commended for making this possible. It was wonderful to see the impact that this brand of humor has on local Muslim American kids. Many of them have not even visited the countries where their parents were born. And the local non-Muslim dignitaries were laughing too. Humor has a unique way of opening a line of communication between cultures. And at the moment we certainly need it more than ever.

According to the comedy troupe's Web site: "The question has always been where can Muslims and non-Muslims go for social growth, and entertainment by us, for us, and about us? The answer? 'Allah Made Me Funny: The Official Muslim Comedy Tour.'

"The concept of this tour is to make a comprehensive effort to provide effective, significant, and appropriate comedy with an Islamic perspective, which is both mainstream and cross-cultural. "'The idea is to provide a venue whereby Muslims and non-Muslims can feel safe, relevant, and inclusive of an experience where humor is used to bridge gaps of bias, intolerance, and other social ills that are pre and post 9/11 relevant,'" says Preacher Moss, co-founder, and one of the featured comedians on the tour.

"Preacher Moss and co-founder Azhar Usman have already made the international radar. . .

"'This project means people are coming out to not only be entertained, but also educated about the truths of Muslims and non-Muslims' existence in America following 9/11, but also preceding it. It involves the courage to step out of the shadows of silence, and fear and reach out and build bridges. We're building these bridges through humor, and understanding to make that journey a little easier for all of us,' explains Moss."

Fans look forward to the Allah Made Me Funny movie that this trio has now completed. It is scheduled for a theatre release later this year.

---

Ras Hafiz Siddiqui is a South Asian American writer who lives in Sacramento, Calif.

---