DIARY:
Notes from Ghana: A Volunteer's Journal


In Ghana, the message, whatever it is, is clear and straightforward – something you do not normally see in the Western world, a country that preaches freedom of speech, writes Preeti Tijoriwal.
---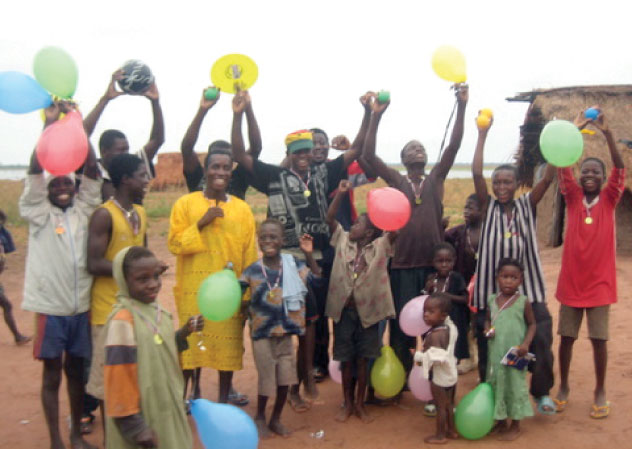 (Above): Always quick with a smile, Ghanaians must be the happiest people on earth — which goes on to show that happiness is not about wealth or power, it's a state of mind. [Preeti Tijoriwal photo]
---
A Warm Welcome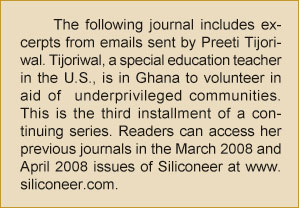 Akwaaba! It is the first word you see when you arrive at the international airport in Accra, it is the first word you hear when you meet a new person, and it is the feeling you get as you walk through the streets of Ghana. It means "Welcome." I have felt very welcome here by everyone I have met. Ghana has rightfully earned its reputation as the friendliest country in Africa. The women are polite. They always say "Good morning" or "Good afternoon" as you pass, and they often ask to be your friend. The men are incorrigible! I have been proposed to several times while I have been here, even after only sitting next to someone in a cab (hint hint – I might come back with a Ghanian husband)! And the children – the children come in two forms here: cute and cuter. They treat you like a celebrity, shouting obruni and running after you. You would think that they come out of the womb knowing the word for "white person!" …But Preeti, you are not white…. Yes, I know. But in Ghana if you are not black, you are white. Although, I'm getting quite a tan here!

---

(Above, left): The author on a boat journey to visit an island community. (Right): The lush green commons in front of a community center.
---
The Scene

Verdant green coast, sandy red north, the largest man-made lake in the world to the east, and a few small mountains that pass through the middle. In the month I have been here, I have already traveled much of the country. I have been to Mole National Park in the north to see wild elephants. The deep red sand that Ghana sits on has penetrated all the little shacks and structures. Cape Coast on the southern coast has a typical beach atmosphere – loud music, beer and the ocean. Cape Coast is famous for its castles, with their eerie slave dungeons where thousands were held captive in nauseating conditions before they were deported across the Atlantic. I visited a small island on Lake Volta to the east. This nameless island has about thirty inhabitants and is no bigger than a half-mile radius. The people of this island believe that the surrounding water will protect them from all evils.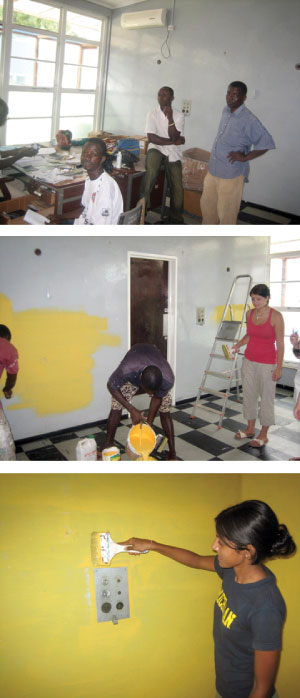 ---
(Right): Various stages of refurbishing a hospital information center can be seen in the series of photographs above from top downwards: The old office (top); volunteers getting ready to paint the walls (middle); and the author joining in to put finishing touches (bottom).
---
Traveling can be a bit of a nightmare, or adventure, depending on how you look at it. The most common form of public transportation is a tro-tro, which can be described as a large van that should safely hold about eleven people (two in the front and nine in the back in three rows). In actuality, they hold upwards of 16-20 people, sitting shoulder to shoulder, with every inch of floor space covered by feet and bags. Mind you, most tro-tros are not air conditioned, and temperatures in Ghana at midday are typically in the 90s. Several roads are unpaved, causing the red sand to fly in through the open windows, making the journey bumpy, sticky, sweaty, dirty, and all around unpleasant.

Police Encounters

There have been three so far, four if you include the officer that has become a friend. The first and second were on our way back from Mole. After two hours traveling down a dirt road, completely caked in mud and another seven hours of travel to go, we get pulled over for speeding. It took us nearly two hours and a 10 Cedi (about $10) bribe to convince the officer not to take our driver to court right then and there. The second came a few hours later when we were asked to pull over at the police check point because the officer thought we were trying to kidnap one of the young children we had brought on the trip with us. Showing off his very large gun and completely serious, he said to us that "you must prove without any doubt that you are not trying to take the girl away." Thanks to the fast thinking of one of the volunteers who whipped out her picture-less volunteer identification card that looks more like a business card printed out on a home printer, he let us go. The third encounter was in Cape Coast. We were six people (seven including the driver) crammed into a small taxi. You can guess why we were pulled over. Lucky for us, another taxi ran into the officer who was yelling at our driver – bumped into him really – a love tap. Stunned and furious, the officer frantically told our driver to get back in the cab and get moving. It is up to your imagination to decide what happened to the other taxi driver!

---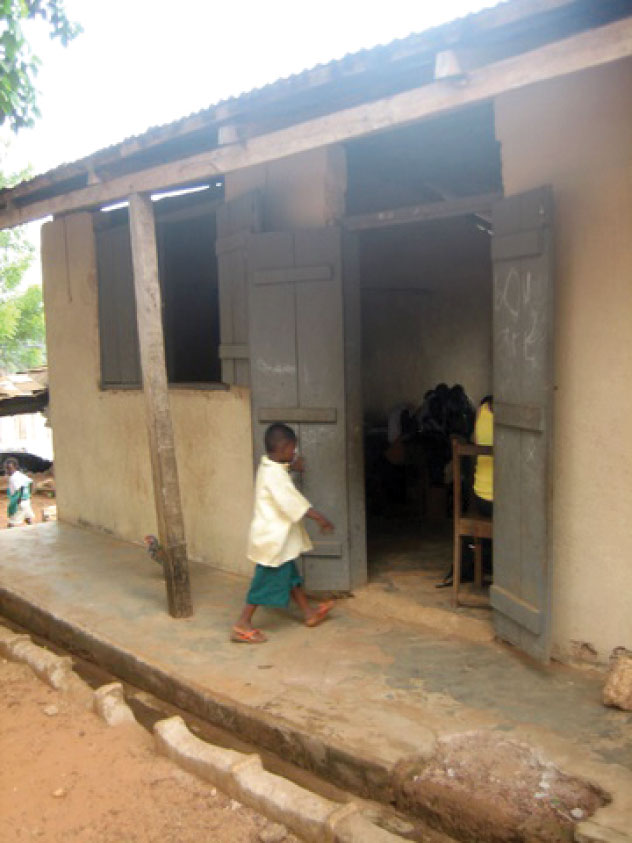 (Above): An Islamic school that badly needs repairs. [Preeti Tijoriwal photo]
---
Public Service Announcements

As you are walking down the road, you see a small shack called Clap for Jesus Salon. Next to it is Jesus His Son Supermarket, and next to that is another store called God Save. Looming overhead is a giant billboard that reads "Real men wear a condom – Are you a real man?" An AIDS awareness message. In a country where Christianity prevails, a religion that preaches abstinence before marriage and sex only for the purpose of procreation, they do not shy away from saying it how it is. The message, whatever it is, is clear and straightforward – something you do not normally see in the Western world, a country that preaches freedom of speech. Messages about AIDS awareness, breast feeding, national health insurance, and others are plastered all over the road sides and store fronts. Real. In your face. Refreshing.

---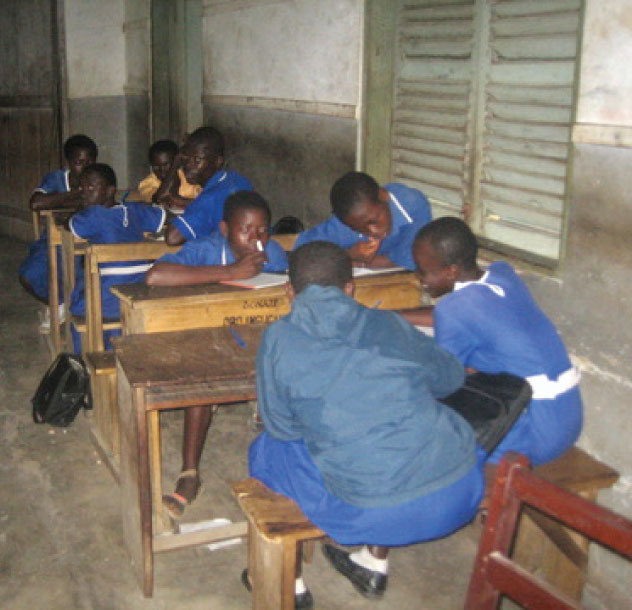 (Above): Students in an Anglican school huddle together to prepare for lessons. The school needs electricity. [Preeti Tijoriwal photo]
---
Seva Ghana

Thanks to the generous donations I have received, I will be able to begin work on a few projects this week. I will begin by wiring and installing electricity at one of the junior high schools and also completing the preparation of the hospital's information center. I have also looked into designing a playground and will be seeking a carpenter/metal welder for the job. I will keep you updated on our progress. I really appreciate the support I have gotten so far. You can still make a contribution online or mail a check to my home address. Thanks again!

To donate to Seva Ghana, click here for PayPal link.