BOLLYWOOD
Forty-Plus Hunks: Bollywood Kings


Although most of the Indian audience is under 30, a batch of 40-plus male film stars are ruling the roost in Bollywood, writes Priyanka Bhardwaj.
---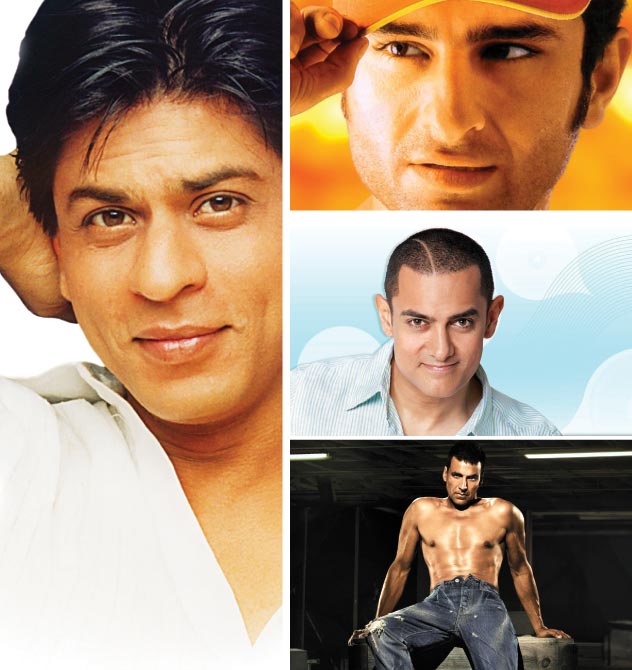 (Above, Clockwise from left): Shah Rukh Khan, is the undisputed 'badshah' of Bollywood; Saif Ali Khan, Aamir Khan and Akshay Kumar continue to rule in the box office despite being in their 40s.
---
It is an odd paradox, when you think about it, and this is a paradox right out of the heart of India's prolific movie industry in Bollywood.

While the majority of India's population is under 30 years, Bollywood's matinee idols (defined primarily in terms of box office returns) all happen to be on the other side of 40, with very little competition in sight.

Sexy, stunning, handsome, well proportioned, with athletic physique and rippling muscles, washboard tummies —reigning Indian reel heroes like Shah Rukh Khan, Aamir Khan, Akshay Kumar, Salman Khan, Sanjay Dutt may all actually be on the wrong side of 40, but they look under 30.

In the recent past, these stars have also cashed on their brand value through lucrative television game shows, in addition to big earnings through commercials.

According to film analysts, for the 40-plus Bollywood hunks, age is no barrier to big-value contracts and box office returns.

The colossal amounts being offered by film producers, commercial products and TV shows are a testimony to their appeal, image and connection with the audience.

With the economic recession, it is also a good option for film producers to sign in the 40 plus bankable actors, with slim, chiseled, Greek god-like bodies, and pair them with young lissome upcoming actresses, with the hope—not always misplaced—all the sizzle will cause enough distraction for the audience not to notice the lack of steak behind it all.

To be sure, there are challengers nipping at their heels. The pretenders to the throne include Abhishek Bachchan, John Abraham, Shahid Kapur, but almost all are considered too raw and young yet to take on the mantle of the 40-plus brigade.

According to film analysts, it takes a bit of time for a male actor to emerge as a star in India.

Given predominantly conservative Indian mindsets, viewers like their actresses to be virginal, pretty and not terribly bright, while the men as the traditional providers need to fill the slot of being mature and in control.

For the ultimate example in defying age, there's always the doyen of Hindi cinema, Amitabh Bachchan, over 60 and referred as the Sean Connery of Bollywood.

Though he is too old to be running around trees to playback songs, films continue to be written around the Bachchan persona, including at least two versions of Lolita and a critically acclaimed and super hit Black.

In India's male dominated movie world, 40 years is not a bad place to be.

Take Shah Rukh Khan, 42, the Badhshah of Bollywood. A world poll has recently placed him 41st among the 50 most powerful people.

Last year one of the biggest Hindi blockbusters, Om Shanti Om, had him opposite Deepika Padukone, in her early 20s.

The box office badshah attracted considerable attention, posing bare-chested and sporting bulging biceps and six-pack washboard abs in the movie.

This year the King grooved with 19-year old newcomer Anushka Sharma, in Rab Ne Bana Di Jodi, another runaway hit.

The SRK career spans 15 years, and he has experimented and delivered at least one blockbuster a year.

Success and maniacal fan following apart, he is a brand name, a signature style icon, with a perfume named after him, a documentary on his life in the making and two biographies in various stages of production.

Also he is reportedly completing an autobiography.

Dilwale Dulhaniya Le Jayenge, his first blockbuster in 1995, is still playing at a Mumbai cinema.

His female counterparts are overawed by his larger than life persona.

While Priyanka Chopra calls him "the biggest brand icon," with a yen for self-marketing, actress Kareena Kapoor dubs him "the biggest superstar in the country."

For SRK 2007 was a year of big earnings. He made nearly Rs 1 billion from movies, endorsements of products ranging from cellular phones, cars, cola drinks, pens, men's beauty products and anchoring a children's television game-show this year which earned him over Rs. 350 million for 30-odd episodes.

The filming of another TV series is underway.

Moving onto another Khan, Salman, the original shirtless-six-pack-hero of Bollywood, and rated very high on the sex appeal barometer, hosted a 30-episode quiz show earning him nearly Rs. 250 million.

Part of the formidable trio of SRK, Salman, Aamir, Salman sets the pulse racing even two decades after his debut in Maine Pyar Kiya and is the hottest eligible bachelor in town.

---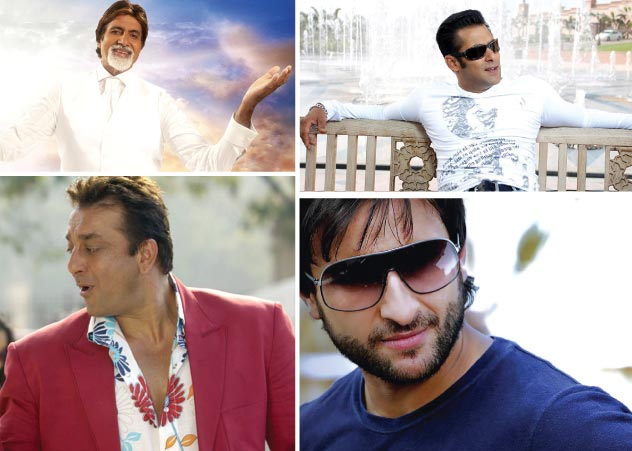 (Above, Clockwise from top, left): Amitabh Bachchan, seen in "God Tussi Great Ho," is well into his 60s. He continues to defy age, raking in astronomical fees; Salman Khan, seen in "Partner," continues to make women swoon; Saif Ali Khan, seen in "Race," is another addition to the Khan-daan that Bollywood female fans find irresistible; and Sanjay Dutt, seen in "Lage Raho Munnabhai," has had a colorful life which appears not to have hurt his box office appeal.
---
Another hottie, Akshay Kumar, started his film journey as a martial arts teacher; in 2008 he hosted a-16-episode Khatron Ke Khiladi on the channel Colors, charging a whopping Rs 15 million for each episode.

Akshay Kumar's latest movie Singh is Kinng recorded a 95 percent opening, grossing Rs 250 million in its first weekend and earned his company Hari Om Productions nearly Rs. 100 million in the same period.

Akshay's endorsement earnings include products like Thumbs Up and Microsoft X Box, earning him Rs 15 million each. This figure, according to latest reports has gone up to Rs 60 million per endorsement.

Thinking actor Aamir Khan sported his eight-pack abs in Ghajini, starring opposite 20-something newcomer Asin. The film is off the charts in terms of box office returns.

While the King Khan reportedly asks for Rs. 30-60 million per film, Aamir has jacked his price to Rs 70 million as his salability surpasses even SRK due to the reliability factor.

On the comparative scale Om Shanti Om made over Rs 900 million in its 15th week and Taare Zameen Par, Aamir's blockbuster offer last year, grabbed Rs 850 million in just eight weeks.
Aamir, too, endorses mobile phones, soft drinks and is a brand ambassador for India's federal Tourism Ministry. DTH operator Tata Sky has signed him, while main competitor Dish TV has SRK endorsing their product.
However, the list of 40-plus Indian stars continues.

Saif Ali Khan, a successful commercial actor and recipient of critical acclaim for many award-winning performances commands a good portion of the endorsement pie, individually and with real-life girlfriend Kareena Kapoor, a decade younger than him.

Sanjay Dutt, another dare-and-bare 40-plus Bollywood macho man, is evergreen in terms of film offers with the blockbuster Munna Bhai sequels. The latest on him, though, is that he has cut his rate a bit to Rs 40-50 million due to recession.

As the film grapevine goes Govinda, the funny man of yesteryears, has decided to join the six-pack bandwagon via sweat or surgery.

Bollywood has certainly come of age with age no barrier for the men, even as the women stars only get younger.