COMMUNITY SERVICE:
Running for Assembly: Jacob Eapen, MD


Fremont, Calif.-based pediatrician Jacob Eapen, MD is planning to run for the 20th California Assembly District office in 2010. Current incumbent Alberto Torrico will term out in 2010 after he completes his current two-year term. The maximum allowed is three terms. He offers readers an exclusive preview of his campaign mission.
---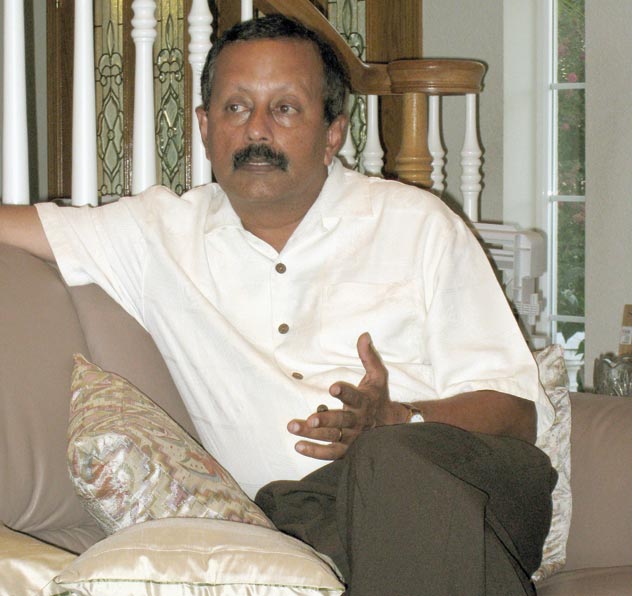 (Above): Dr. Jacob Eapen at his residence in Fremont, Calif. [SILICONEER photo]

---
My platform. Healthcare reform and to reduce the green gas effect by promoting clean energy which has a direct effect on health and well being. Also try to open up more trade between California and India.

Why politics? I consider my profession to be that of a medical doctor. As an elected official I hope to represent the masses and use the position to implement changes on a larger level. In a democracy one has to be elected to introduce changes globally. My track record shows that I have always served the undeserved in health care and to continue to help them on a broader level. For that one has to be in the decision-making level. You have to be where bills are formulated and passed. This is a critical time in our evolution of health care in this country. I believe that we have always had issues with health care and its delivery system. But now we have come to a critical stage. The decision we make for our future citizens have to be very proactive and this can be done only by people who have worked in the safety network clinics and who appreciate the real deal that the community faces with mounting issues in health care. It's time people like me are ready to step up to the plate and sacrifice a portion of their life for this cause. I understand it's a major decision for a professional to give up their decades of training for a cause one believes in. I have the passion for public service and would like to be lead some of my professional colleagues in to this virtuous path of sacrifice. Sometimes you got to walk the talk and I am ready to walk.

Why health care? As the cost of health care in the country is spiraling up, affordability is decreasing. We have about 47 million people who still do not have health insurance in this country. We are the only nation among developed countries that does not have universal health coverage. America spends far more on health care than any other nation. A record 16 percent of the GNP is spent on health care .Canada spends about 10 percent of its GNP on health care while India spends 4.9 percent On an average we spent more than $7,000 per capita on health care We are the highest in the world followed by Britain which spends about $3,000 per capita and Mexico spends about $500 per capita. The question is this: Are we as a population healthier than these nations that spent a fraction of what we allot for health care? Two of the barometers that are used to asses the health care in any country are the life expectancy at birth and infant mortality rate. Our present life expectancy at birth is 77.9 years which is way behind nations like Japan (83 years) and Canada (81 years).This number masks the large disparities that exist within the U.S. On average Asian American women live the longest at 88.8 years and African American men have the shortest lives at 69.4 years. In infant mortality rate we are 29th in the world at 6.9 behind Singapore whose rate is only 2. IMR is closely linked to economic status and mother's access to care. Again there is a racial disparity by race and ethnicity. African Americans have the highest rate at 13.7 and Cuban Americans have the lowest rate at 4.3. The health status of the population is not great either. Only 33 percent of adults in 2003-06 are at a healthy weight and the prevalence of diabetes, which health officials hope to cap at 25 cases per 1,000 people, has doubled. Our leading killer remains what it has been every year since 1900 — heart disease, which kills 650,000 each year.

America's uninsured children. According to the most recent reports 8.6 million children in the United States lack medical insurance. While Medicaid and State Children's Health Insurance Program has prevented half a million from becoming uninsured, these programs cannot continue to absorb this increased demand unless the next Congress and president take important steps. SCHIP was created in 1997 in response to the rising number of American children without health insurance at that time. Despite strong bipartisan support for expanding SCHIP the president has vetoed it twice. It's interesting to note that California has regulations now to stop new SCHIP enrollment. Among the two thirds of uninsured children, at least one parent works full time. We can not afford to have uninsured children in this country as most of the preventive medicine programs including immunizations are targeted towards this population. As illustrated earlier, our health report card on some of the vital indices are nothing to write home about and this will only slip further if we maintain a status quo approach.

We at the state level and national will have to come up with creative ways of doing this. Money is not an issue as it has been demonstrated by many small seed programs that have been tried including the successful coverage all children in Santa Clara County. What we need here is a will and the passion do the right thing. The right thing can come only when you have knowledgeable people making these reforms.

How we do we improve the system? We all agree that we need to change. Everyone has a moral responsibility. The changes have to come from both ends. As a patient one has to exercise some self control and try to prevent illness related to life style and behavior-induced illnesses like obesity. The incidence of clinical obesity in the U.S. adult population has more than doubled since 1980. These diseases are not only responsible for a majority of deaths in the U.S. but also for the fastest growing health care costs. Is it a surprise that this could happen in the land of plenty?

As providers we will have to work hard to decrease utilization while giving utmost care to the patients. The changes might have to start even at medical school days where the future doctors could be taught to learn and practice cost-effective medicine. Secondly public and private stake holders should make healthcare more affordable. Finally we need to simplify the systems, get rid of unnecessary administrative complexity and remove the waste that drive up costs. We have to promote cost effective productivity enhancing technologies. These are the facts of the current healthcare in this country and in any leadership role that I may be bestowed with I will fight for the day when everyone is made to feel that healthcare is a basic right and every provider can practice medicine that they believe in and not what some bureaucrat believes in.

Former Sen. Tom Daschle, the incoming heath secretary, in his book has mentioned about creating a Federal Health Board. The day of reckoning is near and as long as you have the right people in the right places, we shall achieve progress. The community has a responsibility of placing the right people in key positions in these days of Change or we will be all swept away.