TRAVEL:
Europe on a Budget: Travel Tips


Travel is getting less expensive, and there's no better time to travel in Europe, writes Al Auger, who offers some useful tips.

---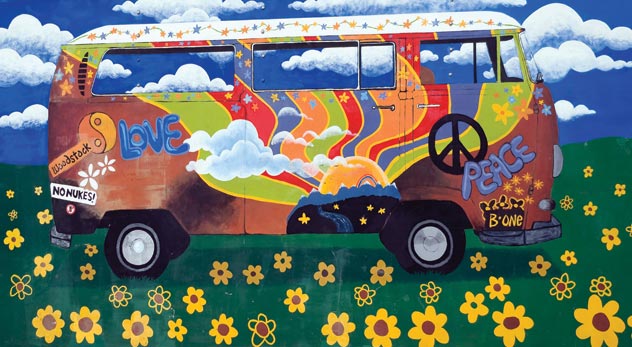 (Above): A mural in Amsterdam offers a whiff of the tie-dye '60s — but the idea is just as good for contemporary times. A used van, suitably upholstered for sleeping and basic cooking, is one of the most affordable and fun ways to travel in Europe.

---
If this burgeoning global recession offers anything but negative emotions, it has edged the euro and British pound closer to the dollar. Travel is getting less expensive — if you have the wherewithal. There are so many ways one can be creative when it comes to traversing Europe, it's just a matter of putting your desires along with your budget and ability to go for the adventure. At this writing a dollar will get you approximately 73 cents in euro and the British pound is worth 65 cents on the dollar. A deep descent from a year or so ago.

If you're not interested in traveling on the cheap, a tour can be your best bet. The most important person is your travel agent. Ask friends for references and find a travel agent and just carry on a general conversation about travel and you'll soon get a feeling either positive or negative.

For those traveling on the slim purse/empty pockets plan, i.e., visiting Europe in a van, on Eurorail or Eurobus, bicycles, hitch hiking or other arcane methods, there are ways to beat the system. Students and young people have discovered a multitude of creative ways to spend their summer in Europe "on the cheap."

---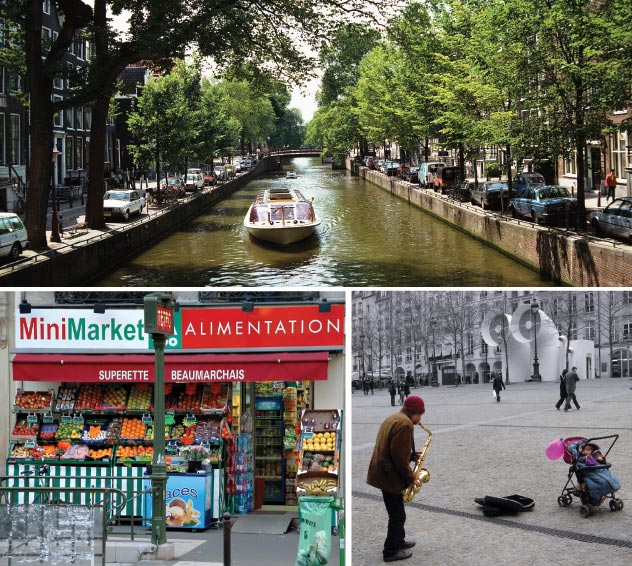 (Above, clockwise from top): A boat passes through one of the many canals of Amsterdam. This friendly city is a great place to begin a trip through Europe; a street performer trying to impress a sole, diminutive audience member in Paris. Street performers add particular joy to a trip in Europe; and a neighborhood grocery in Paris. Getting basic foodstuff like bread, cheese, eggs, milk and wine from a neighborhood grocery helps keep costs down during a long trip in Europe.

---
There are three ways one can see Europe, meet the people on a one-to-one basis and find it all very reasonably priced. Many first-time travelers will purchase a new van at a U.S. dealership and pick it up at the factory. Some European carmakers often add flight and transportation to the factory. If you drive sufficient miles on your tour you can ship the van home at a much reduced rate. As we were planning on an open-ended tour, we opted to search for a used van in Amsterdam. A tradition with students during summer break is to purchase a used van and bring back to Amsterdam and sell it to a new buyer.

Amsterdam is often called the "used camper lot of Europe." Your home is right there, food can be stored and cooked on the stove and low-cost campgrounds are everywhere. We were fortunate in finding a company that specialized in retrofitting VW busses into vans with stove, sink, refrigerator and fold-away bed (very comfy), ours even came equipped with a sunroof. During a year traversing Europe from top to bottom and side to side in a used VW camper, my wife and I met so many of these wonderful young travelers, sharing ideas on beating the system. But, no matter how you do it, travel in Europe need not cost you an arm and a leg and curtail your planned itinerary.

Amsterdam is a traveler's delight, full of inexpensive food of all kinds. Young people from all over the world flock to this exciting city for a number of reasons, one being the turn-around for those looking for inexpensive vehicles. Hanging out at the American Express office, those returning home easily find buyers for their car/van. We discovered a company that bought used VW busses and had a carpenter build a complete camper interior.

Food, next to gasoline, is the most money-consuming item for the budget traveler. Supermarkets and large neighborhood markets offer everything you can find in U.S. markets — and, sometimes, much more. Some even offer the purchase of a new moped, load up the groceries and putt-putt back to the campground. To conserve on the cost of gasoline (petrol) we would pick a destination no more than a day's travel and after settling into a campsite, we'd use local transportation, which is extraordinary almost everywhere in Europe.

---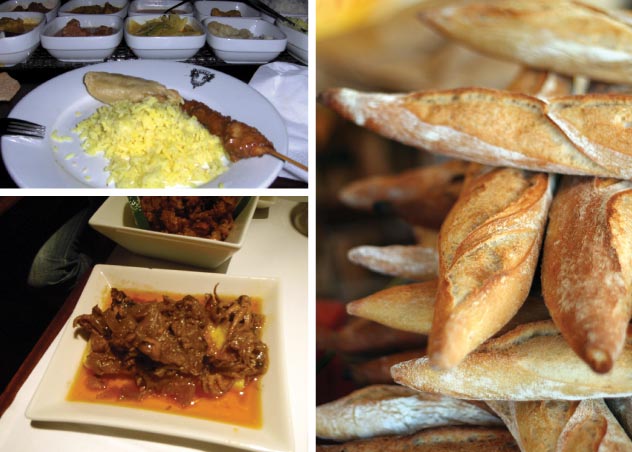 (Above, clockwise from top): A rijsttafel buffet at a Copenhagen restaurant. Ethnic foods are wonderfully affordable and plentiful all over Europe. The Indonesian rijsttafel, a Dutch word meaning "rice table," is an elaborate meal consisting of many (forty is not an unusual number) side dishes served in small portions, accompanied by rice prepared in several different ways. Popular side dishes include egg rolls, sambals, satay, fish, fruit, vegetables, pickles, and nuts; Freshly made baguettes in a French bakery. One of the joys of traveling in Europe is the opportunity to begin the day with freshly baked bread; and Tapas are a delightful Spanish culinary tradition of a variety of food items served on small plates, sort of a European version of the Chinese dim sum. Here is a mouth-watering tapas serving of sautéed calamari.

---
Meat is the highest priced food item. Liquor is considered a luxury and priced accordingly. But, there are a few pleasant surprises to be found. In Spain, for instance, bring your own bottle to a bodega and fill it with some delicious local wine or sherry from the barrels lining the wall and be surprised at the price. Milk is moderate everywhere and bread — the staff of life — is always fresh baked and savory. Patronizing the local markets and restaurants is spending wisely and, as a delightful side benefit, you meet the people, their children and soak up the wonderful culture.

Always carry a hand calculator to keep your the Euro comparison to the dollars correct. Just keep in mind: The Brits still use the pound sterling. And be sure you understand the metric system because everything is sold in grams, kilos and liters. Very simple, actually, but not being able to interpret it into pounds and inches can be frustrating.

During our gypsy trek through Europe and North Africa, we found it a good practice to buy basics first then build from there. For instance, we would always try having a good supply of eggs, vegetables, fruits, bread and wine (no European would be caught dining without a cup of grappa). The more fragile items such as meat and fish were usually purchased on a day-to-day basis.

Because meat is so expensive, the so-called "helper" mixes add flavor and imagination while stretching the dish into more than one setting. For simplicity and ease of maintaining a healthy diet, my travel companion devised a number of ingenious "one-pot" meals: stews, soups, chowders, spaghetti, and her supreme effort: ratatouille, a thick stew of any vegetables you like. Leftovers make delectable omelets the next morning.

Wake up in the morning to a simple meal of coffee, croissants, creamy cheese and jam. Lunch al fresco, the fabled bread, cheese and wine is no myth. In France you can buy a decent bottle of wine labeled "Vin du Pay" for your picnic lunch. Vin ordinaire is even less expensive.

Eat creatively, and you come home with fond and mouth-watering memories. In Amsterdam the neighborhood restaurants are your best bet for a sumptuous meal at a very affordable price. One of their specialty centers on a huge meatball. There is also a delicious variety of the food from Indonesia that is fairly priced in neighborhood restaurants.

Morocco kept the inner rumblings at bay with delicious couscous, a vegetable stew over farina, served with or without lamb. When you eat in the Medinas (old towns of the larger cities), the prices are rock bottom. The smaller venues make some of the tastiest soups you've ever had. And for a romantic, albeit an inexpensive price, visit the square in Morocco and Fez for alfresco dining at night surrounded by glittering lamps, snake charmers, story tellers and a host of other entertainment. The food vendors offer a plethora of local dishes to choose from.

In Edinburgh we enjoyed the best East Indian curry dinner of our trip. London, too, has a number of superb Indian, Pakistani and Bangladesh restaurants. There is only one rule of thumb to eat well and cheaply in Europe: Stay away from the downtown area, starred hotels and bars. Eat in the neighborhood restaurants frequented by the locals, where the prices are fair and affordable. Another point in the traveler's favor is every European restaurant posts the menu outside where you can browse and make sure it is within your budget restraints. And every local restaurant in every country features what they call in Spain, the plato del dia (a sort of blue plate special du jour).

While in Spain, don't miss out on one of their biggest bargains: tapas. Again the best and most affordable is to be found in the neighborhoods. Because Spaniards don't even consider dinner until after 10 p.m., tapas offer a filler in the early evenings along with one of Spain's famed beers. Most lounges and restaurants will serve a side plate of Spanish olives free.

---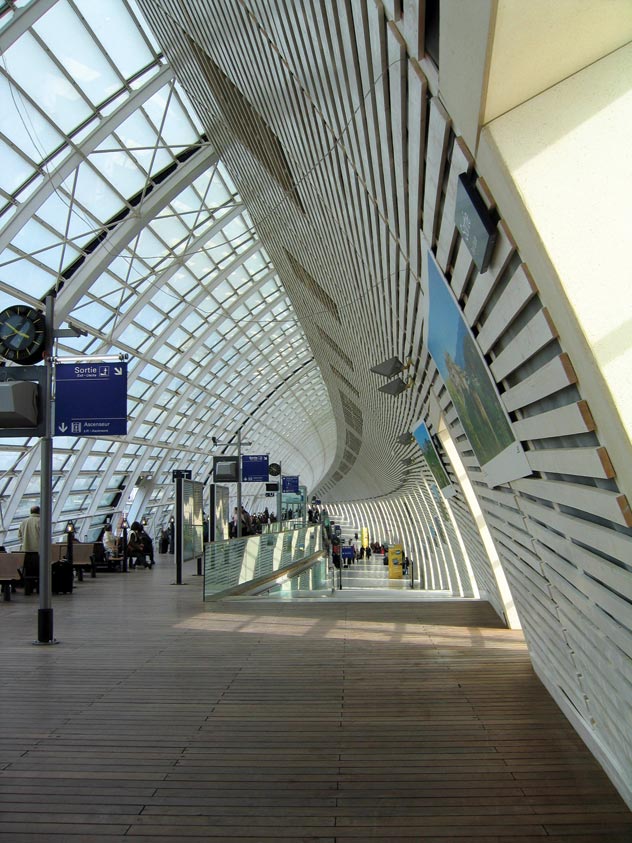 (Above): The superfast TGV train station at Avignon, Paris. Trains are a great way to travel in Europe, especially with a Eurorail pass.

---
No matter your style of travel, simplicity (that word keeps cropping up, but is a key one) holds sway. For Eurorail, Eurobus or hitch hikers, a backpack is the best utilitarian system of conveying ones' goods from here to there. Cooking implements can be just the basic pot, plate/frying pan, cup, carving knife, eating utensils, a grasshopper propane stove and the all-important Swiss army knife.

The truly creative traveler will purchase a Eurorail or Eurobus pass and schedule his itinerary so he/she can sleep while traveling to their destination. One caveat: On one solo trip where I stayed at hostels, at one I heard a harrowing story of some young people's experience with Eurobus. But, following up on their experiences I checked with a number of other Eurobus travelers and received many thumbs up reviews.

There's also a wide variety of free entertainment everywhere. In France, every underground stop will have some musician(s) playing everything from Bach on a harp to Bob Dylan. Amsterdam has an army of street musicians playing full size calliopes and in Spain, as you might expect, everyone seems to play the guitar. Most of the young musicians will fill the parks with melodies ranging from flamenco to beautiful love songs. One of the most entrancing environments for this is Guadi Park in Barcelona.

---

Al Auger is a freelance writer. He lives in Redding, Calif.
---