SPORTS:
Howzzat!!
DirecTV Launches CricketTicket


DirecTV recently announced that its CricketTicket progamming will air all ICC and IPL cricket tournaments. Siliconeer presents highlights from the San Francisco launch.
---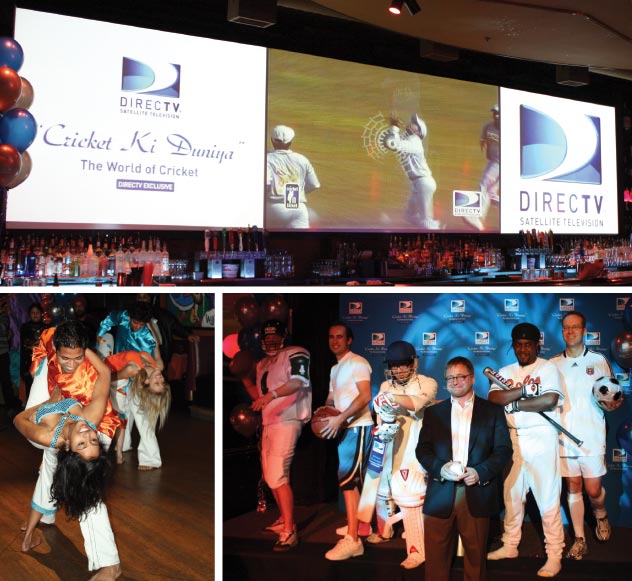 (Above, clockwise from top): A large video projection screen displayed an audio visual clipping of the channel's programming; actors in different sports outfits, seen with a senior DirecTV representative (4th from l) showcasing the diverse sports packages offered by DirecTV; and a dance performance by a youth group. [All photos © SILICONEER]

---
Satellite TV provider DirecTV and Internet portal for cricket streaming video Willow TV have entered into multi-year agreements that will give DirecTV broadcast rights for International Cricket Council tournaments, Indian Premier League tournaments, Champions League Twenty20, Australian cricket, South African cricket, New Zealand cricket and other major cricket events. These rights include events such as the 2009 ICC World Twenty20 in England, the 2009/10 IPL tournaments, the 2009 India tour of New Zealand and the ICC Cricket World Cup 2011.

The announcement came with much fanfare at a reception at Jillian's restaurant in San Francisco, Jan. 30. Many prominent guests from the South Asian community attended the VIP reception hosted by DirecTV representatives to launch its CricketTicket 2009.

Highlights of the evening included scintillating dance performances by young performers and Miss India USA 2008 first runner-up Richa Shukla. Richa is also the winner of Miss India Northern California 2008 pageant. The event was emceed by comedian and host Sunil Thakkar.

---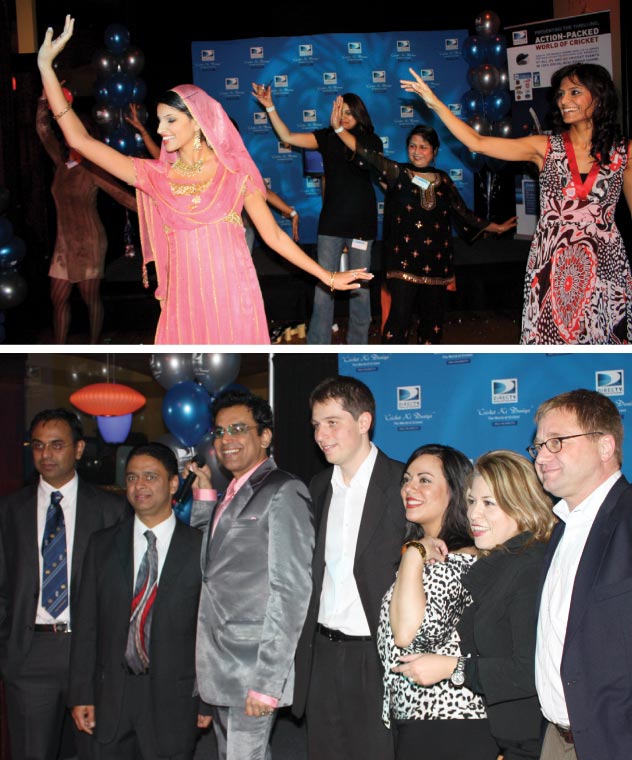 (Top): Richa Shukla and some of the guests perform a dance sequence. (Bottom): DirecTV representatives with emcee Sunil Thakkar (3rd from l) at the San Francisco launch at Jillian's Jan. 30. [All photos © SILICONEER]

---
---
2009 Cricket Ticket League Game Schedule*

India Tour of New Zealand February/March

Australia Tour of South Africa February/March

IPL April/May

ICC World Twenty20 June

IPL and ICC World Twenty20 April/June

England Tour of South Africa September

Champion League T20 October

ICC Champion Trophy November

Bangladesh Tours New Zealand December

Pakistan Tours of Australia December

*All schedules subject to change.


"DirecTV is proud to partner with Willow TV and the world's top cricket tournaments to offer U.S. cricket fans this exclusive lineup of exciting cricket events and the new Twenty 20 format, which is revolutionizing the sport," says John de Armas, vice president, WorldDirect, Inc. "Now cricket fans in the U.S. can turn to DIRECTV exclusively to satisfy their hunger for this exciting international sport and watch the thrill of the game in 100% digital image and sound," he adds.

Beginning Feb. 11, ICC and IPL cricket tours will be available to U.S. audiences, exclusively on DirecTV's CricketTicket 2009 package.

CricketTicket is part of the WorldDirect programming platform and is available for $299.99 for the full season, or the IPL and ICC World T20 package can be purchased for $199.99.

Individual matches can also be purchased. WorldDirect customers must first subscribe to DirecTV Basic for $9.99 per month or Preferred Choice for $32.99 per month and one of the international programming packages or any DirecTV base programming package for $29.99 per month or above. CricketTicket is the first ever year-long subscription TV package for international cricket.

Interested readers can get more information by calling 1-800-378-4179 or visiting their Web site at www.cricketticket.com.

The DirecTV WorldDirect platform has launched over 135 channels that deliver a wide variety of foreign language programming including Hindi, Telugu, Tamil and Bengali.