HINDI FILM REVIEW:
Messy Masala: 'Chandni Chowk to China'
Rating: * (Awful)

'Chandni Chowk To China'
Produced by: Ramesh Sippy, Mukesh Talreja and Rohan Sippy
Directed by: Nikhil Advani
Music: Shankar-Ehsaan-Loy and Kailash-Paresh-Naresh with an additional song by Bappi Lahiri
Starring: Akshay Kumar, Deepika Padukone, Mithun Chakraborty, Gordon Liu, Roger Yuan, Ranvir Shorey, Kiran Juneja-Sippy

---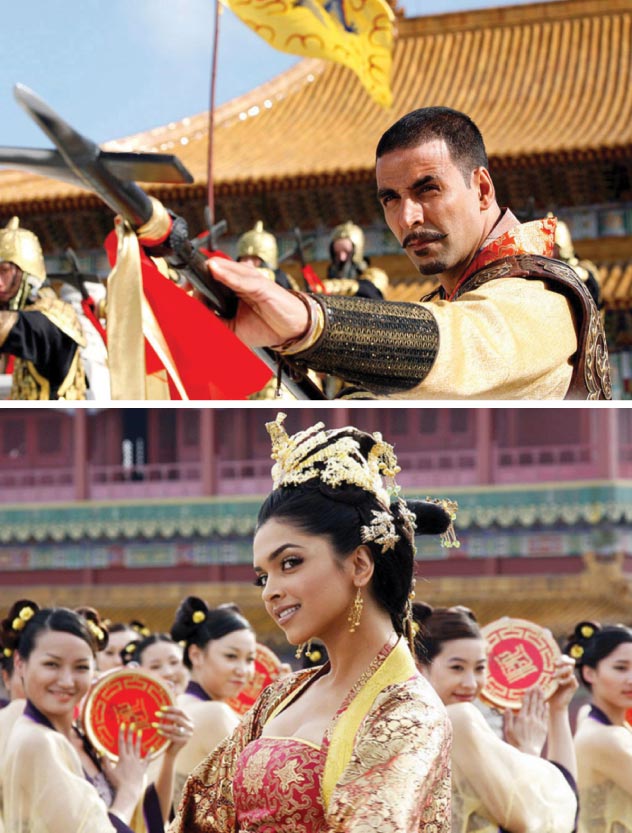 (Above): Akshay Kumar (top) and Deepika Padukone (bottom) in "Chandni Chowk to China."

---
There are some ills that the entire world's ministering cannot cure. What on earth Hollywood was thinking when it invested in this egregious lemon of a film is anybody's guess.

This is the first Bollywood movie to get a North American release from a major studio, but if Warner Bros is expecting goras to flock to the cinema, they have another think coming.

Okay, so Warner Bros has enough clout to get publicity in mainstream media, otherwise why on earth would Roger Ebert waste time on such a classic Bollywood potboiler like this?

However, it's not clear that Warner Bros benefits from Ebert taking a peek, because you can oblige someone to check out junk, but you can't make him like it.

We shudder to think what Ebert actually thought of the film, because he is too polite to give vent to his feelings, but his occasional gentle barbs give a good idea.

About Akshay Kumar "acting," he deadpans: "I would need to see Kumar in something other than this to understand his fame. He comes across here as a cross between Jerry Lewis and Adam Sandler, but less manic than Jerry and not as affable as Sandler."

Ebert is nothing if not honest. "Chandni Chowk to China won't attract many fans of kung fu -- or Adam Sandler, for that matter."

He is spot on also when he makes this observation: "Bollywood fans in general, . . . will come out wondering why this movie, of all movies, was chosen as Hollywood's first foray into commercial Indian cinema. I don't know a whole lot about Bollywood, and even I could name some better possibilities."

There you go, then.

A similar fate befell Sony Pictures Entertainment, the first Hollywood studio to produce and distribute a Bollywood film, when their co-production, Sanjay Leela Bhansali's multi-million-rupee lemon Saawariya, sank in the box office like a lead balloon.

It appears that even the top–drawer Hollywood honchos cannot save Bollywood from itself. This should be a wake-up call for filmmakers in Bollywood—you cannot underestimate the intelligence of a movie goer and hope to make money. True, the Bollywood genre has much that is stylized, corny and often downright silly (Aaj se bees baras pehle. . .), at its core must be a gripping story told with skill, because ours is a nation with a long storytelling tradition.

---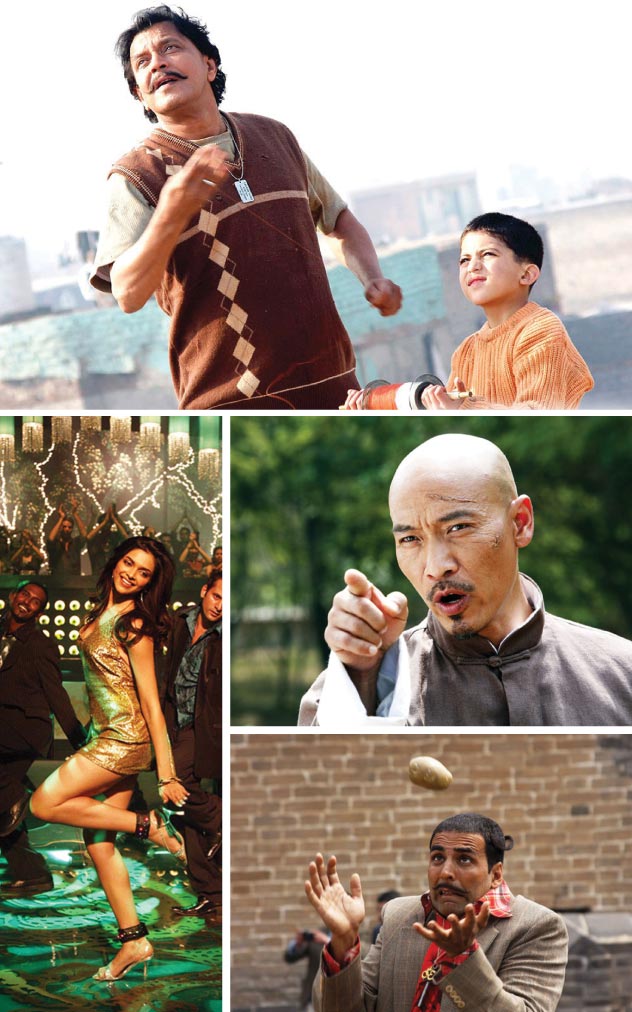 (Above): Scenes from "Chandni Chowk to China."

---
Here's the story, such as it is: Sidhu (Akshay Kumar) has been raised by bhaiyya (Mithun Chakraborty) who is a bit dense, to put it mildly. He grows up to work as a cook in Chandni Chowk in Delhi. His guru is a confidence trickster Chopsticks (Ranvir Shorey).

It is through the machinations of Chopsticks that Sidhu ends up in China.

In China, he is mistaken for martial arts expert Liu Sheng, who is believed to have come back from the dead (This is a Bollywood movie).

As Liu, he is obliged to avenge his own death at the hands of Hojo (Gordon Liu of Kill Bill) a thug and a master criminal who is terrorizes a village.

Now Hojo is a piece of work. He has destroyed the family of martial ace cop Chang (Roger Yuan) who had arrested him.

Here is where pigs start to fly, if you get my drift.

Chang is thrown off the Great Wall of China at the order of Hojo but he survives and lives within the wall for 20 years. His aim is so can rescue Sidhu from death when the latter is thrown by Hojo's goons. If you find all of this implausible, how's this: Chang speaks great Hindi.

Chang married an Indian and has twins, Sakhi and Suzie (Deepika Padukone in a dual role). Suzy ends up in China while Sakhi grows up in India.

Sakhi, thinking she is dead, comes to pray for her soul in China, but Chinese cops start chasing her. Why? Because Suzy was raised by Hojo and is a wanted criminal.

Need I continue? The fact that this film flopped is no surprise. What is surprising is that somebody at Warner Bros actually listened to this stuff and thought this was a great idea for a film. Ego-driven asses, it turns out, are not just the prerogative of Bollywood.