BOLLYWOOD | Guftugu:

Usher to Dedicate Song to Mallika | Deepika in Latin American 'Vogue' | Not Bashing U.S. | Dance in Her Genes | In Judicial Custody | Miffed Kareena | Tom Cruise's Bike | In Hollywood Mag

---
Usher to Dedicate Song to Mallika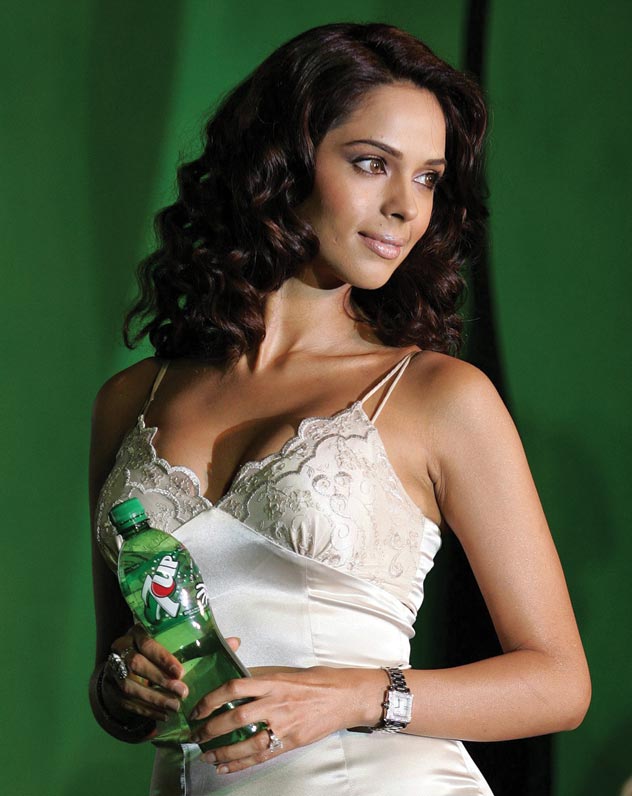 Mallika Sherawat

Bollywood's very own sex symbol Mallika Sherawat has taken Los Angeles' party circuit by storm and now R&B superstar Usher has decided to dedicate one of his songs to the glamorous actress.

Mallika, who is in Los Angeles working on her first Hollywood venture Hisss, met the Grammy winning-singer at a local eatery and found him very handsome.

"Met Usher at LA's Best Brunch! He's very handsome. Oh My God! Usher's promised to dedicate a song to me," wrote the Murder star on her Twitter Web page.

The actress was also excited about her next film which will also be shot in the city, though she did not reveal any further details.

"Sitting in L.A. and getting excited about my next movie which will be filmed here in the city! More information to come," she wrote.

A Los Angeles restaurant had earlier named one of its milk shakes after the curvaceous actress.

|TOP|

---
Deepika in Latin American 'Vogue'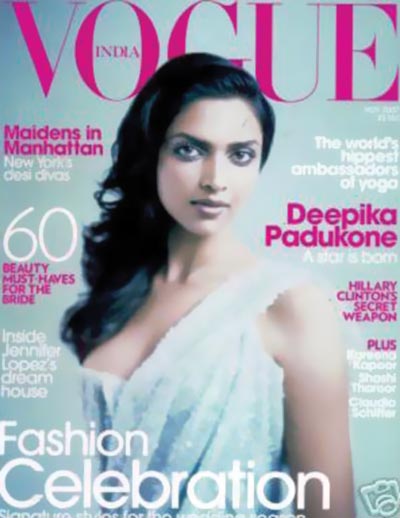 Bollywood actress Deepika Padukone has become the first Indian beauty to be on the cover of Latin America's Vogue, Femalefirst reported.

The actress, who is also a supermodel, visited Lima, Peru, last month for a photo shoot for Vogue and Cosas magazine. During her visit, the Om Shanti Om actress stayed at the presidential suite at the Miraflores Park Hotel, Lima.

The suite's previous occupants include Bill Clinton, Duran Duran and Tommy Hilfiger. "The presidential palace that I visited is to date one of the most stunning pieces of architecture I have come across, its beauty is indescribable. The warmth that the people of Peru gave me is something that I will always hold close to my heart," Padukone said. "If you get this much respect as a stranger, I can imagine the care you get when you are their loved one.

"Be it the Minister of Tourism whom I met at the Peru fashion show or a shopkeeper in the local market, everyone greeted me with so much of affection that it fills me with gratitude even now," the actress added. Deepika previously walked the ramp with international model Naomi Campbell at the Lakme Fashion Week 2009 in Mumbai and also attended the Fashion Week Peruvian Moda as the guest of honor.

|TOP|

---
Not Bashing U.S.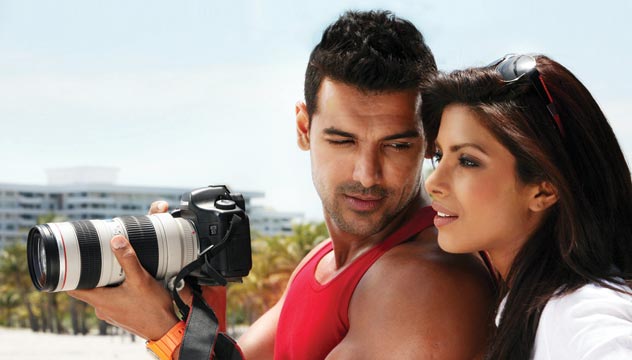 John and Priyanka in "Dostana."

Bollywood heartthrob John Abraham says that New York is "not a jingoistic America-bashing film," insisting that it is an objective representation of how the world and the U.S. perceives a community in the post 9/11 period.

"It dwells on how the world and America looks at a certain community after the (9/11) attacks and vice versa. But it is not a jingoistic America-bashing film. It shows both sides of the coin," John told PTI in an interview.

Basking in the success of Karan Johar's gay comedy, Dostana, John said that he is ready to venture into a different genre with New York.

"It is a thriller and probably the best role I have done so far. I think it has been a tailor- made role for me and I am proud of being a part of New York. I was born to do this role. It is a very realistic film," the model-turned-actor said.

John plays Sameer, an Indian student in a U.S. university whose life revolves around his two fellow batch mates, Umar (Neil Nitin Mukesh) and Maya (Katrina Kaif). However, their whole world changes after the 9/11 attacks.

This is John's second film with director Kabir Khan after Kabul Express.

"Kabir's style of story-telling is real, honest and linear. It is the same as Kabul Express. But while Kabul Express was a guerrilla film, New York' is a very commercial Yash Raj movie," John said.

The actor said he had no apprehensions about New York as it has turned out to be a very good product.

"I have seen the final print of the film last week and I am very confident. I am very proud to be associated with the film. But I leave it to the audiences to take the decision. They have to like it," he said.

The 36-year-old actor was all praise for co-stars Katrina and Neil. "We had a 100-day schedule in Philadelphia and the process of shooting the film was creatively satisfying," he said.

|TOP|

---
Dance in Her Genes
Gayatri Patel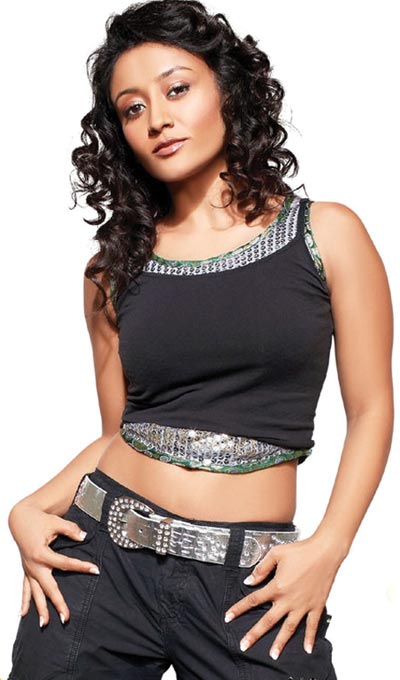 U.S.-born Gujarati actress Gayatri Patel, who is making her debut in Bollywood with "Lets Dance," is playing a character most suited to her as she believes that dancing is in her genes.

The film, releasing June 19, is centered around a teenage aspirant who trains street-children to dance and herself dreams of becoming a famous dancer.

"I am quite a dreamer and idealistic, I do think like my on screen character. I plan to open a dance school in the future as dancing is in my genes," Patel told PTI in an interview.

Patel, who has trained in Kathak, has been choreographed by the likes of Saroj Khan and Longinus of "Jai Ho" fame for four songs and five instrumentals in the dance-based film.

"Longinus has composed contemporary and jazz dance moves for me, with straight lines and angular movements. He has said that I am going to be the next teen sensation," said Patel, who considers yesteryear's actress Vyyanthimala her idol.

The newcomer will also be seen performing in the Natwari style revived by ace choreographer Saroj Khan, which was made famous by the likes of Sridevi in the eighties.

Bollywood has had its share of actresses with dance as their forte, like Hema Malini, Meenakshi Sheshadri, Madhuri Dixit and Urmila Matondkar and Patel is aware of the comparisons she will have to face with these stalwarts.

"I would let the audience decide whether I am good enough," she says.

|TOP|

---
In Judicial Custody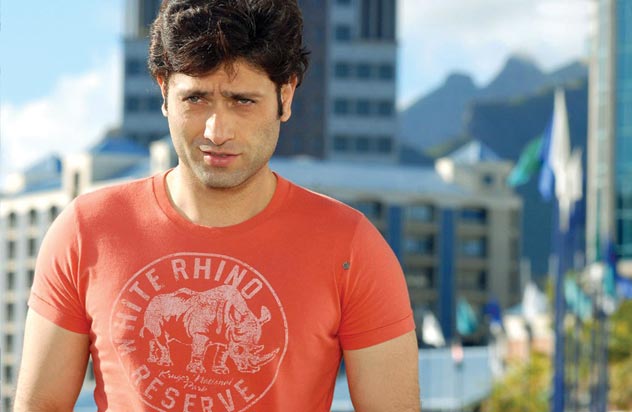 Shiney in "Hijack."

Bollywood actor Shiney Ahuja, accused of raping his young domestic help, was June 18 sent to judicial custody till July 2 by a local court which refused to extend his three-day police remand, observing that his further interrogation was not required in the case.

Ahuja's lawyer Srikant Shivade said he might approach a Sessions Court seeking bail for the actor, which means Ahuja will have to spend a night in central prison at Arthur Road here.

The prosecution sought police custody of the 35-year-old actor for three more days as they were awaiting his and the victim's medical and forensic reports.

Ahuja was arrested June 14 for allegedly raping his maid at his residence in suburban Oshiwara.

The actor complained that he was being handcuffed while being produced in the court and that it was hurting his hands. The magistrate warned the police not to do so again.

Ahuja looked happy to see his wife in the court and whispered to her, "Things will be fine."

Police said that the actor's urine and blood samples have been taken and they needed to probe if the actor was under the influence of drugs or alcohol at the time of the incident.

Police, which had earlier stated that the maid was 18 years old, today said she is 20 as per the school certificate obtained from her native place Roha in nearby Raigad district. Prosecutor S.S. Kasture argued that if the actor tests positive for drugs or alcohol then police would probe from where he procured the drugs. He alleged that the actor was not co-operating during police interrogation.

|TOP|

---
Miffed Kareena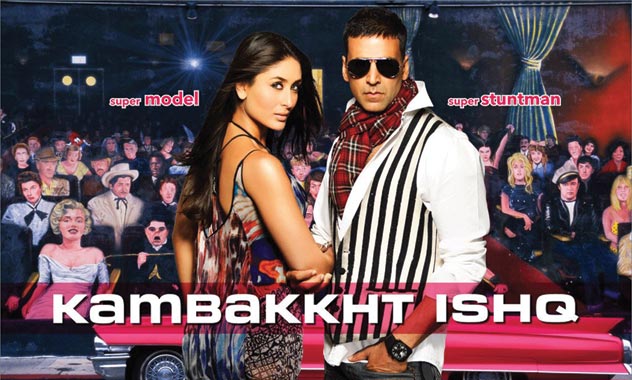 Kareena and Akshay in "Kambakkht Ishq."

Pity poor Kareena Kapoor. The Bollywood actress had to eat her own words after saying that she "will do everything a role demands."

The actress, who was in town to promote her upcoming film Kambakkht Ishq, was being quizzed about her swimsuit sequences in the film when she replied, "I am the kind of actress who does all kind of roles and also does everything a role demands."

But as she got bombarded with questions about whether she will do a nude scene, the actress lost her patience and walked off from the media event.

The "size zero" actress of Bollywood who had earlier created waves with her bikini shots in Tashan plays supermodel Simrita Rai in the film opposite Akshay Kumar who plays a Hollywood stunt man.

The 28-year-old actress also refuted reports claiming that she had demanded that the shots of her in a swimsuit be removed from the film.

"The shots are there in the promo and that goes to prove that I had never asked for their removal because if I had, my producer and director would have done so," said Kapoor, who is dating actor Saif Ali Khan.

Nudity has always been taboo in the Hindi film industry, especially in the case of actresses who are in the danger of being quickly stereotyped. Actress Nandana Sen who had shot in the buff for the film Rang Rasiya had later said that she will not shed her clothes on screen again as it had harmed her career.

|TOP|

---
Tom Cruise's Bike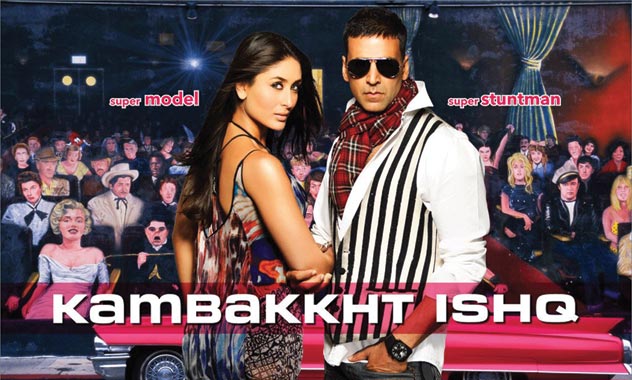 Kareena and Akshay in "Kambakkht Ishq."

Bollywood's own daredevil Akshay Kumar met a machine that befitted his image when he shot with Tom Cruise's Mission Impossible bike for Sajid Nadiadwala's multi-starrer Kambakkht Ishq.

"There was a scene shot with Akshay Kumar recently. The actor has used Tom Cruise's Mission Impossible bike. Sajid also hired action director Franco Soleman who created Tom Cruise's stunt," a source on the sets of the film said. American actress Denise Richards's cameo was shot in another Hollywood bombshell Jessica Alba's swimming pool.

"It is a well-known fact that Denise Richards makes her Bollywood debut in Kambakkht Ishq. Few know that her introductory scene was shot at Jessica Alba's pool. Jessica was present, too. It was quite a thing to have two of the hottest women around," the unit member revealed. Nadiadwala, the film's producer, has left no stone turned to get the best for his biggest release this year, with an international star cast and exotic locales.

Kambakkht Ishq, releasing on July 3, is one of the most awaited films this year and has Akshay Kumar and Kareena Kapoor in the lead. Adding to the star cast are Hollywood A-listers like Sylvester Stallone, Brandon Routh and former Bond girl Denise Richards, who plays herself in the movie.

|TOP|

---
In Hollywood Mag
Sonam Kapoor in "Saawariya."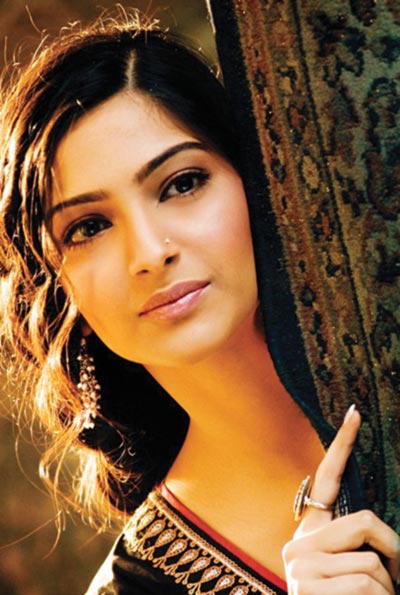 She may be only two films old in Bollywood but actress Sonam Kapoor is already creating waves globally as she is the only Indian to be featured in The Hollywood Reporter's special issue devoted to Asia.

"Next Generation: Asia Class of 2009," a journal by the trade magazine which is featuring Asia's new generation in filmmaking for the first time has selected Sonam as the only Indian representative.

Sonam, who celebrated her 24th birthday recently, is thrilled with the news. "Yes, it is pleasing to be recognized by Hollywood so early in my career, but my success is due to the enormous faith that the Indian film industry has placed in me and the great love that I have been lucky to get from my audiences," Sonam said in a statement.

The article about "the next generation of leaders in the rapidly evolving Asian entertainment sector" prominently features Sonam and the actress has also been presented with a certificate signed by Eric Mika, the publisher of Hollywood Reporter.

But Sonam is in no hurry to migrate to Hollywood.

"My heart is in India, and the films we make here can stand comparison with those made anywhere in the world, including Hollywood," the actress said.

"So if and when there is an offer from the West, I will judge it on the same criteria that I choose scripts here: Whether I believe in the story, the project and the people involved or not and not just because it has come from Hollywood," Sonam added.

|TOP|