EDITORIAL: Samurai Exhibit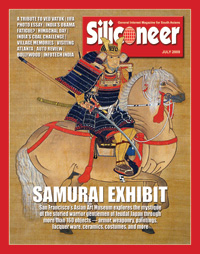 Many a South Asian reader may be scratching her/ his head in puzzlement—What's a cover story on Japan's storied medieval warriors doing on the pages of a South Asian magazine?

Bear with us as we explain.

From time to time, Siliconeer has attempted to break out of its niche ethnic ghetto—we have previously published pieces by Nobel-winning dramatist Harold Pinter and more recently, Oxford historian Avi Shlaim—because we firmly believe in what another Nobel Prize winner, economist and philosopher Amartya Sen, has called a multiplicity of identities.

Siliconeer takes great pride and pleasure in presenting perspectives of and on South Asians, but South Asians aren't just South Asians—we are Asians, and from a broader perspective, citizens of the world. As Sen has pointed out eloquently, we have a multiplicity of identities and interests, and it is through the celebration of this diversity that we ensure a respect for plurality.

There is a certain mystique about Japan's Samurai, but who are these people? What were their interests? What did they value most in life?

An exhibit in the Asian Art Museum provides vivid artifacts that give fascinating glimpses into these remarkable people. It turns out that there's more to Samurai than harikiri or warfare. These were people who valued excellence in a variety of fine arts. They combined a strong code of honor in war and life with a sensitive appreciation and cultivation of the arts.

In our cover story this month we highlight this exquisite exhibit that throws light on a fascinating chapter of Japanese history.

We at Siliconeer like to think of Ved Prakash Vatuk, a frequent contributor to this magazine, as an invaluable cultural resource for South Asians. Vatuk brings together a rare combination of skills—a deep knowledge of ancient texts like the Ramayana and Mahabharata, a sensitive understanding of the rural hinterland of India's Uttar Pradesh, and a poetic voice that seethes with moral outrage at social and political injustice.

There's a price to pay for speaking truth to power.

For Vatuk, who has been fearless in raising questions on a host of issues, ranging from injustice in the name of war to discrimination in the groves of academe, retribution has come in many forms including an unspoken declaration of this scholar, poet, folklorist and historian as persona non grata at the University of California at Berkeley.

Kira Hall, an associate professor of linguistics and anthropology at the University of Colorado at Boulder who edited Studies in Inequality and Social Justice: Essays in Honor of Ved Prakash Vatuk, writes about the remarkable moral triumph of Vatuk in May this year when the university's Center for South Asia Studies hosted a celebration to mark the festschrift that she and twenty other authors put together in his honor. Studies in Inequality and Social Justice, like Vatuk, seeks to expose the diverse mechanisms that underlie and create social disparity.

On May 20 Ved Vatuk was himself present at the celebration, returning to UC Berkeley to give a talk for the first time in 28 years. This month's issue has details on the event and the man it honored.

The egregious incarceration of Dr Binayak Sen, a pediatrician and human rights activist who has done outstanding grassroots work with adivasi communities in remote tribal areas of Chhattisgarh, became a national and international cause célèbre—and mercifully resulted in his release on bail.

While this is cause for celebration, all is not well in India's troubled state of Chhattisgarh.

If you are an adivasi, especially living in the southern districts of Chhattisgarh, India's much ballyhooed democratic institutions don't seem to function.

Over the past three decades, a growing Maoist insurgency has drawn a vicious state response in the form of the Salwa Judum vigilante group.

An increasing reliance on militaristic solutions to combat the Maoist movement has resulted in a shrinking democratic space and the consequent strangulation of dissent of all varieties.

The recent destruction of the Vanvasi Chetna Ashram amid the continuing displacement of Adivasis suggests sinister state complicity in the dispossession of Chhattisgarh's indigenous population and a callous willingness to snuff out all efforts to raise a voice against this human rights outrage.

As Sen himself has been at pains to point out, his freedom is a pyrrhic victory of sorts, because this larger issue of suppression of dissent and human rights violations of adivasis continues unabated. An article this month has more details.