TAMIL CINEMA:
Impressive in Parts: Maasilamani

Cast: Nakulan, Sunaina, Pawan, Karunas, Santhanam, Srinath, M.S. Bhaskar, Raj Kapoor, Santhana Bharathi, Delhi Ganesh
Music: S.D. Imman
Director: R.N.R. Manohar

---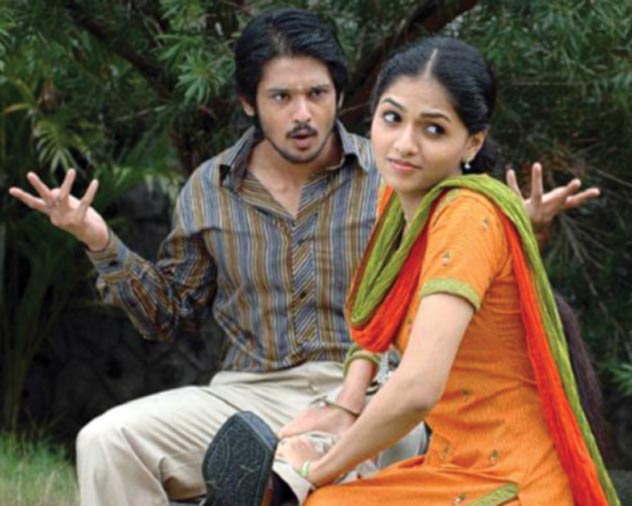 ---
The new release Maasilamani is an unpretentious attempt at a masala film sans logic or finesse. Nevertheless, it works as an entertainer with comic elements, helped by the chemistry between lead pair Nakulan and Sunaina and twists in the tale.

Director Manohar, who has written dialogues for many films, makes his directorial debut here.
Maasilamani (Nakulan) is a daring and enthusiastic youth who falls for Divya (Sunaina). But at their first meeting he cuts a sorry figure in her eyes and so she hates him. Undeterred, Maasi goes on to impress her family without her knowledge. While he is almost successful in getting into the good books of the family, he is again caught red handed by Divya, who says she would never accept a hooligan as her life partner.

Maasi suddenly plays a trick, saying that he is just Mani and not the rowdy Maasi, who looks like him. He creates a situation to make her believe that he is Mani and not Maasi.

Enter police inspector Pawan, a cousin of Divya. He tries to expose Maasi and marry Divya. He plays a funny but cruel trick to achieve his goal but Maasilamani has the last laugh by using his presence of mind. The rest of the film leads to a climax.

Manohar has made the narrative interesting by creating twists and turns throughout the script. Though most of the twists are unconvincing, there is no denying the fact that they keep the audience engaged.

The hunting game between Pawan and Maasi is interesting. Apart from the chemistry between Nakulan and Sunaina and the on-screen dynamism of Nakulan, comedy is a major plus point. The team of Santhanam, Srinath, M.S. Bhaskar, and Karunas are hilarious. Bhaskar stands out with his impressions of various actors from Rajnikanth to Simbu.

Though Nakul's acting skills haven't improved, his dancing and body language are better. Sunaina, who looked hot in her first movie, is less glamorous but more impressive here. She handles a few scenes well, especially the climax.

Imman has composed some peppy songs. The fast beat "Odi Odi" song stands out. Thiru's cinematography is competent.

— Chennai Online.