HINDI FILM REVIEW:
Poorly Done Masala Film: Kal Kissne Dekha

Rating: ** (Mediocre)
Kal Kissne Dekha

Directed by: Vivek Sharma
Music: Sajid-Wajid
Cast: Jackky Bhagnani, Vaishali Desai, Rishi Kapoor, Archana Puran Singh.
---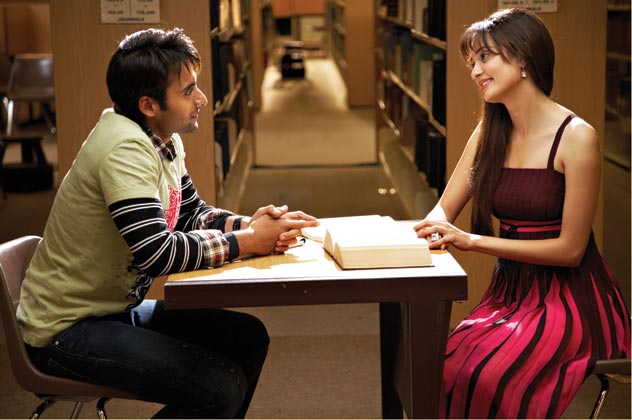 (Above): Vaishali Desai and Jackky Bhagnani in "Kal Kissne Dekha."

---
The more things change, the more things remain the same. That has to be the sad conclusion after seeing this film as one reflects upon Bollywood's Sisyphean struggle to achieve a modicum of realism.

I mean guys, give the poor Bollywood buff a break. Yes, the technical razzmatazz can sometimes hold its own with Hollywood, the technical values and production design does have a degree of hip look about it, or at least that's what filmmakers strive for, but when it comes to the soul of a film—which is always a good, gripping story, told with power, grace and skill—there's no there there.
Listen up, people.

The time is gone when you can crank out all manner of nonsense and expect people to flock to watch the stuff, setting cash registers ringing. Witness the recent debacle of one Bollywood potboiler after another.

---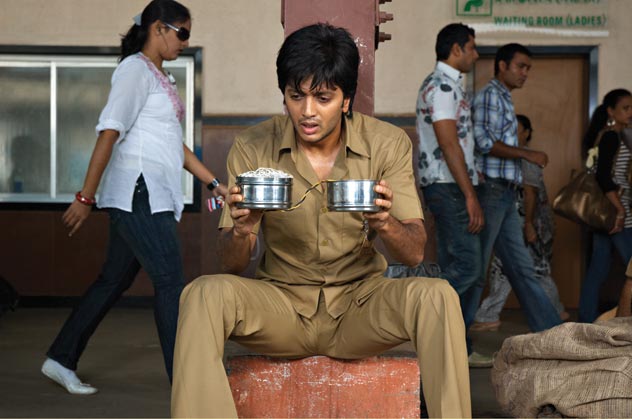 (Above): Riteish Deshmukh in "Kal Kissne Dekha."

---
It is hard to believe that the filmmaker of this film has taken this lesson to heart. It has all the bad things that Bollywood loves to wallow in—thin story line, over-the-top storytelling and maudlin sentiment so cheesy your toes will curl in embarrassment.

Nihal Singh (newcomer Jackky Bhagnani—what's with this wacky Bollywood spelling of names?) is a village lad with a heart of gold. He has big dreams of making it and escapes the affectionate if smothering mother (Archana Puran Singh in a rather hammy turn) to go to college.

Now this being the quintessential Bollywood masala film, everything's over the top. The college isn't just a college, it looks like a huge edifice of a university. The student dorm must be the most luxurious hostel in the world, and its warden is physics professor Siddharth Verma (Rishi Kapoor) who is a NASA scientist, no less, who lives in a lavish house that not even top IIT professors live in.

---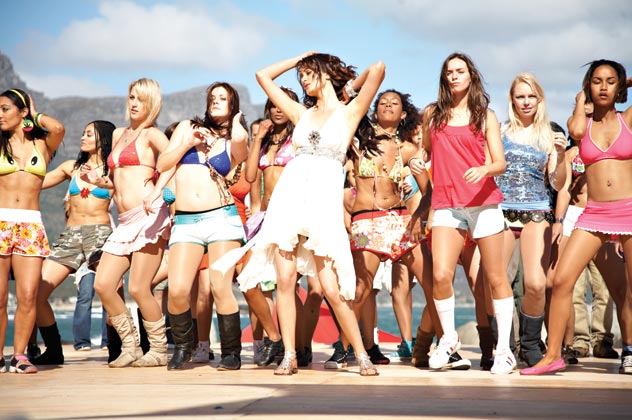 (Above): Vaishali Desai in "Kal Kissne Dekha."

---
What on earth he is doing in a college where most of the kids seem to hang out lounging in the open air dressed—and acting—like delinquents, is another question that the director seems to have glossed over.

Some of the stuff is just plain juvenile, like when a bunch of college heavies invite Nihal on a bike ride and he proves to them his mettle. Some of it is so mawkish and sophomoric it's enough to make you cringe.

Take the scene where college brat Meesha (Vyshali Desai) takes great pleasure in humiliating a girl from a modest background with her cronies cheering her on. The entire scene—Meesha's exaggerated expression of snobbery, the spineless acquiescence of her friends, Nihal's cheesy protestations of moral superiority—all add up to a scene so silly and mawkish that it could be a story of fighting underage school kids plucked right out of a juvenile Enid Blyton novel.

Of course, things begin to change (They always do in a Bollywood potboiler, don't they?). Meesha is taken home by the ever virtuous Nihal after a spell of inebriation, and she lives—you guessed it—in a palatial home with a fed-up father and a doting mom (Farida Jalal doing what she always does with surpassing mediocrity).

---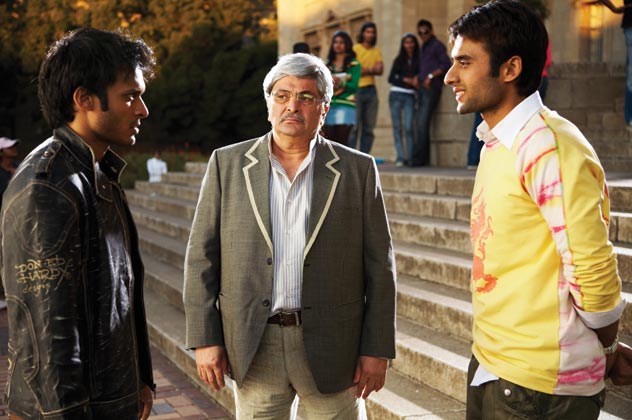 (Above): Riteish Deshmukh, Rishi Kapoor and Jackky Bhagnani in "Kal Kissne Dekha."

---
Then comes a time when Meesha really gets her comeuppance. It's within a mall, and there is some fun youth event when Nihal senses something terrible is about to happen.

Nihal, it turns out, has a gift that the film alludes to right from the beginning.

In addition to being from Chandigarh (repeated ad nauseum in the film) Nihal can see the future, and it's sometimes disturbing.

So there he is, standing with the audience watching Meesha in the mall, when he senses a bomb is about to explode right under Meesha.

He is quick to yell for help and it turns out that he is right.

Guess what happens next? Meesha, unlike all her real-life counterparts, has a character makeover. (How many mean people do you know who ever changed to be nice, sweet people?) She is dazed at first, but soon she is in tears realizing just what a terrible child she had been. Well, better late than never.

Soon she is cuddling up with mom, all teary eyed. Competing with Farida Jalal in the waterworks department? Now that's a challenge.

What happens next will be left unsaid for those (few) of you who have a masochistic streak and actually want to go to a cinema and see the film. Don't say I didn't warn you.

Jackky is not a bad actor, but what a dreadful film to launch a career. If this film sinks like a lead balloon, it's a fate that it richly deserves. Too bad Jackky may have to go down with it.