BOLLYWOOD | Guftugu

'Antaheen' Best Movie at 56th National Film Awards | Over 60 Million Watch '3 Idiots' in 20 Days | Composer A.R. Rahman in Oscar Race Again | Maha Gussa | Not Seeking Change | Chand Ka Tukda | Blame Kukunoor | Big B, Little B | Karnataka CM:  See 'Paa' | Seoul Frontrunner | Mithun Praised

---
'Antaheen' Best Movie at 56th National Film Awards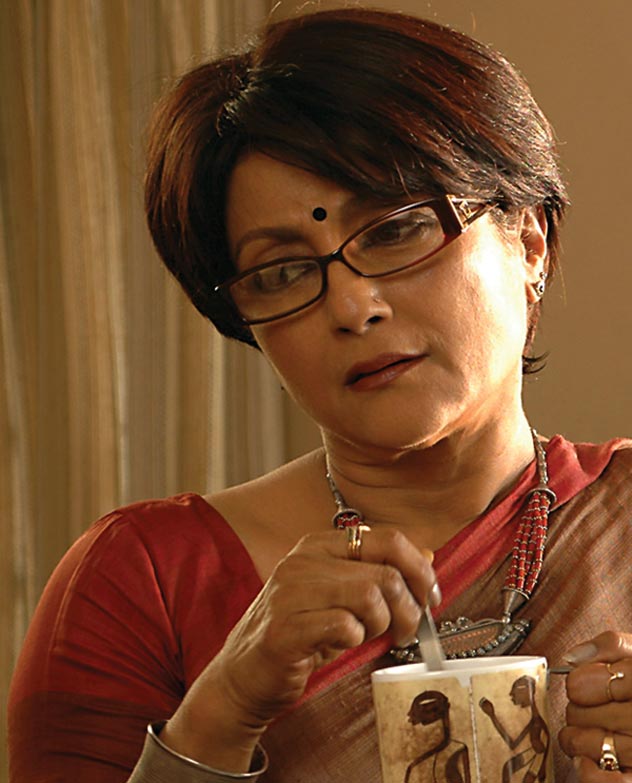 Aparna Sen in "Antaheen."

Bengali film Antaheen by director Aniruddha Roy Chowdhury was chosen as the Best Film while Tamil filmmaker Bala won the honor of Best Director for his film Naan Kadavul  at the 56th National Film Awards announced in New Delhi.

Antaheen, starring Sharmila Tagore, Rahul Bose, Aparna Sen and Radhika Apte, is a relationship drama.

The award for Best Actor went to Upendra Limaye for the Marathi film Jogwa, which also fetched the trophy for the Best film on social issues. Hindi film Oye Lucky Oye by Dibakar Banerjee was adjudged as the Best Popular Film.

Bollywood actress Priyanka Chopra bagged the Best Actress award for her role of a aspiring model in Madhur Bhandarkar's Fashion which also bagged the Best Supporting Actress Award for Kangana Ranaut who played the role of a troubled model.

Actor Arjun Rampal won the award for Best Supporting Actor for his role of a failed rocker in Rock On.

Shreya Ghoshal won the Best Female Playback award for Antaheen and Jogwa, which also brought the Best Male Playback Singer award to Hariharan.

Kannada film Gubbachigalu was adjudged the Best Children's film. The award for Best Special Effects went to Mumbai Meri Jaan.

Malayalam film Bioscope won the Best Jury Award while the trophy for Best Child Actor went to Shams Patel for the Hindi film Thanks Maa. 

|TOP|

---
Over 60 Million Watch '3 Idiots' in 20 Days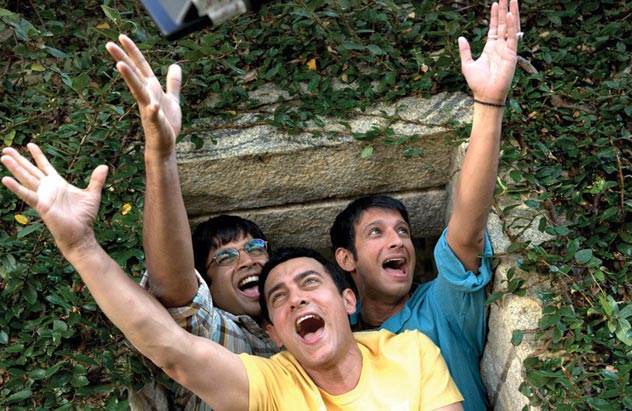 R. Madhavan, Aamir Khan and Sharman Joshi in '3 Idiots."

Now you have the final proof.  The film may have been called 3 Idiots, and many a naysayer might have thought Aamir Khan was  one of them.

After all, how can a 40-something star figure he can play a 20-something college student and still be considered smart.

Well the smart-alecks have been proved wrong. Aamir is plenty smart.

His 3 Idiots has been watched by more than 60 million people in 19 days since its release on Christmas eve with the blockbuster grossing a whopping Rs 3.150 billion, its producers claim.

Producer Vidhu Vinod Chopra said the film has broken all previous box office records as over 60 million people watched it in theatres and the number still growing.   "The success of the film proves true Rancho's mantra: chase excellence and success will follow," he said.   

According to trade analyst Taran Adarsh, "3 Idiots is unstoppable. Before its release no distributor or trade expert could predict the business of this film."

Trade sources said the 2nd week occupancy of 3 Idiots fell by 28 percent which was not drastic given the life span of films these days. They also said it was after a long time that an Indian film has had a large repeat audience.

The film has beaten past records to emerge as the new benchmark for an Indian film in the overseas box office too.

Aamir says the credit for the film's success should go to the entire team. "I am happy to be a part of it," he said.

You gotta hand it to Aamir. He isn't just smart, but he has got class, too.

|TOP|

---
Composer A.R. Rahman in Oscar Race Again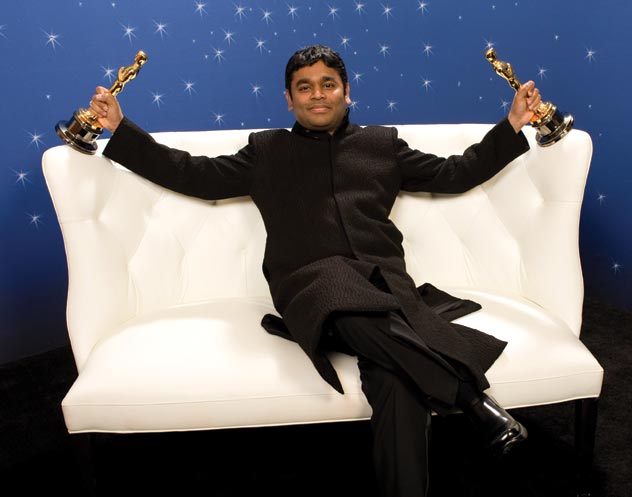 2009 Oscar winner A.R. Rahman backstage during the live ABC Telecast of the 81st Annual Academy Awards from the Kodak Theatre, in Hollywood, Calif., Feb. 22, 2009.
It would seem that for Bollywood music maestro A.R.  Rahman once ain't enough.

His first Hollywood film Couple's Retreat has won him a place in the Oscar shortlist yet again for Best Original Song.

The Tamil song "Na Na" has been shortlisted for nomination in the original song category for the 82nd Academy Awards.

The song is special for Rahman as it also marks his six-year-old son Alim's debut as a singer.

Hold the applause though. There's still some ways to go, because the song will be competing with 62 other songs from eligible feature-length motion pictures for nomination, which will be announced Feb. 2, reported the official Web site of the Academy awards.

"Na Na" was written by Rahman along with rapper Blaaze and Vivian Chaix and sung by the trio along with Alim, Clinton and Dominic.

The musician who is the first Indian to win two Oscars is in the running for the prize for the second consecutive year.

Last year his composition "Jai Ho" won the top prize in the Best Original Song and Rahman won the award for Best Soundtrack for his music for the film Slumdog Millionaire.

Directed by Emmy nominated Peter Billingsley, Couples Retreat revolves around four couples trying to reconnect with each other through a tropical-island vacation.

The film stars Vince Vaughn, Kristin Davis among others.

Jai ho, A.R. Rahman.

|TOP|

---
Maha Gussa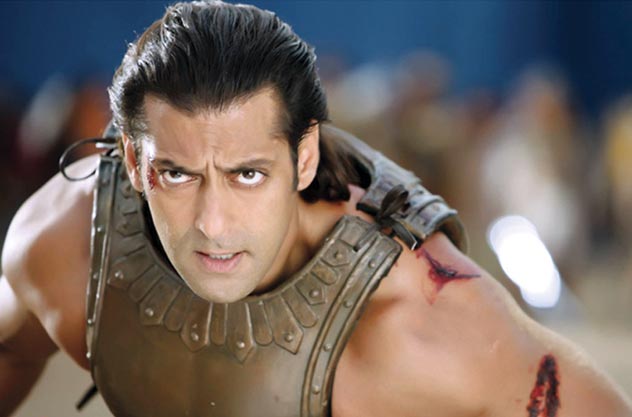 Salman Khan in "Veer."

You would think one would be flattered for being compared to Hollywood hunk Brad Pitt.

Well Bollywood enfant terrible Salman Khan was anything but  happy.

The actor, who was in New Delhi to promote his upcoming period drama Veer, threw a hissy fit when a reporter remarked that his look in the film was similar to the one sported by Pitt in the Hollywood film Troy.

"He (Pitt) was wearing a miniskirt in the film. I am not. And does my hair look blonde?" retorted Salman angrily.

Arre bhaiya, shant ho jao. Calm down, Sallu bhaiya, the guy didn't mean to offend, for crying out loud.

Alas, Salman is anything but the calm type.

He went on haranguing the hapless reporter: "I had long blonde hair in Sooryavanshi, so I should stand up and say that Brad Pitt stole my look. Did that guy in Gladiator, Russell Crowe have long hair? No he did not. This is rubbish. I play a Pindari soldier and my look is not a copy of any Hollywood film."

The film is the brainchild of Khan who turned scriptwriter for the period drama which revolves around the life of a Pindari soldier leading a revolt against the British in 1857.

The film directed by Anil Sharma has been in the making for three decades and in Salman's own words it was a "long and hard journey."

Salman is leaving no stone unturned to promote the film. Well, we hope  someone can give the brash Bollywood star some tips on what not to do when trying to promote a film. But we are the first to admit, that would be one hazardous assignment.

|TOP|

---
Not Seeking Change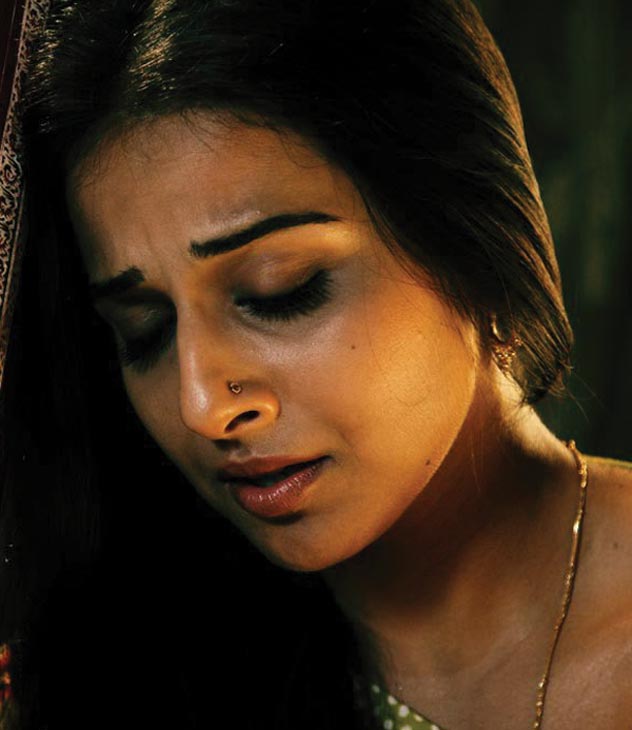 Vidya Balan in "Ishqiya."

She first captured hearts with her role as a demure woman in debut Pareenita but Vidya Balan, who will be seen seducing actors Naseeruddin Shah and Arshad Warsi in Bollywood movie Ishqiya, says she is not looking for an image change with her bold character.

"If I tell you the truth, I have never tried to change my image. But as an actor I have always tried to portray different roles in my career," Vidya told reporters.

The Southern beauty, who faced criticism for her sartorial sense in Hey Baby and Kismat Connection denied that her modern image in these films was the result of a desire to get over her traditional girl image.

"Every film of mine retains my old persona which the audience can clearly identify with," Vidya replied after being asked about her role as a seductress in Abhishek Chaubey directed Ishqiya, releasing Jan. 29.

"Till date I have acted in around ten Hindi films and in every film I have tried to do something different because I don't want to restrict myself to one particular type," she added.

The 32-year-old actress, who was last seen in Paa as a single mother of Amitabh Bachchan, plays the role of small town girl Krishna in the upcoming film.

"To get a chance of working with such fine actors is a dream come true for me. It improves your acting skills and I feel that in this regard I have been very fortunate," Vidya said.

She may be someone who lives in a dream world, but when asked about her dream man Vidya joked, "I don't see the face of my prince charming in my dreams, I just hear a voice. This voice belongs to someone, but I can't tell you who he is."

|TOP|

---
Chand Ka Tukda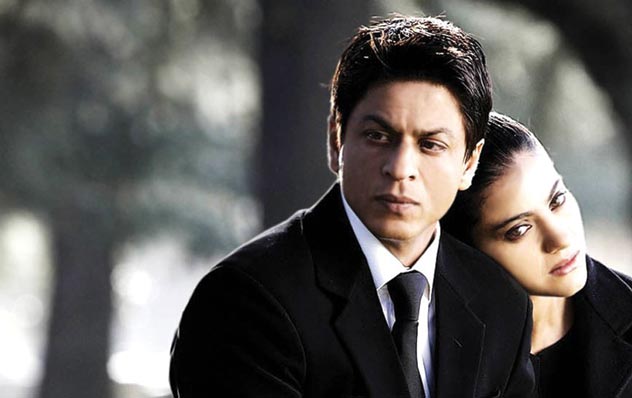 Shah Rukh Khan and Kajol in "My Name is Khan."

Bollywood superstar Shah Rukh Khan is literally over the moon nowadays, thanks to a lunar crater which has been named after him.

He is now busy telling everyone: "My name is Chand."

The International Lunar Geographic Society renamed a crater, earlier known as Arago B, after the Bollywood heartthrob following requests from thousands of his fans worldwide.

"Cheesy humor...I have been telling everyone today...my name is chand," tweeted Shah Rukh who has amassed a huge following of 92,318 people just a month after joining the social networking Web site.

The crater is located on the Sea of Tranquility on the moon and was given the designation Crater S.R. Khan on Shah Rukh's 44th birthday Nov. 2.

"Also the good thing with the moon property is no municipal taxes...but alas very few neighbors too," wrote Shah Rukh.

The official designation of a lunar crater is a coveted honor which has till now been bestowed upon only a few like Leonardo da Vinci, Christopher Columbus, Sir Isaac Newton, Julius Caesar and Jules Verne.

The International Lunar Geographic Society, previously known as the Lunar Republic Society, is the world's largest group advocating privatized exploration, settlement and development of the moon.

|TOP|

---
Blame Kukunoor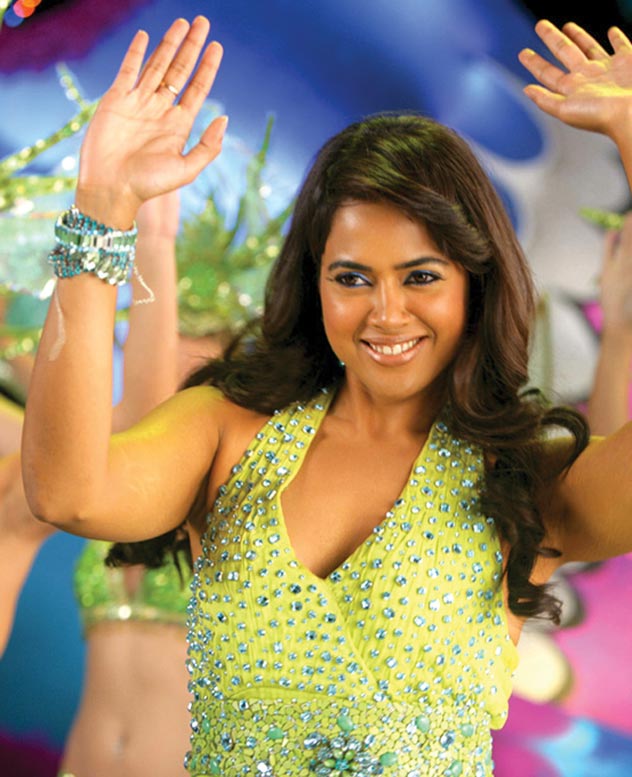 Sameera Reddy in "De Dana Dan."

She was one of the few Bollywood actresses who maintained their curves during the onslaught of the "size zero" trend, but Sameera Reddy surprised onlookers when she turned up at a recent event here looking svelte as never before.

The actress walked the ramp for designer Neeta Lulla during the launch of Aza, the couture store. She blamed the weight loss on director Nagesh Kukunoor.

"I personally like a bit more meat on myself, I am all for the voluptuous look. But Nagesh Kukunoor with whom I was shooting Yeh Honsla made me work so hard that I lost all the weight," Sameera told PTI.

The 27-year-old actress will be seen in a deglamourized role in the film where she plays a woman living in a small hamlet in Rajasthan whose life changes when she learns how to use a camera.

The film was shot over a period of three months in the desert state and the rigorous schedule made Sameera lose her famous curves.

"Nagesh is an amazing director and also a hard taskmaster. The three months I was shooting, he made me work real hard and did not even allow me to have my phone near me," said the actress.

While shooting in the deserts of Rajasthan went off well for Sameera, the Delhi chill was something she could not handle.

"I am such a pakka South Indian that I cannot survive in any climate which is not hot and humid," said Sameera, adding that she was thankful to designer Neeta Lulla for giving her a heavy bridal dress to model.

The actress is now readying for the release of her Tamil film Asal where she will be seen performing some eye popping stunts. 

|TOP|

---
Big B, Little B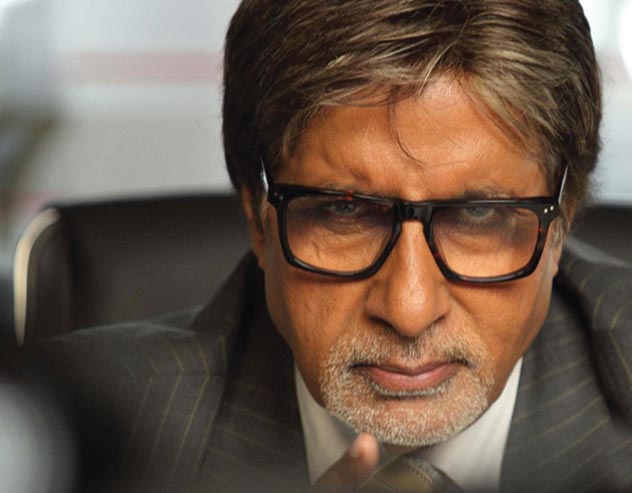 Amitabh Bachchan in "Rann."

Their recent role reversal in Paa had won them rave reviews, but filmmaker Ram Gopal Varma says that he did not even consider reuniting Amitabh and Abhishek Bachchan on-screen in Rann.

Varma, who directed the father-son duo in Sarkar and Sarkar Raj, said that he decided against casting the two Bachchans because he did not want the real-life relationship between the actors to guide his film.

"The point is that we have already explored the father-son relationship between Amitabh and Abhishek in Sarkar. You can't make a film thinking, 'Okay, let me bring these men together and their real life bonding with spill on to screen as well.' Films do not get made that way," Varma told PTI.

In the multi starrer Rann, Amitabh spearheads the show with Kannada actor Sudeep, who was last seen in Varma's Phoonk, playing his son.

"See, I won't like to have the two work together in a film of mine unless the intent is to go way beyond Sarkar," added RGV.

Varma has already directed Abhishek in Naach, Sarkar and Sarkar Raj while AB Jr. has also returned the favor by dancing to the tune of "Mehbooba Mehbooba" in Aag.

But when it came to Rann, the filmmaker did not think Abhishek was a correct casting choice.

|TOP|

---
Karnataka CM:  See 'Paa'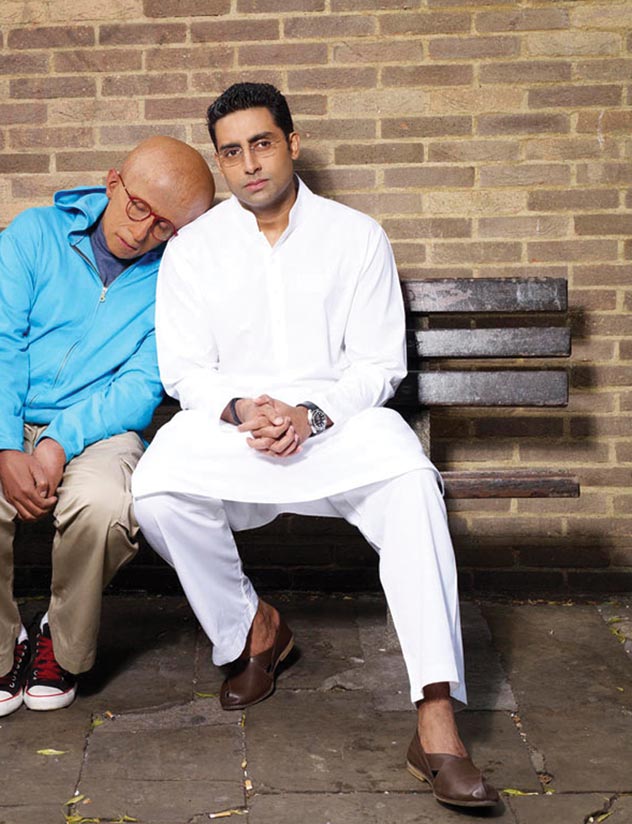 Amitabh Bachchan and Abhishek Bachchan in "Paa."

Karnataka Chief Minister B.S. Yeddyurappa asked people to watch Amitabh Bachchan's latest film Paa in which the actor portrays a boy suffering from Progeria, saying it is an educative film which should be seen and encouraged.

"The film is creating ripples everywhere. It is an educative film," Yedyyurappa, whose government has granted 50 percent concession in entertainment tax to the film, told reporters in the presence of the Bollywood megastar.

Touching on the theme of the movie, which portrays the trials and tribulations of a 12-year-old boy afflicted by progeria disease and hardship faced by his parents, he said: "I call upon people to watch and encourage Paa."

He also expressed his joy over three Kannada films winning national awards this year.

Bachchan thanked the chief minister for the tax concession for his film, describing it as a very "heartwarming" gesture.

"Some of the sensitive aspects of the film have been recognized by the Karnataka Government," the Bollywood star said and recalled his long association with Bangalore, remarking: "I have a lot of friends here."

Asked how he rated the leadership of Indian politician Rahul Gandhi, being the friend of his father late Rajiv Gandhi, Bachchan said: "We wish him all the best."

He tried to sidestep questions on politics, saying, "I am not in politics now. I was in it once."

To another question on Amar Singh, who recently resigned from all his posts in the Samajwadi Party, he said "I don't interfere in any decision Amar Singh takes."

|TOP|

---
Seoul Frontrunner

South Korean capital Seoul is the frontrunner to host the 11th International Indian Film Academy Awards with four other countries. However, the IIFA body is yet to finalize the venue.

"Seoul is the frontline bidder with four other countries at the present moment. We met the president recently and he has made a request that we bring IIFA to their country. We will take a decision very soon," Sabbas Joseph, one of the founder directors of event management company Wizcraft International Entertainment that organizes IIFA every year, told PTI.

According to Joseph, four other countries who are in the race to host the Bollywood awards extravaganza are Sri Lanka, Abu Dhabi, South Africa and Australia.

The awards, which will celebrate their 11th edition this year, celebrate the best talent from the Indian film fraternity.

"IIFA has been growing every year. The awards are a representation of our country and the host country. This year will also see most of the prominent faces from the film industry and it will be a highly successful event," Joseph said, adding that IIFA Academy purposefully tries to choose venues where Indian cinema is not very popular.

"We take Indian cinema and open new markets and new territories in places where Indian cinema has not been popular. It is always exciting to open another chapter for Indian film industry and distributors," Joseph said.

|TOP|

---
Mithun Praised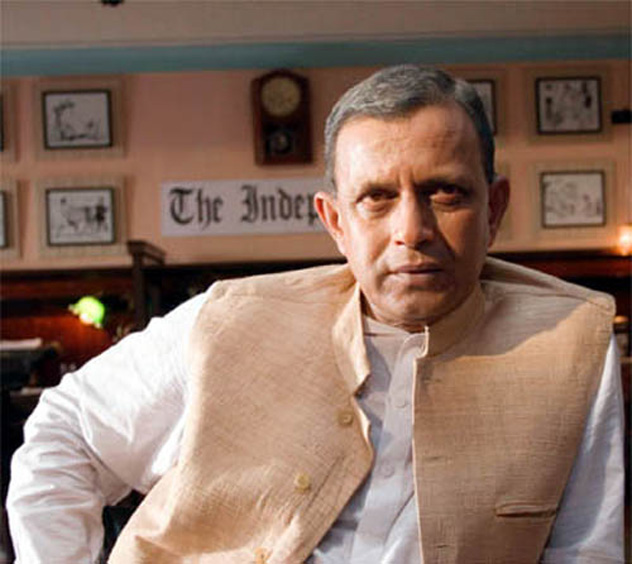 Mithun Chakraborty in "Guru."

Bollywood actor Mithun Chakraborty was such a big fan of Amitabh Bachchan during his struggling days that he "slit his chest" for the star's well being when Big B was seriously injured while shooting Coolie in 1983.

The two actors recently met on the sets of a dance reality show which brought old memories back to Bachchan.

"A dedicated follower and one that has always been respected by the fraternity, his concern and love for all is legendary – he slit his chest and took a pledge on his blood for my wellbeing during my Coolie episode. How can one ever forget that?" the 67-year-old star wrote in his blog.

Bachchan was critically injured in the intestines while filming a fight scene in the 1983 film with co-star Puneet Issar which almost cost him his life.

Big B also recounted Mithun's loyalty for him on the sets of his  film 1976 Do Anjane in which Mithun did a cameo.

"During the shoot for Do Anjane at Kolkata he used to run around enthusiastically ready to carry my bags for me. I would desist him from doing this, but he went ahead and did it always," Bachchan wrote.

Mithun had to go through a lot of struggle to establish himself in Bollywood as an actor and made a name for being a dancing star.

"He danced at parties and possessed a million dollar smile — open, uncomplicated and full of warmth. But look where he is today. At the top of his creativity - I simply loved him in Guru," Bachchan added.

|TOP|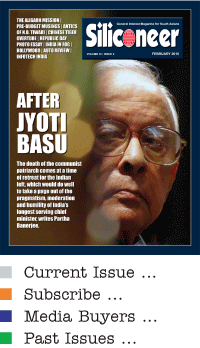 Click here to read the Current Issue in PDF Format
COVER STORY
Jyoti Basu and Indian Left:
Mixed Past, Grim Future
The Indian left has failed to learn from the pragmatism and humility of communist titan Jyoti Basu, writes Partha Banerjee.
EDUCATION
A Beacon of Modernity:
Aligarh University
Aligarh Muslim University evokes a romance of a different nature — the love of education, tradition and something else, writes Ras H. Siddiqui.
DEVELOPMENT
Mind the Gap:
Pre-Budget Musings
India's budget must take up the challenge to make the process of development inclusive so that the gap between the rich and poor decreases, writes Sandeep Pandey.
OTHER STORIES

EDITORIAL: Indian Left After Jyoti Basu
NEWS DIARY: January
SUBCONTINENT: The Antics of N.D. Tiwari
SUBCONTINENT: Save the Tiger
RECIPE: Malai Chicken Tikka
HEALTH CARE: Battling H1N1
SUBCONTINENT: Battling India's Fog
COMMUNITY: India Republic Day Essay
AUTO REVIEW: 2010 Toyota Camry LE
BOLLYWOOD: Film Review: Veer
BOLLYWOOD: Guftugu
TAMIL FILM: Aayirathil Oruvan
BUSINESS: News in Brief
COMMUNITY: News Briefs
INFOTECH INDIA: Tech Briefs
HOROSCOPE: February
---
ENTERTAINMENT

2009 IIFA Awards, Macau
A Siliconeer Exclusive Photo Essay
---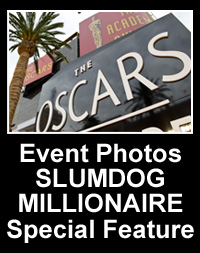 ENTERTAINMENT

81st Annual Academy Awards
A Siliconeer Exclusive Photo Essay
---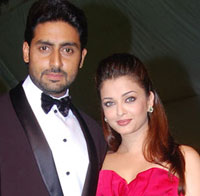 ENTERTAINMENT

IIFA Awards 2008
A Siliconeer Exclusive Photo Essay
---