EDITORIAL: Indian Left After Jyoti Basu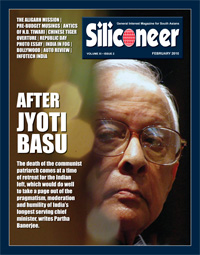 You would hardly expect a well-bred scion and an British-educated barrister to become a committed communist, but that's Jyoti Basu for you.

Some would say he was the quintessential Bengali bhadralok — a Bengali term which loosely translates into "gentleman," and refers to a manual labor-abhorring, uppity and snobbish class ethos that some analysts say has been the bane of Bengal.

This observation can be turned on its head. Jyoti Basu was indeed a bhadrolok — in the actual dictionary sense of the term. Although the term has been much maligned for its class insularity, it has also been the font of some of Bengal's most enlightened thought (Think Ishwarchandra Vidyasagar, Rabindranath Tagore, Satyajit Ray, Amartya Sen).

Basu epitomized some of the nobler attributes of that class—he was erudite, moderate, thoughtful, pragmatic. He brought all of this attributes to bear in West Bengal politics with profound effect. Who would have thought a bunch of communists, notorious for their ideological hairsplitting, bitter bickering and name calling, would rule as a coalition government for over three decades, creating a model for future national governments for India?

Under his stewardship, the Left Front instituted one of the most far-reaching land reforms in India. He also realized that ideological purity was fine in theory, but we live in a messier world. He sought to build a coalition beyond the ideological confines of his party. In policy, too, he sought Western investment, albeit with mixed success.

His departure in 2000 was a loss for the left in more ways than one. Years of power has bred a new generation of Left Front apparatchik who have lost touch with the common man, and bred an arrogance that does not augur well for the Left Front, but more importantly, for West Bengal either.

Human rights activist and political commentator Partha Banerjee takes an in-depth look at this communist patriarch in the context of Indian politics in this month's cover story.

Aligarh Muslim University is not without its critics. But when you think about it, its remarkable achievements far outshine whatever shortcomings it might have. Its founder Sir Syed Ahmed Khan is also not without his critics, but his vision — and its embodiment in AMU — has enormous contemporary resonance.

In India, AMU is an oasis of reason for a minority that is particularly vulnerable to divisive politics. Much of India's Muslim community is hamstrung by poverty and backwardness, and that alas, opens the door to bitterness, obscurant thought and a dissociation with civil society that is tailor-made for extremist thought.

In a global context, AMU offers a salutary alternative—a Western education that blends a pride in Muslim heritage with a rational, Western humanism — and sets a role model that not only Muslims but all can admire.

Today, as Islamist extremism imperils nations and societies all over the world, AMU presents a vital model for Muslim societies all over the world.

To be sure, there are genuine grievances in Muslim societies all over the world. But the answer to that is not the violent ideology of fundamentalist Islam, but a rational mindset that critiques oppression while embraces humanism and plurality. AMU does that well, and its many successful graduates all over the world are its best proof of the profound wisdom of its founder's vision.

As India contemplates its next budget, a paradox is sure to pain many Indians — if they notice it. Amid all the hoopla of metropolitan glitz and conspicuous consumption it is easy to forget that there are really two Indias — there always has been, and the dizzy economic growth rate has not entirely changed that.

Notwithstanding its rapid economic growth for the past many years—and remarkable ability to withstand a frightening global economic mess—there are still vast swathes of India that remain cripplingly poor and underprivileged.

While the cities eye the latest, expensive gadgets, a substantial part of rural India is in the middle ages. No health care, virtually no government and no public services. The rising Maoist radical left insurgency in a substantial part of the country gives a hint to the growing unrest.

India's democracy, however flawed, is beginning to respond. In recent years, the Right to Information Act and the National Right to Employment Guarantee Act are two significant progressive victories.

But is it enough? It is during budget time that critical decisions working towards decreasing the gap between the rich and the poor must be taken, and Sandeep Pandey enumerates some measures for a budget that is more humane, progressive and inclusive.