SUBCONTINENT:
India's Reply to Tiger: The Antics of N.D. Tiwari


Andhra Pradesh Gov. N.D. Tiwari had to quit in disgrace after being caught on camera in a compromising position, but his public standing has soared following news of the octogenarian's unexpected sexual prowess, writes Siddharth Srivastava.

---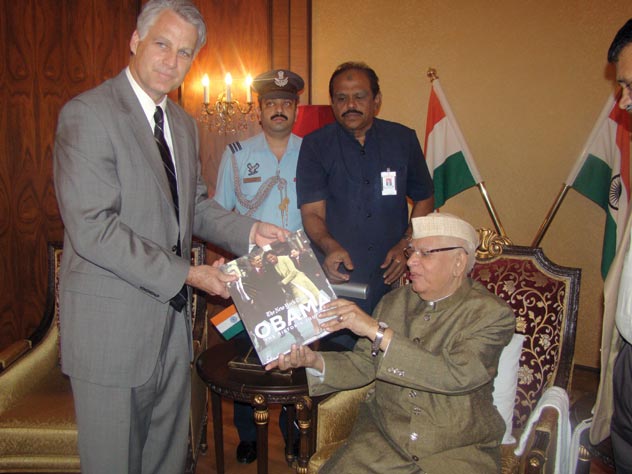 (Above): U.S. Ambassador Timothy J. Roemer presenting the book "Obama-The Historic Journey" to erstwhile Andhra Pradesh Governor N. D. Tiwari in Hyderabad Oct. 21. Tiwari had to quit in disgrace as Andhra Pradesh governor following revelations of a media sting operation that showed him cavorting with young women, but he may have the last laugh, as his popularity has soared following the scandal. [Press Information Bureau photo]
---
While Tiger Woods has hogged mind and media space in the past few weeks, in India the great golfer's exploits off the fairway has been upped by octogenarian Indian politician N.D. Tiwari, aged 86 years and still going very strong (in bed, that is).

Tiwari, a long-standing national Congress party loyalist, was recently caught on camera apparently half naked cavorting with three young girls in a TV sting operation, which is a common occurrence in India now to trap the usual suspects such as corrupt policemen, government officials and politicians, generally accepting cash for favors.

While questions remain about Tiwari using his superior position as incumbent governor (now sacked) of Andhra Pradesh and former chief minister of Uttarakhand to make the girls do what they did, the ethical and legal doubts have been set aside by his supposed ability at 86.

Indian men, given smaller physiques, genetic structures and generally unfit bodies, are known to lose it in their mid-30s and look for remedies and aphrodisiacs to rid the private dysfunctions and reverse the never-discussed-in-the-open male biological clock, so to say.

Fittingly, Tiwari has been labeled the Tiger of India, overtaken Woods as the most searched on Indian Web sites, with plenty of questions being asked about his successful score, looking very happy than embarrassed with his pants down, as one might expect a near 90-year-old to be. Everybody knows Playboy's Hugh Hefner is just a marketing gimmick.

Some say that Tiwari truly deserves to be brand ambassador of Viagra and other similar concoctions and fill his coffers more, unlike Woods who has been buffeted by sponsorship losses and an expensive lawsuit by his wife and no golf.

---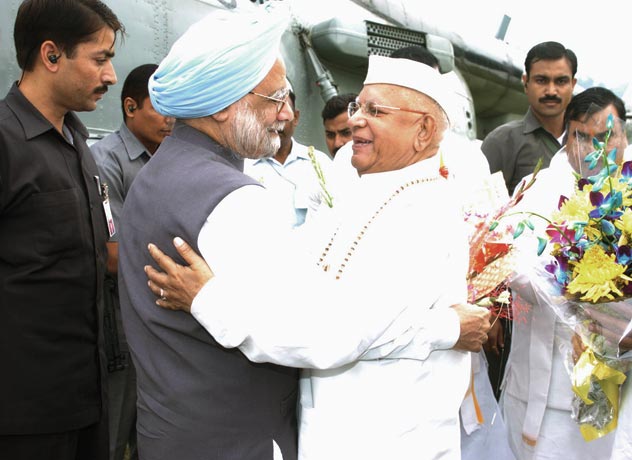 (Above): Erstwhile Uttarakhand Chief Minister Narayan Dutt Tiwari receiving Indian Prime Minister Manmohan Singh in Haridwar Oct. 19, 2006. [Press Information Bureau photo]
---
While the pessimists and cynics say that Tiwari could not have "actually done it," the optimists see hope for a very long innings ahead, even as news reports speak of at least two "illegitimate" children sired by Tiwari out of wedlock.

For the uninitiated, Tiwari is not a big name when compared to contemporary Indian politicians such as Atal Behari Vajpayee, Manmohan Singh or Sonia Gandhi, but has had an above average and steady political innings.

At one time in the '80s and '90s as chief minister of Uttar Pradesh, there was talk that he could be prime minister of India, given the nature of India's coalition politics.

However, his political career was subsumed by other events such as the advent of caste equations, and the Congress leadership finally appointed Tiwari as governor, a graveyard posting for spent but loyal political hacks that offers comfortable living, some power and free medical treatment.

Tiwari, it seems, had other ideas. His latest exploits have raised him to the heights of national popularity that his political career never did.

Indian politicians generally tend to live long, unlike the rest of the population, which many say is due to the heady and life enhancing mix of power, money, fame and fawning sycophants, though in Tiwari's instance, the elixir has included more.

Other politicians, as they age, step aside, promote sons, daughters and their spouses to carry forward the political lineage and enjoy the fruits of power. Not Tiwari, who remains hands on.

Age has caught up with some of Tiwari's ilk such as Bal Thackeray, stricken by heart disease, the diabetic Arjun Singh and Sharad Pawar who has suffered a stroke. Tiwari, however, has not slowed.

Indeed, it can never be easy for a young-at-heart old man to turn into a poster boy in a nation like India where the majority of the population is under 35 years of age and look up to film stars such as Shahid Kapur, Salman Khan and Shah Rukh Khan, all of whom are at least half Tiwari's age, who spend hours at the gym to develop and show off in their movies the coveted six pack abs.

A healthy, avuncular Tiwari has stolen the thunder, at least for the time being, also from colleagues in the same age bracket, but placed much higher in the pecking order.

---

(Above): The Aga Khan meeting with the erstwhile Andhra Pradesh Governor Narayan Dutt Tiwari. [AKDN | Gary Otte photo]
---
In the recent past, India's top political echelons have been occupied by men well into their '70s and some into the '80s, all of whom now appear staid and dull compared to Tiwari.

There is Prime Minister Manmohan Singh, upright and a paragon of virtue in every sphere, including academic achievements and demeanor. If Manmohan has been caught displaying passion in public, it is to defend the Indo-U.S. civil nuclear deal that he has personally backed and staked his reputation in.

Then there has been former Prime Minister Vajpayee, similarly aged as Tiwari, but hamstrung due to knee and other health problems. Vajpayee during his time in power, aged late 70s, had his asides in poetry and good food, but remained passionate about pushing the Indo-Pakistan peace process which is dead now due to the brazen 2008 Mumbai terror attacks.

L.K. Advani is known for utmost discipline in personal life that spans food and daily routine that has kept him healthy and fit in the '80s. A bit of Advani's drive, of course comes from his unfulfilled ambition to be prime minister of India. At the best of times, however, Advani has been most aggressive about Hindutva, the politics of majority Hindu rule.

Former Indian President A.P.J. Abul Kalam is known for his missionary zeal in backing science and renewable energy.

While the moral issues of exploiting girls under duress and corruption charges are being investigated, Tiwari for now is India's Hero Number One.

That might bring a smile on the face of the randy octogenarian, but it's a discomfiting commentary on the vagaries of public opinion. Mera Bharat mahaan.