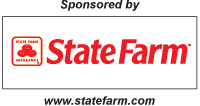 AUTO REVIEW:
Family Favorite: 2010 Toyota Camry LE


The 2010 Toyota Camry LE gets great gas mileage with a trunk large enough to handle anything a family needs, writes Sally Miller Wyatt.
---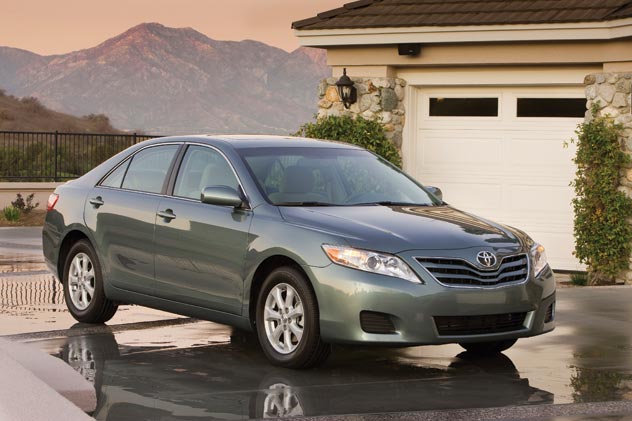 (Above): Exterior view of the 2010 Toyota Camry LE

---
Important Recall Information

Certain 2007-2010 Camry models have been recalled, and sales have been stopped by Toyota. Here's what Toyota has to say:

In rare instances, there is a possibility that certain accelerator pedal mechanisms may, mechanically stick in a partially depressed position or return slowly to the idle position.

The condition is rare and does not occur suddenly. It can occur when the pedal mechanism becomes worn and, in certain conditions, the accelerator pedal may become harder to depress, slower to return or, in the worst case, stuck in a partially depressed position.

Until Toyota has finalized an appropriate remedy to address the potential for sticking accelerator pedals, a sales suspension is necessary.

If you believe your vehicle is affected by this condition, i.e. your accelerator pedal is hard to depress, slow to return or is unsmooth during operation, the vehicle should be driven to the nearest safe location, the engine shut off and a Toyota dealer contacted for assistance.

If you are experiencing this condition, immediately contact your nearest Toyota Dealer for assistance.

Production is being stopped temporarily at five North American production facilities to assess and coordinate activities related to the recall announced on Jan. 21.

If you still have questions or concerns that have not been addressed here, contact the Toyota Customer Experience Center at 1-800-331-4331 (Hours: Mon - Fri, 5:00 am - 6:00 pm PST; Sat, 7:00 am - 4:00 pm PST).


How can you improve on something that has been taking top place for years? Toyota's popular mid-sized sedan — the Camry — has been the best-selling passenger car in America for seven years running, according to Toyota's press materials, and for 11 of the past 12 years. So, when a new model year rolls out, it's always interesting to see what has been changed or added to spiff up an already well-established consumer favorite.

For 2010, Toyota has made an assortment of tweaks and changes to the Camry, starting with a new 2.5-liter four-cylinder engine with variable valve timing for the Camry, LE and XLE models. This new engine offers 169 horsepower, versus 158 for previous versions, while the SE grade gets a sportier performance with a horsepower boost to 179. This new engine can be paired with a six-speed manual or six-speed automatic transmission.

On the exterior, all Camrys gets a new grille and front bumper, larger head lamps and new tail lamps. The Camry and LE models receive new wheel covers, while the XLE is outfitted with 16-inch spoke wheels. All models now have power windows and an auto up/down feature with jam protection, which is good news for the little ones and their inquisitive fingers.

Overall, the 2010 look is refreshed and updated, but Camry-familiar, which could be a comfort to the legions of Camry fans.

As always, the Camry offers very nice fuel economy, with an EPA estimate of 22 mpg for city driving and 33 mpg for highway driving. Those numbers are great for commuters or families who habitually rack up hundreds of miles shuttling from child-oriented venue to child-oriented venue, without ever leaving town.

On the interior, you will find the cabin space is generous and roomy. Enhancements have also been made to the dashboard, to make it ever so slightly more driver-friendly, with controls that are easier to see and use. The odometer and trip meters are illuminated all the time, and a multi-information display clues you in to outside temperature, an estimated driving range and average speed and fuel consumption.

---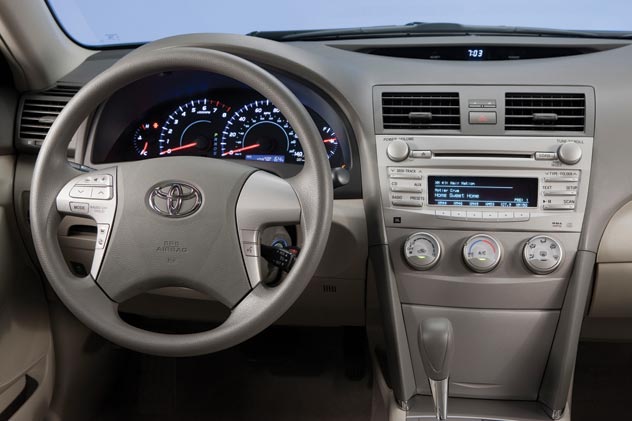 (Above): Interior view of the 2010 Toyota Camry LE

---
Behind the wheel, I found the Camry's seats to be comfortable and just firm enough without feeling stiff, and covered in soft cloth. The rear seats fold in a 60/40 split and offer access to the trunk, which is very generously sized. In fact, Toyota says it measures 15 cubic feet of space. That's very generous on a car of this size, and the trunk opening itself is wide and deep. That makes loading awkward-sized packages a breeze. The keyless remote entry on our test car had a trunk release button that not only unlocked the trunk, but popped the lid up, which is a handy convenience especially when your hands are full of packages and children.

On the road, I found visibility to front, sides and rear to be excellent. The Camry handles very nicely and acceleration is swift, if not just a bit too responsive. Until I adjusted myself to the easy acceleration, I found myself apologizing to passengers for some rough starts from the curb.
Standard safety features include Vehicle Stability Control with Traction Control, anti-lock brakes with electronic Brake Force Distribution and Brake Assist (all the very best in braking technology), front and rear side curtain air bags and a driver's knee air bag.

---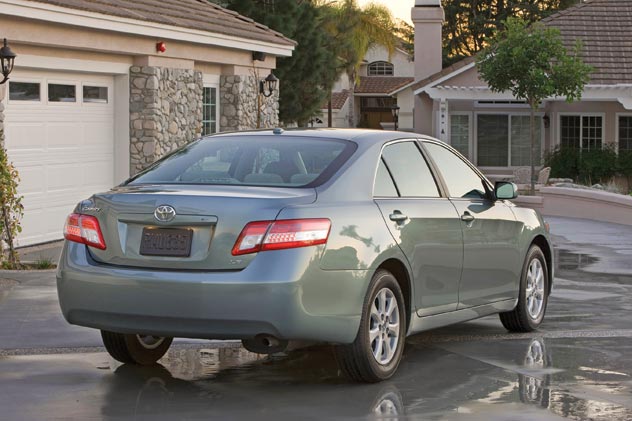 (Above): Exterior view of the 2010 Toyota Camry LE

---
Additional creature comforts available at no extra cost were air conditioning with filter, AM/FM/CD player with satellite capability, cruise control, tilt and telescoping steering wheel, and outside temperature gauge.

The 2010 Camry has proven itself to be a family favorite for many years, and the 2010 versions will not disappoint. It's a comfortable car that gets great gas mileage and has a trunk large enough to handle anything a family needs to take along for the ride.

Today's Test Drive – 2010 Toyota Camry LE Sedan

Base Price: $21,900
Price as Tested: $24,092
Engine: 2.5-liter, four-cylinder 16-valve with VVT-i
Mileage: 22/city, 32/highway