DEVELOPMENT
Mind the Gap: Pre-Budget Musings


India's budget must take up the challenge to make the process of development inclusive so that the gap between the rich and poor decreases, writes Sandeep Pandey.
---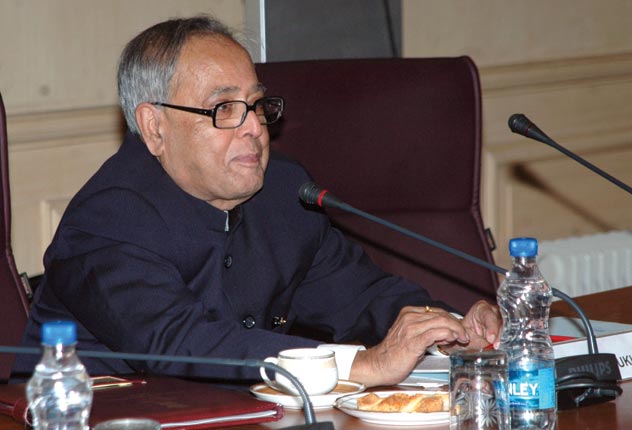 (Above): Indian Finance Minister Pranab Mukherjee addressing a pre- budget meeting with members of Society for Law Firms in New Delhi Jan. 27. [Press Information Bureau photo]
---
India now has clearly two different streams of development. One for the section of society which enjoys the most modern fruits of technological development and other for whom the same machines which make life easier for the privileged class are a threat and are banned under NREGA — the National Right to Employment Guarantee Act. This dichotomy is reflected in all areas of human life — education, health care, etc. The challenge before India is to make the process of development inclusive so that the gap between the rich and poor decreases, which according to the prime minister is a cause of social unrest in this country and is being manifested in the increasing area under Naxal influence.

Welfare as Legal Right

Unfortunately, the benefit of most of the social welfare and development schemes, even in non-Naxal affected areas, doesn't reach the deserving poor. Unscrupulous people siphon away all the benefits and because of this poverty doesn't go away. Acts like the Right to Information Act and NREGA have brought in mechanisms to ensure greater transparency and accountability in governance. The provision of social audit in NREGA should be extended to all schemes and departments. NREGA has made two important differences — payment of full minimum wages to daily wage worker for the first time in country and shifting the initiative of employment generation from the hands of bureaucracy to that of workers. When a worker makes an application for work under NREGA the work must be given to her within 15 days, otherwise she becomes eligible for unemployment allowance. The Food Security Act must be implemented, quickly bringing within its purview PDS, ICDS, MDM, etc., to ensure that the benefits of these schemes reach the deserving poor. Hopefully, like the NREGA the FSA will also be an empowering experience for the people.

Land Development Through NREGS

To strengthen rural economy decentralized land and water management should be undertaken. A Land Acquisition Act should prohibit acquisition of land belonging to small and marginal farmers. Landless workers should get credit on their NREGS job cards and there should be a provision to repay the loan from wages earned under NREGS. All agricultural labor work should be paid for under NREGS.

Flexible BPL

There should be flexible policy towards granting of BPL — Below Poverty Line — and Antyodaya ration cards. Annapurna scheme should be restored to prevent starvation deaths. Any family approaching the government and wanting a BPL ration card should be given one like the job cards under NREGS and should be given 35 kg of subsidized foodgrains every month. If a family thinks they can't do without the government's support they should have the right to access the subsidy in order to ward off poverty and hunger. There are chances of misuse but then unscrupulous elements are anyway taking everybody for a ride at the moment and the government seems to be totally at a loss to check this.

---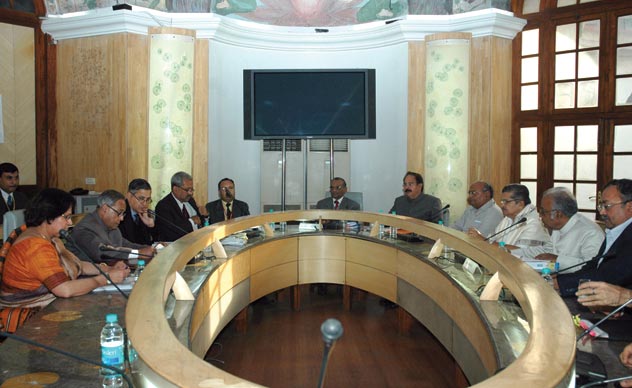 (Above): Indian Finance Minister Pranab Mukherjee meeting with state finance ministers in New Delhi Jan. 28. [Press Information Bureau photo]
---
Energy

India should stop chasing the mirage of nuclear energy. Like the European Union and Japan it should invest its research resources in renewable sources of energy. Roof tops with solar panels, rural households with a biogas plant in their backyard and wherever feasible wind mills will solve India's energy problem. Such energy will be non-polluting as well as people will exercise direct decentralized control over their energy sources.

Education

Schemes like non-formal education centers under Sarva Shiksha Abhiyan and concepts like para teachers should be wound up in favor of proper schools and regular teachers. The idea of common school system along with the associated concept of neighborhood school, a recommendation of the Kothari Commission from way back in 1968, should be implemented as it has been done in most of developed countries. Six percent of GDP must be allocated for education with 3 percent for primary education alone. Experience shows that any contractual employees will ultimately demand regularization of their service anyway. So, why not begin by hiring good quality regular staff?

---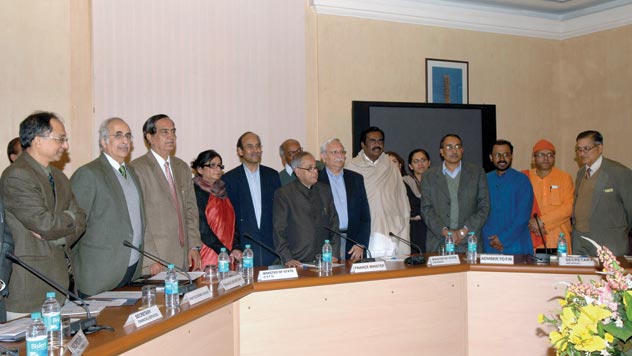 (Above): Indian Finance Minister Pranab Mukherjee at a pre-budget meeting with NGOs in New Delhi Jan. 21. Ministers of State of Finance Namo Narain Meena and S.S. Palanimanickam and the secretary, Ministry of Finance, Ashok Chawla are also seen. [Press Information Bureau photo]
---
Health Care

There should be an affordable nationalized health care system for all.

Transportation

Public transport must take precedence over private vehicles. Promotion of motor-car industry and strengthening of highway network at the cost of railways in the name of infrastructure development is in the interest of private corporations. Concerns of global warming must place a ceiling on the number of vehicles on road.

Road transportation has become very costly. There was a time when general class railway travel and state road transport travel used to cost about the same but now bus travel has become twice as costly. Common people have to use the state road transport services especially in areas where railways doesn't have access and it must be subsidized to make it affordable for them.

---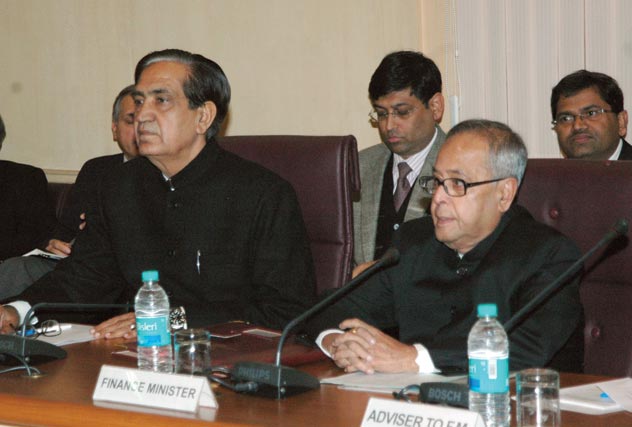 (Above): Indian Finance Minister Pranab Mukherjee holding a pre-budget meeting with trade union leaders in New Delhi Jan. 14. Minister of State of Finance Namo Narain Meena is also seen. [Press Information Bureau photo]
---
Price Rise

Price rise must be checked immediately. Towards achieving this objective the practice of future trading should be banned. Big corporations, national or MNCs, must not be allowed entry into the retail sector, agriculture and agri-based employment generation work.

Politics of Rich vs. Poor

The defense budget should be slashed and farmers, laborers and artisans ensured decent emoluments either through respectable MSPs or direct wages/salaries. It is a pity that the class which places a ceiling on the daily wages of workers at Rs. 100 per day and gives itself the sixth pay commission is the one responsible for non-performance of virtually every welfare or development scheme. In any other situation the salary hike would have been linked to performance. This betrays the arrogance of the ruling elites.

(Based on the author's presentation at a pre-budget consultation by Indian Finance Minister Pranab Mukherjee Jan. 21)