HINDI FILM REVIEW:
Only Salman Shines: Veer - Review by Priyanka Bhardwaj


Rating: **1/2 (Mediocre)
Veer

Directed by: Anil Sharma
Produced by: Vijay Galani, Sunil A. Lulla
Music: Sajid-Wajid, Monty Sharma
Starring: Salman Khan, Sohail Khan, Mithun Chakraborty, Jackie Shroff, Zarine Khan, Lisa Lazarus, Gita Soto, Neena Gupta, Aryan Vaid, Bharat Dabholkar, Bunny Anand, Shahbaaz Khan, Puru Raaj Kumar, Tim Laurence, William Chubb, Rajesh Vivek and Ashok Samarth.

---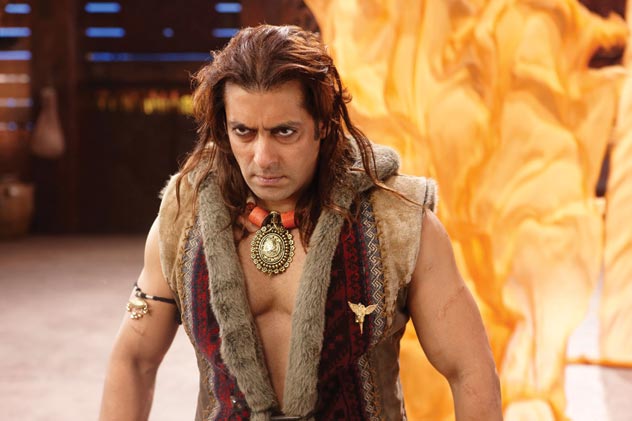 (Above): Salman Khan in "Veer."

---
Veer, meaning brave heart in Hindi, is an expensive period movie based in 19th century Rajasthan made at a cost of almost Rs 450 million.

The Vijay Galani-produced film weaves a story (written by Salman Khan) about the adventures of a Pindari Rajputana warrior clan that fights with fists and swords to regain honor and land lost to the British.

The movie cast, apart from Salman, includes his brother Sohail Khan, new comer and Katrina Kaif lookalike Zarine Khan and old Bollywood hands Mithun Chakraborty and Jackie Shroff.

The film is directed by Anil Sharma, whose earlier Sunny Deol starrer, Ghadar — Ek Prem Katha, remains one of the biggest Bollywood hits.

The Pindaris have sworn to avenge their humiliation at the hands of the King of Madhavgarh (Jackie Shroff) and his British ally.

---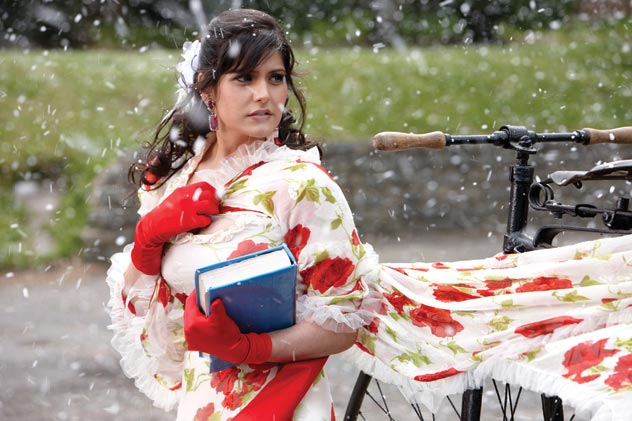 (Above): Zarine Khan in "Veer."

---
Cheated of their livelihood and land, Prithvi Singh (Mithun Chakraborty), head of the Pindaris, dispatches his sons Veer and Punya (Salman and Sohail) to London to study and gain familiarity with British designs in India.

Inevitably, as in all Bollywood movies, our hero, Veer, bumps into the princess of Madhavgarh (daughter of his tribe's sworn enemy) Yashodhara (debutante Zarine) and falls for her. Predictably, Veer manages to win his Lady love and get at the enemy's throat.

The movie showcases the all too familiar "patriotic" (bordering on jingoism) dialogues regarding honor, duty versus love, treachery and killing the British to save the motherland.

In this action, love and bravery saga Salman as He-Man justifies his rippling muscles, fine toned physique, delivering gory scenes in a la the Hollywood blockbuster Gladiator taking on foes and machines single handedly.

Mithun remains the only one who holds his own space, next to Salman.

---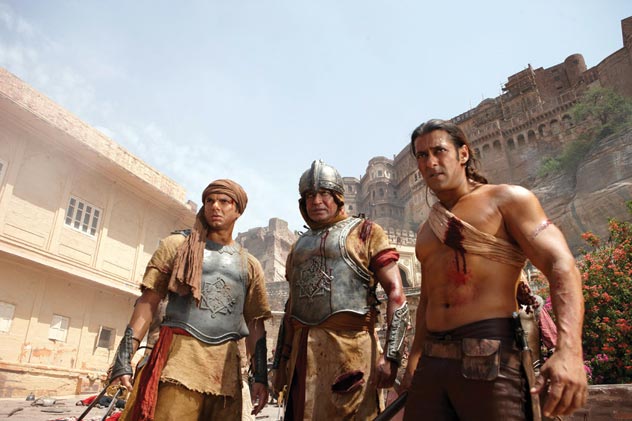 (Above): Sohail Khan, Mithun Chakraborty and Salman Khan in "Veer."

---
There are humorous instances, for example, when Jackie Shroff loses an upper-limb to a Pindari, gets a gold forearm adorned with rings and diamond bracelet, only to lose it again to a Pindari (to Veer).

The movie can be watched for a limited number of reasons — Salman Khan, who looks cool in various ensembles, from orange jeans to a suited sahib attire, beautiful metaphorical lyrics like "surili ankhiyon wali" by Gulzar (minus the music by Sajid-Wajid), good cinematography, tacky special effects, terrific battle scenes and the film's huge canvas.

It is also the first Bollywood venture shot inside the premises of Buckingham Palace and every effort has been made to lend authenticity to the magnum opus.

Some sequences like the train robbery, Veer confronting his Lady love when they are apprised of each other's identities, Veer handling a disgruntled Pindari tribe warrior will undoubtedly win plaudits at semi urban single screen townships.

---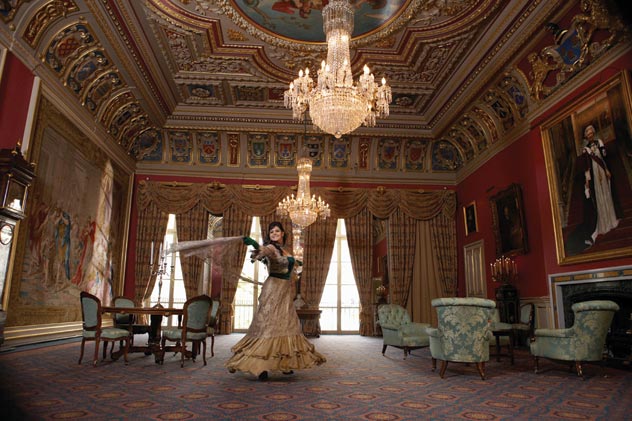 (Above): Zarine Khan in "Veer."

---
Like the Mahabharata, upholding dharma despite confrontation with one's blood relative has been depicted in a climax laden sequence.

The infamous Macaulayan system of educating Indians to convert them into brown sahibs who endorse the British reign is also highlighted.

Salman has declared in a social networking site — "I tell you critics are paid and they can't be a better judge than the audience. So, please go and watch it. I boycott critics and request you not to go by the reviews and they are just good for nothing. I promise- Veer won't disappoint you." Whether his exhortations actually translate into box office collections for Veer remains to be seen.

Although historical accuracy gets little respect (since when has that been Bollywood's strong suit?) in the costumes, language, appearance of actors or the music, the first half raises enough expectations for the viewer.

Yet faulty history, poor script, and lackluster direction all too evidently fail to match the expectations of the discerning viewer that such extravagant historical endeavors are wont to create.

Style, spectacular special effects and looks notwithstanding, a deficient theme and treatment erode the wholeness of the film.

---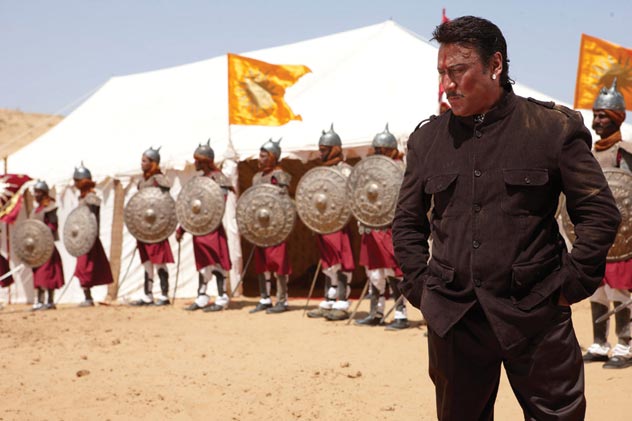 (Above): Jackie Shroff in "Veer."

---
As always Salman remains the only show-performer exuding magnetism with his screen presence, charm and romantic overtures.

The hero is the raison de etre for sitting through the full length of the films as performances by other characters Puru Rajkumar, Aryan Vaid, Bharat Dabholkar, Ashok Samarth, Vinay Apte, Rajesh Vivek and Yuri are lackluster.

Another shocker is Neena Gupta who moves too suggestively for her age while her grown up sons dance along merrily. Somebody should tell her that her Khalnayak days are over. Way over.

Anil Sharma, known for big sets and scales, fails to impress post interval, with some viewers headed towards the exit before the end, even as intense an performance is substituted with shrill dialogue-baazi.

As a deserving progeny of legendary scriptwriter Salim Khan (co-author of Sholay) and a box office magnet, Salman has many expectations to live up to. For this, he needs to revisit his scripting style to come up with an actually watchable movie.

Notwithstanding the masses in his pocket, Veer is an unsuccessful bid by Salman to break the glass ceiling to appeal to the classes. Yet, a beginning could have been made.

Consider Veer a lost opportunity.