SUBCONTINENT:
Battling India's Fog: A Seasonal Challenge


The winter months bring in its wake a thick cloud of fog that cripples life in India, writes Siddharth Srivastava.

---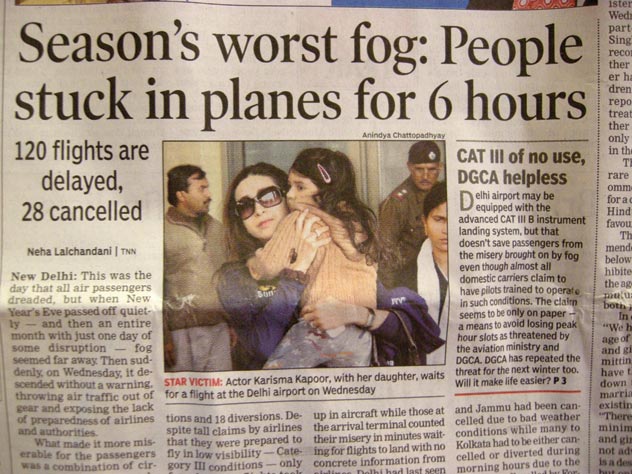 (Above): A huge headline in an Indian newspaper chronicles public woe in the wake of dense fog that cripples large parts of India each year.
---
Everybody knows that matters move slowly in India given infrastructure bottlenecks, red tape, inefficient government — all of it due to working under a democratic political system that leads to procrastination in decision making, unlike much faster growing, but communist China.

In the months of December and January, emerging economy India clamps down for one more reason — fog, a factor that has played up due to the growing pollution levels that result in a thick envelope of cough-inducing smog that reduces visibility to zero.

This year the week leading to the New Year witnessed hundreds of flights cancelled at the Delhi international airport, one of the busiest in the country. There have been similar reports from elsewhere — Chennai, Mumbai, Hyderabad and Bangalore — due to the inter-connections of planes and flights as well.

The situation continues to be on the brink.

Several status updates on social networking sites via mobile phones by stranded passengers read: "flight fogged out, stranded in Delhi'' or "effed due to the fog.''

As every year, the media has depicted pictures of depleted and exhausted families in various sleep postures — against walls, on benches at the airport, even as many others argue with airlines and officials, to no avail as the aircraft simply cannot take off or land.

This is because Delhi airport, despite the critical role it plays in impacting overall Indian tourism and business travel, has not deployed intelligent instruments needed to enable aircrafts to land in low visibility conditions.


---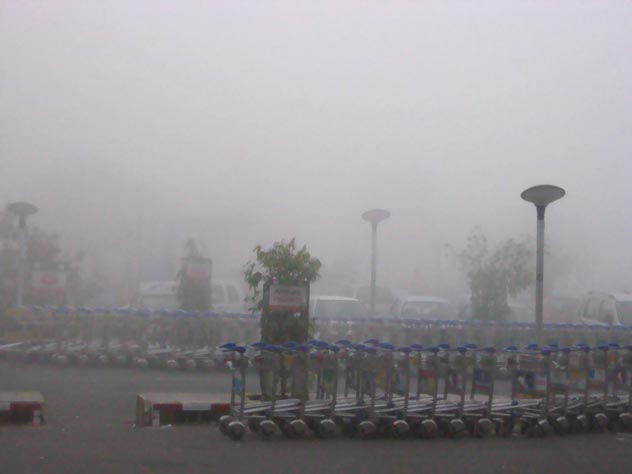 (Above): A dense fog descends outside Indira Gandhi International Airport in New Delhi.
---
Yet, delayed air travelers could count themselves lucky as at least three major rail collisions have been reported across the country due to fog over the recent past, killing at least 10 people and injuring more than 50. A cancelled flight is better than losing life or limb.

The trains have been on a spin as hapless rail drivers need to rely on their naked eye to spot overhead train signals when heavy fog (smog) conditions limit visibility.

Again, lax implementation of intelligent anti collision devices on trains that allows activation of automatic braking systems to detect barriers (including other trains ahead), is to blame.

There has been talk about such systems for years, but the ground work has been caught in severe red tape, even as number of trains and passenger loads has increased manifold.

---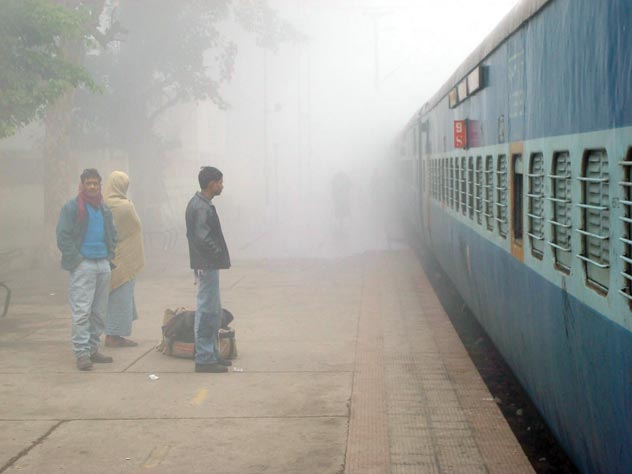 (Above): Fog envelops a railway station in Delhi. Railway traveling gets particularly hazardous due to a lethal mix of poor visibility and archaic equipment.
---
Car and pedestrian accidents also rise round the New Year time, though one has to admit that the holiday season brings on its share of drunken driving incidents as well. But, massive traffic jams are reported along highways and other intersections due to dead vehicular movement due to the dreaded fog.

Indeed, despite the tall economy talk, India scores very poorly when it comes to handling elements of nature.

Like every year the ongoing cold wave conditions has killed many homeless who are forced to live in the open. Power supplies are on the brink due to large number of heating devices used by the better off.

At other times, during monsoons, Delhi, a city known for its wide roads, flyovers and underpasses comes to a standstill due to water logging as the drainage system remains archaic, harking back to the colonial times, resulting in massive spillovers.

Vehicles turn into bedrooms due to overnight traffic jams, while underpasses turn into impromptu swimming pools, where little boys and girls along with cows and buffaloes splash about.

Mumbai, the country's commercial hub, turns into a sea of sewage, rain water and open manholes into which many are sucked in every year. The river Brahmaputra, meanwhile, ravages the north east while the state of Bihar goes underwater due to excess water from northern rivers bordering Nepal.

As has been written about a bit, summer and drought brings about its own set of problems with people dying of heat waves and farmers in states such as Andhra Pradesh and Maharashtra committing suicide due to failed crops.

This is because adequate irrigation facilities or insurance covers have not been extended, despite big plans.

---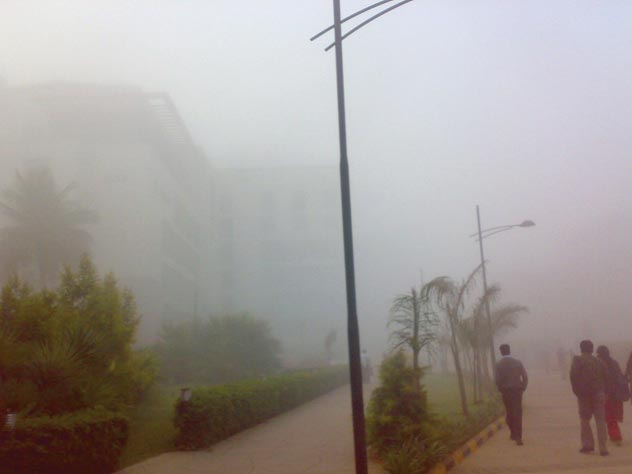 (Above): The dense fog in Delhi not only wreaks havoc with traffic, it also causes misery for the poor and homeless.
---
Indeed, life could have been much more of a clutter in India had it not been for a singular invention — the seamless Internet and its myriad permutations that allows some solace to a minor section of population (the number is estimated at 50 million) beyond traveling through broken roads, traffic snarls, fog and rain.

There is online banking, virtual payment of bills, entertainment, ordering grocery, food, managing investments and the home office. At a broader level, the Indian economy has been boosted by the outsourcing and software sectors that heavily rely on long distance functions.

Thankfully, India's digital highway generally holds up to the various weather conditions and this has nothing to do with the government.

Just, some good luck and competition among many Internet service providers.

Otherwise, the only other reason that the country halts to a standstill has nothing to do with infrastructure — it is the game of cricket, given the maniacal following of the game that cuts through classes, social and economic.

---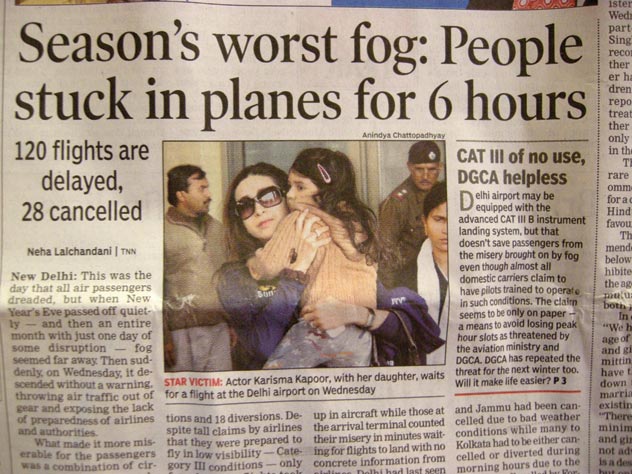 (Above): A huge headline in an Indian newspaper chronicles public woe in the wake of dense fog that cripples large parts of India each year.
---
Traffic dwindles, pubs fill up and office attendance dips dramatically while those at work, including target driven bosses, crowd around television sets along with the rest.

A clash against traditional rivals Pakistan or world champions Australia usually evokes the maximum interest, with some experts estimating substantial negative impact on Indian economic and GDP growth due to cricket induced slowdown, apart from the other factors mentioned above. Cricket in its latest avatar, T20, has only added zeal, adding more and younger fans.

India's losing battle with nature's forces, meanwhile, continues.