SUBCONTINENT:
Lessons from Japan: India's Nuclear Program Doubts

Following the recent massive quake and tsunami that struck Japan and destroyed the aging Fukushima nuclear power plant, there is serious concern over India moving forward on its nuclear power projects, writes Siddharth Srivastava.

---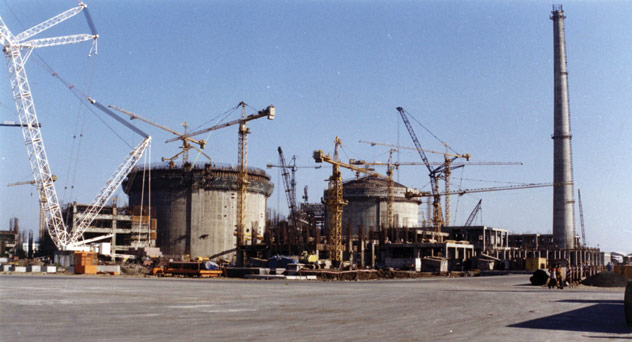 (Above): A view of the Tarapur Atomic Powe Plant.
---
The calamity in Japan has raised safety related questions about India's massive atomic energy plans as a clean and safe source of power.

Allaying fears Prime Minister Manmohan Singh, who pushed the landmark Indo-U.S. civil nuclear deal to fruition, said that he has issued instructions to the Department of Atomic Energy (DAE) and nodal agency Nuclear Power Corporation of India (NPCIL) for an "immediate technical review of all safety systems in India's (20) nuclear power plants (NPPs) to withstand natural disasters such as tsunamis and earthquakes."

S.K. Jain, NPCIL chairperson, said India is studying events in Japan "and safety audits of nuclear plants were of primary concern."

The Left parties, meanwhile, have called for an immediate halt to the project that asking that all projects should be re-examined in the backdrop of the developments in tsunami-hit Japan.

India's N-Plans Support

Predictably, firms and nations that stand to win nuclear contracts such as U.S.-based General Electric that designed the Fukushima reactor and India's heavy engineering firm Larsen & Toubro have issued statements supporting India's atomic energy plans.

Carnegie Endowment's Ashley Tellis and U.S.-India Business Council's Ron Somers, who have been involved in pushing India's nuclear exception status, have said that India should continue to push for atomic energy, given the acute electricity deficit.

Somers said that the Japanese reactors are of 1972 make and existing technology will fare better against natural disasters. "India does not have the luxury of renouncing nuclear power,'' Tellis said. "I don't think there will be a downward revision (of nuclear power targets).''

Indian officials and some experts, meanwhile, say unlike in Japan all of India's NPPs except Narora in Uttar Pradesh are situated in the moderately seismic Zone 3, thus ruling out an 8.9 magnitude earthquake. No NPP is located at the highly seismic Himalayan region.

Further, the Narora NPP has not been damaged despite facing several tremors over the last two decades, including one of 6.3 magnitude. The 6.7 magnitude quake that hit Gujarat in 2001 did not impact the Kakrapur NPP.

During the 2004 tsunami, the Kalpakkam NPP in Tamil Nadu went through an automatic shutdown process.

Fears and Doubts

Observers, however, also say that there is no way to know whether the latest technologies will stand up to an apocalyptic disaster situation as happened in Japan as they have not been tested.

Given India's high population density, an accident could be a calamity as was in the case following the Bhopal Gas Disaster in 1984.

Some analysts also fear that given the non-transparent nature of India's state-controlled nuclear energy sector, there is no way to estimate whether safety issues will be carefully followed. The data pertaining to the sector is closely guarded by nuclear establishments, which functions under the purview of the DAE.

Some of the plants, including the proposed 9,500 MW Jaitapur station in Maharashtra being constructed by the French firm Areva and in Tamil Nadu will be built along coastal areas, to support the need for the large consumption of water by nuclear plants.

In Jaitapur, villagers in the vicinity have been opposing the project on environment and rehabilitation issues. Regional political parties in Maharashtra have voiced concern following the Japan calamity. Activists have warned that the massive Jaitapur project falls in a high seismic zone.

Indeed, despite the miniscule role of atomic power in India's energy mix, there have been negative fallout instances. In the early 1990s, the Tarapur plant near Mumbai leaked radioactive material from faulty cooling systems.

Incidents of genetic disorders have been recorded in populations at Rawatbhata in Rajasthan state and in the sea near Kalpakkamd.

In the 1990s, the former chairman of the Atomic Energy Regulatory Board, A. Gopalakrishnan, expressed fears about the safety status of some nuclear installations under the DAE.

The Indian chapter of the International Physicians for Prevention of Nuclear War, in a 2008 survey, found that sterility was found to be more common in people residing near uranium mining operations. Birth defects and congenital deformities followed a similar pattern.

India's Big N-Plans

The above issues have to be carefully considered as India aims to produce 20,000 MW of nuclear power by 2020 and 63,000 MW by 2032. India's atomic energy market is estimated in the range of U.S. $150-200 billion and predicted to rise to U.S. $500 billion if plans are implemented. By 2050, 25 % of India's total energy is expected from nuclear sources. Currently, it is a low 3 %.

Following the lifting of a 35-year old ban on civil nuclear trade in 2008, India has concluded bilateral nuclear technology and fuel agreements with the United States, France, Namibia, Mongolia, Russia, Angola, United Kingdom and the European Atomic Energy Community.

While America, France and Russia continue to make good progress in inking deals with India in the sector, Canada and South Korea are intent on accessing India's big nuclear mart as well.

Ironically, Japan, a difficult customer due to its past linked to the Hiroshima bombing, is also looking to work out an agreement soon given the prospects of big business.

As U.S., French and Japanese firms (Areva-Mitsubishi, GE-Hitachi and Westinghouse-Toshiba) are inter-linked investors, approval from Tokyo is necessary before enacting nuclear business with these majors.

India and Japan have been holding several rounds of high level official talks to work out an atomic cooperation pact. Tokyo's stringent anti-nuclear laws prohibit trade with India that is a non signatory to dual use non-proliferation treaties such as NPT and CTBT.

Tokyo's stance in the light of the recent events remains to be seen.