COVER STORY:
Indians Bleed Blue: World Cup After 28 Years


If you are an Indian cricket follower, you know the feeling! Mumbai's Wankhede Stadium was set ablaze as a billion-strong Nation cheered the Boys in Blue. The Bay Area was not to be left out of the action either, write Priyanka Bhardwaj and Amit Agarwal.

---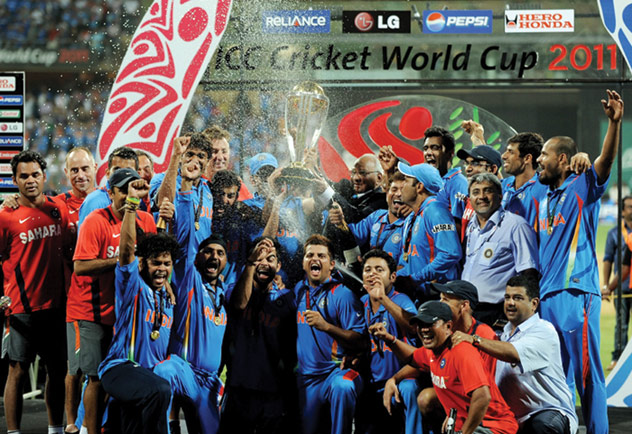 (Above): Indian cricketers celebrate with the trophy after beating Sri Lanka in the ICC Cricket World Cup 2011 final match at the Wankhede Stadium in Mumbai, April 2. (AFP photo)
(Cover photo, right): Sachin Tendulkar, Virat Kohli and Harbhajan Singh (Bhajji) celebrate with the World Cup after beating Sri Lanka during the 2011 ICC World Cup Finals at the Wankhede Stadium, April 2, Mumbai, India.(Getty Images)

---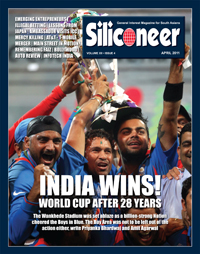 Grand Finale

India regained its glory in the world of cricket as world champions at the ICC Cricket World Cup 2011 after a long wait of 28 years.

A 1.21 billion-strong nation that worships its cricketers as 'Gods' and treats cricket as its 'religion' watched with every emotion the grand finale to the epic battle played out in an overtly packed Wankhede Stadium in Mumbai.

It was 'the match' between truly talented 'gladiators' of the cricket world, India and Sri Lanka.

The city that had braved the 26/11 terror attacks was once again consumed in sentiments of an altogether different hue.

As Indian team's captain, Mahendra Singh Dhoni, scored a spectacular over boundary the nation leapt with joy.

The heightened euphoria due to this historic win in a cricket loving nation could be soaked in every street and corner that was brimming with people dancing wildly, waving national flags, cheering "India, India" and bursting fire crackers.

The joy of India's triumph was evident from status messages of social networking profiles of a widespread Indian diaspora and one could see images of youth celebrating as far from the motherland as Piccadilly Circus, London for instance.

In the grand finale a truly able Sri Lankan team led by Kumar Sangakkara had set the bar at 274.

With 275 to win the Indian side started on a whimper as potential match winning combo of Virender Sehwag (who got out for nothing on the second ball) and Sachin Tendulkar (was dismissed for just 18 after a loss of 2 wickets) faltered.

When everything seemed lost, hope was rekindled by the young guns, Gautam Gambhir and Virat Kohli, who batted to make 35 and then Gambhir weaved magic with his brilliant 97.

The pairing of Dhoni and Yuvraj Singh successfully led India, in a bit by bit fashion, gaining 91 and 21 runs (both not out) respectively.

Also commendable was the world class Sri Lankan spinner Murali Murlitharan who played his final One Day International cricket allowing only 39 runs in his 8 overs.

Yet, even this feat could not stop the tornado unleashed by the Indian players.

The final verdict of victory was reserved for India when Team India made 277 runs with a loss of 4 wickets in just 48.2 overs.

Indian Skipper M.S. Dhoni played a captain's knock and was declared 'Man of the Match.' Vice captain Yuvraj Singh was adjudged 'Man of the Tournament.'

---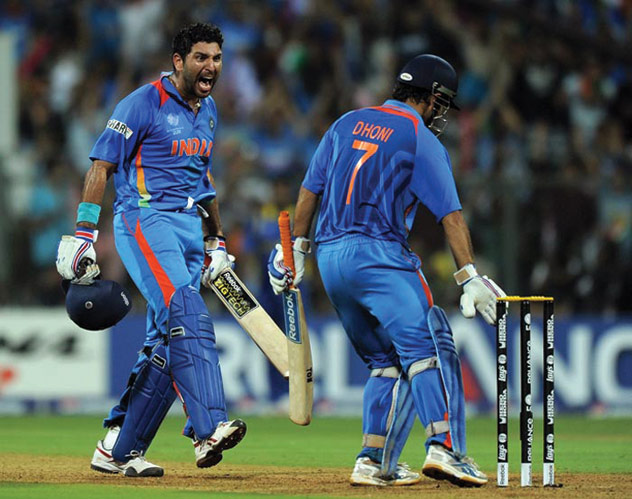 (Above): Yuvraj screams in joy as Dhoni lifts the stumps after beating Sri Lanka in the ICC Cricket World Cup 2011 final match at the Wankhede Stadium in Mumbai, April 2.

---
No fluke was discernible as the game became a testimony of sheer talent, grit, tenacity and level headedness, and both spinners and pace-bowlers downed equal number of wickets.

Earlier in the day, after having won the re-toss, Sangakkara had elected to bat first.

Zaheer Khan and Harbhajan's superb bowling allowed a rather late Sri Lankan assault.

It was Mahela Jayawardene who with his brilliant 103 enabled a Sri Lankan score to reach 274 runs with a loss of 6 wickets in a total of 50 overs.

Dedicating the World Cup to India, Sachin Tendulkar, who has played six World Cup tournaments, said, "I couldn't have asked for anything more than this. Winning the World Cup is the proudest moment of my life. Thanks to my teammates. Without them, nothing would have happened. I couldn't control my tears of joy."

Conceding the greatness of Indian cricket heroes was none other than Sangakkara who graciously admitted, "I am very proud of everyone, especially Mahela who rose up to the occasion and put up a great hundred. When you look at this Indian team anything less than 350 looks less! They deserved this title, the way they played in front of a great crowd."

Mumbai being the home turf of Hindi movie glitter-and-glamour world, every actor worth his name and popularity from the Khan clans to Kapoor khandaan to Bachchan family, all poured out into public spaces and road junctions, donning blue jerseys, to salute the magnificent performance of Indian team.

---

(Above): A jubilant Yuvraj Singh during the victory lap at the ICC Cricket World Cup 2011 final match at the Wankhede Stadium in Mumbai, April 2.

---
Unarguably regarded as an uncontested world class cricket team leader, Dhoni summed up his feelings, "it feels really good. Last one month we have done very well, spent time together in dressing room. These are memorable 35 odd days…this was what we wanted to achieve."

With this grand victory 2011 can safely be attributed as the one that will belong to India, in reams of cricket history.

Post Win

Since the historic win Indian government and private entities have been seen falling over each other in lavishing Indian cricket team members with free gifts, Sukoi trips, homes, land, cash, cars, promotions, honorary doctorates, medals, endorsement offers and the likes.

Critics however feel that these are meant to make political capital and to deflect attention from the series of allegations of corruption, mismanagement and misappropriation that the government has been facing of late.

An after effect of the glorious win has also been the unabated whopping sale of cricket gear and jerseys from merchandize outlets in various metros.

---

(Above): Sachin Tendulkar poses with the World Cup trophy and Sudhir Kumar Gautam, a die hard cricket fan, during the 2011 ICC World Cup Final between India and Sri Lanka at Wankhede Stadium in Mumbai, April 2. (Getty Images)

---
Throughout the world cup season the underground betting syndicate was abuzz with excitement and reportedly a sum of over U.S. $11million was at stake over the final take between the South Asian neighbors.

As per sources India was a clear favorite as it went winning match after match.

Fourteen Teams

Even though cricket may have reached India in the 18th century most of the Asian subcontinent seems to have started beating Englishmen in their skill and technique.

The fourteen teams in ICC World Cup 2011 tournament came from India, Sri Lanka, England, South Africa, Netherlands, Bangladesh, Ireland, West Indies, New Zealand, Australia, Canada, Kenya, Zimbabwe and Pakistan.

The opening ceremony was held Feb. 17 in Bangabandhu National Stadium in Dhaka, Bangladesh and the lucky mascot was Stumpy, a young elephant.

Cricket Diplomacy

The gentleman's game provided a unique opportunity to Indo-Pak authorities to seek a cricket inspired thaw in bilateral relations as they attempted to resume a structured dialogue lost since 26/11.

Indian Prime Minister Manmohan Singh, flanked by Sonia Gandhi and her son Rahul Gandhi, welcomed Pakistani Prime Minister Yousaf Raza Gilani to watch the semi final cricket match between their rival countries and take forward discussions.

Commenting on this peace endeavor, Indian foreign secretary Nirupama Rao disclosed, "The two leaders had a discussion on wide-ranging issues of relevance for both countries. Just as we spoke of the Thimphu spirit, it will be appropriate to suggest that there was a Mohali spirit this time that can only be described as extremely positive."

Though this 'cricket diplomacy' was lauded even by President Barack Obama, experts on the subcontinent affairs prefer to label it as a temporary bonhomie which needs to be assertively underscored with consistently clear, continuing and concrete gestures and an eventual resolution of every issue for the two nations to 'permanently reconcile' with each other.

— Priyanka Bhardwaj

Cricket Frenzy Grips Bay Area

Once in every four years, eighty percent of the Indians globally become followers of one religion — Cricket. After the first World Cup victory in 1983, come every World Cup in the subsequent four years, Indians have hoped that Team India will bring back the memories of 1983. The wait was 28 years long, and now, seven World Cup tournaments later, the Men in Blue have done it again.

---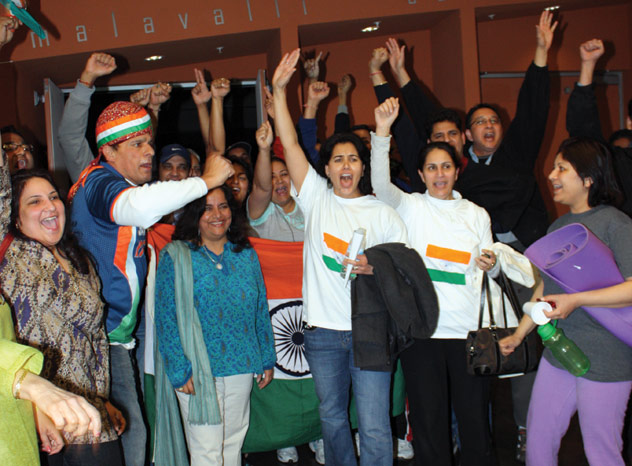 (Above): Bay Area cricket fans after India beat Pakistan prior to the finals, at the India Community Center in Milpitas, Calif. (Siliconeer photo)

---
India is once again the world champions in cricket. It has been a long and arduous journey not only for the Indian cricket team but also for the millions of fans the world over, I being one of those.

Reminiscing previous World Cup tournaments, the 2011 World Cup was different. Indians were the favorites, playing in the home country, and the hype of winning the world cup was much bigger.

The team had been progressively improving over the last four years with series win against Australia, South Africa, New Zealand and Sri Lanka in their respective home countries.

In each of these series, India had always fought back after being pushed to the extreme.

Every digital avenue available to mankind was ablaze with one thought – Team India are the favorites for 2011 World Cup. How do you escape that, particularly in Silicon Valley, where our life practically runs on fiber optics and the Internet.

Even before the first match was played, TV channels, online news web sites and the print media declared India as favorites and that set the stage ablaze for cricket lovers like myself.

Despite odd viewing hours and knowing the fact that I would not be watching most of the games during weekdays, the hype led me into buying the package to view the World Cup. Imagine having to pay to watch cricket in India. But then, this is America.

Thanks to technology, you can actually watch the sport virtually anywhere.

It took time for the cricketing fraternity to catch up with the NBAs and NFLs but fantasy cricket became a reality. I joined one such cricket fantasy site which others from my workplace were part of. It seemed to be a good team bonding exercise.

After every game, we would get together to discuss the pros and cons of each player and compare the results. One week into the world cup, playing fantasy cricket became competitive. Even the non-cricket followers at the workplace built and maintained their teams each trying to beat the other. It was evident that the media promoting cricket had met their goals.

With each passing week, opinions started to form. Even though India was winning its group games, people started to doubt whether the team had in them what it takes to win the World Cup. Some said that the Indian team cannot bowl out their opponents, their bowling is weak. Others said they field like old hogs.

I brought that hype too and became one of their detractors. However, the quarter-finals win against Australia brought some sanity back into the earlier hype of India being world champions.

It was justified as Australia had won four previous World Cups with three of them on a trot. Furthermore, with the semi-finals win against Pakistan confirmed the belief that India could well be the World Cup winner.

---

(Above): Fans cheering team India during the India-Pakistan game, at the Sunnyvale Hindu Temple, Sunnyvale, Calif. (Siliconeer photo)

---
For Indians, winning against Pakistan in a World Cup tournament is similar to winning the World Cup. It made everyone in India believe that they have already won the finals against Sri Lanka.

With all these victories, fantasy cricket frenzy reached its peak. Competition was cut throat, we stopped sharing views, as the difference between the winner and its followers was barely maintainable. From team bonding, it became a highly competitive environment.

There were mini parties planned at various homes to watch the World Cup finals. I could have never thought of drinking Jack and Coke at 5 am in the morning. Thanks to the magnificent game at the finals played by Sri Lanka and India, the party lived up to its expectation and being a true Indian fan, I was thrilled that India finally won the World Cup 28 years after its first title win.

Apart from our small in-home celebrations, the Bay Area was ablaze with fans bleeding blue at a lot of local Indian community center such as the Sunnyvale Temple in Sunnyvale, Calif., and the India Community Center in Milpitas, Calif.

The party continues after the Worsld Cup victory. Being an ardent follower of Indian Cricket, I am looking forward to the IPL league, which would be another story for the summers.

— Amit Agarwal