FILM REVIEW:
Traces of 'King Lear': Life Goes On

Review by: Priyanka Bhardwaj
Rating: *** (Good)
Written and directed by: Sangeeta Datta
Starring: Sharmila Tagore, Girish Karnad, Om Puri, Soha Ali Khan, Rez Kempton, Neerja Naik, Mukulika Banerjee, Christopher Hatherall, Stef Patten and Aria Gitanjali Banerjee Watts.
Music by: Soumik Datta.

---
(Above): Neerja Naik, Girish Karnad, Sharmila Tagore and Soha Ali Khan in "Life Goes On."

---
Writer and director Sangeeta Dutta gets an ensemble of a cast together for her "Life Goes On."
Giving each other company are the much acclaimed Girish Karnad as "Sanjay," the medico father; talented Om Puri as "Alok," the mother's friend; yesteryear's Bollywood diva Sharmila Tagore as "Manju," mother of three daughters; Sharmila's petite and pretty daughter Soha Ali Khan as "Dia," the youngest daughter; Mukulika Banerjee as "Lolita," the eldest sibling; Neerja Naik as "Tulika", the second daughter; and Rez Kempton as "Imtiaz," Dia's Bangladeshi immigrant boyfriend.

Life Goes On is a family drama based on a week-long saga of a Bengali family in London, that forms a miniscule part of the huge British Asian Diaspora, that is in the throes of adaptation, cultural disaffection and evolution while longing to hold on to traditional Indian virtues.

Life's complexities, the sense of coming from a minority community set in an alien culture is further complicated with the sudden demise of the mother who has all along been the pivot of her family that has grown to be no more than a disparate set of individuals.

The story begins with Manju falling dead.

Manju's better half and daughters are distraught and have to come to terms with this inviolable loss while they continue to chart starkly different courses in life. As long as she lived, Manju had tried to keep the family together.

---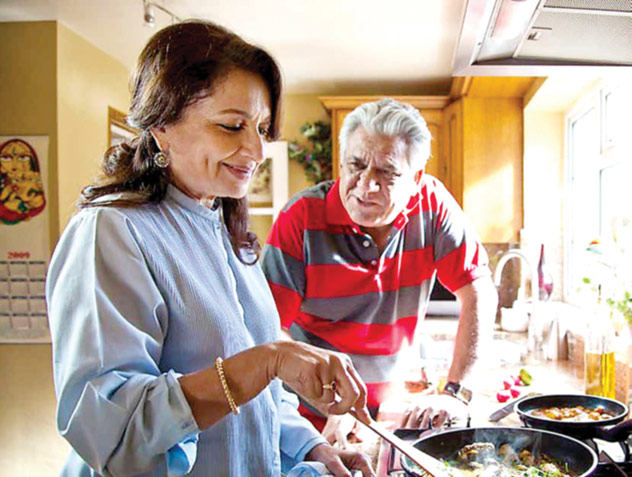 (Above): Sharmila Tagore and Om Puri in "Life Goes On."

---
This doesn't come too easy for the doctor husband as he has to come to terms with his own set of prejudices and deal with anguish and despair when he is suddenly thrown in to appreciate the different directions that each family member has taken to.

The movie deals with bringing in attitude shifts, the prerequisites for re-bonding. Manju's soul mate and confidante, Alok, provides the necessary support to the family. One sees him appearing intermittently to either break the news of the death or help the father forge the relationship with the children.

Coming to the daughters, the eldest one, Tulika, married to a local Englishman and a homemaker mom of two kids is embroiled in her struggle to save her marriage. The second daughter, ambitiously geared towards a successful TV career, is a lesbian, a hugely scandalous matter given the ethos of any traditional Indian family. Then the youngest of the brood, Dia, stays with her parents, gets pregnant unexpectedly with the child of her Bangladeshi immigrant boyfriend.

---
(Above): Neerja Naik and Om Puri in "Life Goes On."

---
The ghosts of the partition of 1947 and ensuing communal prejudices tumble out of the recesses of father's memory.

There are too many struggles at traditional, cultural and moral levels for this Bengali family to encounter and live with. Striking a balance between cultural values and aspirations in a dynamic world become an onerous task especially when there is a tsunami of calamities.

Reminiscent of King Lear's trauma, the father encounters challenges that his diametrically different daughters pose.

As someone with a great record of being a respected medico he also has to deal with the burden of being a representative of Bengali diaspora in Britain.

The movie that moves in flashback brings to the viewer for the very first time the splendid and not so in-the-face combination of real life mother-daughter duo, Sharmila and Soha, without any loss of essence of the story.

Quite remarkably Dutta has displayed ample guts to release her film even when India, a cricket manic nation, was immersed in the excitement of the Cricket World Cup.

Coming back to the movie though the central character is the father, the nurturing and caring attitude makes the mother a much marvelous personality.

While the father has lived his life with concealed angst of past negative occurrences, the mother derives joy by celebrating every color that life throws at her.

This is evident from the company that she keeps of Nobel laureate Rabindranath Tagore's mellifluous songs and poetry that provided zest and rhythm to her existence.

---
(Above): Girish Karnad and Neerja Naik in "Life Goes On."

---
Sharmila enraptures the viewer with her sensitive portray of Manju's character and one is left wanting for more of her as one realizes that her talent continues un-captured in any single movie canvas.

What also evokes interest is the mysterious relationship of Manju with her friend Alok and what more it could have been if there is a sub plot structured around this subject!

Dutta succeeds in extracting power-packed performances from every actor and her use of English with a sprinkling of Bengali and Hindi is real and brilliant.

Deservedly the movie has bagged 'Best Feature Film' award at Pravasi International Film Festival in New Delhi as well as accolades at the London Asian Film Festival.

The movie can be best appreciated for presenting the adjustment and evolutionary dilemmas that a progressive NRI life faces as well as the Western influences that shape events.

The theme celebrates the non-negotiable ideas of reconciliation in the face of death and suffering and embracement of life in all its hues and colors for life to go on. Despite every sort of trauma there are no major breakdowns and the characters are determined to take their lives forward.

Subtle, delicate, emotional, familiar and at times heavy is how Dutta's maiden venture can be described and though not a must-see, it is still worth watching.