FINANCE:
Securing Your Money: State Bank of India Comes to Fremont, CA

State Bank of India recently opened a new branch in Fremont, Calif., providing a gateway for sending money to family back home and serving the banking needs of the NRI community. A Siliconeer report.

---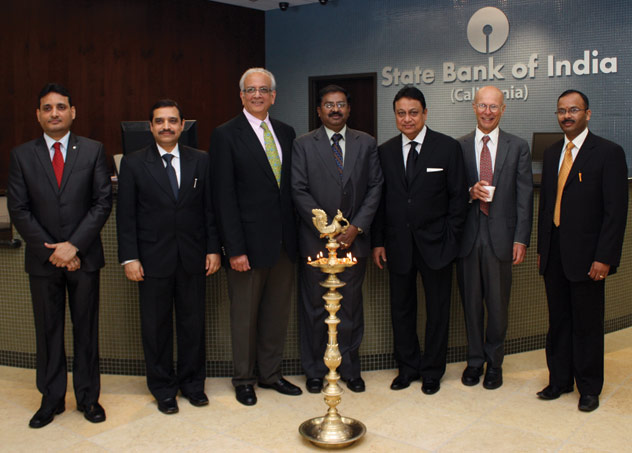 (Above): Seen at the opening of State Bank of India (California)'s Fremont location are (l-r): a bank official, Dinesh Pandey, Jitu Somaya, Neelabh Sinha, Vrajesh Lal, Dean McHenry and Navdeep Sood. [Siliconeer photo]

---
State Bank of India (California) opened its 10th branch in the U.S. and the second one in Bay Area at Fremont last month. Located at 39148 Paseo Padre Parkway, in the Raley's shopping center, this branch is headed by Navdeep Sood, who is the vice president for the Fremont branch.

According to a press release, SBIC was established in 1982 as a California state chartered subsidiary of State Bank of India and is fully owned by State Bank of India, one of the strongest banks in the world, with controlling ownership by the Government of India. It is a California Banking Corporation presently rated four stars by Bankrate.com, which indicates that SBIC has a "sound financial condition."

Speaking at the occasion, Dinesh Pandey, president and CEO of the bank offered to cater to the banking needs of the Indian population in Bay Area. While customer service will remain the focus area for the branch, Pandey also highlighted the offering of innovative products for customers.
Dean McHenry, the director of the bank was appreciative of the association of State Bank with the NRIs settled in the Bay Area.

Jitu Somaya, a philanthropist and the director of the bank declared the branch open. Speaking on the occasion, Vrajesh Lal, director, offered to bring bank closer to the customers. Neelabh Sinha, vice president of the San Jose branch was also present at the opening along with other vice presidents who came all the way from Los Angeles.

Local Bay Area attorney Mahesh Bajoria was appointed legal advisor to State Bank of India (California).

---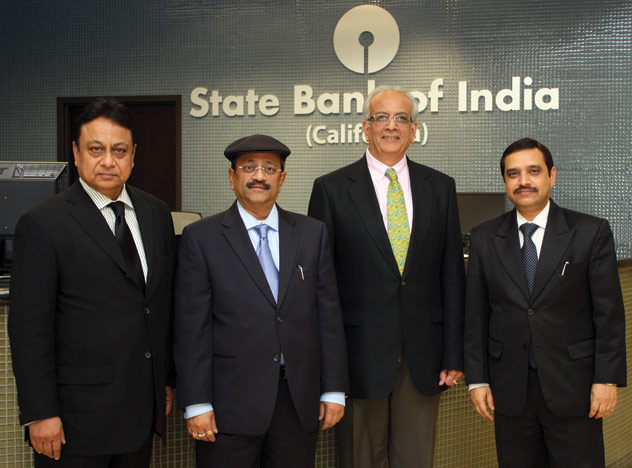 (Above): Seen at the grand opening are (l-r): Vrajesh Lal, attorney Mahesh Bajoria, Jitu Somaya and Dinesh Pandey. [Siliconeer photo]

---
The event was well attended by many Fremont residents, doctors and community leaders.

The branch opened many new accounts and customers showed up to send wire transfers to India on the opening day.

The bank will offer a range of products such as business and personal savings and checking accounts, NOW accounts, business loans, real estate loans, lines of credit, letters of credit, wire transfers, remittance to India, safe deposit lockers and ATM facilities (at some locations), and Internet banking. The bank will also offer Remote Deposit Capture facility to business customers.

Currently, State Bank of India has branch locations in San Jose, Los Angeles, Artesia, Fresno, Canoga Park, San Diego, Bakersfield, Tustin and Washington, D.C.

Interested readers can get more details by visiting the branch or online at www.sbical.com.