CELEBRATION:
Remembering Faiz: An Evening of Legends, Style and Substance

The Citizens Foundation and the Pakistani American Culture Center hosted an event to recognize the life and work of Urdu poet Faiz Ahmed Faiz, writes Ras H. Siddiqui.

---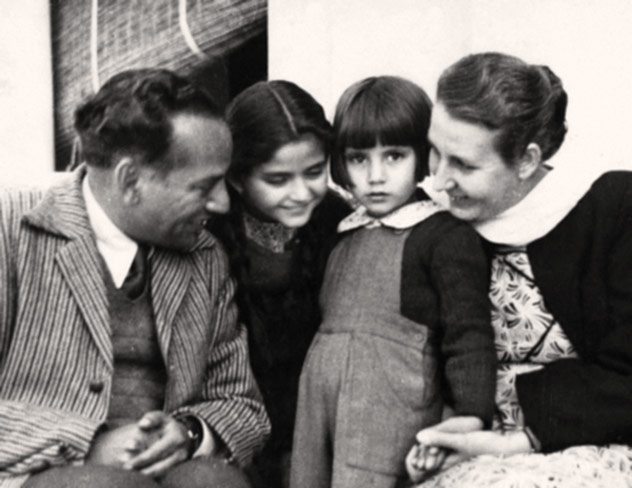 (Above): An old archive photo of Faiz, Alys and children. (Below, right): Zia Mohyeddin shared some of his observations about Faiz Sahib and presented a fine cocktail of poetry and some lesser known prose written by the great Urdu poet.
---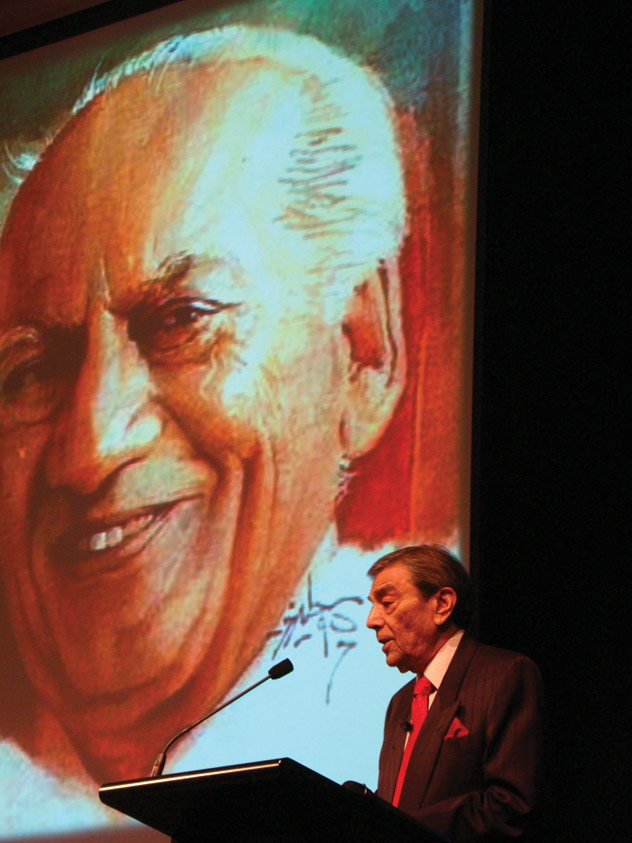 On March 19, 2011, a rain soaked and stormy evening in California's Silicon Valley, at the Computer History Museum in Mountain View to be more specific, The Citizens Foundation (TCF) teamed up with the Pakistani American Culture Center (PACC) to host over 400 people who braved the elements to celebrate an early Pakistan Day (March 23rd) and to recognize the life and work of Urdu poet Faiz Ahmed Faiz.

A big plus was the added effort to collect funds for education in Pakistan through TCF, and not to forget, Pakistan's victory over Australia in the Cricket World Cup match the same morning was also unofficially being celebrated on the sidelines here.

Enthusiasts from as far away as Sacramento, also gathered at this venue to enhance the local community spirit and to indulge in a great deal of nostalgia with the help of one of Pakistan's most debonair seniors, Zia Mohyeddin. And with two children of Ghazal legend Mehdi Hassan performing, it certainly did turn out to be "A Night of Legends" as the evening was billed to be.

A fine dinner and South Asian music by Jeff Whittier (playing the Bansuri) and Leslie Schneider (Tabla) kicked things off.

Amjad Noorani next introduced the Keynote Speaker for the evening Brigadier General (Retired) Feroz Khan, someone who has worn many military and academic hats including one as lecturer in National Security Affairs at the Naval Postgraduate School in Monterey, California. Khan gave a balanced and scholarly presentation on Pakistan Day, Community, Faiz and Education. He talked about the current environment in Pakistan and tragic happenings in the country. He mentioned the challenges of the nation state faced by people like Faiz Ahmed Faiz, one who nevertheless still let their humanism trump all else. "Faiz could not accept tyranny," he said. He added that Faiz would not have tolerated such a current state of affairs. Khan said that that Pakistan is certainly not on track in the realm of education and called the lack of resource allocation in that area, the 'silent tsunami' facing the country.

But hope was offered soon after as the next speaker, TCF Vice President Dr. Ahson Rabbani inspired everyone to help disadvantaged kids in the home country to attend school. Aided by a moving video presentation and offering hope against all odds in poor neighborhoods in Pakistan, which a leading American magazine has called the most dangerous place in the world, Ahson highlighted the huge return on investment possible in the education sector of the country. Using the words of UN's Kofi Annan, he said that if you want to save the world, make sure girls go to school. The TCF video on Keti Bandar exposed Pakistan's shocking reality of deprivation that the poorest there have to live in. But in such an environment, boys and girls (especially) long to better their lives and given the opportunity they really want to go to school.

Annie Akhtar next introduced the main attraction of the evening Zia Mohyeddin, someone who has entertained not just Pakistanis, but just about the whole world as a movie and stage actor. He played Tafas the guide in the movie Lawrence of Arabia (1962) in which his character was shot by a then little known Egyptian actor by the name of Omar Sharif. He also appeared in the famed TV series "The Jewel in the Crown" (1984) on British television. But for those who were in Pakistan during the late 60's and early 70's his "Theka" during the Zia Mohyeddin Show during which he introduced some of the best singers, show business personalities that Pakistan has ever produced are still stored in our old memory cells. One show during which a very young and provocative singer by the name of Runa Laila (now of Bangladesh) often comes to mind during which she literally shook the country as she introduced female Pop music to Pakistan.

---

(Above): Imran and Kamran Mehdi Hassan
---
But Zia Sahib was here for another reason. This is the year of the Faiz Ahmed Faiz centenary. Born in the year 1911, Faiz is known as one of the finest Urdu language poets of the 20th century and his enduring legacy is being celebrated all over the world this year including in Pakistan, India, the Middle East, Europe and in North America. This particular event put together by the TCF and PACC happened to be a part of the celebration of the life and work of this great poet. And since the greatest voices to ever sing Faiz Sahib's work, Melody Queen Noor Jehan and Mohtarma Iqbal Bano are no longer living and Mehdi Hassan Sahib is quite ill, and current great Tina Sani has already sung at the Faiz Centennial event held in Lahore, Pakistan (attended by Shabana Azmi and Javed Akhtar who crossed the Wagah border on foot from India for the occasion), the other legend who has given Faiz Sahib's work vocal greater continuity is Zia Mohyeddin himself. Both had a long association especially in London where Faiz was often in exile during the military dictatorship in Pakistan during the 1970's and 1980's. Faiz died in 1984 and is buried in Lahore.

Zia Mohyeddin shared some of his observations about Faiz Sahib and presented a fine cocktail of poetry and some lesser known prose written by the great Urdu poet. He said that Faiz possessed the qualities of immense patience and even innocence which helped to endear him to just about everyone. "Faiz Sahib. Aap ko Kabhi Ghussa Aya?" (Faiz Sahib, have you EVER been angry?), was a question that he once raised with him. Unusual for poets and writers who are often moody and irritable (like this one)! Anyway a nightmare for this or any reporter is the fact that listening to Zia Mohyeddin can be mesmerizing and the reporting angle just goes out the window. For over an hour Zia narrated Faiz and incorporated into his presentation a "Guldasta" or bouquet of various aspects of Faiz Sahib's work and life. At the end, the audience of Pakistanis and Indians who are usually quite economical with their praise all gave Zia Sahib a standing ovation.

Amjad Noorani next said a few words about Faiz Ghar (http://www.faizghar.net/) a project worthy of support started by the Faiz Foundation in Lahore. Readers are encouraged to visit this site and follow the work of this group which is continuing the Faiz legacy, one in which his poetry and humanity merge to promote peace. To conclude the event, a musical tribute to Faiz, was presented by Ghazal legend Mehdi Hassan's children, Kamran and Imran Mehdi Hassan.