EDITORIAL: Bleeding Blue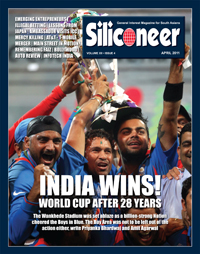 It was 1983, when Kapil Dev and his men raised the bar for India as a cricketing nation by bringing home the World Cup for the first time. Since then, every four years, the hope of millions of Indian cricket fans the world over rise and long for history to repeat itself.

It took Team India 28 years and seven World Cup tournaments to finally create the magic again. With a six off skipper Dhoni's bat, India became the 2011 ICC Cricket World Champions.

The Indian team has had their share of shortfalls – poor performance in batting Power Play overs, slow and reluctant fielders, lack of quality pace bowlers, and after every game in the league matches, quarter and semi-finals, the skipper was bang on target pointing out these shortfalls.

The skipper lamented saying that the team had a great batting line-up, but when it comes to fielding and pace bowling, there was a need to roll up the sleeves – and roll up they did.

The team showed constant improvement after every game as they beat former champions Australia, arch rivals Pakistan and the final contender Sri Lanka to finally lift the cup again after the long wait of 28 years.



In Sanskrit culture, 12 years is considered a yuga or era. By that reckoning, Siliconeer has entered a new era, because with this issue, Siliconeer has begun its 12th year of publication.

We would like to take this opportunity to warmly thank our readers, advertisers, patrons and friends for supporting our endeavors, particularly during some really challenging times. Truly, your support and love keeps us going.

Here's to another 12 years! Yuga yuga jiyo, Siliconeer.


Yuvraj Singh was named man of the tournament and he won the man of the match title in four games. A little motivation and advice went a long way for this fine cricketer, all thanks to Sachin Tendulkar, who held him back with words of encouragement when the going was tough for Yuvraj.

All said and done, it was a fantastic tournament and as for Indian fans, the party just doesn't seem to end. India is bleeding blue, the players are smelling green with all the gifts and endorsements pouring in, and the politicians are looking for ways keep the more serious issues like corruption under wraps in lieu of the glorious victory, first over Pakistan and to add icing to the cake, now the World Cup.

When there is cricket, Bay Area never sleeps. When there is a World Cup and Team India are the favorites, the stakes sky rocket. Cricket becomes the conversation in lunch rooms at work, in the pubs and now over the Internet. More so, there is now a fantasy cricket team that Silicon Valley's IT guys run on their own. What started as a fun approach to cricket turned into a workplace frenzy as the grand finale of the World Cup neared.

Our cover story this month takes us through the journey of Team India's historic win with a special report by Priyanka Bhardwaj. Sharing the stage is Amit Agarwal, a Bay Area IT guru who spends nights cheering his team and days working and managing his fantasy cricket team. It is his own way of worshiping the one religion common to a nation of one billion – Cricket!

India started off small when it came to IT, doing mostly low-level IT work for western firms or running call centers for U.S. corporations. That was decades ago. Come Y2K, things were already changing pace.

Now, in recent years, the Indian information technology industry has seen some major advancements in entrepreneurship initiatives, research and development and product development. A new breed of IT professionals have taken the cue from Silicon Valley and are geared up to take on the challenging world of startups and entrepreneurship.

Vivek Wadhwa, a visiting scholar at the University of California at Berkeley, senior research associate at Harvard Law School and director of research at the Center for Entrepreneurship and Research Commercialization at Duke University, talks about the current and future prospects of India's information technology industry in this issue.

India's black economy is huge, estimated to be much more than the country's national income. Quite a bit of the unaccounted wealth is stashed away in foreign accounts. Some of this money is being poured into the massive illegal gambling or satta as locally referred in India, accompanying the just concluded World Cup Cricket tournament.

While cricket remains the most sought-after sport in India, various permutations get thrown up during off season or other big events such as election results. During national elections in India, big money could ride on party positions and candidate for prime minister, given the era of coalition governments in the country.

In July 2009, reports suggested that betting syndicates tried to influence a crucial vote of confidence against the government over the India-U.S. nuclear deal amid allegations of huge amounts of money changing hands to buy fringe voters in the Lok Sabha.

While big money for horse-trading among parliamentarians is usual in Indian politics, it was the first time there was serious talk that bookies could be directly involved in determining the political future of the country. Our India correspondent Siddharth Srivastava files a special report on such rampant illegal betting operations.