LITERACY:
An Education Democracy: India Surges Forward?


Every afternoon, eight-year-old Raj Kumar and his younger sibling trudge along the ten kilometers expanse of Golf Course Road to partake free classes at a school ensconced in a posh pocket of Gurgaon. The zeal of their car-washer parents to conquer poor conditions have led them to push their children towards getting a schooling albeit the hardships involved in forsaking the extra income that these two sets of helping hands otherwise could have earned. However in a still struggling nation, luck does not shine on the remaining under privileged children (28 million child laborers and 22 million disabled children as per National Advisory Council estimates of 2001) populating 640 districts. For them education still is a luxury, writes Priyanka Bhardwaj.

---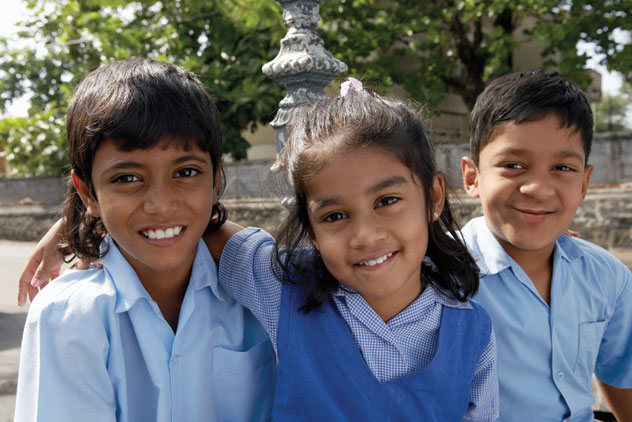 ---
The Supreme Court recently passed a judgment to uphold constitutional validity of 'Right of Children to Free and Compulsory Education (RTE) Act' that directs government, local authorities and private schools to reserve 25 percent of their seats for disadvantaged and weaker sections in preschool and Class I in private schools every year. Clarifying the center's stance, Union Human Resource Development Minister Kapil Sibal wrote to provincial educational ministries, "The RTE Act is an opportunity to break gender, caste, class and community barriers that threaten to damage the social fabric of our democracy and create fissures that could be ruinous to the country." RTE Act is expected to act as an affirmative action and social integration tool to increase diversification of student-profile that would only enrich social landscape of education environments that bring in education democracy.

For beginners, the RTE Act concerns all Indian children between 6-14 years who have been guaranteed the legal right for elementary education as per RTE Act of 2009, notified in April 2010. "It's undeniable that this means a major transformation for private schools. It is true that transformation does not take place on demand. Recognizing the difficulties involved in making the change, the act has adopted a 'gradualist' approach, and provides for admission of children from weaker sections at entry stage only," Sibal states.

National Commission for Protection of Child Rights (NCPCR) that came up as part of the Act conducted social audits to assess progress of implementation of Act and found problems in school standards, infrastructure, teacher recruitment and training, monitoring of roles, responsibilities and accountability among others. In its recommendations it elaborated on harmonizing of 'Child Labor (Prohibition and Regulation) Act 1986' and 'National Child Program' with RTE Act, ban on corporal punishment, institution of grievance redressal mechanism and improvements in accountability of schools to provincial and central government. But then, as a 'Right To Information' move revealed, this division suffered from adequate powers to resolve complaints. It is on record that NCPCR could settle just 100 of 1,761 complaints received from April 2011 to 2012. These pertained to admissions, corporal punishment, detention of children, discrimination, poor attendance of teachers, reservation for economically weaker sections in private schools, overcharging of fees and inadequate infrastructure.

Another issue concerning the Act that draws concern is financing. The ratio of central and provincial responsibilities have been 65 percent and 35 percent respectively when it comes to provincial elementary education targets or administrative expenses that include maintenance of school infrastructure and teachers' salaries. But experts point out the difference between recommended financial requirement for Center-led "Sarva Shiksha Abhiyan'' pegged at Rs. 1,820 billion and actual allotted outlay of Rs. 255.55 billion by Finance Ministry for 2012-13.

A case study by Center for Policy Research of 146 schools in Maharashtra's Satara district brought out drawbacks in implementation of the Act. While provincial elementary education budget rose to Rs. 125.85 billion in 2010-11 from Rs. 91.57 billion in 2009-10 and allocation per child touched Rs. 12,075, infrastructure targets remained unattained. Zilla Parishad (local self governing body) education officers cited lack of awareness among school authorities about money transfers into their bank accounts as the chief reason for this.

---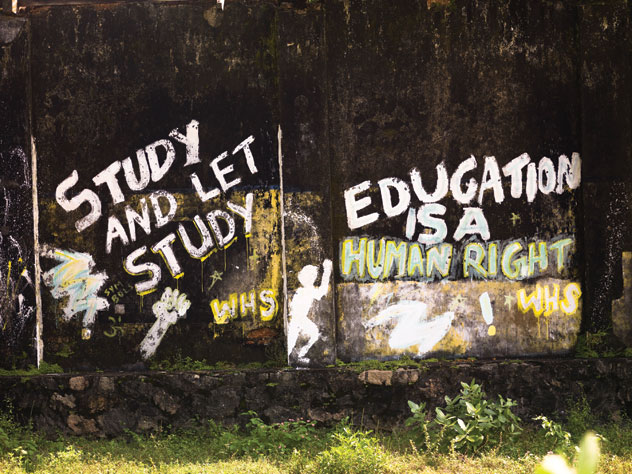 ---
The run up to the deadline of March 31, 2013 set for achieving RTE targets seems ineffective as one takes a look at schools' RTE achievements based on indicators listed in 2011 Annual Status of Education Report (ASER). The report shows that only 54.1 percent schools constructed boundary wall, 62.6 percent got playgrounds, 49.1 percent have usable toilets and less than 43.8 percent put in place a separate girls' toilet. In 2011 just 6.1 percent schools had disabled-friendly toilets.

Nationally, only 59.3 percent schools were able to accomplish the goal of teacher-student ratio (2:60 for Classes I to V and 1:35 for Classes VI to VIII). In fact most schools have one teacher for 80 students said Rampal Singh, president of All India Primary Teachers' Federation.

On the goal of 'every teacher having a classroom' only 74.3 percent schools passed the muster. While attendance of primary level teachers reduced from 89.1 percent in 2009 to 87 percent in 2011, presence of enrolled primary students fell from 74.3 percent in 2009 to 70.9 percent in 2011 and that of upper primary stage on a given day came down to 71.9 percent from 77 percent in 2009. An assessment by District Information System for Education shows that 93 percent of teachers largely from provinces of Uttar Pradesh, Bihar, Jharkhand, Madhya Pradesh, Chhattisgarh, Andhra Pradesh, West Bengal and Orissa failed Teacher Eligibility Tests last December.

Eminent scientist and founder of Center for Cellular and Molecular Biology, Hyderabad, P.M. Bhargava notes, "It hurts when we come to learn that not a single provision of RTE Act has been implemented after nearly two years of its enactment. We need to follow common school system where rich and poor get education under the same roof without any discrimination by extending the reach of central school system (Kendriya Vidyalayas) to cater to needs of students. We have to improve and change the higher education scenario and technology used in primary education that provides the base and foundation. There is a need to bolster spending in education to nearly 6 percent of GDP."

Yet the prospect of poor children sharing classes with those from better-off middle class families has raised heckles in "money-driven-gated'' communities that prides itself in sending their wards to elite schools. Despite being products of an egalitarian public school system this hugely aspirational population betrays acute levels of hostility over the new judgment. Some such parents (on conditions of anonymity) fretted over possible hikes in school fees, rise in competition for admissions in already scarce scenario and even scaling down of 'excellence' of educative environment due to imminent "invasion of kids from 'not-so-smart-homes' into erstwhile educative centers of excellence!''

To this tirade Vinod Raina, member Central Advisory Board of Education and an architect of the Act retorts that, "To put the onus of systemic differences on children's inherent abilities is educationally and socially wrong. Differences in learning are due to differential opportunities, socio-cultural environment and home support going by extensive research and practices in educationally advanced countries."

Surely opening of minds will have to accompany forcing open the doors of schools but the center's role in leading private-individual-public initiatives and contributions in plugging gaps in access to primary education would be the most crucial element to drive any change.

Moving over to the case of unaided minority institutions the center clarified that they could reconsider policy of mandatory auto-promotion till Class VIII and examine non-harassing ways of disciplining students.

In sum, notwithstanding some surmountable shortcomings that can be sorted out in due course of time the Act promises genuine opportunities for real correctional change via a lesser mercenary educational environment. For once government's earnest intentions in taking on this big challenge is clear and well reflected in Sibal's exhortations, "I believe that the RTE Act is visionary in its objective and scope, and if understood and implemented in the right spirit by government authorities, school managements and all the other stakeholders, could well become a model for the world to emulate."