EDITORIAL: Bon Appétit!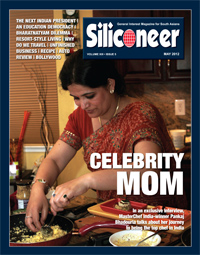 It takes a lot of talent, courage and confidence to win a contest when the odds are one in hundreds.

MasterChef India is a show on people who passionately cook as a hobby and have absolutely no experience in the food industry, fight for the title of 'best cook of the country.'

Pankaj Bhadouria is one of those who actually went the last mile, but the journey was not easy, nor was the race to finish at the top.

A mom, a housewife, a teacher, and now she is the master chef that India has voted as the best among hundreds.

Pankaj was recently in Bay Area, at Mobifusion headquarters in Silicon Valley. Siliconeer caught up with her for an exclusive interview about her journey to being the top chef in India.

Every afternoon, eight-year-old Raj Kumar and his younger sibling trudge along the ten kilometers expanse of Golf Course Road to partake free classes at a school ensconced in a posh pocket of Gurgaon. The zeal of their car-washer parents to conquer poor conditions have led them to push their children towards getting a schooling albeit the hardships involved in forsaking the extra income that these two sets of helping hands otherwise could have earned.

However in a still struggling nation, luck does not shine on the remaining under privileged children. For them education still is a luxury, writes Priyanka Bhardwaj.

Practicing Bharatanatyam in India today means negotiating a dance form with a sensitive past and a problematic present. It means living with appropriations and dealing with notions – inherited, construed, and sometimes fallacious. It also means addressing history and navigating identities of class and sexuality, opines Justin McCarthy.

In three months time, India will have a new President. The big question — Who is going to be the Head of State and Commander-in-chief of India's defense forces? Siddharth Srivastava contemplates possible contenders.

There are tourists and there are travelers. The difference is quite wide. Tourists, by and large, have maybe one major trip planned in their life. They know where they're going and what they will see. This offers comfort to a trip into unknown territory. Others find their comfort level by returning to known spaces and people.

Travelers on the other hand are explorers, driven by curiosity and wondering what they will find around the next corner or behind that beckoning door, writes Al Auger.

Mashal is known for pushing the festive envelope and since one of the best projections of our culture is its cuisine — the "Food Street" concept borrowed right out of Lahore and Karachi made a colorful and tasty first appearance in the Bay Area at a spectacular evening highlighting the best of cultural heritage writes Ras H. Siddiqui.

To all the moms, Siliconeer wishes you a very happy Mother's Day!