RECIPE:
Rich Sweet Treat: Bombay Karachi Halwa


You can't always eat healthy and be happy. There are some traditional sweets that are rich in calories but even richer in taste. For those special occasions, when you absolutely need to have a traditional delicacy, here's a recipe for a rich sweet treat, writes chef Sanjay Patel.
---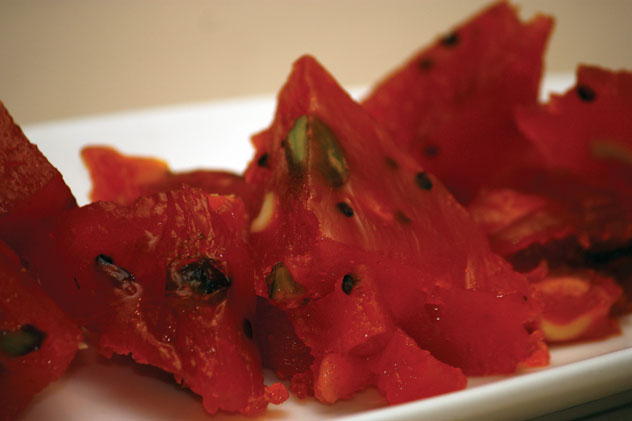 (Above): Bombay Karachi Halwa [Photo: SILICONEER]

---
Ingredients:

1 tsp cardamom powder

½ cup cashew nuts, pistachio and raisins.

1.75 oz. corn flour

3.5 oz. ghee

1 tsp fresh lime juice or orange juice

7 oz. sugar

1 cup water

1 tsp Yellow food colors

Method:

Take a bowl add sugar and ½ cup water. Bring it to a boil, then add lemon juice.

In a small bowl add ½ cup water to corn flour. Mix well so that it doesn't form any lumps.

In a non-stick pan add ½ tsp ghee, do not switch on the flame just yet. Add the corn flour mixture to it and mix, now switch on the flame at very low intensity.

When the mixture thickens, switch off the flame and slowly add sugar syrup and keep mixing to avoid lumps. Repeat till the syrup is completely added.

Now switch on the flame and keep mixing. Add remaining ghee very slowly (teaspoon by teaspoon) and keep mixing. Repeat the process till the ghee is completely added.

Now add color and cardamom powder and cook till ghee oozes out. Add broken cashew nuts, pistachio and raisins. Mix well.

Once this is done, pour the mixture on a plate greased with ghee. Keep aside for about an hour.

Cut into small pieces and serve.