COVER STORY:
Celebrity Mom: Master Chef Pankaj Bhadouria


MasterChef India-winner Pankaj Bhadouria recently visited Sunnyvale, Calif., treating us with some of her mouthwatering recipes. She talked to us about her journey to being the top chef in India. Siliconeer presents an exclusive interview.

---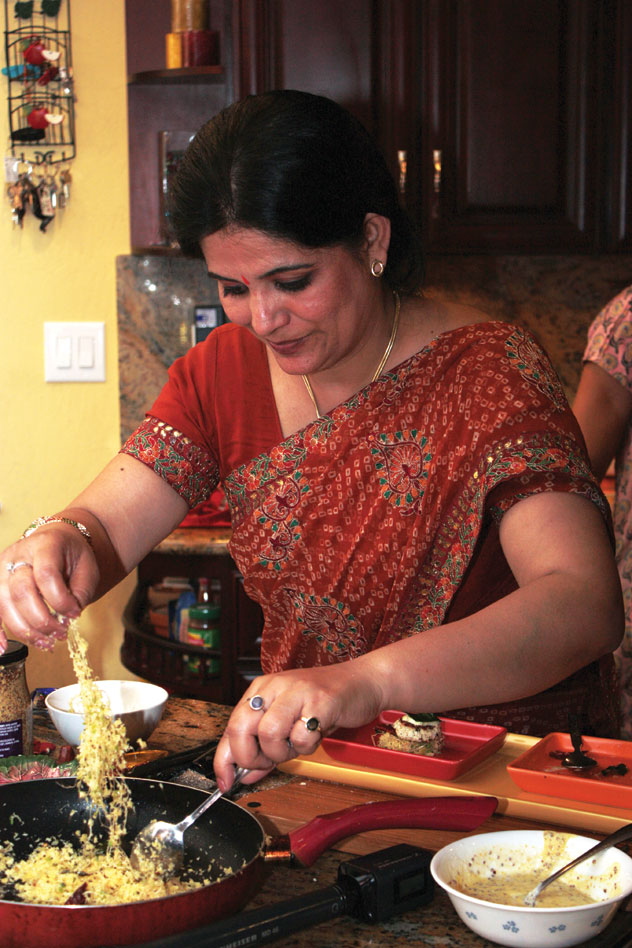 (Above): Pankaj Bhadouria prepares an appetizer in Sunnyvale, Calif., April 19. [Amar D. Gupta | Siliconeer photo]

---
It takes a lot of talent, courage and confidence to win a contest when the odds are one in hundreds.

MasterChef India is a show that celebrates people who make great food, a culinary competition series based on the hit U.K. and Australian format of the same. On this show, people who passionately cook as a hobby and have absolutely no experience in the food industry, fight for the title of 'best cook of the country.'

The show converts the most mundane daily chore of cooking into a life-changing experience.
Contestants are put through the pace with various challenges as they compete to create delicious dishes. These everyday 'at home' cooks now have an opportunity to show their passion for food as they are put to the trial and judged by India's best.

The Indian version of the show isn't just about food. It is about emotions, pressure tests under extreme culinary circumstances where even the finest culinary genius is put to task.

The grand prize is a cookery show on Star Plus, an Indian TV channel, the winner's own cookbook and a cash prize of one crore rupees.

There is just one rule – "Tasty dish, warna game finish."

Pankaj Bhadouria is one of those who actually went the last mile, but the journey was not easy, nor was the race to finish at the top.

A mom, a housewife, a teacher, and now she is the master chef that India has voted as the best among hundreds.

---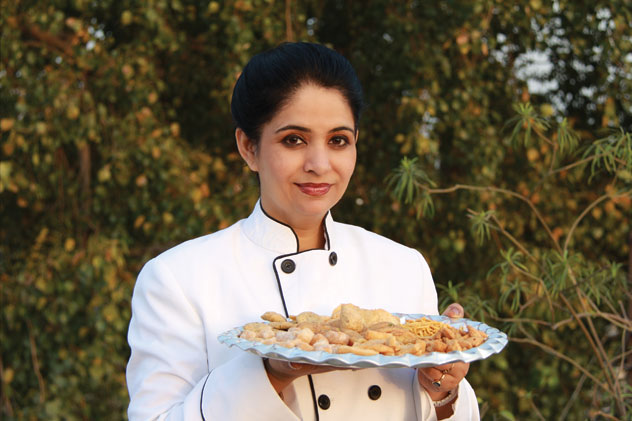 (Above): MasterChef India winner Pankaj Bhadouria. [Photo courtesy: Charu Samarth]

---
Pankaj was recently in Bay Area, at Mobifusion headquarters in Silicon Valley, trying to take her recipes mobile. Siliconeer caught up with her for an exclusive interview. Here are some excerpts from what she had to say about her journey:

Q: How's your trip to U.S. coming along so far?

A: The trip started in New York, where I was attending the Varli Food Festival. It was a part business part pleasure trip, where we met old friends and are making new ones. On the business aspect, Mobifusion launched my app worldwide on Verizon, Android's Google Play, Apple's App Store, and many other platforms.

Q: You won the Master Chef title. Tell us about the preparations and challenges you faced during the course of the contest.

A: For one thing, the contest was for amateurs, so none of us were trained chefs. What MasterChef contest was trying to do was to pick up somebody who was at par or even better than a professional chef, so they were trying to look for somebody as good among amateurs.

We didn't have much to prepare ourselves because we had to go through so many auditions, the first, the second, and so on, till we could qualify for the main kitchen.

For example, in Lucknow, when they had the local auditions, there were three rounds. After I had qualified all those three rounds, I was invited to Mumbai for the final auditions where they already had about a hundred people from all over the country because they had been going across the country looking for contestants.

So from a hundred of us who reached Mumbai, forty were shortlisted and taken to a bootcamp.

Q: What kind of food do you make, is it North Indian, South Indian, what is your specialty?

A: I love to experiment and I have done a little of every corner of India. I try to do that because I was very eager to learn a lot. I've been cooking since I was 12 and I love doing it. I like to experiment with food, try out new things. If I didn't get the right ingredients, I would try to innovate or improvise on the recipe with what was available and come up with something interesting.

Fortunately, because I had a mixed cultural background, I had a Punjabi father and a Bengali mother and when I got married, I got married into a family from U.P. My husband is a Thakur from Uttar Pradesh. So as you can see, I have the best of all the worlds and I learn from everywhere. I was born and brought up in Delhi, which is a typical foodie's paradise and then I was married in Lucknow, which is another food city, so I guess I was lucky to be at the right places, in the right family, with parents who were passionate about cooking. I inherited my love for cooking from them.

---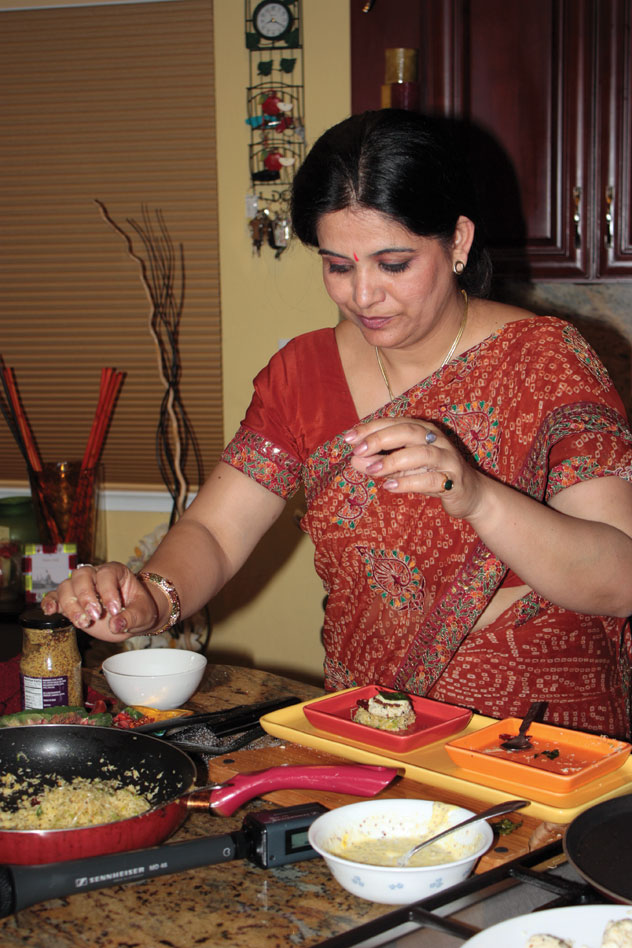 (Above): Pankaj Bhadouria prepares an appetizer in Sunnyvale, Calif., April 19. [Amar D. Gupta | Siliconeer photo]

---
Q: How did you build a balance between family and professional life once you were a contestant at the MasterChef contest? Was it challenging, difficult?

A: Oh yes! I was one of those moms who had not left their children, not even for a day. I've been working for sixteen years as a teacher and I was also a councilor so I would have to go to Delhi to pick up my council corrections. I would take my kids along. I would turn it into a vacation of sorts for two or three days.

All of sudden, I had to leave my kids back for months because I was in Mumbai for three months and we were totally cut-off from our families. We did not have telephones, television or newspapers. They would isolate the contestants to pressurize them to see who would survive the pressure.

Q: Dealing with a pressure-oriented situation, how well do you think you can do it?

A: There is a lot of pressure in commercial kitchens. When you go to a professional hotel kitchen, it's not an easy world. They wanted to see if one could take on the challenge. I was new to this pressure with no prior experience.

I had to quit my job just to audition for the MasterChef, so it was a tough decision. Sixteen years, I had been working in the same place and when I wanted leave, it was not granted.

The fact that there was no surety about me making it to the top twelve, made the decision even more difficult. It was definitely a difficult decision at that time and quite a traumatic one, I would say.

You grow up with something, I started my career with this school and at that time the school was also in its budding stage, and all of a sudden I am told, "I can't give you leave, either you quit your job or you quit your show." So finally, I quit my job because this was an opportunity I just couldn't let go.

Q: After winning the title of MasterChef, I am sure the feeling is immense. How has this changed you as a person?

A: As a person, it hasn't been much change. I am still a very grounded person. I also have my family to remind me of who I am. Situations have changed around me but I have remained the same. I like to remind myself of who I am and stay that way.

Q: Our readers would love to learn from you. How can they get access to your culinary excellence?

A: I have a Web site where I keep adding recipes on a daily basis or every alternate day. Very soon, I am going to start uploading my videos as well on my Web site. I have a YouTube channel as well.

---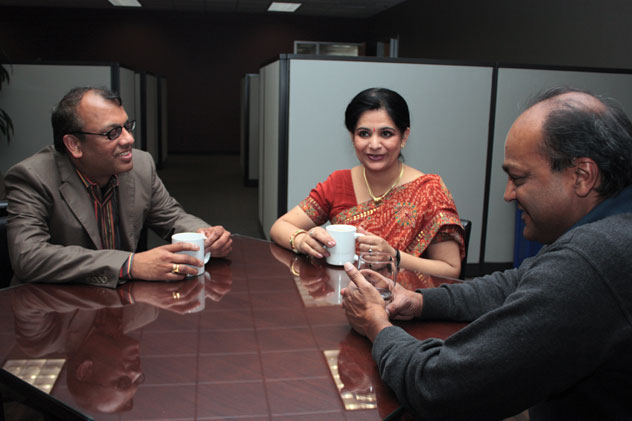 (Above): Pankaj Bhadouria chats with Mobifusion's Pavan Mandhani (l) and Alok Singhania (r) at their offices in Sunnyvale, Calif., April 19. [Amar D. Gupta | Siliconeer photo]

---
Q: You are a chef. What is your relation to Mobifusion?

A: Mobifusion has helped me launch my application on Blackberry, iPhone and Android mobile devices. Here in the U.S. it is available on America's largest operator Verizon.

Pavan Mandhani, founder & CEO of Mobifusion pitched in, saying, "We are trying to bring MasterChef Pankaj Bhadouria's content across all platforms, digital devices, mobile and tablets in various forms via data, voice, apps, and other format through all the operator partners that we work with worldwide such as AT&T, Verizon, and app store partners such as Blackberry, Nokia, and so on."

"Each partner and each network have their own network certification and challenges. Different handsets, the local taste, demographics are just a few examples. For example, the Indian demographics particularly on Bharti AirTel might be different than Telstra Australia and that might be different than AT&T and Verizon here in the U.S.," he added.

Pankaj Bhadouria has her own recipe book published by MasterChef India.

---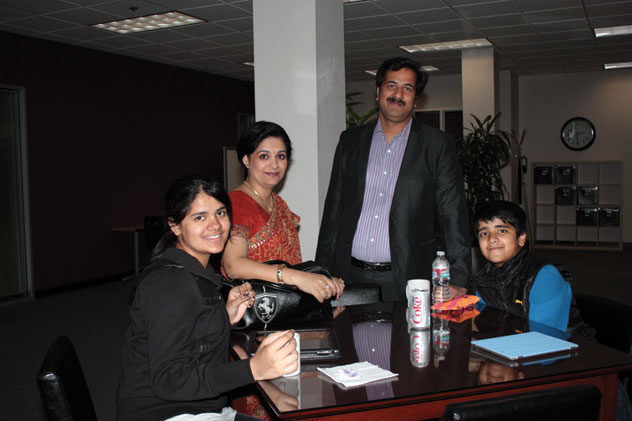 (Above): Seen at the Mobifusion office are (l-r): Daughter Sonalika, Pankaj Bhadouria, her husband Charu Samarth, and son Siddhanth. [Amar D. Gupta | Siliconeer photo]

---
But what is remarkable is that Pankaj is an example of the complete Indian woman, being a wife, mom, teacher and chef all at the same time could be quite a task and unnerving for most.

She says her family has a huge role in her success. Her kids, Sonalika, 14, and Siddhant, 11, have had to sacrifice a lot. But on the other hand, they are also lucky to have a mom who is arguably India's best chef.

Her husband, Charu Samarth, is an IT professional and plays a key role in her success. He has helped bring the recipes to life form of pictures and the Web site.

It truly is a family effort, and the results are equally enjoyable.

On being asked to share a favorite recipe for our readers, she said, "It is very difficult for me to pick my favorite recipe. It's like asking which of your children is your favorite. But, here's something that I will be making today, an appetizer made from fish, that is quick and easy to make."

Take any fish, salmon is a good pick. Filet it, marinate it with lemon juice and salt for about 20 minutes. There are three very simple ingredients you will need. Chili flakes, crushed pepper and kasuri methi (dry fenugreek leaves) to sprinkle on the salmon as it cooks.

Grill the marinated salmon till the meat cooks.

Serve it with a dip made from hung curd (yogurt) and mustard sauce and a little bit of mustard oil to add to the flavor.

"My kind of food is using Indian flavors and masala and trying to marry them with Western cooking techniques so that it becomes healthier that way. As you can see in this fish recipe, the fish is grilled, not deep-fried, as would be the case in India normally. And it has the flavors that are very Indian. You can also try this recipe as a vegetarian option by replacing the salmon with paneer." Pankaj added as we eagerly waited for the appetizers to cook.

Some of the perks of being in the profession — we actually got to try the appetizer. And, it was perfect!

For a more detailed recipe readers can visit Pankaj Bhadouria's Web site at www.pankajbhadouria.com.

Bon Appétit!