LIVING:
Resort-style Apartments: Crescent Village


A unique community offering resort-style living and expansive amenities that include a walking trail, childrens' park, fitness center and shopping, within close proximity to a wide array of technology companies in the heart of Silicon Valley has just opened its doors. Siliconeer presents a preview.

---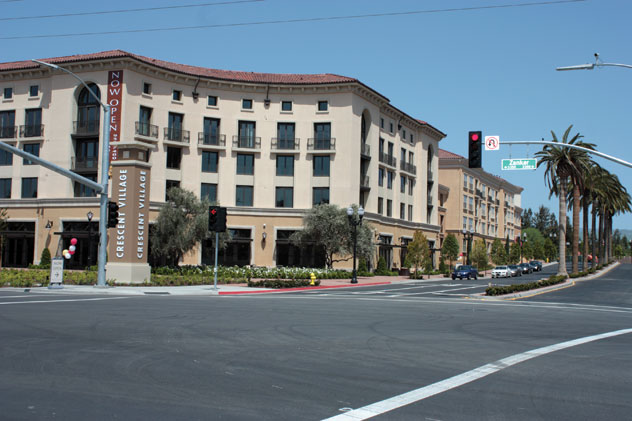 (Above): Entrance to Crescent Village apartment community. [Siliconeer photo]
---
In the center of North San Jose's Innovation Triangle, Crescent Village is walking distance to operations of Lockheed Martin, Cisco Systems, Broadcom, Altera and other major area employers. In all, North San Jose is home to 1,400 global technology companies employing more than 55,000 people.

Strategically located to be close to Silicon Valley's largest employers, Crescent Village is a sprawling apartment community with amenities that include five saltwater pools and spas, fitness centers, spin, yoga and aerobics rooms, a five-acre park for recreation and activities, Clubhouses and an Internet cafe with a hip, boutique hotel vibe. The ultramodern complex also includes an on-site movie theater with seating for 20, a basketball court and two tennis courts.

The living spaces are open and airy and have a host of features such as gas appliances, wood and carpet floors, upgraded fittings and granite or stone counters, air conditioning, security system, secured underground parking, elevators, Wi-Fi connectivity in common areas and even stores and restaurants within the community. There are kids activities and a gym instructor is also available.

The complex draws on timeless Italianate architecture to create a modern community built around a five-acre park. It includes 1,750 brand new apartments in five distinct villages. With studio, one and two bedroom floor plans, Crescent Village is designed for professionals, young couples and young families looking for expansive amenities and a convenient, walkable lifestyle.

"Crescent Village affords a unique quality of life at the center of everything in Silicon Valley," said Kevin Baldridge, executive vice president of Irvine Apartment Communities. "Residents will find everything at Crescent Village, from apartments that feel like homes to grounds that rival a well-appointed resort. And when residents need to leave, they're steps away from major employers, shopping and transportation."

The complex is part of Vision North San Jose, a master planning effort by the City of San Jose to balance housing and employment in the Innovation Triangle by creating communities in walking distance to jobs, shopping and regional transportation. Down the street from Crescent Village is the Valley Transportation Authority's River Oaks light-rail station, which links to downtown San Jose and Mineta San Jose International Airport, as well as to the rest of Silicon Valley, Caltrain regional train service and the Bay Area Rapid Transit system.

---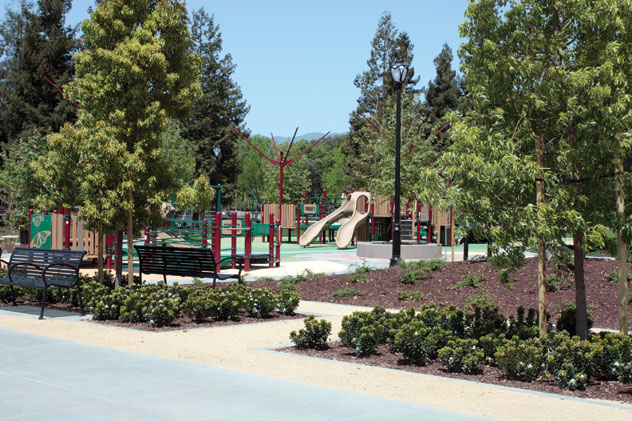 (Above): A kid's play area within the community. [Siliconeer photo]
---
Crescent Village also is near two major recreational trails. The northern leg of the 19-mile Coyote Creek Trail is just to the east of Crescent Village. To the west is northern stretch of the Guadalupe River Trail.

With strong job growth across Silicon Valley, Crescent Village is set to help ease an increasingly tight market for apartments. In 2012, the area's apartment vacancy rate is expected to fall below 3% for the first time since the 1990s dot-com boom, according to Marcus & Millichap Real Estate Investment Services, which projects a vacancy rate of 2.8% in its 2012 National Apartment Report.

"Apartment growth in San Jose and all of Silicon Valley hasn't kept pace with population and job growth," Baldridge said. "With job growth that's among the strongest in the nation, we felt it was a good time to provide apartment homes near major employers in the spirit of San Jose's vision for the area."

Irvine Company Apartment Communities owns and operates approximately 125 apartment communities in Orange, Los Angeles and San Diego counties, as well as Silicon Valley. It is also the exclusive builder of new multi-family rental projects in its master-planned communities on The Irvine Ranch.

Founded in 1864, the Irvine Company is an internationally renowned real estate development company known for its award-winning master-planned communities, its vast portfolio of high-quality investment properties, and its leadership in conservation and natural resource management. The growing real estate portfolio encompasses office, apartment, retail and resort holdings located throughout California's premier markets. The privately held, diversified company traces its roots to the 1860s with the formation of The Irvine Ranch from Mexican and Spanish land grants.

---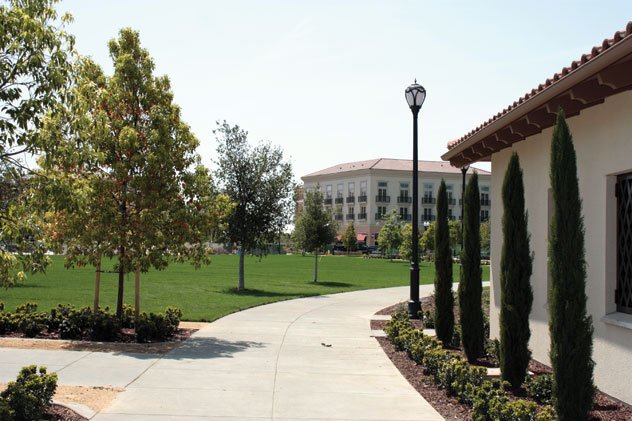 (Above): A park with a lush green lawn and walking trail is part of the community. [Siliconeer photo]
---
Monthly rents at Crescent Village range from $1,750 to $2,950. Preleasing started Mar. 30 with apartments coming available for move-in from early May through mid-2013. As evident, many are already in line for renting a living space in this wonderful community. About 200 people are on the community's interest list.

Interested readers can get more information at rental-living.com/communities/crescent-village.