TRAVEL
Why Do We Travel: Tourist or Traveler


Between tourists and travelers, there is a fine line separating adventure and comfort factor that differentiates one from the other. A traveler can be a tourist but a tourist can rarely be a traveler, writes our travel editor Al Auger.

---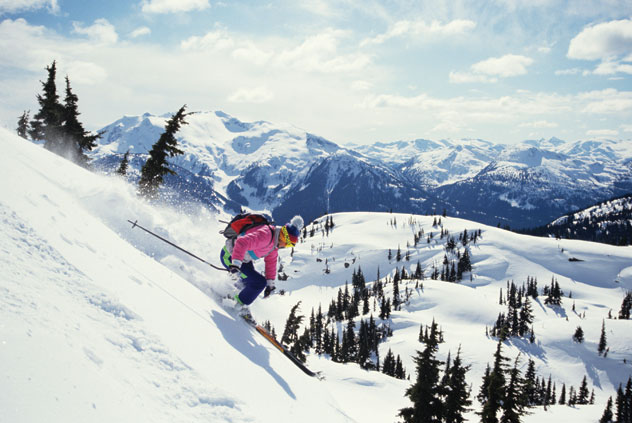 (Above): A skier at Whistler, Canada.

---
Our ski group bus was cruising up the narrow, twisty highway from Vancouver, B.C. heading, we hoped, for a glorious week of skiing at Whistler Ski Resort. It was early in the morning following a quick flight from San Francisco; the weather was gray with dense fog low on the road. Up front was the legendary Jim McConkey, Whistler Ski School director and famed bow and arrow hunter.

All of a sudden, McConkey stood up and shouted, "Stop the bus! Stop the bus! Take a look at that!" McConkey was pointing out the window to the fog shrouded skeletal trees on the roadside.

Sitting in the trees and on the ground were six of the largest bald eagles I had ever seen and up close. No more than 10-12 feet from our bus, the misty fog gave them an illusory appearance. The skiing was glorious, but not even a close match to the unforgettable scene of these proud and solitary raptors.

---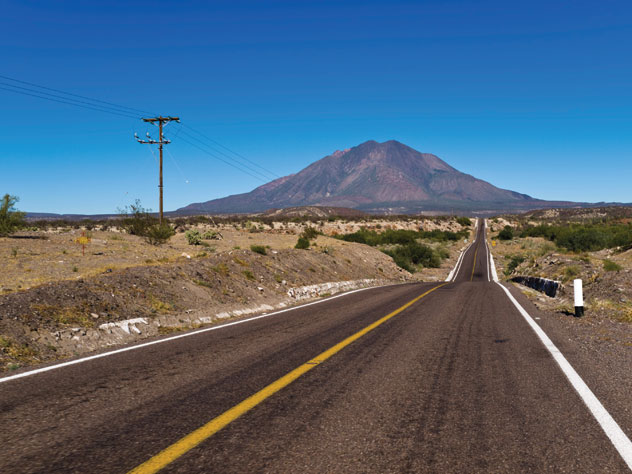 (Above): The road through Baja Sur (South).

---
We were halfway along on our lazy trip down the spine of Baja, California. Time was unimportant as we searched out tiny villages far off the brand new Highway. We slept in warm, sultry nights under giant saguaro cacti dreamily looking at the black velvety sky filled with millions of diamond-bright stars. Our red MG-A had just crossed into Baja Sur (South), an empty, moon-like, gray surface that stretched before us as we searched for a place to assuage our gnawing hunger.

As if our rumbling stomachs were heard, we came upon a lone, small house surrounded by the naked desert and the ubiquitous adobe wall where two large semi-trucks sat outside and a welcoming sign: "Cocina." We found behind the wall metal army cots and two obvious truck drivers sitting at a long, rough-hewn table eating breakfast. Sharing greetings with the truckers we joined them as a small, gray haired woman emerged from the tiny house. Dressed in the traditional simple black dress, her deeply lined face had us guessing her age to be anywhere between 60 and 80 years.

---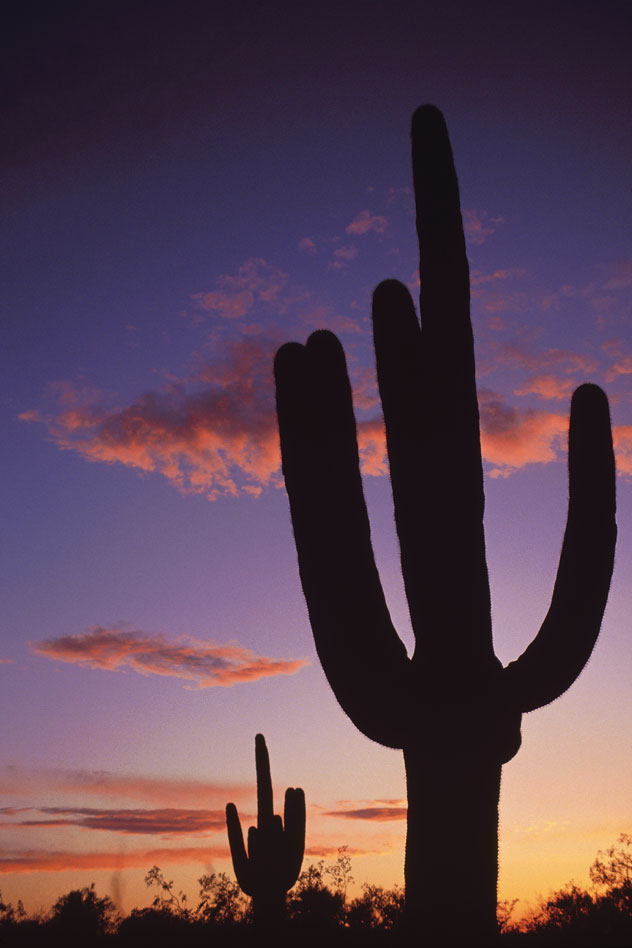 (Above): Saguaro Cactus.

---
No menu, just a question: "Huevas rancheros, si?" We nodded and our hunger savior went to an oil barrel in the corner, where flames leapt high. Eggs and ingredients filled a well-used pan set on the grill. Coffee, tortillas and salsa were set before us. What followed was an alfresco meal in concert with the lonesome ambience and animated conversation with our host and new trucking friends.

According to the woman, she had been widowed two years ago and was totally despondent and alone in the vast desert with just a small garden to sustain her.

As she spent her days in her garden and sitting in the enclosed patio, she became aware of the trucks passing, going somewhere coming from somewhere. It was then the idea of turning her home into a truck stop came to her. "Now," she said, "I have so many friends, drivers coming and going bringing stories of the world. And now you, friends from Norte America."

---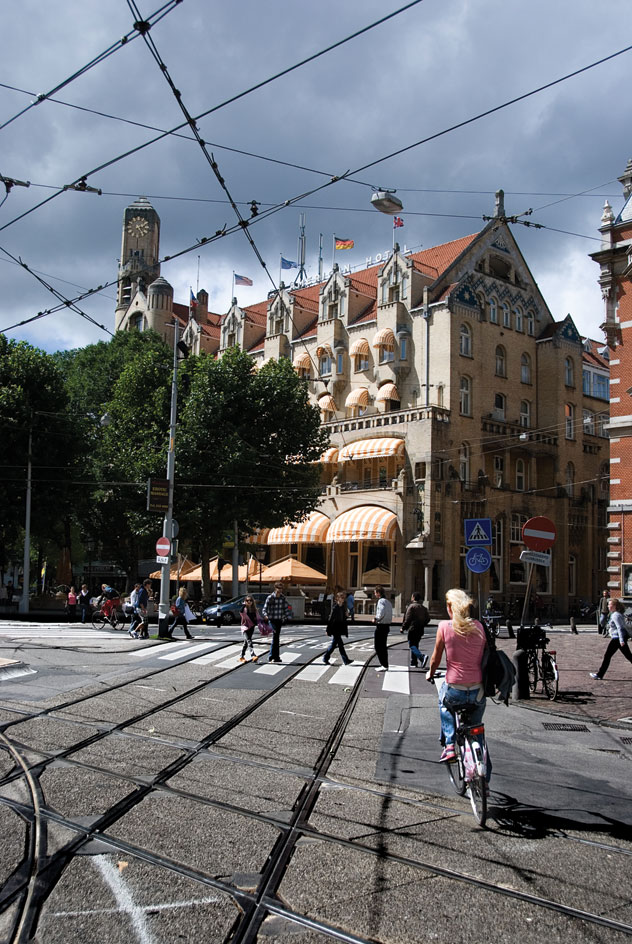 (Above): City life in Amsterdam.

---
During our year of living the nomadic life up and down Europe and North Africa, Amsterdam was our headquarters for logistics and rest. Civilized, liberal and always warm in welcoming strangers. One evening, walking off our dinner we passed a movie house showing "Young Frankenstein."

Inside, the theater was nearly packed and the film had just begun. Because just about everyone in Holland spoke English as a second language, the movie was without subtitles. Gene Wilder, Dom deLuise and the rest of the cast soon had us laughing loudly and constantly. In a short time, though, we realized we were the only ones laughing and everyone else were looking upon us as slightly, of not completely, mad.

On the subject of European movie houses, most cities had a very civilized sense of how to enjoy a night out at the cinema. The feature film is stopped halfway through and the patrons can take a break with food, soft drinks, wine or beer.

As we sat in the lobby over cold Heinekens, we discussed the strange behavior of the audience. The comedic scenes were "inside" jokes and satirical scenes only Americans would understand.

A typical one was as Doctor Frankenstein entered the train station, he asked a boy at the platform, "Pardon me, boy, is this the Chattanooga Choo-choo?" Well, you know the answer to that one; no one else did.

---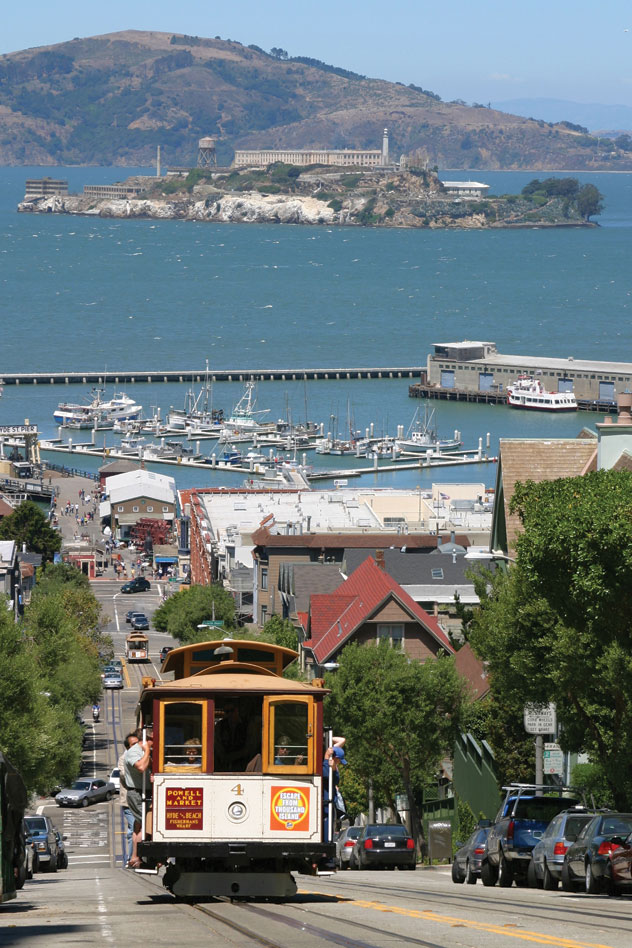 (Above): The iconic San Francisco cable car.

---
One of the most surprising incidents, as we traveled from country to country, was the inescapable fact that just about every European knows San Francisco. Naturally, as we came into contact with locals, the first question would be where we were from. When we would say San Francisco, the response was either, "San Francisco, what a (choose: Wonderful! Fabulous! Great!) city! Or: My (choose: Brother, cousin, sister) has been there, and loved it!" So, we tried an experiment; instead of San Francisco, we identified our home as New York, Chicago, New Orleans, etc. The usual reaction was, "Oh, that's nice," or something similar.

San Francisco, truly the "Paris of the West."

Louise said, "It's time for your in-law inspection." We had been married a couple of years and had yet to spend any time with her parents. Because they lived in suburb Westchester, this also meant a chance to do some work as well check out the Big Apple. Before leaving, a number of projects were laid out, friends to see and for Louise to take my hand and show this New York innocent its bright lights and tawdry world. We were soon winging our way to New York and Louise's former home in Dobb's Ferry and a large gifting of serendipity.

---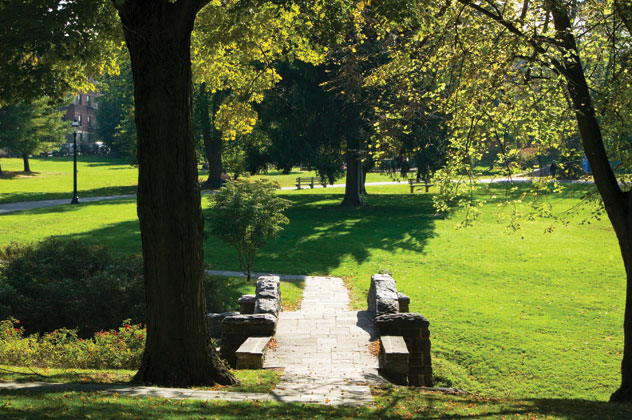 (Above): A stone bridge in Westchester, New York.

---
After (hopefully) acquiring a passing grade in the narrowed eyes of the in-laws, we headed for the city. Our first project was dinner with an old friend and travel writer for a major ski magazine. Dinner was at the Spanish Pavilion in Manhattan where it had moved after the New York World's Fair shut its gates. A husky 3-digit bill for a meal more constructed for the American palette made for a forgettable introduction to New York.

Later, life became more amenable, and louder, as we sat in a long, narrow cocktail lounge, our ears pinned to the wall by a storming Woody Herman big band.

The next day we schlepped one of New York's most interesting corner, SoHo, home of artists, writers, poets, artisans and the whatevers. Mid-day we searched for a sit-down lunch when I smelled the seductive aroma of tapas: small dishes of olives, shellfish, veggies and more, all bathed in olive oil. All of a sudden, we were back in Spain, for real. Rounding the corner we came upon Tio Pepe's featuring a large patio for dining alfresco.

Our meal of tapas and Spanish beer was delicious and so far above and more affordable than the previous night's meal, we made reservations for dinner that night. It was a choice of surprising delights, both for taste and music. Returning to Tio Pepe that evening we entered to the soft romantic sounds of a Spanish guitarist who serenaded the diners throughout the evening. After a wonderfully true Iberian meal of zarzuela and paella as found in Barcelona, we sat at the bar with a Spanish brandy. To our delight we learned the bartender was also the owner and, along with his host and manager wife, were from Barcelona.

Learning we had recently returned from Barcelona, our conversation became animated and wide-ranging about our agreed upon favorite city in Europe. About that time, a trim, young man entered with a "Hola" to our hosts and the guitarist. Turned out there was a second Tio Pepe in Manhattan featuring our new-found friend, a flamenco dancer. The downtown restaurant being closed that night, he came by to relax.

His "relaxation" turned into a flamenco jam session that lasted until 2 a.m.

---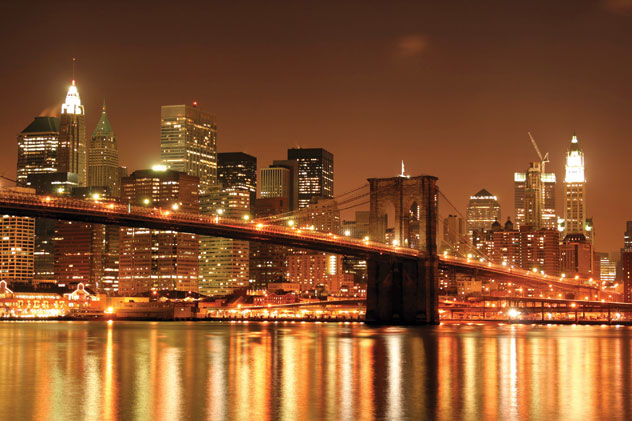 (Above): A view of Manhattan and Brooklyn Bridge in New York. (Below, right): A woman enjoys coffee at a sidewalk cafe in Paris.

---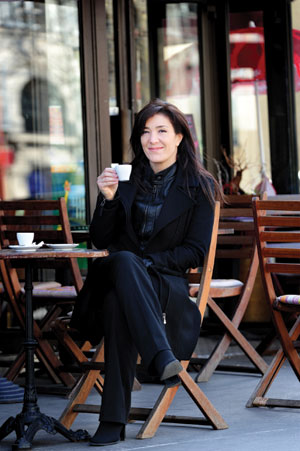 Then there are the little surprises that pop up seemingly out nowhere jarring your senses. Like skiing in Switzerland and finding signs warning skiers to watch out for walkers. Or the look of annoyance when you ask for catsup on your pomme frites (French fries) in Amsterdam. The joy of walking with the hordes of German after-church hikers dressed in their colorful lederhosen and Mad King Ludwig suspenders and wearing big smiles as they wave and greet you.

Every few miles along the path you stop — as they do, for a refreshing, cold lager. The pleasant Frenchman at the zinc bar wanting the latest information on Jerry Lewis. There's hardly a greater way to spend a sunny, Lindsay-blue sky afternoon than people-watching from a Paris sidewalk café. The world of travel is chock-a-block with this never-ending treasure trove of new friends and adventures.

A well-respected travel writer once noted, "There are tourists and there are travelers." The difference is quite wide, he explained. "Tourists, by and large, have maybe one major trip planned in their life. And 'planned' is the operative word. They know where they're going and what they will see. This offers comfort to a trip into unknown territory. Others find their comfort level by returning to known spaces and people.

"Travelers on the other hand are explorers, driven by curiosity and wondering what they will find around the next corner or behind that beckoning door. How wonderful it is to wake one morning and say to your companion — or yourself, "France has become a bit worn, how about heading for Munich?"