OPINION:
Beneath Our Dancing Feet: A Dilemma of Conscience in Practicing Bharatnatyam


Practicing Bharatanatyam in India today means negotiating a dance form with a sensitive past and a problematic present. It means living with appropriations and dealing with notions — inherited, construed, and sometimes fallacious. It also means addressing history and navigating identities of class and sexuality, opines Justin McCarthy.

---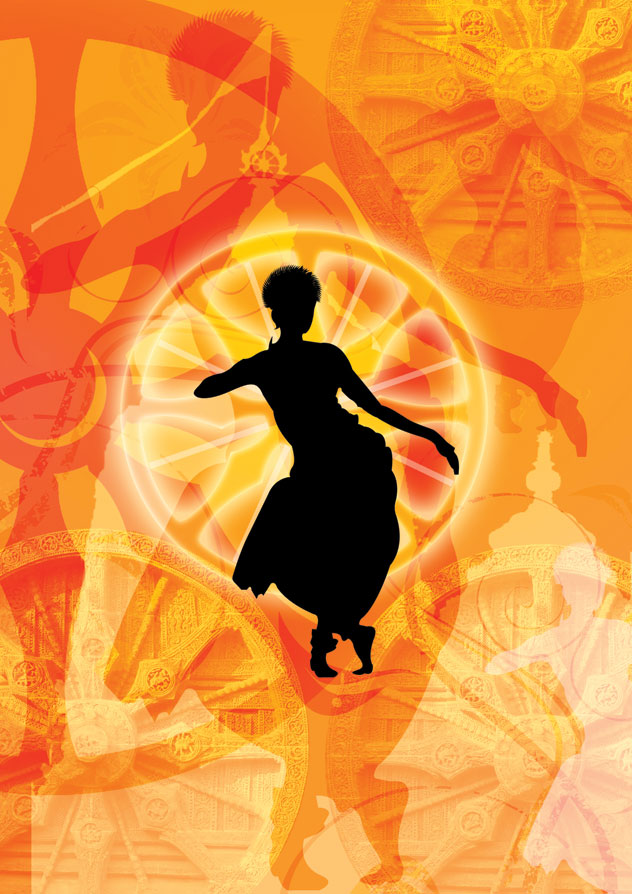 ---
Devadasis were hereditary female performers who for centuries practiced an earlier form of what we now call Bharatanatyam. They lived in South India in regions of modern-day Tamil Nadu, Andhra Pradesh, and Karnataka, and danced in performance situations ranging from temple worship and religious festivals to royal courts and salons of wealthy patrons. That the Devadasi's dance was appropriated, refashioned and rechristened Bharatanatyam in the early twentieth century is, by now, a well-established fact. Yet the usual explanation that the dancers had fallen into disrepute (i.e., prostitution), and that the dance needed to be rescued and restored to its former exalted spirituality is a glib glossing over of a much more complex history of social and artistic practices.

The marginalization of the Devadasi happened at different concurrent levels. On the legal front, there was a sustained battle to outlaw dance in temples as well as the dedication of dancers to temples. This culminated in the Anti-Devadasi Act of 1947. About the same time, in the world of the arts, an elite social group with "modern" educational skills spearheaded a dance "revival." During this process, the male members of the Devadasi community, traditionally dance teachers and musicians, were sought after for their knowledge, while the morally-stigmatized female dancers became less and less visible. The old, almost taboo dance was taught mostly by its male custodians to women from "respectable society." These women, in turn, transformed the visual aspect and the textual content of the dance to suit new perceived cultural needs. While the Devadasi all but disappeared, her male counterpart survived as "guru" to generations of dancers well into the second half of the twentieth century.

It is imperative for today's practitioners of Bharatanatyam to recognize the disenfranchisement of the dancing girl. In fact, the neglect meted out to this phase in dance history prevents Bharatanatyam from having a healthy, self-renewing dialog with itself. It is not a question of identifying heroes and villains, victims and perpetrators, but rather one of recognizing certain socio-historical events, paving the way for at least a partial cultural reconciliation.

But what about dance as a kinetic entity? How far is history inscribed into movement and gesture vocabularies? Before and during the gradual impoverishment of royal powers under colonial rule and the subsequent central re-alignment of arts patronage around the then-emerging city of Madras, the dance of the Devadasis would certainly have been less standardized than the Bharatanatyam of today. Various kingdoms would have been home to styles all recognizably part of a larger dance language but each possessing its own unique dialectic features. Though ostensibly more uniform, there did exist within Bharatanatyam itself a number of distinct stylistic schools well into the turn of the twentieth century. Among them, the Kalakshetra style was the most strikingly different, the others probably retaining more characteristics of the older dance. Pioneered by Rukmini Devi Arundale, this style takes its name from the school she founded in Chennai (Madras) in 1936, an institution still very much alive and in the forefront of the Bharatanatyam world today.

The Kalakshetra style is testimony to the wide range of influences to which Arundale was open. In addition to the many traditions of South Indian arts, other cultural and philosophical streams that arguably contributed to her dance vision were: the struggles for a national as well as a female identity in pre-Independence India, theosophy, vegetarianism, a host of Back-to-Nature movements from Thoreau onwards, and European ballet. Ballet in particular, attested to by dance lessons with the famous Russian ballerina Anna Pavlova, had, perhaps, a stronger effect on her work than we are normally willing to admit. From the solo dance repertoire to an exhaustive series of dance-dramas, balletic principles can be construed at many points in her creative output.

Contrary to most sculpted, painted or photographed evidence (including the other contemporaneous styles), where Indian dancers are depicted in less taut poses, weight slightly displaced, the Kalakshetra dancer is relentlessly Cartesian, geometric and in strict equipoise. In the dance-dramas, the court scenes, nature scenes, and corps de ballet are difficult to disassociate from their counterparts in many well-known nineteenth century European ballets. Even the narrative aspect is similar, with special entrances for different roles, and "character dances" separating the urban from the pastoral, the celestial from the mortal.

---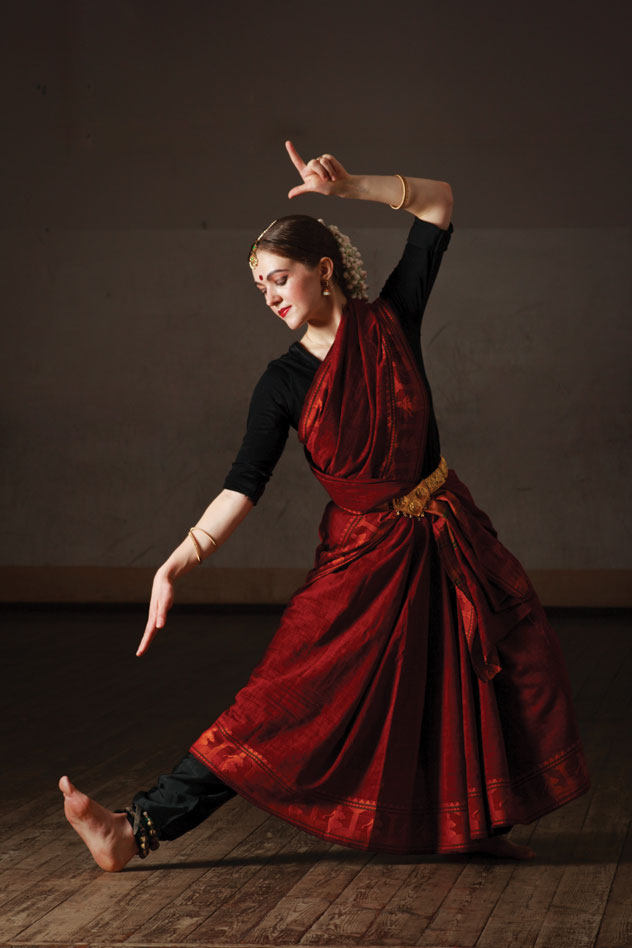 ---
Bharatanatyam, as well as its predecessor, has two distinct aspects, one of technique and one of expression. The technical aspect could be described as a series of semi-static stances strung together in rhythmically-controlled sequences accompanied by percussion and non-textual musical phrases. The expressive aspect is a stylized sign language that could only have evolved in a culture where people naturally employ a variety of gestures in everyday conversation. This mimetic art is performed to song lyrics that are, in content and nature, religious, erotic or both.

Expressive gesture in Kalakshetra is directly linked to Arundale's search for songs, lyrics and texts (both South as well as pan-Indian) which eschewed what she perceived as decadent and espoused what she felt was spiritually uplifting. This was a selective process mirrored in the gestures themselves, gestures often modified to prevent any erotic connotation they may have formerly possessed. In Arundale's Kalakshetra, the erotic is strictly a metaphor for divine, non-physical love.

The Kalakshetra style, often contested well up until the 1980s, was criticized by its detractors as being stiff in execution and bereft of the amorous element previously so strongly associated with the dance. In the past twenty years, with the passing of the old guard, boundaries have blurred. Many dancers from other stylistic lineages now work with Kalakshetra alumni to improve their grasp over movement. That leaves us today with an undeniably sound and more uniform technique. Yet, regrettably, as a result, many beautiful features of other styles which, with their less formal approach, were probably closer approximations of the Devadasi's dance, are seriously on the decline.

In expressional dance, Kalakshetra has not held as much sway. In other styles, even though the morals of the dancing girl were denounced and the depravity of her art decried, the sensual aspect of the dance was partially preserved in stage performances, albeit somewhat out of context. A stylistic school represented by Kalanidhi Narayanan (also in Chennai) started influencing Bharatanatyam dancers in the 1980s and has been gaining ground ever since. Narayanan and her disciples are undeniably the most visible face of Bharatanatyam expression today. And, paradoxically enough, this style, very emphatically emphasizing the titillating aspect of sensual love, is now being taught in Kalakshetra.

Did a Devadasi have to think about why she danced? Presumably she was fairly aware of her role and the expectations made of her in each performance situation, from ritual agent in the temple to exponent of sophisticated dance in the court to even the possibility of a physical liaison in the sometimes sexually-charged atmosphere of the salon. Why does a Bharatanatyam dancer go on stage today? Which context is being acknowledged, which one hidden, which one transformed, and which one denied?

Would the Devadasi have used a technique similar to the dazzling virtuosity we are accustomed to or would she have danced in a more languorous manner as suggested by evidence from the visual arts? Would her dance have been, on the one hand, representative of pre-Victorian sexuality, so different from our dance, tinged as it is with confused and conflicting moralities? Would it have been, on the other hand, in tacit acceptance of the feudal power imbalance inherent in the dancer's ambiguous status as artist/courtesan?

Where does one begin with audiences who are rarely interested in confronting this history and are content to equate dance with nebulous concepts of spiritualism, "goodness," and tradition? Bharatanatyam occupies an enviable position in the hierarchy of saleable cultural commodities. The very image of a Bharatanatyam dancer is synonymous with high culture, our ticket to respectability on the world stage. It also evokes "values," that misty realm where "achievement," "eligibility," and "propriety – all presumably magic keys to social acceptance – stand alluringly. To argue that something is not right with Bharatanatyam today is to step dangerously out of the fold. And once out, there quite simply are no takers. Spectators, performers, and dance students have too much at stake. They have invested in a system which works well for all concerned. Those who see through the sham, even intuitively, are, quite frankly, not interested. We have an important story of art and community lying beneath our very dancing feet. There is a way to dance that is both meaningful and beautiful precisely because the dancer has confronted the dance's own past. We ought to vote for a dance that lays all the cards on the table – gender-class-caste, feudal-colonial-democratic, sexual-romantic-erotic, mystic-spiritual-religious, Eastern-Western-global – and displays an unabashed full house.

This article first appeared in 'India in Transition (IiT),' a publication of the Center for the Advanced Study of India (CASI) of the University of Pennsylvania. All viewpoints, positions, and conclusions expressed in IiT are solely those of the author(s) and not specifically those of CASI. © 2012 Center for the Advanced Study of India and the Trustees of the University of Pennsylvania. All rights reserved. [http://casi.ssc.upenn.edu]