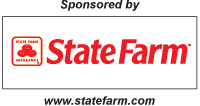 AUTO REVIEW:
Roomy, Great Mileage: 2013 Chevrolet Malibu Eco


If you're in the hunt for a mid-sized sedan that doesn't scrimp on passenger room or trunk space and also gets great mileage, Chevrolet has a car you should check out, writes Sally Miller Wyatt.

---
(Above): Exterior view of the 2013 Chevy Malibu Eco.

---
The 2013 Chevrolet Malibu is all new for this model year, and is already in its eight generation, if you can believe it. Some of the new features available on the 2013 models include an all-new exterior and interior design with plenty of attention paid to sound-reducing and sound-absorbing features, the addition of Chevrolet's eAssist technology that greatly enhances fuel economy, and an all-new ride and handling package with enhanced safety features.

To all this is added the Eco model, the most fuel-efficient Malibu ever, according to Chevrolet's press materials. It gets an estimated 37 mpg in highway driving.

Chevrolet's Malibu Eco may be a good choice for drivers who want a stylishly designed car with high fuel economy, without the price tag attached to a hybrid.

At first glance, the 2013 Chevrolet Malibu's exterior hints at another sibling in the product line-up: the Camaro. It has a wide stance, a powerful-looking hood and an integrated rear spoiler. This year's models have a wheelbase that is 4.5 inches shorter, but it is 2 inches wider.

---
(Above): Interior view of the 2013 Chevy Malibu Eco.

---
Chevrolet's eAssist technology starts with a Ecotec 2.4-liter direct-injection, four-cylinder engine that is paired with a six-speed next-generation automatic transmission. The engine is lighter weight and is rated at about 182 horsepower. The eAssist system uses power that is stored in an air-cooled, lithium battery to provide a boost of electricity during various driving scenarios, such as during heavy acceleration. This technology helps optimize engine and transmission operation. The system also uses regenerative braking, which basically captures up to 15kW of power that would normally be lost during braking, and uses that to help recharge the batter. When stopped, the car uses electricity instead of gasoline, and it has such a smooth start-up when you do begin to accelerate, you're barely going to notice it.

As for safety features for the family car, the 2013 Chevrolet Malibu has a host of them, such as StabiliTrak stability control, four disc brakes with anti-lock brakes, forward collision alert, a lane departure warning system, eight standard air bags, including rear thorax/pelvis air bags, and a pedal release system. OnStar safety system is standard, and it has an automatic crash response feature which notifies OnStar personnel if the system detects a crash has occurred.

---
(Above): Exterior view of the 2013 Chevy Malibu Eco.

---
Out on the road, you can certainly tell that engineers have focused much attention on sound-dampening efforts. The car is whisper-quiet at freeway speed, which means you'll be able to easily hear your passenger's conversations, or the music coming from the audio system. This audio system includes an AM/FM stereo with CD and MP3 playback and an auxiliary input jack, as well as SiriusXM Satellite Radio and a six-speaker sound system.

Our test car's exterior paint color of Black Granite Metallic was eye-catching, and it was paired with black leather interior.

In the driver's seat, you'll find a nicely laid out dashboard enhanced with chrome accents here and there. The seats are firm and comfortable. Visibility is very good to all sides. There is a good amount of legroom for your front seat passenger, and the rear bench seat is flat, which may be of comfort to your rear middle passenger.

The trunk lid is wide and opens to reveal a good-sized trunk, which does lose some of its space to the battery, however.

---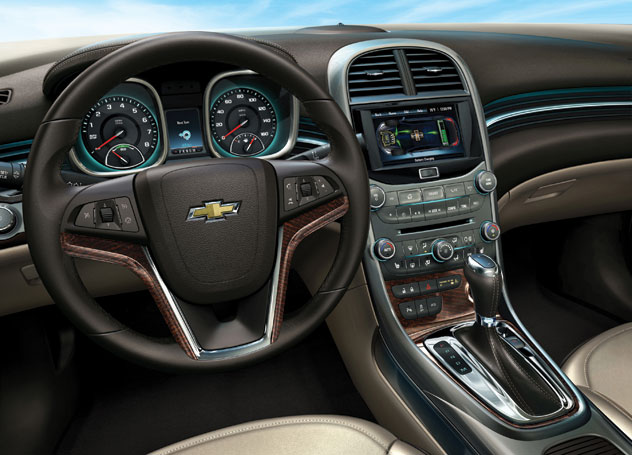 (Above): Interior view of the 2013 Chevy Malibu Eco.

---
Our test car was equipped with a Power Convenience package that included a remote vehicle starter system, an eight-way power driver seat that also includes lumbar adjustment, and a rear vision camera system to assist when backing out of parking spaces.

The 2013 Chevrolet Malibu has a base MSRP of $25,995, and our test model, with some convenience packages added, was priced at $29,100.

Overall, the 2013 Chevrolet Malibu is a quiet, comfortable, spirited car to drive. It gets good gas mileage and its Eco package may be a nice alternative to hybrid technology for some.