SPORTS:
Aiming High: Indian Aspirations for Next Olympics


Six medals — 4 bronze and 2 silvers — at the London Olympics maybe a pittance, given India's 1.2 billion population. But, for a country that scores abysmal levels at almost everything else — corruption, road accidents, infectious diseases like TB, government red tape, it marks a new beginning and a platform for better performances in the future, writes Siddharth Srivastava.

---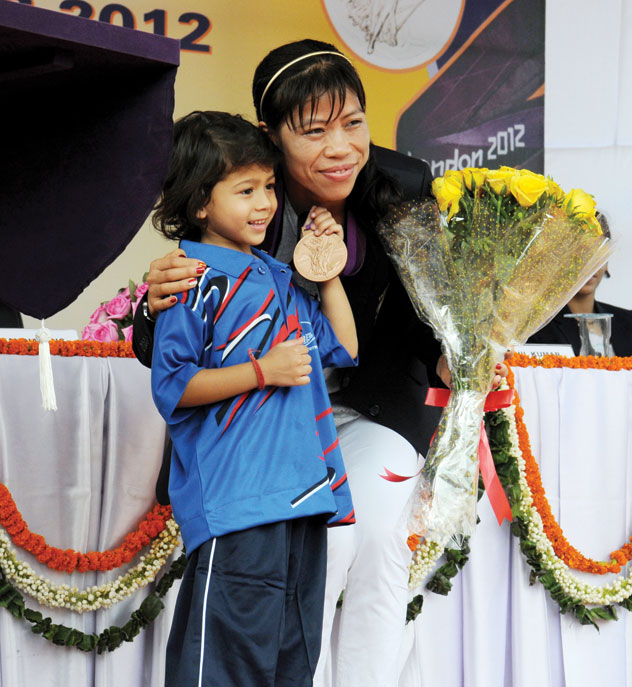 (Above): A young sports person from the "Come & Play Scheme" of Sports Authority of India presenting the check for 'Special Cash Award' to M.C. Mary Kom, the medal winner in 2012 London Olympics, at a felicitation function organized by the Ministry of Youth Affairs & Sports at Major Dhyan Chand National Stadium in New Delhi, Aug. 16. [Photo: PRESS INFORMATION BUREAU]
---
Until London, the best medal haul for India was at the 2008 Beijing Olympics with three medals, including the first ever individual gold by shooter Abhinav Bindra. There is talk now of 15 medals in 2016 and 50 in 2020 though that could be stretching matters a bit. Still, it is seen within realms of possibility.

Yet, London could mark a sporting turnaround for India. This is not to say that the country will suddenly start winning medals like efficient America or clinical China. However, one can be reasonably certain that India is going to be counted among nations that can compete at the highest levels in some sporting disciplines, like the South Koreans in archery or the Americans in swimming and athletics or the central Asian countries in wrestling and weight lifting.

Indian contingents in shooting, archery, boxing, wrestling, badminton and even athletics have been performing well over the last few years at international levels. It showed in London. The archery team might have had a bad run and suffered last minute jitters, but there is considerable talent still.

The rest did well, with many qualifying for final events or were just one bout away from a medal, which itself is no mean achievement given the level of competition. There was a bit of bad luck and perhaps some dodgy refereeing in boxing as well. India's medal tally could easily have read 9 or 10.

India's sporting environment has changed. Achievement has translated to social and economic progress for the winners. Successful athletes are awarded handsomely. They are offered stable jobs by both private and state-owned entities even as they are picked as brand ambassadors for multiple products.

Large sections of youth today link sports with sustainable livelihoods and fruitful profession. London Olympics medal winners Mary Kom, Vijay Kumar, Sushil Kumar, Saina Nehwal, Gagan Narang and Yogeshwar Dutt have been deservedly lavished money, land and more by the federal government, states, sports associations, corporate, wealthy individuals and more.

---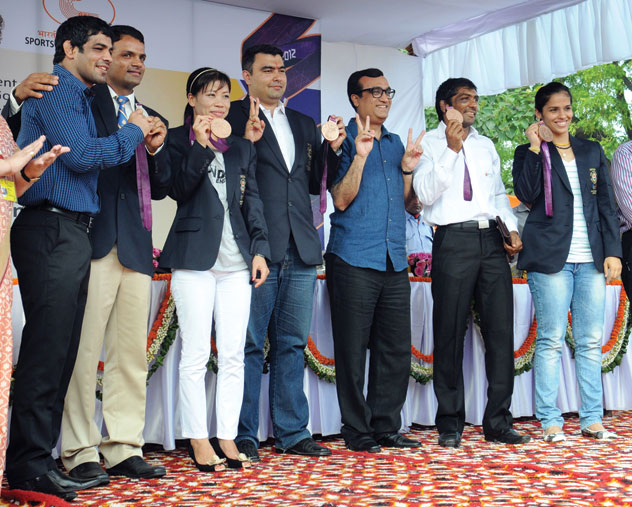 (Above): The Minister of State (Independent Charge) for Youth Affairs and Sports Ajay Maken (3rd. from r) with Indian medal winners from 2012 London Olympics at a felicitation function organized by the Ministry of Youth Affairs & Sports at Major Dhyan Chand National Stadium in New Delhi, Aug. 16. [Photo: PRESS INFORMATION BUREAU]
---
They will certainly serve as benchmarks for future generations. It is unlikely that one will hear stories of penury and sorrowful existence of today's winners the way it became of many of India's hockey and athletics legends of the past.

However, the fact also remains that India's sporting champions still need to grapple against odds that need a quite a bit of sorting.

Individual brilliance, personal passion, some dedicated coaches and talent create occasional heroes. If India is to be consistently counted among the top sporting nations an institutional mechanism that continually produces world champions will need to be created. This sadly is still missing.

It is good to recognize a champion when there is one, but the process of creating generations of world-beaters involves investment, vision, strategy and honesty of purpose. Invariably, coaches in schools and the few good private clubs lament that Indian kids are as talented as anybody in the world. But, only high sporting spirits are not enough in the tough grind of competitive sports. It is the transition from boys to men, from the amateur stuff to the professionalism of international sport that we falter, the coaches say.

---

(Above): Indian President Pranab Mukherjee (seated, c) with the Indian Olympic contingent that participated in 2012 London Olympics at a felicitation function in New Delhi, Aug. 18. The Minister of State (Independent Charge) for Youth Affairs and Sports Ajay Maken is also seen seated next to the President. [Photo: PRESS INFORMATION BUREAU]
---
For high success rates, talent needs to be spotted early, honed, exposed and offered world class coaching, training, facilities, opportunity, physical conditioning, right diet, scholarships, sponsors and more.

In India this, unfortunately, still happens at isolated levels by dedicated individuals such as P. Gopichand in badminton or P.T. Usha in athletics.

Infrastructure creation, in which the government has to play a very important role due to the finances needed, is poor. Like the roads it builds, India's sports facilities continue to be potholed and corrupted. This was well underlined during the countdown to the Commonwealth Games that turned into an occasion of organized loot by the coordinators led by Suresh Kalmadi and his cronies cutting across political parties and the bureaucracy.

The whole process reeked of corruption as contracts at every level from air conditioners to food catering were inked at prices that were massively inflated.

Huge funds were spent on junkets by officials and politicians traveling abroad to supposedly acquaint themselves of sports facilities abroad.

Indian sports bodies, meanwhile, have turned into hubs of power politics where the office bearers play games that promote their own cause rather than sportsmen. Though there has been progress, India has a long and arduous way up on the medals tally table at the Olympic Games.

Given such unsavory contexts, the six medals at London deserve every cheer. We also sincerely hope the claims for a better medal tally becomes a reality.