EDITORIAL: Cyber Attack Causes North East Exodus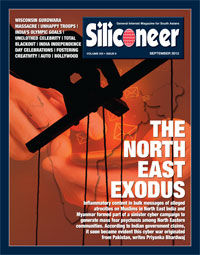 Last month, the boon that had symbolized India's status as a developing powerhouse overnight metamorphosed into a cause for exodus of more than five hundred thousand North Eastern natives from various parts of the country back to their home states. Inflammatory content in bulk messages of alleged atrocities on Muslims in North East India formed part of a sinister cyber campaign to generate mass fear psychosis among North Eastern communities. According to Indian government claims, it soon became evident this cyber war originated from Pakistan, writes Priyanka Bhardwaj.

It has now been over a decade since 9/11. So why are the Sikhs still suffering for something they had no part in? That was one question amongst others that was on the minds of the people who attended this vigil in Sacramento and many others like it all over North America. Ras H. Siddiqui attended the vigil in Sacramento and presents a report.

Six medals — 4 bronze and 2 silvers — at the London Olympics maybe a pittance, given India's 1.2 billion population. But, for a country that scores abysmal levels at almost everything else — corruption, road accidents, infectious diseases like TB, government red tape, it marks a new beginning and a platform for better performances in the future, writes Siddharth Srivastava.

Rising incidents of violent face-offs between officers and soldiers in the Indian Army are becoming a cause for worry for the establishment. The reasons are related to harsh working conditions, high risk to life due to nature of work, low pay, no leave and indifferent managing of lower ranks of Indian troops, writes Siddharth Srivastava.

The last two days of July brought the entire northern and eastern India to a halt when their power grids collapsed. India's plunge into darkness, impacting more than 1.2 billion people, embarrassed the central government and brought spotlight on Prime Minister Manmohan Singh's lofty promises of big-ticket reforms and speedy remedy of power woes, writes Priyanka Bhardwaj.

The Overture Literary Magazine is the result of a program that consists of a myriad of interactive activities and workshops regarding writing and art to foster personal growth in each student and help them reach their full potential, writes Aaroshi Sahgal.

She is sexy. Her online portrayals have been bold. Like others, she hopes to be noticed by a big Bollywood producer, the path to instant money and more fame. Sherlyn Chopra is making some progress. She has been picked up, not by a Hindi movie biggie though. She is going to be the first Indian on the cover of Playboy, writes Siddharth Srivastava.