BOLLYWOOD | Guftugu | SEPTEMBER 2012


Salman Khan: Understands How 'Chulbul Pandey' Should Behave
Ranbir Kapoor: Will He Get It Right with Barfi!?
Salman, Shahrukh, Aamir: Supremacy Battle
Deepika Padukone: Turns the Heat On
Sonakshi Sinha: Romancing Young Ones
---
SALMAN KHAN: Understands How 'Chulbul Pandey' Should Behave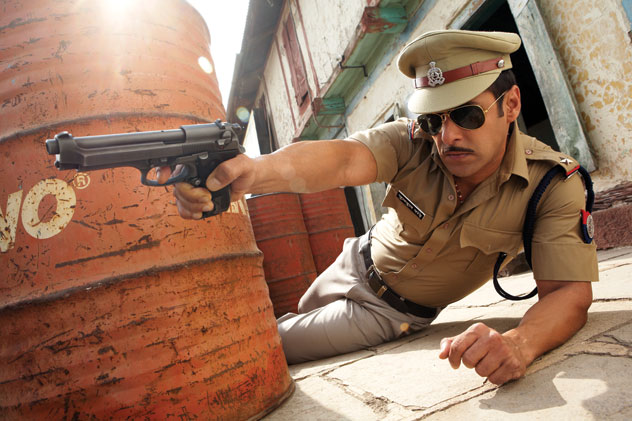 Salman Khan in "Dabangg."

Initial anxiety has made way for euphoria. Dabangg 2 is nearly 50% complete and first time director is pretty much in his elements. With his confidence being further enhanced over a period of time and finding himself in the thick of things while directing a super-star brother Salman Khan, Arbaaz says that he just went with the flow instead of over-calculating his moves.

"See, there would be certain amount of anxiety that comes with every job. It was there when I turned actor 15 years back with Daraar. Then it was also there when I opened my production house for Dabangg. So it was but natural to be curious about how things would look like when I start calling the shots. However, more than anything else, it was a feeling of positivism that surrounded me," said Arbaaz in a relaxed tone.

What is adding to the positive energy is Salman Khan's presence in the film who is reprising the iconic character of 'Chulbul Pandey' all over again. With the actor delivering three back to back 100 crore hits (with fourth pretty much on the anvil with Ek Tha Tiger), one expects him to do his own thing with Dabangg 2 as well. One wonders whether the quintessential 'Salman trait' has been taken care of in the writing stage itself.

"Both of us are pretty comfortable with the way 'Chulbul Pandey' should act and behave in the sequel," says Arbaaz in an assured tone, "There is a certain comfort level that both of us have gained about the way the character should evolve in the sequel. Based on the shoot we have done and the way Salman has taken the film forward, both of us are quite pleased. We understand the 'sur' that 'Chulbul' is expected to follow and based on that there are just the right scenes and character placement."

He goes on to add, "During Dabangg, Salman was mainly getting a hang of the character. Now he knows what the audience likes. Accordingly, the film has been designed, written and executed."

Rest assured, the audience won't really mind that once the escapades are out in open this December once Dabangg 2 hits the screens.

|TOP|

---
Ranbir Kapoor: Will He Get It Right with Barfi!?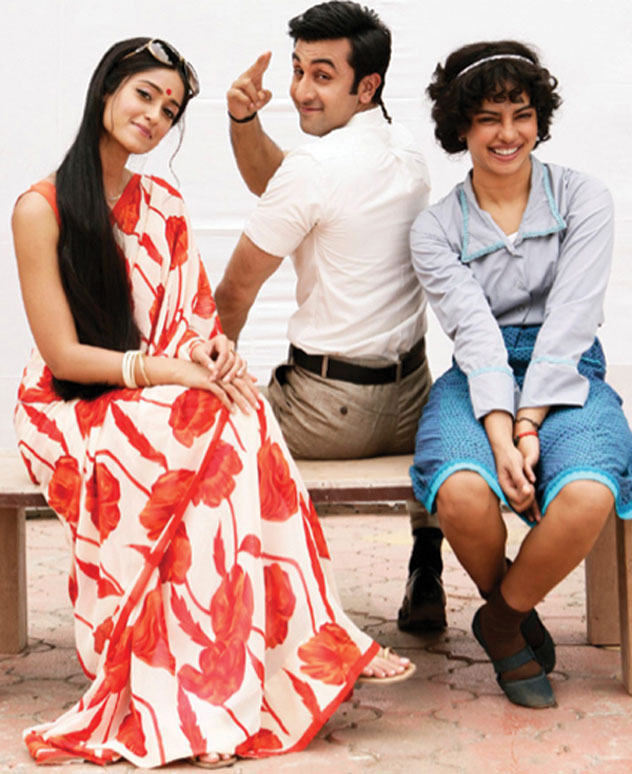 Ranbir Kapoor (c) in "Barfi!"

You can't catch him in a regular film where he simply serenades his girl, fights off the baddies and then walks away in the sunset. You won't find him in remakes either, something which is considered to be a safe formula at the box office and that too for all the right reasons. However pick up some of the most experimental films being made in the commercial mode as Ranbir Kapoor is the one who is waiting to be picked by the biggest in the business.

The trouble lies in the fact that while each of these outings have fetched him critical acclaim, commercially there is a lot waiting to be gained. Whether it is his debut film Saawariya or the one that did in the interim period, Rocket Singh - Salesman of the Year, Ranbir did miss out on setting the cash registers ringing.

Thankfully, he has seen big moolah with far more quintessentially commercial films like Raajneeti and Ajab Prem Ki Ghazab Kahaani. On the other hand, Rockstar, which again didn't quite walk the routine path, opened quite well but couldn't settle down into becoming a clean hit.

This is the reason why one sees Barfi! as a crucial film arriving at a juncture of Ranbir's career where he won't be satisfied with just critical acclaim. He needs good commercial success added to his CV as well and this is where the experimental nature of the film comes into picture. First, he is playing a deaf and mute character which means while there are opportunities waiting to be explored from performance perspective, there are also certain perceived limitations as far as commercial returns are concerned.

In all fairness though the promo has done the trick and at least amongst the class audience Barfi! should find its bearings. Moreover Anurag Basu has demonstrated certain sensitivity in his earlier films as well and now with Barfi!, he too would have a point to prove that Kites was merely an aberration and when given a free hand, he can definitely deliver the goods.

During times when diverse films like Ek Tha Tiger, Bol Bachchan, Kyaa Super Kool Hain Hum and Jism 2 are taking massive box office openings and exciting audience by the dozens, nothing less than spectacular would be acceptable for Ranbir and his team, once Barfi! hits the screens. The million dollar question here - Whether his experimental streak would fetch him good returns this time around?

|TOP|

---
Salman, Shahrukh, Aamir: Supremacy Battle


(L-r): Shah Rukh Khan, Aamir Khan and Salman Khan.

It was over two years ago when the three Khans came on the scene and became the deadly trio. Circa 2012 and nothing seems to have changed. The battle for supremacy continues till date and it is perhaps the first time in many years that all three Khans would have a release in a span of less than 50 days.

November 13 - Shahrukh Khan in Yash Chopra's yet untitled film: First to arrive is Shahrukh Khan's mega film with the master of romantic entertainers - Yash Chopra. To state that expectations are humungous would be quoting the obvious. When just a 30-second teaser has done the trick, one can well expect the build up in hype that the film is expected to enjoy in weeks to come. With Katrina Kaif, Anushka Sharma and A.R. Rahman contributing to the film's (expected) huge results. This one should be huge!

November 30 - Aamir Khan in Talaash: Waiting. That's the only annoying part of this Aamir Khan-starrer. Frankly, it is exasperating to wait for so long when you know that an Aamir Khan film can release at a two weeks notice and still fetch an audience in a jiffy. However, the perfectionist that Aamir is, he seems to have well convinced Farhan Akhtar, Riteish Sidhwani and Reema Kagti to hold on to a product till the time is right. Well, we are waiting!

December 21 - Salman Khan in Dabangg 2: Release it next weekend and it would be hardly surprising if there would still be 100 crore collections in a matter of 10 days, if not a single week. And here we are talking about releasing a Salman Khan-starrer without any publicity whatsoever! No, it isn't over excitement resulting in such claims; it is reality. For an actor who is coming with four 100 crore-plus grossers behind him, Salman's sheer call to his fan-base is enough to draw audience in hordes. Moreover, what works most is the franchise and the character (Chulbul Pandey) that has been loved the most. Bring it on!

|TOP|

---
Deepika Padukone: Turns The Heat On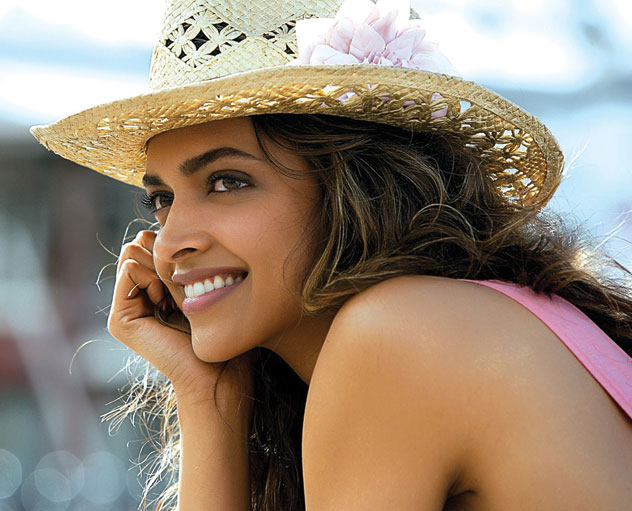 Deepika Padukone in "Cocktail."

Post Cocktail, actress Deepika Padukone is seemingly taking her glam diva image rather seriously. For her next outing Yeh Jawaani Hai Deewani, she has further raised the bar when it comes to being seen in an ultra glamorous avtar.

"What was seen in Cocktail was just a glimpse of what Deepika is capable of," says a close associate, "Now that she has cracked it big time in a Western portrayal, she is going all the way for Yeh Jawaani Hai Deewani. You have to see her in the scenes that are currently being shot with Ranbir. Her overall personality has gone for a change and even Ranbir is seeing a new Deepika alongside him."

Credit it to the new found friendship between Deepika and Ranbir but if insiders are to believed, the chemistry between the duo can't be ignored.

"When they did Bachna Ae Haseeno together, she was just starting off. However post Cocktail there is a renewed confidence that she is carrying. Ranbir has noticed that as well. Deepika knows that it is time to up the ante now and her Western characterization is further helping the cause," a source adds.

Director Ayan Mukherjee too has moved on from a simple setting of Wake Up Sid to make something hip in Yeh Jawaani Hai Deewani. With Ranbir too looking at a far more contemporary setting after a rather sombre Barfi! and Deepika allowing her ultra glam personality to do the talking, the film is turning out to be one of the most good looking affairs in the offering.

"If Deepika was fantastic in Cocktail then wait for how she has carried herself in Yeh Jawaani Hai Deewani. Her costumes and styling are set to make a statement," adds an insider.

Well, we are eagerly waiting.

|TOP|

---
Sonakshi Sinha: Romancing Young Ones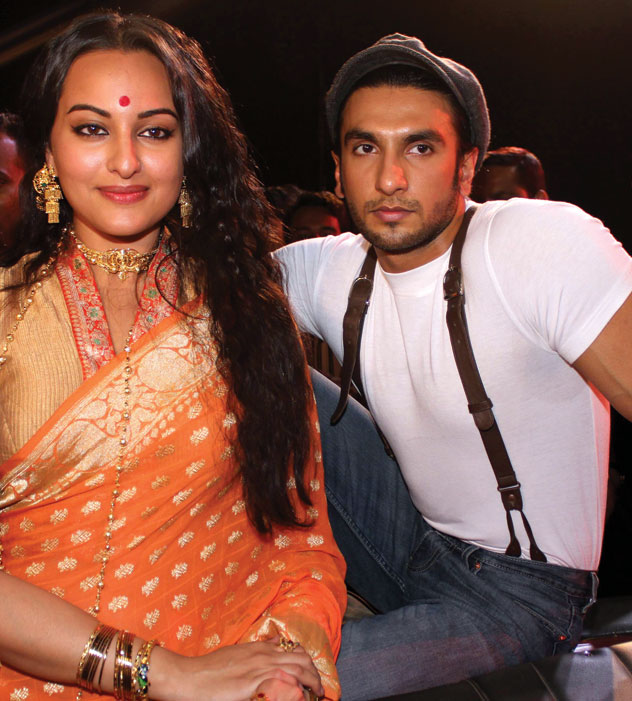 Sonakshi Sinha and Ranveer Singh at the launch of "Lootera."

After shooting with Ranveer Singh for Lootera, Sonakshi Sinha is finally in the company of someone who is relatively raw (and younger) when compared to all other veterans (Salman Khan, Akshay Kumar, Ajay Devgn) that she has worked with. One can well imagine this to be a new experience.

"It isn't about working with someone young or veteran; it is more about finding tuning with different actors," she says, "At the end of the day you are an actor and it is your job to adapt to working styles of different people. Salman, Ajay and Akshay have their own way of acting, Ranveer has his own way."

With Imran Khan to follow in the sequel to Once Upon A Time In Mumbaai, Sonakshi has found her match in someone belonging to her age group. Still, it doesn't look like she would be leaving the side of these 40+ macho men who are expected to be her co-stars in many more assignments, announcements around which are on the anvil.

"Absolutely, and why should I shy away from that? See, when I started off then people said I was working with so many 40+ stars. Then also I had said that with time I will move on to younger heroes as well. Today I am working with Ranveer and Imran who are people of my age. I feel it's a good balance. I would be stupid not to do films with Akshay, Salman, Ajay or anyone else from their age group. I am sure anyone in my place would be more than glad to be paired opposite them," Sonakshi makes a definite statement.

Smart girl, if you will!

|TOP|

---
Joginder Tuteja is a Bollywood writer based in Mumbai, India.