BOLLYWOOD | Film Review
Defying Sanity: Joker


Directed by: Shirish Kunder
Produced by: Farah Khan and Akshay Kumar
Starring: Akshay Kumar, Sonakshi Sinha, Asrani, Minissha Lamba, Vindoo Dara Singh, Vrijesh Hirjee, Sanjay Mishra,
Chitrangada Singh and Shreyas Talpade

Reviewed by: Joginder Tuteja
Rating: * (Awful)

---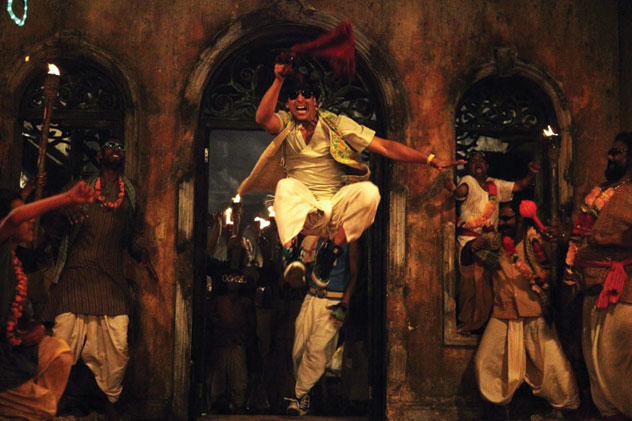 (Above): Akshay Kumar in "Joker."

---
The 'expectation' factor is the key driver behind the 100 odd minutes that follow Joker. This film has managed to entice an opinion from all regardless of being watched by them or not.

While this is always a disturbing fact, in a way it also works in favor for some because bare minimum expectations also result in grabbing whatever good, if any, the film has to offer.

In all fairness to Joker, the eventual product entertains to some tiny extent even if one forgets about the initial expectations though there is no doubt the film has a quirky touch to it.

A bunch of villagers being led by their only padha likha ladka (Akshay Kumar) first execute a plan around crop circles, then bring on an indigenous set of aliens, hence inviting attention from the government and powers-to-be, so as to lend their village Paglapur, a recognition of sorts.

The fact that these villagers are mad only gives Shirish Kunder an added incentive of going all out in bringing a different kind of humor to the proceedings.

---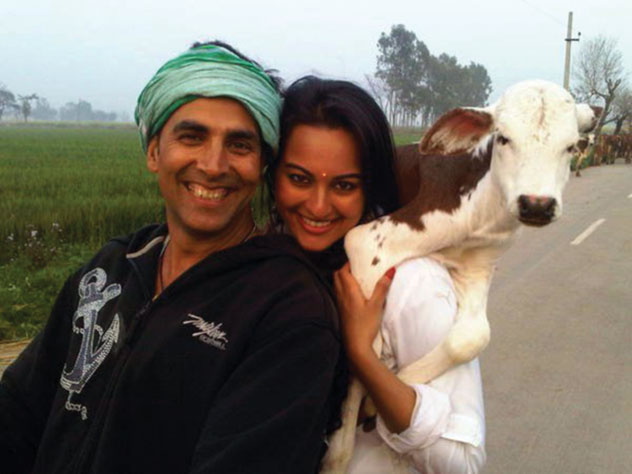 (Above): Akshay Kumar and Sonakshi Sinha in "Joker."

---
This leads to varied characters, who unlike behaving as quintessential paagal in Bollywood parlance, are as normal as they can be in their own territory. Whether it is Asrani (village headmaster), Vindoo Dara Singh (muscle man), Vrijesh Hirjee (darbaan), Sanjay Mishra (the King) or the kid (who considers himself as a lamp a la 'Happydent') - each of them has their own trait that does manage to bring a smile and even some good laughs intermittently.

Though it is never explained why the village comprises only of men with no women around, you still go on with the narrative.

As a result the first half passes like a breeze and though one wonders if aliens, the USP of the film, would ever arrive, you don't mind the delay as a definite story is being told.

The interval point is also good and the momentum continues at the beginning of the second half. The character that actually makes the biggest contribution in enticing laughs is that of Shreyas Talpade whose gibberish does manage to amuse every time he opens his mouth. More so since his gestures and body language go along equally well.

---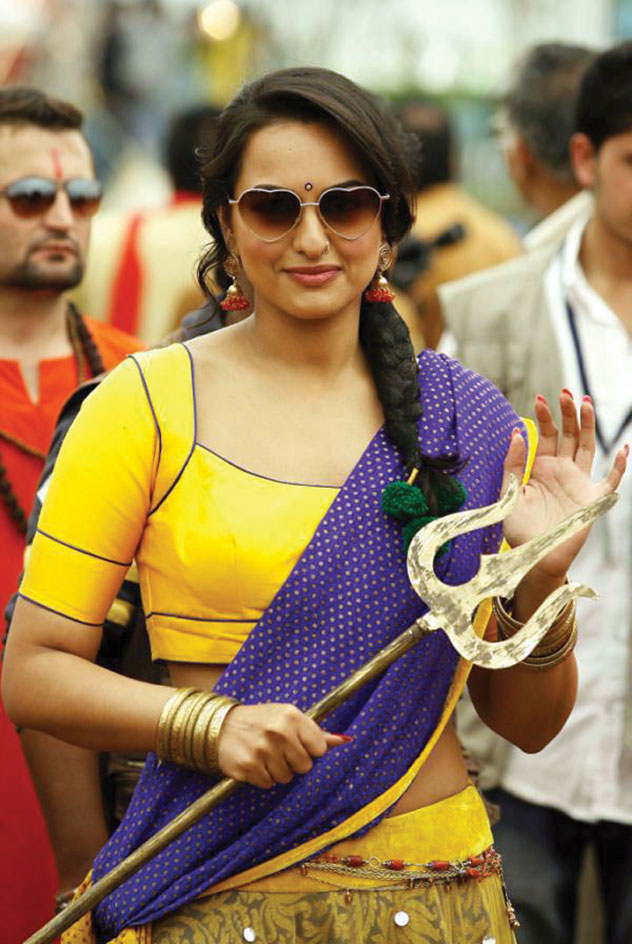 (Above): Sonakshi Sinha in "Joker."

---
In fact, he is the one who ties ends in the climax only adding further weight to the character.

However, what doesn't really work well is the entire episode involving aliens. In fact, these 15-20 minute saga in the middle of the second half threatens to take the film haywires.

Villagers turning into aliens, Akshay's rival scientist being held captive, armed forces arriving at the scene and firing away in oblivion, CIA and FBI sending their representatives, aliens trying to entertain media -- somehow laughs go missing in this part of the film. That's rather surprising since one expected the drama and humor to actually peak here.

Thankfully, the film ends on a different note, with Shreyas' gibberish doing the trick. Arrival of Golkot, a real alien, changes the graph of the narrative and manages to bring it upwards to some extent if not as high as one would have believed around the film's interval point.

In fact, interaction between Shreyas and Golkot is the high point of the film and even though one is left wondering about the culmination of Akshay's endeavor to touch base with the aliens, the very fact that Joker ends on a positive note is a good enough reason to feel reasonably entertained.

As for actors, while Sonakshi Sinha is decent and shows a different side of hers in some comic moments, Asrani fetches some good laughs as well. Sanjay Mishra is fine too though surprisingly Minissha Lamba has the least screen time and even lesser dialogues to mouth.

Music does well in the film's context while background score enhances the narrative. Chitrangada Singh's Kaafirana Dil is somewhat good but still fails to improve the film's low rating.

---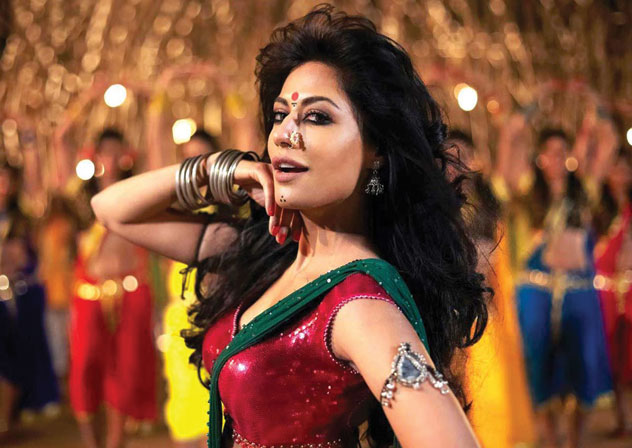 (Above): Chitrangada Singh in "Joker."

---
Action scenes are lukewarm and leave a lot to be desired.

Joker is a film designed for kids, meaning one can't expect to hunt for much logic in the proceedings.

A poor entertainer that leads to some good laughs if you have a taste for quirky humor, Joker has a lot of loose moments in the middle of the second half.

It doesn't fetch a 'must watch' tag for itself, anyway.