FICTION:
The Real Joys in Life - By Raghavendra Rao


"Ramesh, don't flatter me. By the way, it was not the Sitar, it was the Veena. Anyway, last Diwali I told you to get a new car. You didn't listen. See, how embarrassing it is now. Everyone is looking at us."

---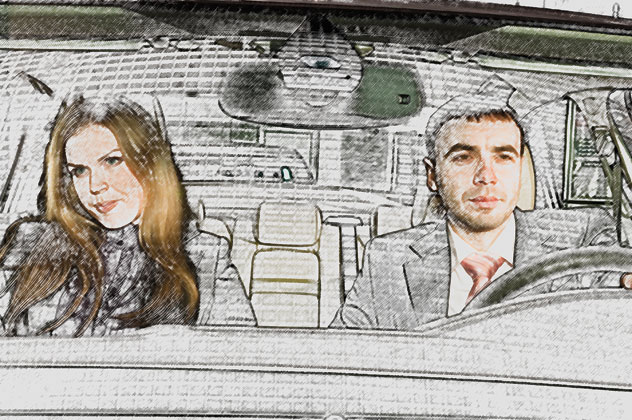 ---
Nadar's party was just over and Priya and I were ready to drive home. I tried to start my Toyota but it made a gurgling noise and quit.

"Just like I thought," says Priya annoyingly.

"Wait a minute; give old faithful a chance," I say and turn the ignition key. Again the engine emits odd sounds and dies.

"What else can you expect from this junk, Ramesh? Look around, everyone has a Lexus, a BMW or a Benz. How come they can afford those and we can't?"

"Because they are doctors and engineers; you should have married a doctor, then you would be driving a Lexus as well," I said.

"If Lord Brahma has scribbled over my forehead that a teacher would be my husband, how could I escape that fate?" Priya retorts.

"Priya, I married you because you were so beautiful in that Kanjeevaram sari when I came to see you for the first time. Age hasn't robbed your beauty even a little. You played the sitar so enchantingly like Goddess Saraswati; I fell in love then and there."

"Ramesh, don't flatter me. By the way, it was not the Sitar, it was the Veena. Anyway, last Diwali I told you to get a new car. You didn't listen. See, how embarrassing it is now. Everyone is looking at us."

"The guests are walking by; they are not spying on us, Priya," I replied and tried the ignition once more. This time, like Kumbhakarna waking up from a deep sleep, my Toyota comes to life.

"See," I said as the car accelerated slowly.

"Bullock carts in my native Kambam village pick up speed faster." Priya murmurs.

"You know Priya, even the flow of Ganges is slow at Gangotri; later on the river picks up pace," I said.

"I am glad you mentioned Ganga. When are we going to Kashi and having darshan of Lord Shiva and the 56 Ganeshas? And taking dips in the Holy Ganga to wash off our sins?"

"You already have washed off a few sins by chanting prayers in front of the huge Ganesha at Dr. Nadar's home today," I said.

"Ramesh, the Nadars must have done lots of punya in their previous lives to have such a big house and a huge Ganesha just at the entrance. Do you know the Ganesha weighs 500 pounds and came by a ship?"

"I didn't know that. I wonder why Ganesha didn't travel on his mouse."

"Stop making fun, Ramesh. So, when are we going to Kashi?"

"We will, certainly, soon."

"When?"

"This September."

"Ramesh, many Septembers have come and gone. Now and then, I feel that I shouldn't wait for you and should go to Kashi by myself."

"Why don't you do that?"

"How many times do I have to tell you that both of us should bathe in the Holy Ganges together? Only then will we reap the benefits and attain salvation. Do you get that?" Priya is very annoyed now.

"Yes, I get it. I promise. We will go this September. We will take my sister too. She hardly goes anywhere, poor thing."

"Why do you invite your sister? This is like taking a kitten to a wedding ceremony. If this is what you want, I will ask my sister to come as well. She is a staunch devotee," Priya said.

"Your sister has been to Kashi a couple of times already. Why again?"

"Ramesh, Kashi is such a holy place one can go hundreds of times to wash off all the sins accumulated over many, many lives. You can learn one or two puja rituals from her, if you wish," suggested Priya.

"I don't believe in rituals."

"You are an atheist. Why should I blame you, it is not your fault."

"Thank you."

"If your parents had only raised you properly, you would not talk like this."

"Why drag my parents into this conversation? They are happily living in heaven."

"That's what you think."

"This is a cheap shot. I am not going to talk. You can say what you want."

"I will. Talking of puja, the Nadars have a huge puja room for worship, as big as our living room. Mrs. Nadar took us on a house tour; Oh my God! you should have seen their master bedroom. I'm not kidding; it's larger than our home. The dining table is from Italy, chairs are from England and the 'Apsara' doorknobs are from India. In comparison, our house looks like an outhouse. The Nadars must have accumulated lots of virtue in previous lives to enjoy such luxuries in this life."

This is too much. I cannot keep quiet. "What is wrong with our house? We have three bedrooms, a nice family room, and a sunken living room and…"

"What is wrong? Let me tell you. When the water pipe broke the sunken living room turned into a small wading pool."

"But our grandchildren who were visiting us then had the time of their life. They enjoyed the paper boats I made."

"And they caught colds. It cost us 700 dollars to replace the carpet. There was no electricity for two days. Ramesh, Look, look, did you see that?"

"See what?"

"That is Anita, who zoomed by and passed us in her BMW. Did you see she was wearing sunglasses?"

"No. I was watching the road ahead."

"Anita Prakash, how lucky she is. At the party, she flaunts her gold-coin-chain that reached down to her belly button. 'This one is a special order from Lakshmi Jewelers, 800 grams of pure gold,' she babbles. Goddess Lakshmi has blessed her. She talks about her sunglasses later. 'You see, the frame is violet pink and the lens is brown pink. It probably costs 300 dollars, but I got it for 200 because I know the shop owner very well. This is Armani, you know,' she proudly says."

"Who cares? Priya, truly, your sunglasses also appear very cool," I commented.

"Mine? Don't be sarcastic. What do I say? 'Look here friends, these are special sunglasses from Wal-Mart. It costs a whopping twelve dollars. They are specially imported from China. Ha, Ha.' How do you like that? What else? Anita and Prakash are going on a cruise to Alaska next month. Where are we going? Like a frog in a deep well we are stuck in this small town."

"Calm down, Priya, next year we will travel to India or any other place you wish."

"Why next year?"

"Priya, recently, the School Board has recommended me for a pay raise. I will earn an extra 400 dollars a month from August."

"Congratulations. You didn't tell me this."

"I wanted to surprise you. So let me see. First, we will go to Kashi and dip in Ganges as many times as you want. As it is always sunny in India, I will get you Armani sunglasses for your ocular comfort. Are you happy now?"

"A little, until I attend another party. You didn't say anything about a new car or an Alaskan cruise."

"Cruise? It is exactly this month that the Titanic sank one hundred years ago. But don't worry. We will go when I get another pay raise. Like Kate Winslet and Leonardo DiCaprio we will stand at the bow of the ship and croon a 'pyar' song. How do you like that?"

Priya laughs. "You? Leonardo DiCaprio? Not in your next hundred lives."

---
---
I parked in front of our house and fumbled in my pocket for the door keys. The door opens suddenly and what a surprise! My daughter has come unannounced from Los Angeles. My granddaughters, Meera and Shanti, six and three years old respectively, rush out to greet us. "Ammamma, thatha," they shout. Meera jumped on me and I lifted her up in my arms.

"Where did you go? I love you, thatha, I love you," she said and hugged and kissed me. Shanti was already in Priya's arms, yelling, "I love you ammamma." She showered Priya with wet kisses on her lips and cheeks." Priya is caressing Shanti and reaching out for Meera.

"Priya," I asked, "Is there anything on earth more enjoyable than to be with these lovely grandchildren?"

"No, my dear, No. We are blessed, we are truly rich," replies Priya, her eyes wet with joy.