BOLLYWOOD | Guftugu:

Shah Rukh Ready to Accept Malay Honor | 'I'm Walking on Sunshine,' Says Preity Zinta | Prague Sets Katrina's Heart Racing | Taxman Cometh | Back Home | Splittsville? | Dissing Yash Chopra? | Playing Rajmata | Singing Actor | Dreams Shattered | Avoid Politicians | Dilip Kumar Fine


---
Shah Rukh Ready to Accept Malay Honor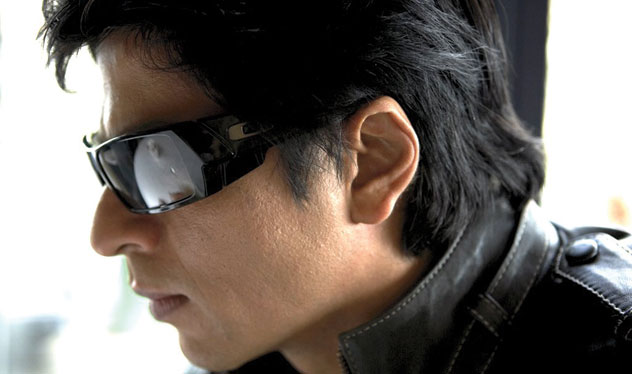 Shah Rukh Khan in "Don."
---
You can almost feel sorry for poor Shah Rukh Khan. The Bollywood superstar is in trouble for no fault of his own. He is in hot water for being honored by a Malaysian state.

I kid you not.

Malaysian artists are maha gussa because local artists have been overlooked.

The Malacca governor has decided to bestow the title of Datuk upon him for popularizing the beautiful World Heritage Site in his movies.

Unfazed, Malacca Chief Minister Mohd. Ali Rustam said that the Indian superstar would be in Malacca to receive the award in person from Governor Mohd Khalil Yaakob.

"Shah Rukh has agreed to accept the award and this message was conveyed to the governor's office. He will try to make it in November, however the date of the ceremony is yet to be fixed," Rustam quoted was saying by Star newspaper's online edition Oct. 21.

The chief minister said that arrangements for the actor's trip to Malacca was being made through former Finance Minister Daim Zainuddin, who was the one who mooted the idea.

When asked by reporters whether the state had any intention of retracting the award to the actor following protests from several quarters, as well as the issue being raised in Parliament, Rustam said there was no intention of retracting the award.

"How can you give something to a person and later take it back?" he said.

He also defended the state's decision to confer Datukship on the actor saying Shah Rukh Khan had helped promote Malacca to an international audience through the film One 2 Ka 4 and Don.

|TOP|

---
'I'm Walking on Sunshine,' Says Preity Zinta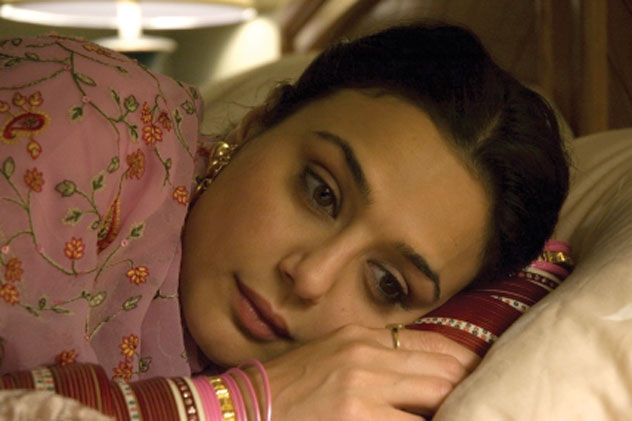 Preity Zinta in "Heaven on Earth."
---
Preity Zinta is ecstatic after winning the best actress award at the 44th Chicago International Film Festival for playing a battered Punjabi wife in Deepa Mehta's Heaven on Earth.

She is thankful to Anupam Kher for helping her get the right Punjabi diction for her role.

The award was given in a glittering ceremony. She has bagged the Silver Hugo Award for Best Actress "for her strong yet subtle performance as a woman struggling to keep her dreams despite brutal realities" in the Feature Film Competition section.

"It was my director, Deepa Mehta, who informed me that I had won. I couldn't go to Chicago, and neither could Deepa. Without any lobbying I've done it. I am so happy and excited. I'm walking on sunshine. I can't believe where I am," said Preity.

Deepa Mehta penned the screenplay in 2007. She met Preity Zinta at the 2007 International Indian Film Academy Awards and offered her the role. Initially, Preity could not commit to the project because of dates problems but they have been worked out and Zinta signed the film. Seema Biswas, who was part of Mehta's previous project Water was also chosen to be part of the cast, but she eventually did not act. Mehta, who saw The Last Lear (2007) starring Zinta in the lead female role, said "I think Preity is perfect!."

|TOP|

---
Prague Sets Katrina's Heart Racing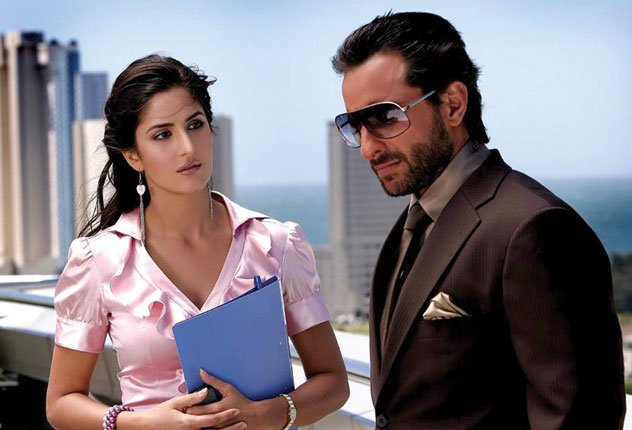 Katrina Kaif seen with Saif Ali Khan in "Race."
---
To get Katrina Kaif to talk about her love-life may be next to impossible.

However, the Bollywood hottie is not as defensive when it comes to talking about the other love of her life that has her brimming with excitement.

But good friend Salman Khan need not lose his cool or his shirt yet. The actress has not fallen in love with a guy, rather it's the beautiful Prague — where she had recently been shooting for Subhash Ghai's Yuvraaj — that has set her heart racing.

"I think it's one of the most romantic places I've been to. It's so calm, serene and beautiful. I've had some lovely experiences there," she exclaimed. Though not ready to divulge much about her lovely experiences, the fact that she was shooting there with Salman definitely made it all the more lovelier. "Oh, I had a fun time shooting there. Subhash sir, Anil and Salman all of them are thorough professionals so there's a lot to learn from them always," she added. "In fact I am even planning on coming here once again as soon as I decide to treat myself to a nice vacation!" No prizes for guessing who'd she rather be spending her vacation in Prague with, right Salman?

|TOP|

---
Taxman Cometh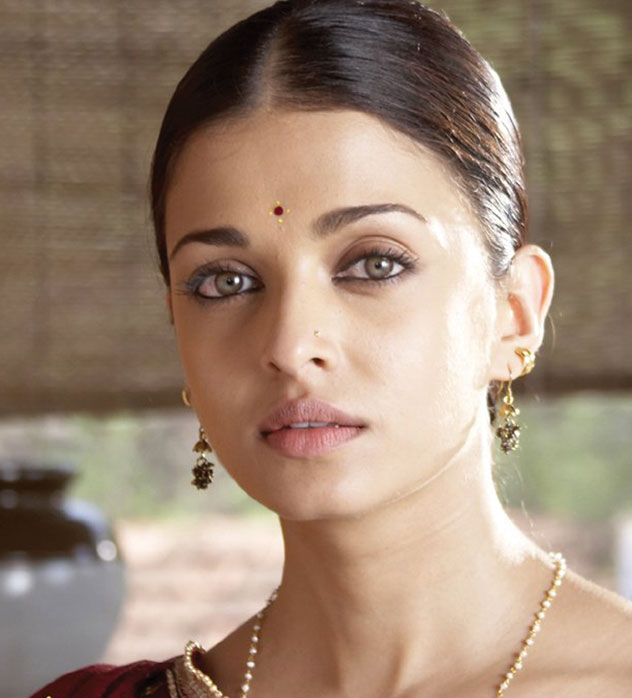 Aishwarya Rai in "Guru."
---
The income tax folks are at it again. Bollywood star Aishwarya Rai has come under the scanner of the income tax authorities for claiming exemption as a Non Resident Indian for money earned abroad after winning the Miss World contest over a decade back.

Aishwarya, 34, declared her taxable income for the financial year 1996-97 to be Rs. 214,000. But in 2003, the authorities decided to reopen the assessment, as her passport revealed that during the period she was not an NRI, as she had claimed to be.

Aishwarya claimed tax exemption for Rs. 2,600,000  which she had earned abroad after winning the beauty pageant during that period on the ground that she was a non-resident Indian.

Challenging relief granted last year to Aishwarya by the Income Tax Appellate Tribunal on this score, the Income Tax authorities, which had decided to reopen her tax assessment, moved an appeal in the Bombay High Court.

A Division Bench headed by Justice S. Radhakrishnan admitted the appeal.

IT Department lawyer Benny Chatterjee argued that Aishwarya's income is not being questioned, but her getting exemption under NRI category is questionable.

The key issue is whether Aishwarya — who had won Miss World title just then — could claim to be a Non Resident Indian for that period, he added.

Sorry Aish, but the Income Tax folks have a point.

|TOP|

---
Back Home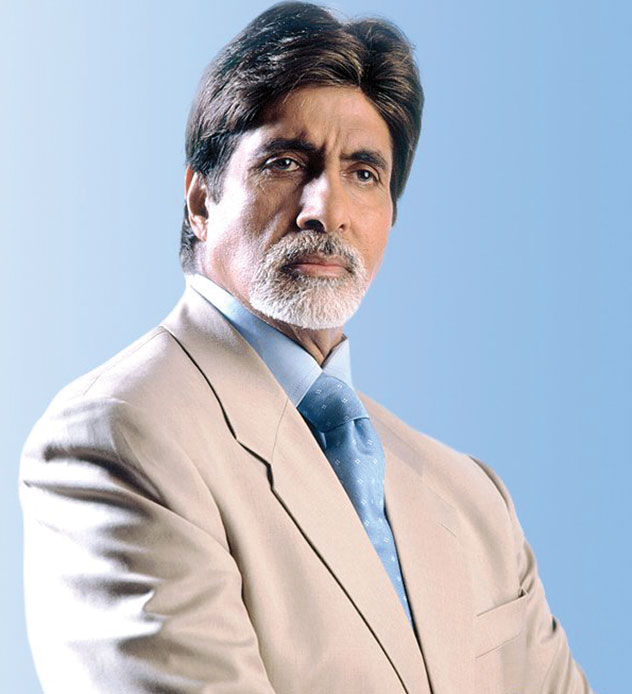 Amitabh Bachchan
---
Bollywood superstar Amitabh Bachchan was Oct. 17 discharged from Lilavati hospital where he was admitted last week after he complained of severe abdominal pain.

The actor, dressed in a white shirt and accompanied by his wife Jaya, son Abhishek and daughter-in-law Aishwarya Rai, left the hospital at around 10:40 a.m. and reached their residence Jalsa at suburban Juhu.

The 66-year-old film star was admitted to the hospital on his birthday Oct. 11, following restlessness and pain in the abdomen.

The results of the medical tests conducted on the same day had not revealed any abnormalities after he underwent a blood investigation and CT scan, doctors said.

Bachchan was earlier kept on a liquid diet and doctors had refrained from commenting on what caused the illness.

"Doctors attending to him did their final check up this morning so that they could prescribe whatever medication he has to take and allowed him to go home," Lilavati Hospital vice president Dr Narendra Trivedi told the Reuters news agency over telephone.

However, Trivedi refused to give details about the diagnoses and whether Bachchan would require any further treatment.

"I do not have any details on that as yet. I will know only in the evening once I have consulted with doctors attending to him," he said.

Television visuals showed Bachchan waving to the crowd outside the hospital with his son Abhishek besides him before leaving in a car.

Bachchan, who has been a meticulously regular blogger ever since he started keeping an online journal more than 5 months ago, posted as many as five blog posts on Oct. 17 night, but didn't give away too many details of his health.

"These days are spent in hospital. In investigation and treatment and anxiety and sleepless nights and pain and… So much more.. But now the nurses exclaim at the time I spend in front of this screen and start pulling plugs out," Bachchan wrote in his first blog post since he was hospitalized on his 66th birthday.

|TOP|

---
Splittsville?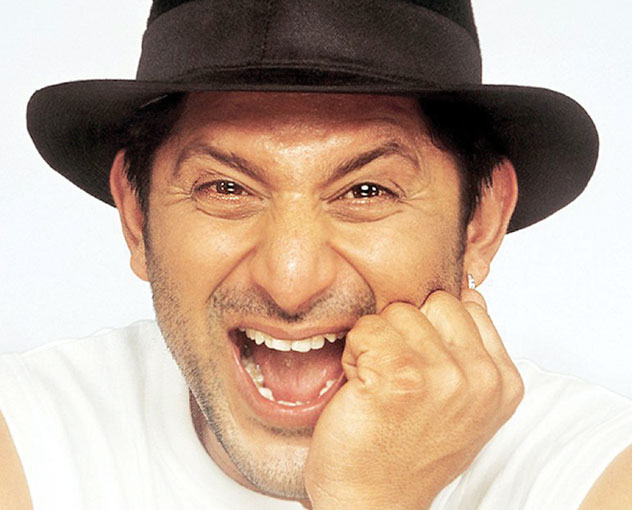 Arshad Warsi in "Mr Black Mr White."
---
Remember Circuit, Munnabhai's hilarious sidekick in the Munnabhai series of films? Well, all is not well with Arshad Warsi, who plays that role so memorably.

One of the most enduring marriages in the film industry is on the verge of collapsing, if rumors are to be believed. Maria Goretti and Arshad Warsi, married for 10 years, are set to split. The news of trouble in their marriage has shocked the industry.

Says a concerned mutual friend of the couple, "Arshad and Maria are having serious problems. Arshad is a family-oriented guy. But unfortunately, the family that Arshad so values has developed cracks. They're staying together because of their kids who have no clue about the breach in their parents' relationship. Maria has made it clear that she wants out. But Arshad will never let her leave their home. He's too much of a gentleman for that. Right now, he's leaving Mumbai for a long time. Once he returns, he hopes things will get better between them. Or he'll look for accommodation elsewhere."

When contacted, Arshad refused to comment on his marital problems. "I'm leaving for Bangkok. When I return, I will leave immediately for Panchgani to shoot for Vishal Bhardwaj's Ishqiya for two months. So I'll be out of town for almost three months. I've no time to think of anything but my work now."

|TOP|

---
Dissing Yash Chopra?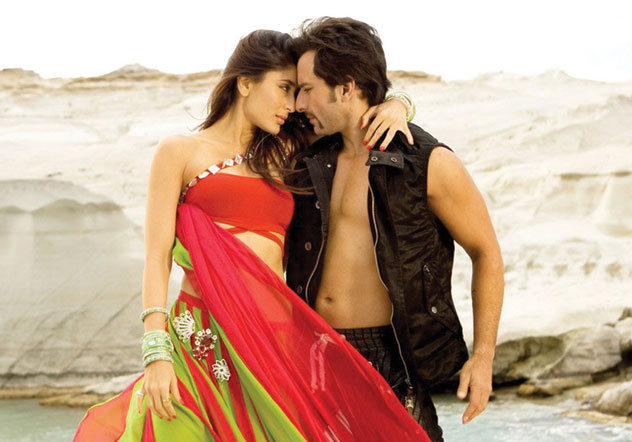 Kareena Kapoor and Saif Ali Khan in "Tashan."
---
When it comes to promoting Yash Chopra productions, most stars usually fall in line and do their best. But Kareena Kapoor and Saif Ali Khan have been conspicuous by their absence during the promotions of the banner's animation film, Roadside Romeo. Both have lent their voice to the two protagonists of the film.

According to sources, they simply refused to give time for any promotional activity related to this animation film. Says our indignant source, "Agreed that Kareena and Saif were just voices in the film and not actors. But considering how Hollywood actors like Tom Hanks and Angelina Jolie go out of their way to promote the animation films by a Hollywood production giant, the least Saif and Kareena could have done was to spare some time for this film. Or did they forget that this was churned out by the same Hollywood production giant?"

Kareena, who has been promoting her other Diwali release Golmaal Returns vigorously, made it clear to the Yash Chopra banner that she had no time to talk about Roadside Romeo. Meanwhile, Saif simply made himself inaccessible.

Adds our source, "This could be seen as a sign of change. Earlier, no actor dared to refuse this banner. But now, after the company has suffered a series of debacles, stars are no longer inclined to bend backwards to please the banner. Once it has a couple of hits, stars will be back to doing whatever the banner wants."

For now, the victim is Roadside Romeo director Jugal Hansraj, who has been singlehandedly selling his film to the audience.

When we contacted the production house, spokesperson Monica Bhattacharya said, "Well, Kareena was out of the country when the promos of Roadside Romeo started. And Saif did give some interviews." 

|TOP|

---
Playing Rajmata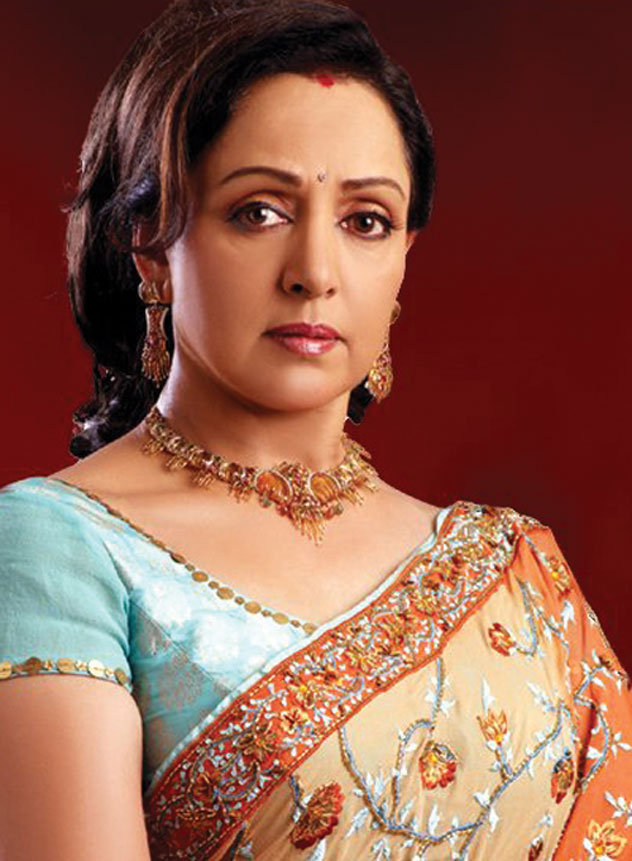 Hema Malini in "Baabul."
---
Yesteryear Bollywood star Hema Malini has been signed to essay the character of former Bharatiya Janata Party leader and Rajmata Vijayaraje Scindia of Gwalior in "Ek Thi Rani Aisi Bhi."

The film will be directed by Gulbahar Singh and produced by the Rajmata Vijayaraje Scindia Smriti Trust.

The film will go on the floors Oct. 14. BJP leader Sushma Swaraj and members of the Scindia family are expected to attend the mahurat, a press release issued here Oct. 10 said.

This will be Hema's second appearance in a period film after Kamal Amrohi's Razia Sultan.

Hema intends to spend time with the Scindia family in Gwalior to know more details about the Queen of Gwalior. "The last time I went to Gwalior with my daughter Ahana for a dance performance but never imagined that I would play the role of the Rajmata," the actress-MP was quoted as saying in the press release. 

Hema Malini, born 1948, is also a Bharatanatyam dancer-choreographer, who has starred in numerous successful Bollywood films in the 1970s, most notably the extremely successful Sholay.

|TOP|

---
Singing Actor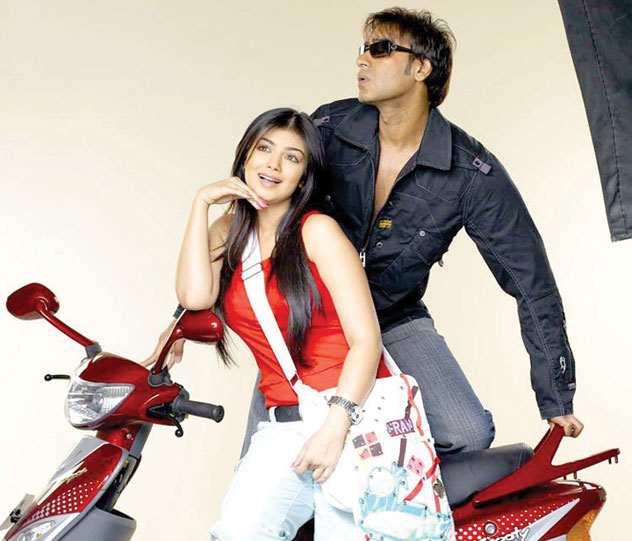 Ajay Devgan and Ayesha Takia in "Sunday."
---
All amateur singers should be inspired by Bollywood star Ajay Devgan and step outside the shower. The actor, who notoriously lent his voice to a few lines in Hum Dil De Chuke Sanam with appalling results, actually sang live and plugged-in at the Royal Albert Hall in London. And, what's more, Devgan got a standing ovation.

It happened like this: Devgan and Salman Khan were shooting at the world renowned music and entertainment venue in Knightsbridge for London Dreamz. On the sets were wife Kajol and daughter Nysa. To surprise them, Devgan picked up the mike and sang, unmindful of the fact that he was connected to the central sound system of the hall and all hundred members of the film's crew could hear him.

What did Devgan sing? The popular Air Supply number "I'm All Out of Love." He started off on a false note, reported a crew member, but then, drawing the attention of Nysa and Kajol, Devgan carried on in perfect pitch. The Royal Albert Hall, of course, has had more recognized virtuosos playing to its acoustics, but when Devgan had finished, wife, daughter, co-stars and crew all stood up and clapped.

Bollywood, naturally, is delighted with this news. If it could convince and train Farhan Akhtar to get before the camera and act and sing, the industry is thrilled to imagine what it might do with Ajay Devgan.

|TOP|

---
Dreams Shattered

When Vipul Shah sold his ambitious Salman Khan-Ajay Devgan starrer London Dreamz to Studio 18, it was touted as the most expensive film deal.

Reportedly, Studio 18 had bought the worldwide rights for a whopping Rs 1.2 billion. But the recent market crash has dealt its first blow. Studio 18 has backed out.

An insider said, "Studio 18 suffered a big dent in its pocket due to the box-office failure of Kidnap. Add to this the current market crash and they decided not to venture into anything extravagant at least for the time being." When contacted, the production house's CEO, Sandeep Bhargava, did not deny the story but said, "I am not obliged to give any comments."

However, Vipul said, "I have just come back from London. If Studio 18 is backing out, they should give it to me in writing. I haven't received any such notice from them which says that they won't distribute London Dreams." However, a source close to Sandeep said that the deal was never finalized, although the two parties were in advanced talks.

|TOP|

---
Avoid Politicians

A couple of days ago, President Pratibha Patil saw and loved Neeraj Pandey's A Wednesday.

However, the film's lead actor Naseeruddin Shah stayed away from the special screening, which was held at the Rashtrapati Bhavan. Present at the screening were A Wednesday lead actor Anupam Kher along with co-star Jimmy Sheirgill and director Neeraj Pandey.

Asked why Naseeruddin Shah, who gave the film a scintillating spin, was nowhere to be seen in Delhi, Anupam Kher shrugged and said, "I don't know. Naseer said he had some other commitments. We left it at that. The screening went brilliantly. Patil loved it and said everyone should watch the film 5-6 times."

While Anupam refused to tell why Naseer stayed away from the screening, Naseer replied in his usual forthright manner: "Yes, I stayed away from the screening. I'm just not interested in politicians. The film will go as far it has to go on its own steam. And as we can see, it has some steam!"

After Naseeruddin and Anupam have delivered a hit like A Wednesday, the two are flooded with offers for films which highlight the travails and adventures of the 50-plus brigade.

While Naseer isn't taking the bait, Anupam is making hay while the sun shines. "I keep telling Naseer we're the new rock stars of Bollywood," Anupam laughed.

|TOP|

---
Dilip Kumar Fine

The health of legendary actor Dilip Kumar, who had to be hospitalized in New Delhi recently, is fine and the thespian has returned to his home here. His wife and former actress Saira Banu said that Kumar was "well now and recuperating steadily." She said they missed spending time with well-wishers and friends on Eid. The 86-year-old actor returned to Mumbai Oct. 3.

"For years now it has been our good fortune to receive our friends in our home and exchange warm greetings on occasions like Eid, Diwali, Christmas, New Year, Dilip Sahab's birthday and our wedding anniversary," she said. "This year, our wedding anniversary on Oct. 11 and Sahab's birthday on Dec. 11 will be a little more special than usual."

"He received wonderful treatment and loads of affection and personal attention from the physicians and nursing staff of Apollo Hospital in New Delhi," she said.

"It was high fever that came up with a urinary tract infection which made hospitalization necessary for investigations and monitoring," she added.

|TOP|