CONCERT:
Music for Polio: 'Ehsaas Hai?'


The Rotary Club of Cupertino presented a concert featuring flautist Pandit Hari Prasad Chaurasia to help eradicate polio from India. A Siliconeer report.
---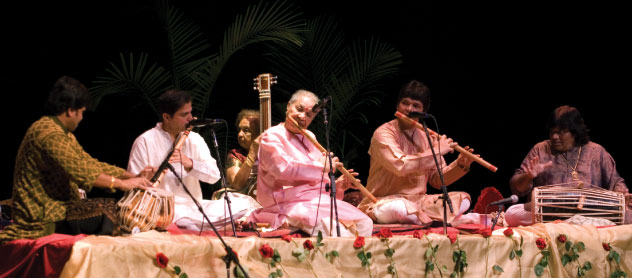 (Above): In concert (l-r): Shubhankar Banerjee, Rupak Kulkarni, Shyamala Rajender, Pandit Hariprasad Chaurasia, Rakesh Chaurasia and Bhavani Shankar. [Sharif Ahmed/Siliconeer photo]
---
The Rotary Club of Cupertino hosted a fund raiser concert Oct. 11 featuring world- renowned flautist Padma Vibhushan Pandit Hari Prasad Chaurasia and sitarist Habib Khan to support the movement to eradicate polio from India. The concert was titled "Ehsaas Hai" or "Do You Feel?" and was held at the Flint Center on the DeAnza College Campus, in Cupertino, Calif.

Chaurasia performed along with his nephew Rakesh Chaurasia and student Roopak Kulkarni. Accompanying Chaurasia on the tabla was Subhankar Banerjee and Bhawani Shankar on pakhawaj. A devoted follower of Krishna, Chaurasia created a Brindavani atmosphere by playing a slow aalap and going into the larger raag. He rounded off the evening with Raag Pahari and Raag Malkauns. The pakhawaj was a nice touch to the evening. Tabla maestro Zakir Hussain came to the program to wish Hari Prasad Chaurasia a happy birthday.

Earlier, Habib Khan opened the evening with a jazz session featuring Khan on sitar, Subhankar Banerjee on tabla, David Binney on saxophone and the Carnatic musician Prasanna on guitar. The versatility of Khan as a musician was evident throughout the evening as he started with a slow aalap on sitar and then performed and engrossing duet or jugalbandi with tabla exponent Subhankar Banerjee. Khan wooed the crowds by introducing the artists by singing their names in Hindustani classical style. He closed his session by inviting Hari Prasad Chaurasia on stage and singing Happy Birthday with the crowds to Chaurasia who was celebrating his 70th birthday.

---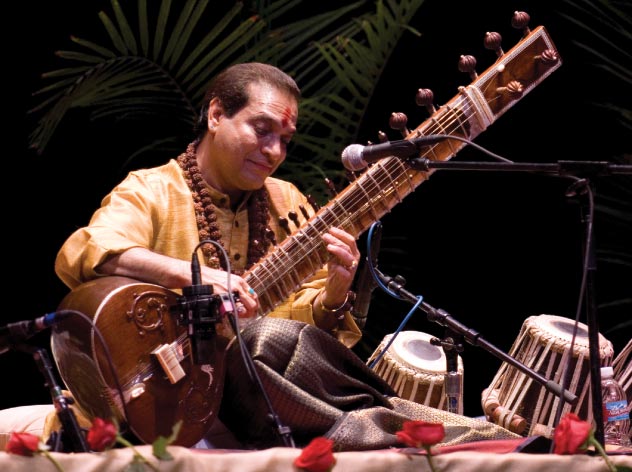 (Above): Bay Area-based Indian Classical music composer and sitarist Habib Khan performing live at the "Ehsaas Hai?" concert. [Sharif Ahmed/Siliconeer photo]
---
With only four countries are left with a trace of polio today, Rotary is teaming up with the Bill and Melinda Gates Foundation to bring the strong final push needed to eradicate the tenacious disease. The Gates Foundation has awarded Rotary International a $100-million challenge grant, which Rotary will raise funds to match, dollar for dollar, over the next three years. Google.org is also focused on the cause of polio in the world. They have contributed over $3 million to Rotary International to help eradicate polio in the world.

The evening started out with Jim Walker, past president of Rotary Club of Cupertino, speaking about the enormous focus with which Rotary has single mindedly made polio its target for elimination. Rotary also invited from Sri Lanka, Thariq Thulba, the district governor from Rotary Colombo, to speak on how Rotary has helped make Sri Lanka a polio-free country.

The concert ended with many prominent Rotarians honoring the artists. There was a VIP party held after the concert to celebrate the 70th birthday of Pandit Hari Prasad Chaurasia.

Mahesh Nihalani of Jewels in Style and Ram Gopal of Cupertino Bakery, both associated with the Rotary of Cupertino, expressed their hope that this program to help eradicate polio from India. Orrin Mahohey, the out-going President of Cupertino Rotary, called the program a resounding success. Also on hand were Tina Ferguerson, Dave Stearns, Mark McKenna, Lynn Ching and Suresh Venna, all a part of the Polio Plus Committee and committed to the cause of eradicating polio from India. "In Habib Khan's School of Music we found ideal community partners as they pitched right in with our vision to make this concert a success," said Nihalani. Khan, who is no stranger to fundraising efforts in the community, felt strongly that even after the vaccine for eradicating polio has been in existence for fifty plus years it is a shame that India still battles polio. If my music can play a small part in helping eradicate polio from India then I am happy to put my name to the cause," he said.

---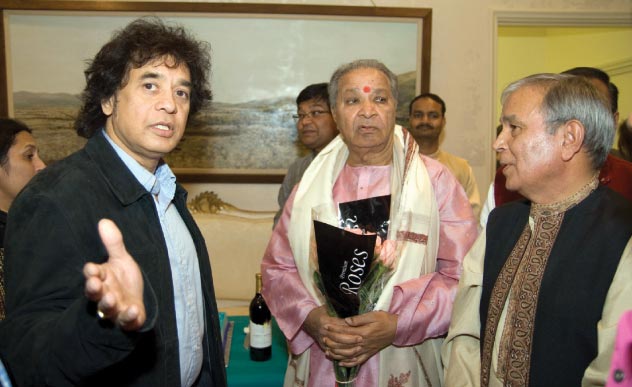 (Above): The living legends — Tabla maestro Zakir Hussain (l), Pandit Hariprasad Chaurasia seen here with Mahesh Nihalani of Cupertino Rotary Club at Pandit Hariprasad Chaurasia's 70th birthday celebrations. [Sharif Ahmed/Siliconeer photo]
---
The Rotary Club of Cupertino was chartered in 1955 and has over 160 men and women representing a wide cross-section of local businesses and professions. The club focuses its efforts on many local and global issues of importance. Within the Silicon Valley, the club sponsors events such as Operation Snowflake, Dr. Seuss Reading days, the Cupertino Community Services Food Cupboard, and vocational scholarships. Their international focus is spread across many causes, including providing schools supplies to China and Cardiac Care Monitors to Chile.

Rotary is a worldwide organization of business, professional and community leaders that provides humanitarian service, encourages high ethical standards in all vocations, and helps build goodwill and peace in the world. Approximately 1.2 million Rotarians belong to more than 33,000 clubs in more than 170 countries and geographical areas. More information is available on the Web at www.rotary.org