FILM REVIEW:
Hip, Affecting Musical: Rock On!!
Rating: **** (Superior)

Rock On!!
Produced by: Ritesh Sidhwani & Farhan Akhtar
Directed by: Abhishek Kapoor
Music: Shankar-Ehsaan-Loy
Starring: Arjun Rampal, Farhan Akhtar, Prachi Desai, Purab Kohli, Koel Purie, Luke Kenny and Shahana Goswami

---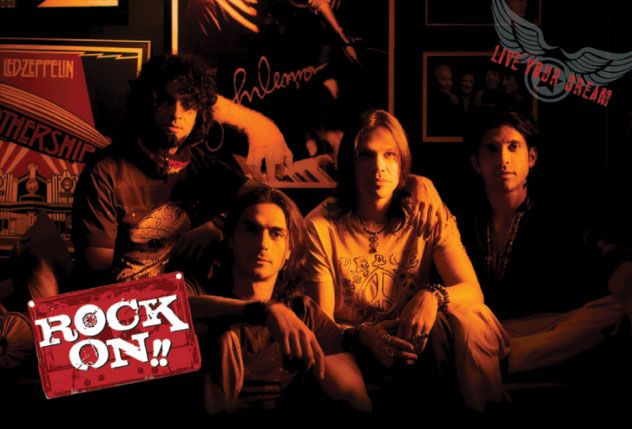 (Above): A scene from "Rock On!!"

---
This gem of a film has a very simple lesson for Bollywood. At the end of the day, the task of a filmmaker can be distilled into a simple message. You just have to tell a story effectively and simply, using the tools of cinema skillfully.

Makers of Bollywood potboilers who tend to ignore this under the arrogant impression that all deficiencies in skill and conception can be papered over simply by throwing money at a film and tarting it up with high-value stars and breathtaking locales often live to rue the day when their film flounders at the box office.

Although the credits say the director is Abhishek Kapoor, given his disastrous debut (Aryan Unbreakable) and actor-singer Farhan Akhtar's superb turn in the refreshingly likeable Dil Chahta Hai, which is, not coincidentally perhaps, is also a buddy film, one gets the sneaky feeling that the invisible hand of Farhan was at work here.

Be that as it may, it's the result that counts — and what a result it is. This film about a group of friends who form a rock band, and who meet again after a decade could have easily fallen apart if the filmmaker had been content to give it a shallow patina of hip modernity.

Instead, the characters are thoughtfully etched, their conflicts, struggles, joys and sorrows are presented in a compelling faction, and the entire film is backed by superb ensemble acting and excellent production values.

The film is about four friends, Aditya (Farhan Akhtar), Joe (Arjun Rampal), Rob (Luke Kenny), and Kedar (Purab Kohli) aka KD ("Killer Drummer") who start a rock band and struggle to make it big in the rock world. Two parallel plotlines follow them at different times during their lives. They are both woven together at strategic points.

---

(Above): Arjun Rampal, Prachi Desai and Farhan Akhtar in "Rock On!!"

---
The first of the two centers on the four in their early twenties, when they are young, wild and carefree, and their main focuses in life are music and friendship. During this time, they create a band called Magik, and meet to practice regularly in an old basement.

A competition is announced where the winner will be offered a contract for an album and at least one music video. The band need money for new instruments and they earn it by playing old Hindi songs at random Dandiya parties, even though it kills them to do so. They enter the competition and win, but it eventually turns out be their downfall.

Compromises while signing the contract creates tension within the band. Joe feels slighted and his girlfriend, Debbie (Shahana Goswami) is refused the chance of being the band's stylist. Things get worse when the music video film director rudely intervenes, and Joe lashes out at both him and Aditya, before marching out.

Aditya, unaware about it all, is shocked and decides to leave. Magik disbands and its members become estranged.

Ten years later, Aditya is a high-powered executive, cold, impersonal and shuttered, and his wife Sakshi (Prachi Desai) can't break through. She plans a surprise birthday party for him and runs into KD, and discovers about Magik. She invites the rest of the band to Aditya's birthday party.

KD meets Rob, and the two invite Joe, who is largely unemployed. The family is largely supported by his wife Debbie, who runs his family's fish business. Debbie is still mad, and sends them away.

At the party, Rob and KD plan a reunion but Aditya is not thrilled. He tells Sakshi she should not have invited them.

As a frustrated Sakshi leaves him, Aditya reconsiders and decides to meet his ex-bandmates. Joe is also there. He shakes hands with Aditya, wishes him a belated birthday. They start practicing regularly at Aditya's house. Sakshi also comes back.

Soon, another music contest is announced, and they enter it, and they have to deal with a new set of hurdles.

The film is helped greatly by Javed Akhtar's contemporary lyrics and Shankar-Ehsan-Loy's music, and for a musical, special credit must be given to the care given to filming the musical sequences—like a sporting film, one misstep here and the entire artistic edifice can come crashing down.

It's those little vignettes that have the stamp of verisimilitude that keeps the audience spellbound — the frantic efforts of the band performing at dandia festivals to lose money, the heartbreak of a talented guitarist like Joe facing the indignity of playing to audiences who do not respect his craft, the music tycoon, an appalling boor without any musical sense, all these little memorable sequences are woven by fresh, realistic dialogue and backed by superb casting and even better acting.

The result is not only a film that transcends the appeal of its theme—how many grown ups really care about rock music, desi or otherwise?—but an excellent omen that from the barren wasteland of the great masala desert, filmmakers with talent are coming up who blend style with substance..