BUSINESS | News in Brief:

Star Plus in Orange County, Palos Verdes | PNG Jewelers: Temple Jewelry | Achievement Award


---
Star Plus in Orange County, Palos Verdes
Judges of the Amul STAR Voice of India show. The show is part of the offerings of STAR India PLUS, which is now available on cable in Orange County and Palos Verdes, Calif.
---
STAR, a wholly owned subsidiary of News Corporation, has launched Indian television channel STAR India PLUS on Cox Communications' digital cable platform in Orange County and Palos Verdes, Calif.  The launch bolsters Cox Communications' current lineup of Indian content for viewers across Orange County which includes three other South Asian channels.

Cox Communications viewers in Orange County and Palos Verdes can now tune to STAR India PLUS (Orange County channel 411 and Palos Verdes channel 442), the number one general entertainment channel in India for eight consecutive years. STAR India PLUS will be offered individually or as a package with other South Asian networks.

STAR India PLUS regularly features many of the top programs in the country.  Prime time programs on STAR India PLUS include household-name soap operas such as Kyunki Saas Bhi Kabhi Bahu Thii and Bidaayi as well as some of the nation's favorite reality and game shows including Nache Baliye and Amul STAR Voice of India.

"We're excited at the prospect of growing our relationship with Cox, one of the nation's leading cable platforms, by rolling out India's number one channel to new audiences in Orange County and Palos Verdes," said David Wisnia, STAR's senior vice president for distribution and sales and head of STAR's North American and European offices.  "We look forward to continuing to work with Cox to get more of our highly rated South Asian channels to their viewers across the U.S."

To subscribe to STAR India PLUS on Cox Communications in Orange County or Palos Verdes, customers can call (888) 205-6022.

|TOP|

---
PNG Jewelers: Temple Jewelry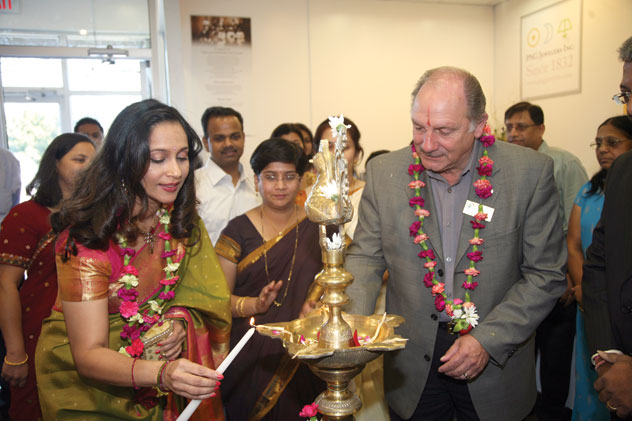 Sunnyvale Mayor Tony Spitaleri with Bollywood star Ashwini Bhave lighting the ceremonial lamp.
---
PNG Jewelers, representing a 175 year-long tradition in Pune, Maharashtra, opened their first showroom in the United States Aug. 31, in Sunnyvale, Calif., according to a PNG press release. PNG Jewelers launched their Temple Line of jewelry Oct. 11.

The launch of the Temple Line was inaugurated by actress Ashwini Bhave and Sunnyvale Mayor Tony Spitaleri. Three dancers dressed in Indian classical costume welcomed guests. The dancers wore selected pieces from the Temple Line.

"The Temple Line is inspired by the symbols and images of grace and beauty in the intricate craftsmanship of temples in India," the release added. "Like the carvings on the walls and pillars of the temples, the pieces of jewelry in the Temple Line are graceful and intricate. One might find a dancing apsara or Ganesha or Nandi in the center of the piece elegantly embraced by swirls, vines and flowers all in gold."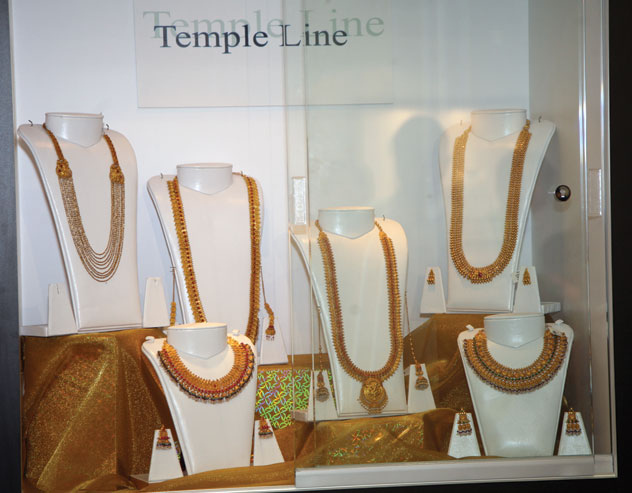 The technique of making temple jewelry is special to Gokak, a little town near Goa. The goldsmiths and jewelers specialize in the technique of etching. This work is known as naksha work, which is a sort of embossing.

Temple Jewelry is commonly worn by the Bharatanatyam , Kuchipudi and Mohiniattam dancers. Classical and traditional in its appearance and adorned with gem stones. These jewels are also worn as bridal wear or for family functions and parties.

For more information about PNG Jewelers readers can visit www.pngjewelers.com or call (408) 245-6PNG.

|TOP|

---
Achievement Award

Dr. Shan Nair, co-founder of Nair & Co., a global integrated solution provider helping companies expand internationally, accepted the Gullands Excellence Award for achievement in science and business at a glittering ceremony held recently in London, according to a press release.

Founded by the NRI Institute, a prestigious global non-profit, the Gullands Excellence Awards are presented each year to a select group of Indians who achieve success globally.

The 2008 award winners are Dr. Shan Nair, Co-founder of Nair & Co. (U.S.); Malkit Singh, internationally-recognized Punjabi singer (U.K.); Manjula Sood, the first Asian female Lord Mayor (U.K.); R. Seetharaman, chief executive officer of Doha Bank Group (Qatar); Hiro Mulani, managing director of Kingsway Trader (U.A.E.); Aasif Karim, managing director of Aristocrats Insurance Brokers (Kenya); Bharat Patel, managing director of Motorsense (U.K.); Hennal Raichura, U.K.'s youngest doctor (U.K.); K.S. Kadar Pillai, chief executive officer of Hokook International (Kuwait); M.S. Gandhe, director of Padmavati Pharmaceuticals (India); Nayan Bavishi, managing director of Baron Group International (U.K.); Surjit Babra, president of Sky Link Aviation (Canada); V. Krishnamurthy, managing director of Shree Krishna Builders (India), Kiran Bali, social worker (U.K.), Dr. Ashok Malhotra, founder of the Yoga and Meditation Society for the Scientific Study of Spirituality (U.S.); and H.S. Chadda for his contribution to medicine (U.S.).

|TOP|